Keep up with the latest hiring trends!
7 Landmark Pieces of Recruitment News to Take Note of this Week - 23rd February 2015
In the news this week:
Say Marhaba' to LinkedIn in Arabic
LinkedIn have just launched their 24th language option: Arabic – the first right-to-left language the website has ever added to their portfolio.
The launch of LinkedIn in Arabic will allow hundreds of millions of Arabic speaking professionals to connect to people, knowledge, and opportunities around the world. according to the professional network, more than 14 million LinkedIn members work and live in the Middle East and North Africa (MENA) region already, and as a region in which a great deal of business is conducted in Arabic, it will also have a big impact on companies using LinkedIn to hire, market and sell.
The site also released this infographic are part of the launch:

Make Your Jobs Tweets More Popular by "Being Polite" and "Mimicking Headline Writers"
Fancy getting more retweets and click throughs on your job tweets? Of course you do! Well, according to the researchers at Cornell University, style may trump substance when it comes to a tweet's popularity on Twitter.
Yes, a study backed by the National Science Foundation and tech giant, Google, used an algorithm to parse the sentence constructions, rhetoric and keywords that makes certain tweets get more attention than others. They then used their findings to create an online tool that weighs two wordings of the same tweet against each other and spits out a percentage chance that one is likely to be more popular than the other.
So what makes the perfect tweet?
Well according to the researchers, politely asking your followers to retweet can go a long way. Including the words please, pls, plz and retweet topped the list of factors that make up a successful tweet. In fact, adding the words "please retweet" to an otherwise identical message in the popularity calculator seems to make a tweet around 95% (!) more likely to be shared, according to the algorithm. Indeed, just the words "please retweet" by themselves seem to have an 85% chance of sharing better than any other text.

Other strategies for success include using language that is familiar to the target audience and consistent with past tweets, as well as mimicking the abbreviated style of newspaper headline writers (suggestions we've made in our Black Belt online training course for a few years now).
The study also recommends giving a tweet a positive or negative spin, making it easy to read and informative, and staying away from the first person. Adding the word "I" to an otherwise identical phrase seems to cut down on a tweet's sharing potential by about 50%.
Now you know!
P.S. And if you's like to put your tweet writing skills to the test, by guessing the more shared tweet, click here to take the quiz the researchers are offering.
Making Twitter Accounts Easier to Manage: ***NEW*** Tweetdeck Teams
One of Social Talent's favourite online social media management tools, TweetDeck, have launched a brand new feature for "power users" and brands called TweetDeck Teams – which Twitter are describing as a "simple way to share access to your account without sharing passwords."
The feature, which is rolled out to TweetDeck for the web, TweetDeck for Chrome and TweetDeck for Windows last Tuesday, creates two classes of users: administrators and contributors:
Admins – can sign into TweetDeck with their personal accounts and send tweets, schedule tweets and add or remove team members. They cannot, however, access an account from outside TweetDeck or change credentials or passwords.
Contributors – can tweet from the account, build lists, follow and unfollow accounts, and send and schedule tweets; they cannot view, add or remove team members, access the account outside of TweetDeck, or change credentials.
The new feature should make it easier for teams of recruiters to post tweets via the company's Twitter account, and take promotional efforts in turn.
LinkedIn Expands Marketing Platform With Off-Site Ads And New Lead Targeting Tools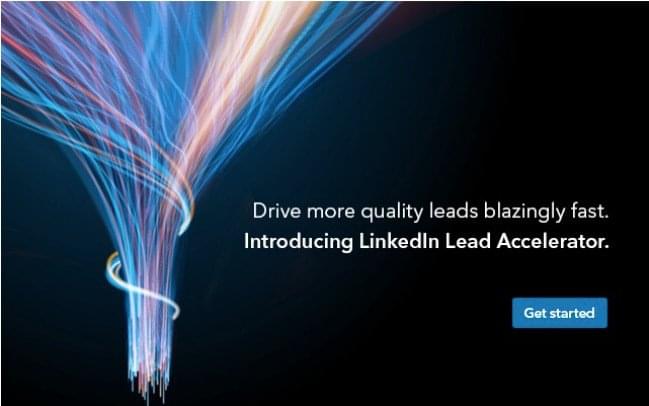 Those busy bees over at LinkedIn launched an expanded version of their Marketing Solutions platform last Thursday which includes new products, an expansion beyond LinkedIn itself, and a broader vision for helping advertisers reach potential customers throughout the sales cycle.
The platform now has 5 main pieces:
LinkedIn Lead Accelerator
Sponsored Updates
LinkedIn Onsite Display
LinkedIn Network Display
Sponsored InMail
But it's the Lead Accelerator that's receiving the biggest product launch, as the new feature now allows businesses to divide their audiences into different segments, and then to deliver ads and content in the right sequence, targeted to each group – something that's being heralded as "game-changing" by the Head of Products for LinkedIn Marketing Solutions, Russell Glas. It allows marketers to capture all the behaviour about who's visiting their website, who's visiting their landing pages, and combine that with the intelligence LinkedIn has,  he continued in a blog post about the product's launch.
eCornell where among early testers of the Lead Accelerator, and they are already reporting that the product has helped them to double their landing page conversion rates. Fellow early testers Localytics saw their lead conversion rate increase by 50%, and Lenovo's cost per lead fell by 60%. Impressive numbers indeed!
But that's not all. LinkedIn is also announcing a new Display Network with this expansion, that allows advertisers to run ads on both LinkedIn itself and on 2,500 publisher sites across the web.
Sales cycles are really long. In the consumer space when someone abandons the cart, you've got to get them right away or you've lost that opportunity to convert them. In the B2B world, these decision-making processes can last for as long as a couple of years. said Russell Glad.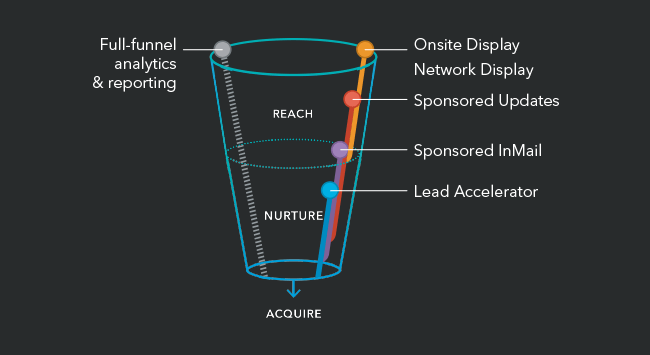 And that, he argued, is why it's important that the Marketing Solutions platform can nurture people along that sales cycle. Glass suggested that with the new products, LinkedIn can now address the full sales funnel, first attracting customers with On Site Display and Network Display ads, moving them down the funnel with Sponsored Updates and Sponsored InMail, and helping with the final stages of customer acquisition through the Lead Accelerator.
Cammio Launches Free Video Pitch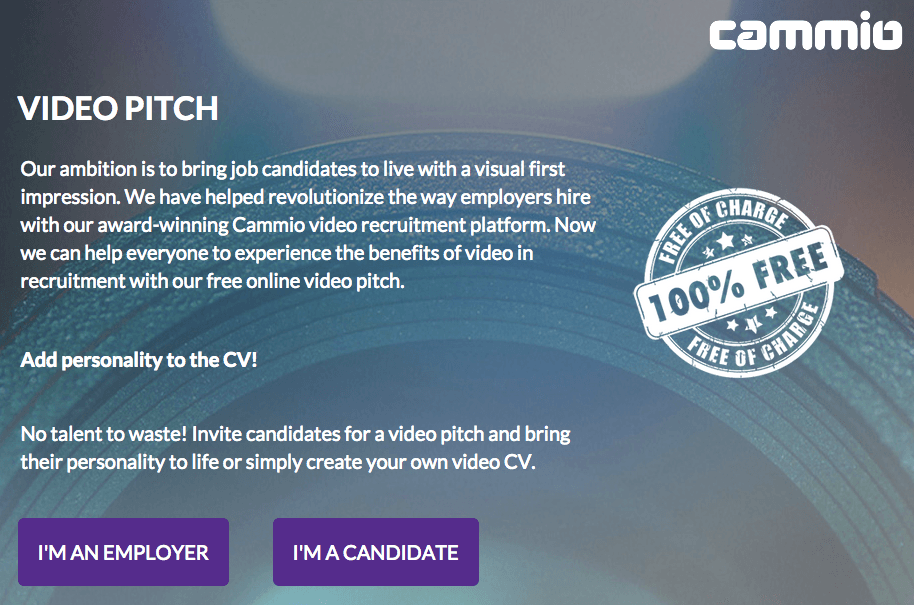 Popular european video recruitment platform Cammio announced last Wednesday, the launch of its new free online video pitch tool. The tool (built on the award-winning Cammio video recruitment platform and billed as helping to contribute to Cammio's ambition to help candidates add personality to their CV), is available on cammio.com and howtovideointerview.com, and lets candidates easily create a video pitch and add it to their job application straight from their desktop or mobile device. Recruiters can also invite a limited number of candidates per month to create a video pitch as part of the application process and benefit from a more personal way of hiring.
A press release for the release stated:
The Cammio free video pitch allows candidates to add personality to their CV with a short 30-second video recording showcasing their personal motivation. The pitch is available for 30 days and a maximum 100 views. Both employers and candidates can access the video pitch tool on cammio.com or educational website howtovideointerview.com to create a video pitch in only a few clicks. Now candidates have another, more personal, way to express interest in the organization and role they are applying for. Video helps recruiters gain a better first impression of candidates and at the same time helps candidates to stand out amongst other applicants. The free video pitch is made available next to the paid Cammio end-to-end video recruitment platform that offers a full range of video interviewing functionality and comes with full branding, custom workflows and API integration capabilities.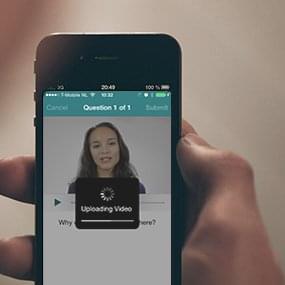 Earlier this month Cammio already announced the release of the world's first web-based video interview application, as part of its new mobile video recruitment solution suite for candidates. Featuring an installation free mobile video interviewing application for Android devices and an installed App for iOS devices, the suite enables an industry leading mobile video interview workflow for job applicants on the Cammio platform. Candidates using the Cammio video pitch can now also create a professional video pitch on mobile or tablet in only a few minutes. The unique combination of the mobile suite and free video pitch tool further strengthens Cammio's unique offering to employers and candidates around the world – and we for one, are quite impressed by it!
Good News for the Oil & Energy Job Market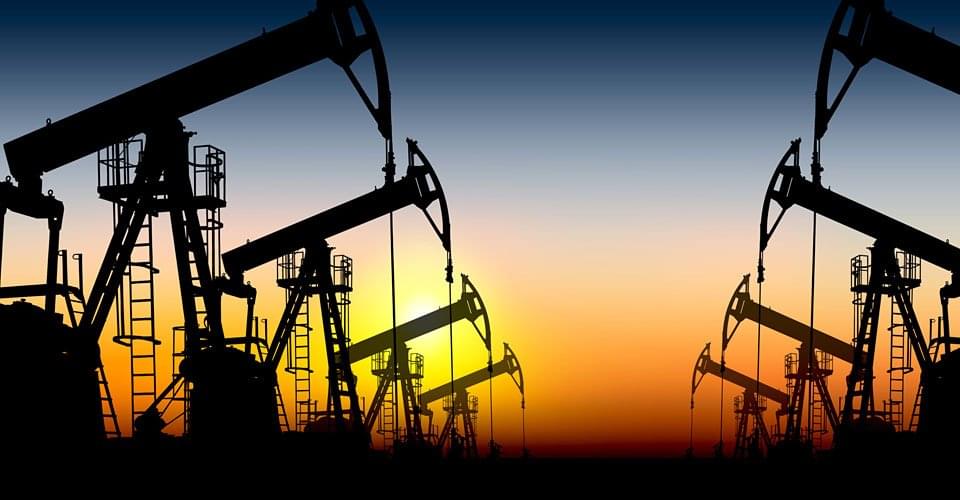 New LinkedIn data shows that although the spot price of oil has been declining since summer 2014, oil & energy employment actually grew by 0.6% throughout the year, meaning slightly more people joined the industry than left it over the course of 2014. Growth continued even between October 2014 and January 2015, the period when declining oil prices became daily news. However, fourth quarter growth was not evenly distributed across the globe. Employment increased in North America and the Middle East, but declined in most of Europe.
LinkedIn found that when the going gets tough, the toughwell, apparently, they stay put. The proportion of oil & energy professionals on LinkedIn who viewed jobs did not change significantly over the last year. More job viewers applied to jobs, but oil & energy was consistently the most popular industry among applicants.
This popularity only shifted in January 2015, when slightly more applicants favoured jobs in energy consulting rather than working directly in oil & energy companies.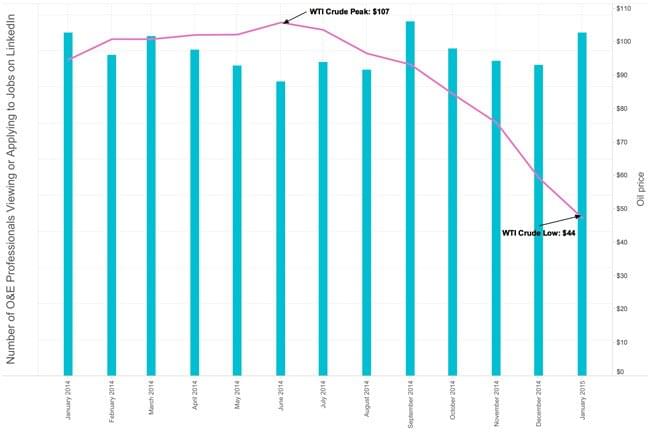 After a brief decline in recruiting activity in November and December '¬€œ a slow recruiting season across most sectors '¬€œ oil & energy recruiters had a busy start to the year. In fact, recruiters reached out to as many potential candidates in January 2015 as they did in June, when oil prices were at their 2014 peak.
This past month saw an average of 21,000 oil & energy jobs open on LinkedIn each day, most of them in management, engineering and sales. And while there's still no consensus on if and when oil will return to triple digit figures, there's good reason to believe that oil & energy companies are well equipped to ride out the price slump this year 🙂
LinkedInOut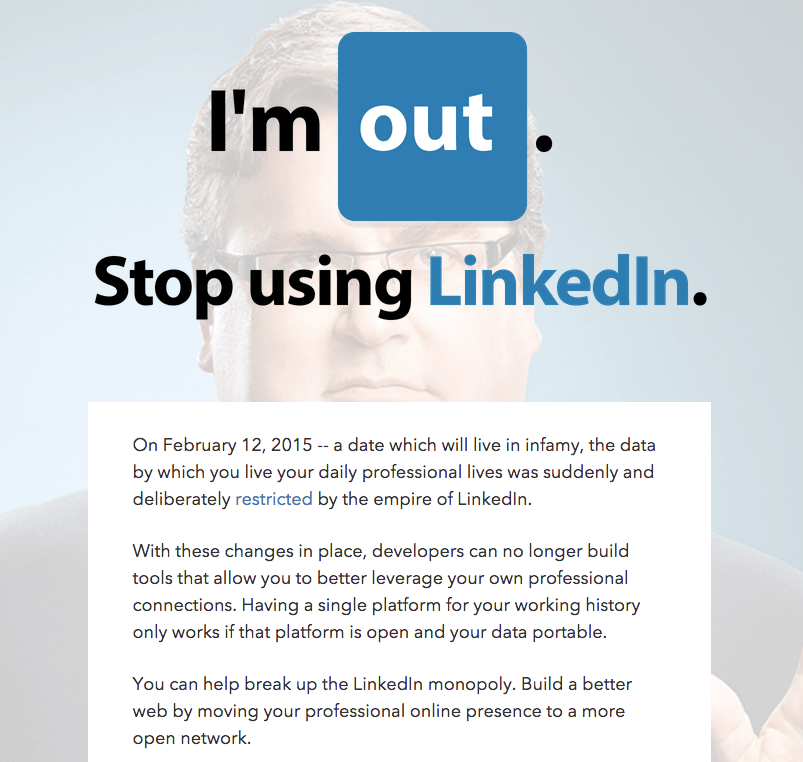 Fed up with LinkedIn?
It would appear you're not the only one, in fact an entire website called StopUsingLinkedIn.com has just popped up online encouraging talented professionals to dump LinkedIn in favour of more open [professional] networks like GitHub, StackOverFlow, Quora, Béhance, About.me and Viadeo.
Why has someone taken all the trouble taken the trouble to set up such a website? Data restrictions.
According to the site:
On February 12, 2015 — a date which will live in infamy, the data by which you live your daily professional lives was suddenly and deliberately restricted by the empire of LinkedIn.

With these changes in place, developers can no longer build tools that allow you to better leverage your own professional connections. Having a single platform for your working history only works if that platform is open and your data portable.

You can help break up the LinkedIn monopoly. Build a better web by moving your professional online presence to a more open network.
The site then invites visitors to show their support for the cause by signing a petition, exporting their LinkedIn data, closing their account and trying the alternatives that the site lists by industry.
Do you think LinkedIn has gone too far this time? Will you be signing up for an alternative professional network? Let us know in the comments below.
Find out how the likes of IBM, IKEA and Siemens
drive hiring excellence with SocialTalent
---