Keep up with the latest hiring trends!
LISTEN UP: Do NOT Miss this Week's 7 Biggest Recruiting News Stories - 25th May 2015
In the news this week:
New LinkedIn Data Reveals How Candidates Want to be Recruited in 2015
LinkedIn have just released their second Talent Trends report and it's full of juicy stats and insights into the minds of candidates globally as well as in several different individual markets, and how recruiters can successfully engage them during the recruiting process.
The key takeaways from the latest Talent Trends report where highlighted in an infographic:
Where candidates start their job searches
According to the report when candidates are just beginning to explore new opportunities, relationships light the way. 56% of candidates turn to their connections on social networks to discover companies that are hiring, and 50% do so through personal conversations on-line or in-person. This means it's essential for companies to put relationships first. Encouraging employees to act as brand ambassadors, giving alumni reasons to stay connected, and making all candidates feel like a part of your company's inner circle will go far in improving your relationships and ultimately yielding more applicants and better hires.
How to catch talent's attention from the start
When you reach out to a prospective hire, be sure to include the information they want, and don't waste their short attention span on information that won't move the needle. Overall, talent wants to first understand what the role's responsibilities are, then why you as a recruiter are reaching out to them (make 'em feel special!) and finally, what a reasonable salary range for this position might be. By providing the right information up front, you're respecting everyone's time and increasing the odds of getting a response back. Simple as.
Nail the crucial interview
Help your hiring managers close more candidates by coaching them on what matters most to talent on interview day. This is especially true of tech candidates. An office tour is nice, but make sure at least one interviewer has an in-depth discussion with your candidate about what your company actually does, and how you make money. It's the number one thing talent wants to learn during the interview, and often times (sometimes out of fear of asking), it remains a mystery until after the offer letter is signed.
Download the Global Talent Trends 2015 report here, the UK report here, and the US & Canada report here. All other country reports can be downloaded here.
The Google-Twitter Deal Goes Live, Giving Tweets Prominent Placement In Google's Results
Starting last Tuesday, tweets finally became searchable in Google. Right now, the new implementation will only be offered for those searching in the US, in English, using either their browser in iOS or Android or the Google Search App (Twitter promises support for desktop and other languages in the coming months).
This means you no longer need to go directly to Twitter to look up specific Twitter accounts, hashtags or tweets concerning given topics. Now when you're searching on the Google app or any browser on your phone or tablet, you can find real-time content from Twitter right in the search results. For example, you can simply search "NASA Twitter" to view the handle and account's most recent tweets. Searching for specific hashtags or other topics that may be trending will also turn up Twitter results.
Look & Feel
In terms of look and feel, tweets will be displayed in a "carousel" format at the top of the Google search results page, where many of them show large images: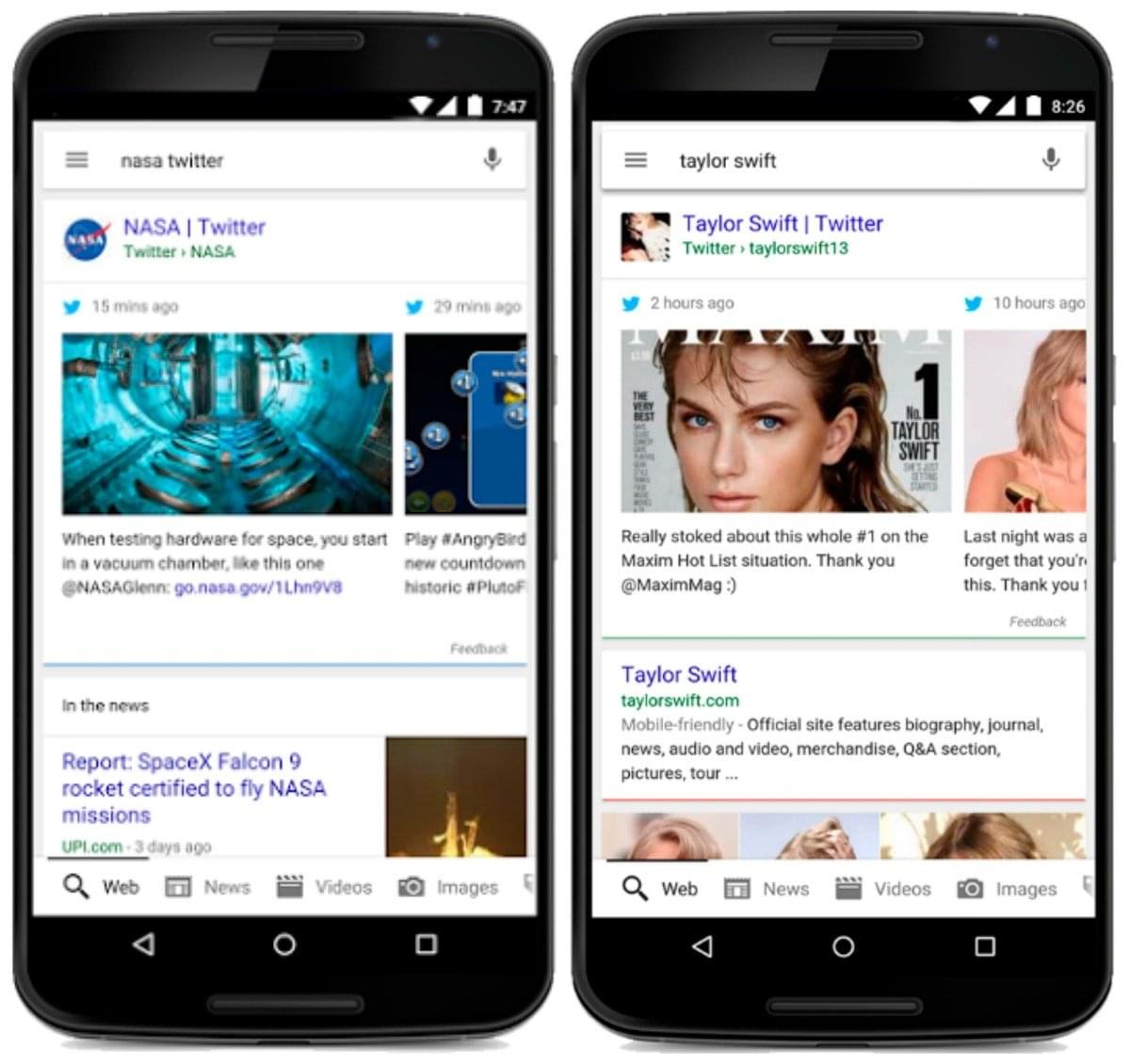 You can slide through the carousel to see other tweets, as shown below: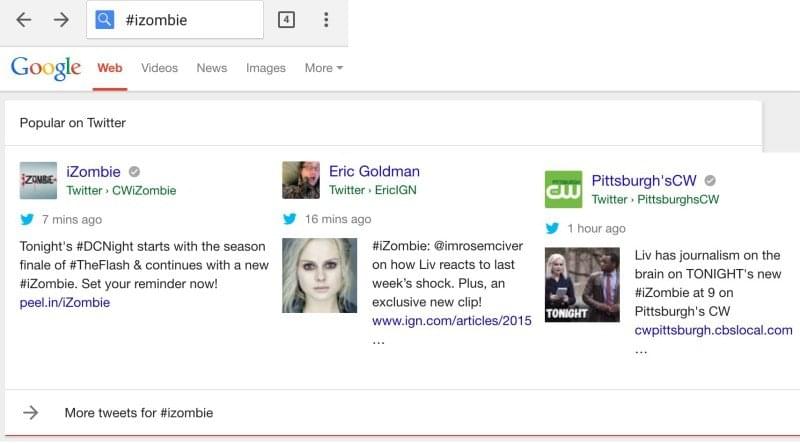 But tweets don't always appear at the top of the page. Sometimes they might be elsewhere, such as the middle of the page, as this example for "MacBook Pro" shows:

And sometimes, tweets don't seem to appear at all. When SearchEngineLand asked Google to confirm why tweets might not show, what controls exactly where they show, and if they're showing all tweets for a query in chronological order or filtering in some way, the company refused to answer. So as of right now, it's a mystery, but I'm sure all will become clear in time.
What happens when I click it?
As shown below, clicking on the "More Tweets" link associated with the new Twitter carousel will launch Twitter in your browser, where you can get to see more tweets, ads from Twitter and be encouraged to download the app or sign-up: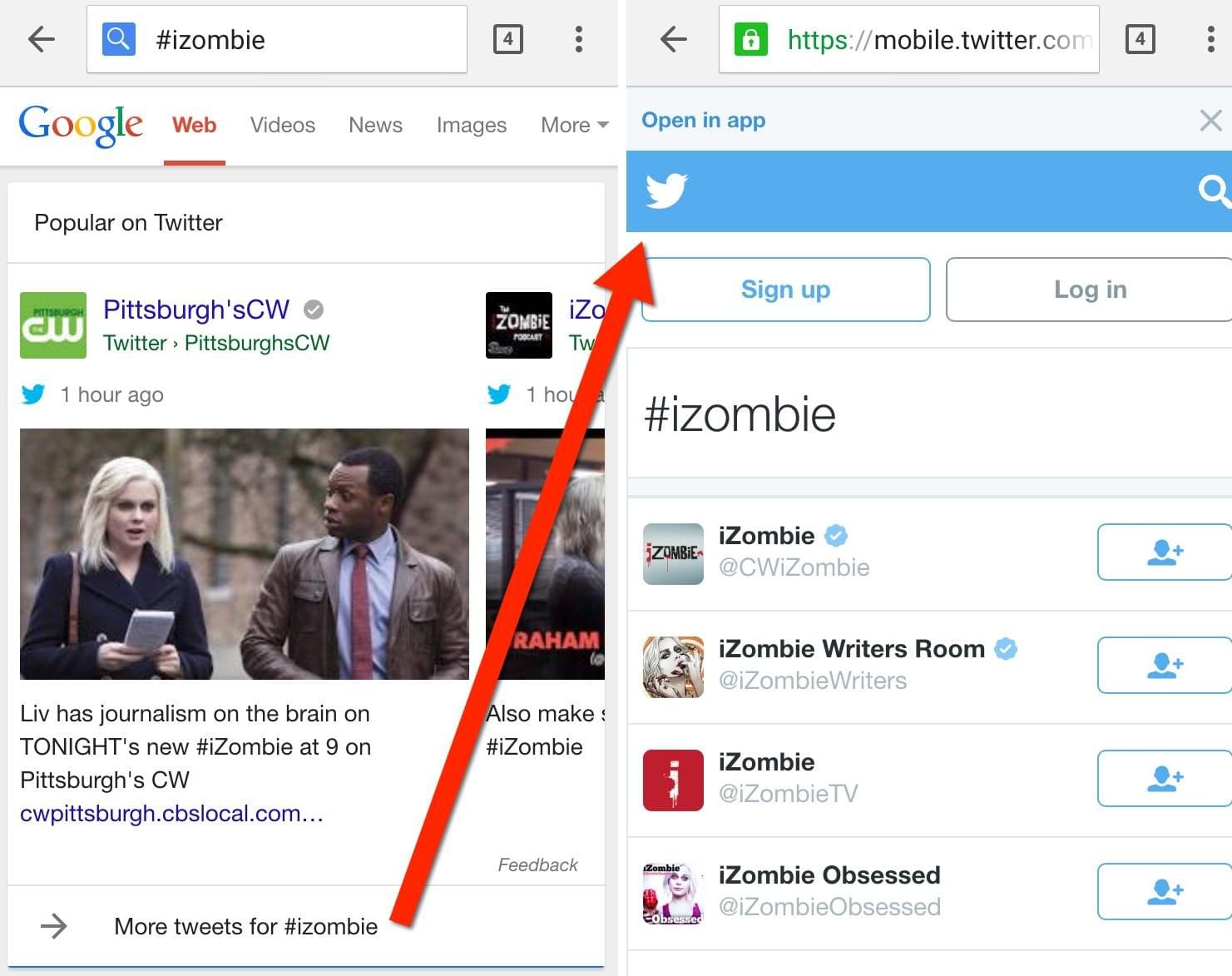 If you have the app installed, and you've set it to handle links from Twitter, then that launches right into the Twitter app experience: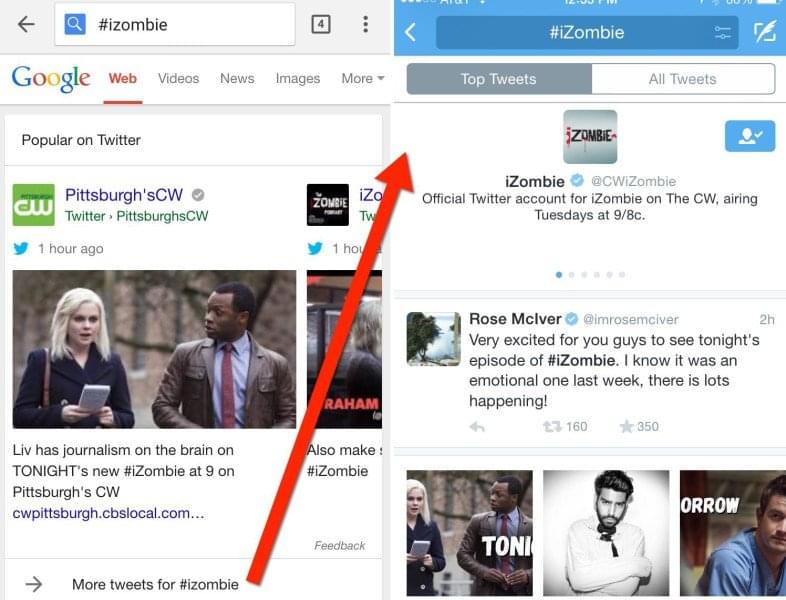 When Twitter accounts are listed, those are also links that lead back to Twitter, as with this example for Taylor Swift: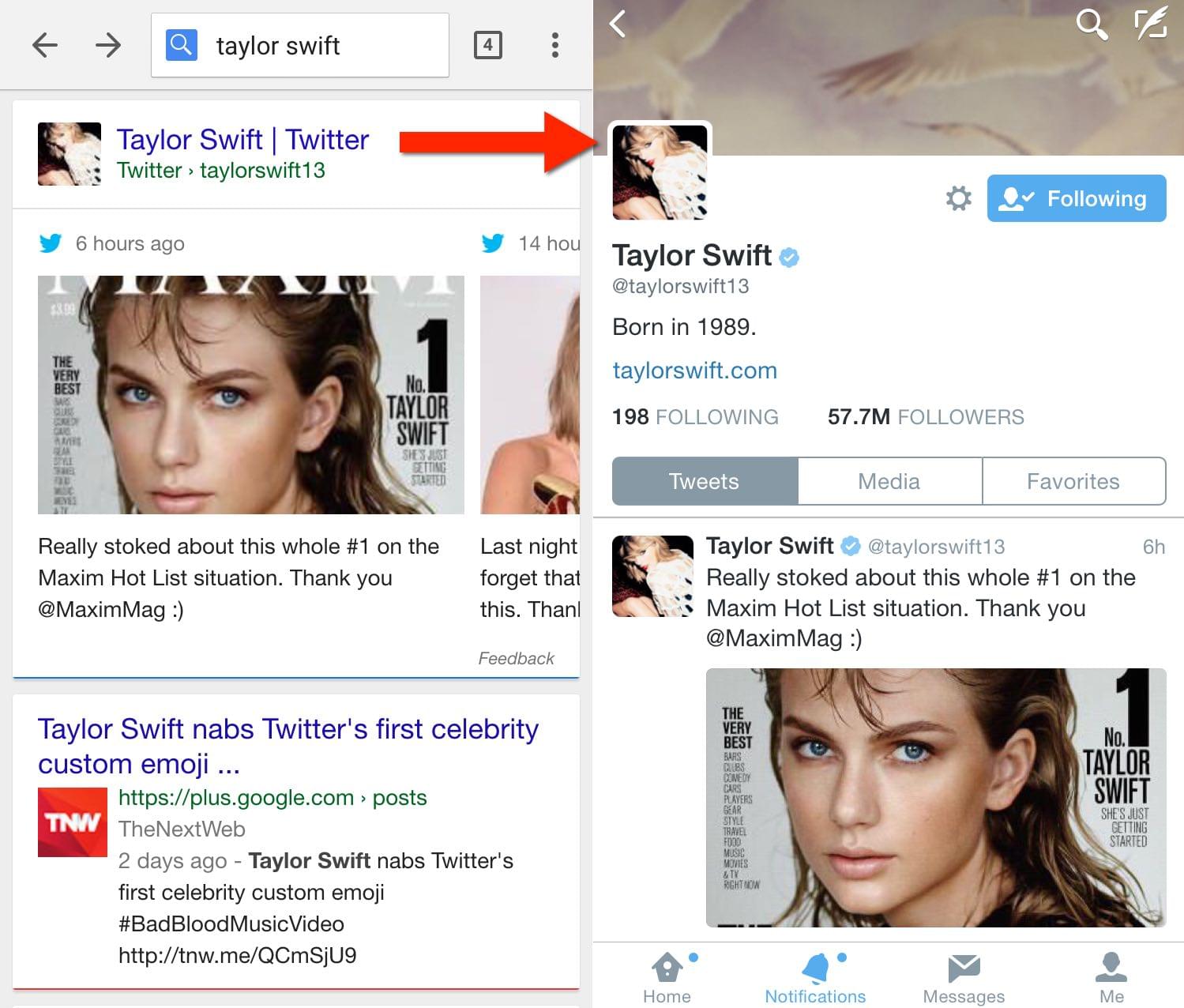 Clicking on individual tweets also will launch Twitter from Google's results.
Not only is this a great way to get real-time info when something is happening. It's also an incredible new way for you to reach a global audience with your job tweets and company updates. SO GET TWEETING!
Freelance Marketplace Elance-oDesk Rebrands as Upwork

If you hire freelancers on a regular basis you've probably come across either Elance or oDesk when looking to find the perfect candidate. Well, as of 2 weeks ago, the company has officially rebranded and merged both sites together under a new name, Upwork.
As part of the unification, the company hopes its new site will help get freelancers hired faster. But what makes this new site different to the two that came before it? Well:
A new real-time collaboration feature is designed to make chatting and working with clients easier – according to Upwork it's similar to Slack but made for collaborating on freelance projects.
A new messaging feature will be available to everyone for free, even those who aren't using Upwork. The idea is that you can create rooms for each of the teams you're working with, which is particularly useful if you're hiring a number of remote freelancers to work together on a project.
The new platform will also come with a new mobile app for iOS that allows you to create jobs, proposals and contracts on the go, and lets freelancers accept opportunities as they come in.
"Enhanced matching algorithms" built by its "Stanford PhD employees" is also touted as a significant improvement that will help freelancers find the right opportunity in a much shorter amount of time.
And another new feature called "instamatch" allows freelancers to set their status to available "right away," "looking" or "not looking" to ensure faster job matches.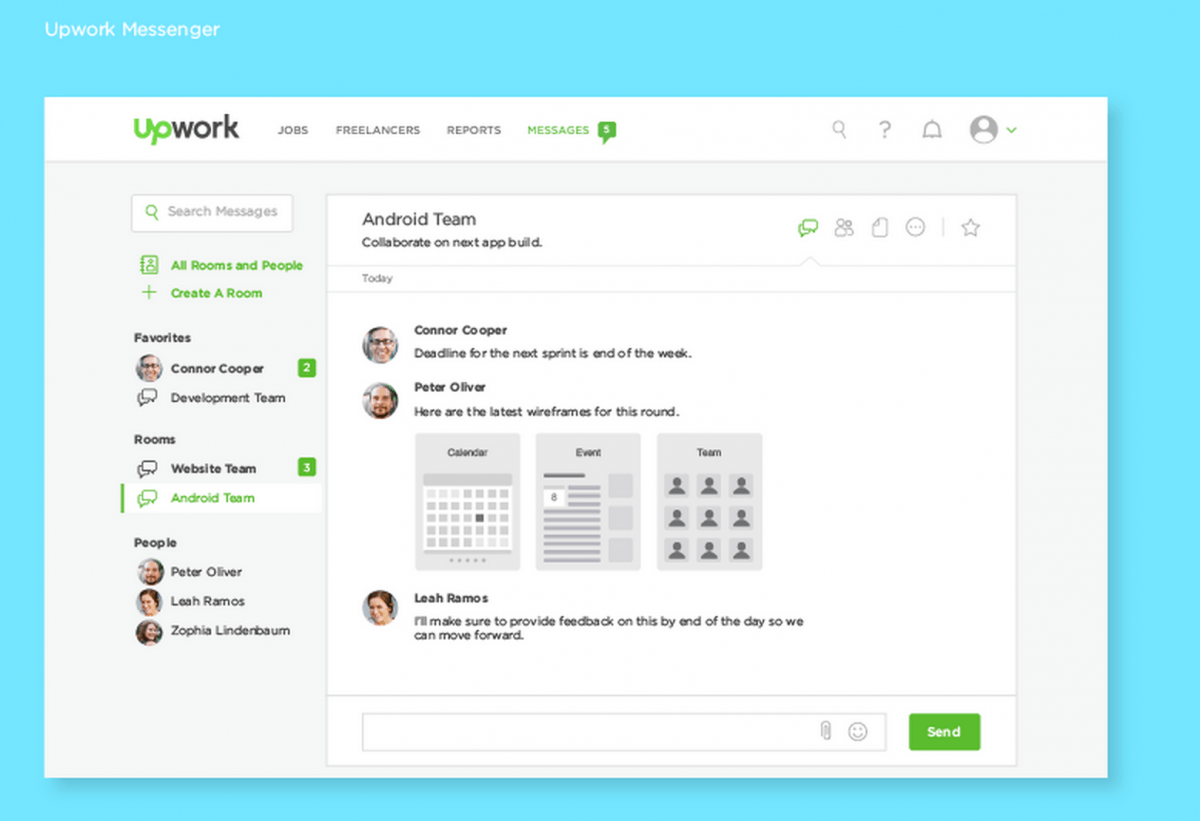 Say Hello to Zenefits For Managers And Zenefits Business Intelligence
The cloud HR solutions startup Zenefits edged further into the Fortune 500 business market last week with the launch of 2 free management tools generally reserved for larger enterprises.
Zenefits for Managers is a tool that will allow managers within an organisation to make HR changes on their end rather than waiting for HR or CEO approval. These are things like adding new hires, changing job titles and bumping up salaries.
Zenefits will also start providing executives with access to business intelligence reports. Called Zenefits Business Intelligence, those using the platform will have the ability to filter workforce data such as compensation, employee headcount and turnover in real-time. The product aims to help reduce inequalities and give executives in different offices some insight on how their department compares.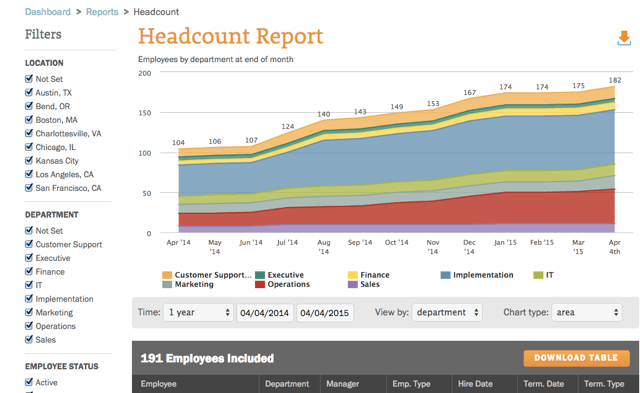 Zenefits has said it originally built these tools for internal use 5 months ago. The two-year-old startup has been going through some growing pains of it's own, nearly doubling in size from 500 to 1,000 employees in the first half of this year. A momentum that started making it harder for Zenefits CEO Parker Conrad to make all the decisions or tell board members how things were going in different sections of the company.
"It was impossible for me to give permissions for every raise, every hire," he said. Zenefits for Managers allows Zenefits users to delegate those permissions and offer real-time insights from each department. "Before I would have to say [to the board] let me get back to you. Now I pull up in Zenefits and say 'let's compare the account management team and see if that's flattened out and see that compared to the team in San Francisco.' Basically, I can look at everything through that lens in just seconds," Conrad said, before saying "If you're a 10 person company you don't need this, if you are a 50 person company you might think it's cool, but to a 1,000 person company this is essential".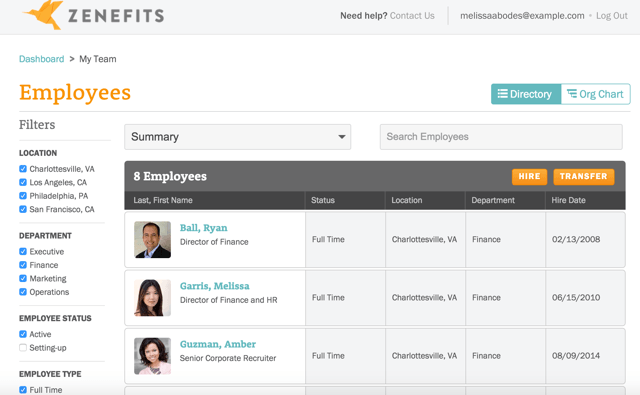 Fore more info on the benefits of  Zenefits for Managers and how it could work for you, check out the video below:
Make Your Videos Even More Interactive with YouTube Cards
If you've watched a YouTube video you've probably come across annotations – the clickable text that appears over the playing video. If you've been using YouTube as a social recruiting channel to attract potential candidates, you've probably been using annotations to engage with your viewers for years.
But annotations had their limitations, the biggest one being that they didn't work on mobile and as most of you already know, the vast majority of YouTube videos are now watched on mobile devices. Enter YouTube Cards, YouTube's latest product update: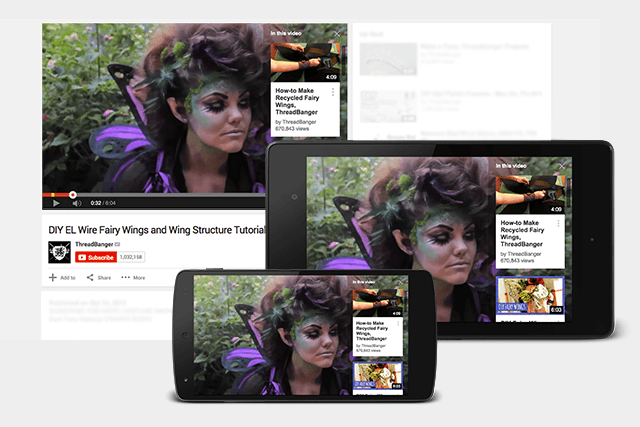 You can think of Cards like an evolution of annotations. They can inform your viewers about other videos, merch, playlists, websites and more, they look a hell of a lot sexier than annotations (which we always thought were ugly), are available anytime during the video and yes, they finally work on mobile!!!
Right now, you can choose from six types of Cards: Merchandise, Fundraising, Video, Playlist, Associated Website and Fan Funding. You'll find a new "Cards" tab in your Video Editor to create and edit them at any time.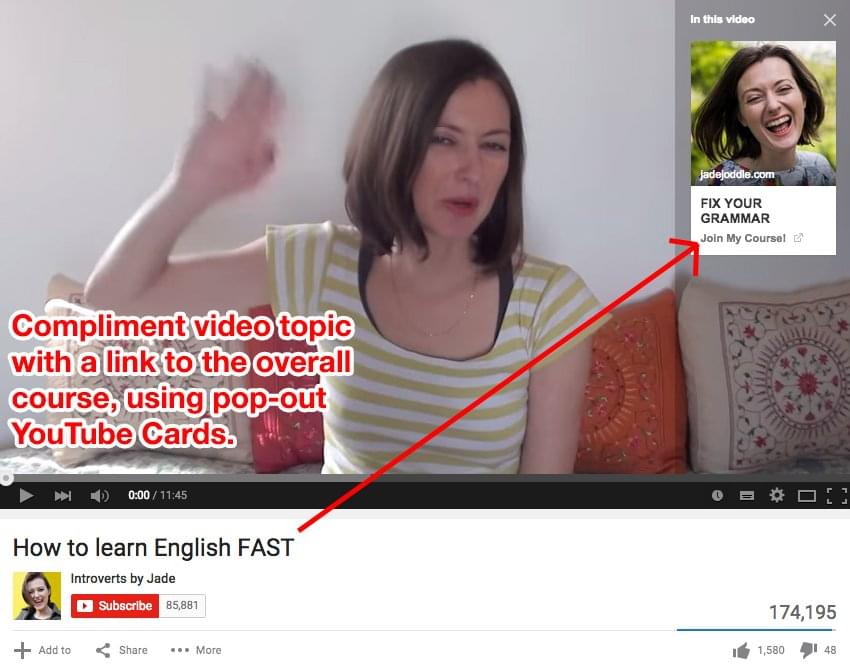 According to YouTube, their goal is to have Cards eventually replace annotations completely, but this will only happen "once they can do everything annotations can do today, and more".
Welcome to Glassdoor's Crib
Ever wondered what it looks like on the inside of Glassdoor HQ? Techcrunch.com were curious so they decided to check it out in the latest instalment of TechCrunch Cribs – the mini-series that goes inside the doors of tech companies to show what it's like for the employees who work hard (and often play hard) there.
Check out the video below to see Glassdoor's waterfront campus and experience life as one of Glassdoor's 400+ staffers:
Chef's Comically Candid and Blunt Job Ad Goes Viral!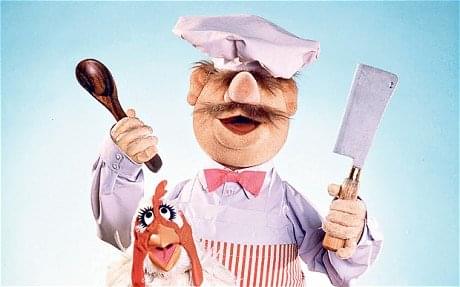 A restaurateur has shot to infamy after posting a hilariously honest job advert for "someone fast, progressive, and not a total ****" on Gumtree! The advert, for the opening at a new eatery in Clarkston in Glasgow Scotland, is written by a businessman named Justin. This is what he said:
I'm opening a place in Clarkston, right off the train station, 1st July.

I have no problem working seven days a week, but on the off-chance I break my foot or get third-degree steam burns on my face I need someone who can work unsupervised and still make quality food. It's a breakfast/brunch/lunch place to start, but there are no eggs benedicts. Go on, wrap your head around that and then continue reading. I'll wait.

If you've got fine dining experience, that's a huge plus. If you can bake, ditto. If not it's fine, as I have a baker I can call in. If your idea of a good sandwich is a tuna mayo like your gran makes then please don't bother responding. Seriously. Last time I was hiring for a place I got over 400 CVs. Do you know how long it takes to read 400 CVs? Too f*cking long. So don't waste anyone's time. I need a second in command to bang out a ton of semi-fancy food in a kitchen the size of a closet, and you also have to put up with my wife because I do, and she's the real boss.

On the plus side there's a second, smaller kitchen downstairs so there's somewhere to hide from us both and still be productive.

The money is sh*t. It's £7/hour and a cut of the tips. Don't ask for more because I don't have it. You'll literally be making more than me because I am essentially working for free until the place is paid off. It's not going to be open any later than 5pm for the first six months, so if you like your evenings you can have them. You can also have a decent degree of creative freedom, menu-wise. I will listen to your ideas and try your weird suggestions, but if I don't love it we're not doing it and that's that. I'll also let you order food for yourself at wholesale cost to compensate for the sh*te pay. That's the best I can do. I'm dead serious about the money thing. Don't come to an interview and then say it sounds great but you've got your kid's school clothes to buy or whatever. I don't care. There's no money. There's £7/hr and some tips, 25-35 hours a week. Deal with it. I'm working 60 hours for half that. You can definitely get more hours once the place has legs, and eventually we'll be open at night so there's the possibility that you can be the solo guy (or gal) in charge of a lot of shifts if you're decent. In fact, if you're awesome and you have actual cooking skills, you'll probably be my best friend and you'll work 55 hours a week and I'll let you put whatever horrible music you enjoy on the stereo and buy you beer.

Chances are that 25-35 hours will actually be 45 right off the bat, but I'm not offering that right now because the doors aren't even open and I've never met you.

Whites are not required. Just sensible shoes, a t-shirt or button-down (no taps aff cooking), and an apron. Pay is bi-weekly with tips doled out on the off weeks.

Now, about the food:
It's a free-for-all. Seriously. I'm calling it an "American Diner" because I'm American and it's a diner, but there's sumac, harissa, n'duja, compotes, mooli, shakshuka, mussels, haggis, Greek yogurt, Vietnamese coffee, hoisin, fish sauce, a dehydrator, labneh, kimchi, etc. all happening, but we're basically just going to be making egg-centric breakfasts and really good sandwiches. Diner food made with fine dining techniques or at least the level of care usually only given to fine dining dishes. You like weird condiments? Great. Me too. You have no idea what I'm talking about? Then please, PLEASE, don't apply for this job. I have way too much sh*t to do in the next six weeks to be interviewing people I'm never going to hire.

I live in the city centre. If you do too, the train from Central Station is £3.50 round-trip to the back door of the shop. The #6 SimpliCity bus drops you off right out front, as does the #4. If you drive, great. If you live in or near Clarkston, even better.

I don't care if you're super outgoing or actually mute. I don't care if you've got tattoos. I don't care if you only work in kitchens to get away from your horrible significant other. I don't care about anything other than that you're fast enough not to be in the weeds constantly and you want to be part of something genuine and good. This is a mom-and-pop type restaurant. You can learn a lot. You can have a good degree of freedom. What you cannot do is be a pain in my balls because my life savings is on the line and I have to work with my wife all day so I don't have time for any primadonna bullsh*t. Come be part of a family and make better breakfasts than Glasgow knows what to do with or pursue your MasterChef dreams at one of the properly fancy places all over town (or bang out grease bombs at an all-night chippie if that's what you're into). I promise if you're good you'll be full-time in no time and I'll take care of you. I know how horrible this industry is, and I 'm not looking to take advantage of anyone or burn you out so I can go on holiday all summer. It's going to be a hard job, but I genuinely think we can do something refreshing and different in this city, so if that seems like the type of thing you're into, email your CV and we'll make it happen.

Send me a real cover letter too, if you're the cover letter type. If you have one that says you're a "hard-working team player that can also function well alone" and that you "value customer service and punctuality" I will stab myself in the face with a pencil and nobody will get a job. Be honest. Tell me what you want to do and why. Your actual strengths and weaknesses. I'm looking for real people with real ideas, not kids using a CV template they found online.

If you think I sound like an obnoxious d*ckhead, congratulations. You are observant and will go far in life. Don't let it discourage you, though. I'm only a d*ckhead for the first three years you know me. After that I'm a total sweetheart.

Cheers,

Justin

AMAZING!!!!!
Find out how the likes of IBM, IKEA and Siemens
drive hiring excellence with SocialTalent
---