Keep up with the latest hiring trends!
5 Sourcing News Stories to Kick Off Your Week - 2nd March 2015
In the news this week:
Irish Hiring Platform Jobbio' Planning UK and US Expansion after Raising '¬1m
We're delighted to be able to say that Irish hiring platform Jobbio has secured '¬1m in funding via AIB Seed Capital Fund, MXC Capital, Enterprise Ireland, and private investment.
The company, which was set up by brothers Stephen and John Quinn in July 2013, now plans to use the funding to expand its UK and Irish operations and to launch the platform in the US, where it opened a New York office early last month.
According to CEO Stephen Quinn, Jobbio is in the process of revolutionising the global recruitment market. We have seen Jobbio help organisations to solve four crucial recruitment problems for businesses: cost, time, presentation and talent attraction, said Stephen. We give our customers a platform to showcase their brand and opportunities, a global first live applicant tracking system, access to a wonderful marketplace of talent and we remove the high fixed costs associated with recruitment.
Indeed, customers get a platform to present themselves, post job opportunities and organise applications digitally, at what the company describes as an affordable price. The Jobbio 'relevance model', meanwhile, connects customers to the most relevant talent for their business. According to Jobbio, this eliminates the high cost in terms of search, filtering and process associated with the traditional recruitment industry.

There are over 550 companies currently using Jobbio, including Unilever, Ryanair, Dropbox, Bank of Ireland, Mazars, Survey Monkey, AirBnB, and Hailo. Over 100,000 applicants have registered on the platform, and it has generated over 450,000 approved connections between potential employees and brands since launching.
This funding will be crucial to help us consolidate and build upon Jobbio's success to date. Stephen continued. The opportunity is huge and lies in all the dormant CVs sitting in inboxes around the world. We are making job discovery and application a more fluid process, talent can learn more about the companies and the jobs and can apply instantly with a click.
Jobbio has so far signed up over 50 brands across the technology, property, media, marketing, retail and hospitality sectors in the UK, and the company have said part of the funding will be used to expand the UK team by 10 employees to cater for growing demand both from companies and applicants. They will also roll out an update to its site and smartphone app which it said will allow organisations and applicants to connect even more effectively.
So watch this space!
10 Highest Rated Companies for Internships 2015
As the end of the college year draws ever closer, thousands of students will already be starting to look into internship programs and opportunities to get a foot in the door of some of the worlds most popular workplaces.
And it just so happens that Glassdoor, the website which allows employees to rate and review workplaces, have taken some of the guesswork out of it for them – they've just released their 2015 list of the top 25 companies to intern for, according to the interns themselves.
Unsurprisingly, half of the top 10 companies are in the tech industry '¬€ including Google and Yahoo '¬€ but there are some surprises, like the world's largest online mortgage loans retailer, making an appearance in the top 5 also:

Just check out what the interns had to say about the top 10 after :
Facebook – You are working on very interesting problems, which actually affect more than a billion people"
Chevron – Work-life balance was excellent, and I enjoyed the professionalism and congeniality of everyone I worked with". "I feel they take employee health and happiness very seriously."
Google – Millions of users used my project, so even as an intern I really felt as if I was making an impact"
Quicken Loans –  The company is very forward thinking and constantly evolving. "Another bonus: There is almost always free lunch."
eBay – I felt appreciated, guided and really like I was a part of the team"
Yahoo – Yahoo is a great place to work. The people are energetic and dedicated."
Epic Systems – The project that the company assigned me was well-defined, but there was a lot of flexibility with where I could take it.
Schlumgerger –  As an intern, I was given real projects and challenged"
NBCUniversal – They have professional development sessions to go along with your experience in your department"
Boston Consulting Group – People are generally friendly, as is management. "Career development is kept front of mind."
Twitter have Launched an Official WordPress Plug-In
Important news for recruitment blog admins everywhere! While there might be hundreds of Twitter-related plug-ins for WordPress, in the 9 years since it's launch, Twitter have never realised an official plug-in to make WordPress and Twitter play friendly. That is, until now.
Here's what the new Twitter WordPress plug-in does out of the box:
Lets you add a one-click sharing button so visitors can tweet out your stuff
Lets you more easily embed tweets, and customise the colour scheme of embedded tweets to match your site's look. You can change the link color, border color, and pick from a light or dark look
Automatically builds Twitter Cards when you share stuff to Twitter
Helps you add a follow button to your layout
Tracks ad conversions if you're running a Twitter Ad campaign for your WordPress blog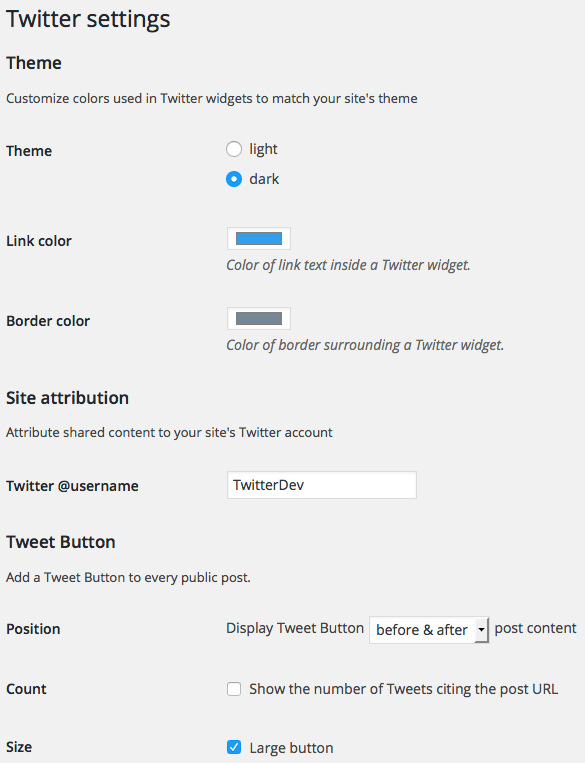 It wraps up a lot of the basics in an easy-to-deploy package and makes it a bit less necessary to hunt through the forest of unofficial plug-ins just to find one that both currently works and is probably going to keep working in the future. But one thing it's lacking, is the ability to embed your Twitter feed, or at least your last few tweets, in your WordPress layout. It'll do individual tweets no problem, but there's no mention of feed embedding '¬€ and that's a pretty popular use case for third-party Twitter plug-ins.
I guess we'll just have to wait and see how Twitter will improve the offering going forward. Download the new plug-in for your blog or website here.
How to: Nail a Compelling Recruitment Video
According to LinkedIn, video will account for 69% of all consumer internet traffic by the year 2017. As a result, that makes video a pretty powerful way to show potential employees a side of your company that words and pictures alone can't convey.
But LinkedIn understand that not everyone has the budget to afford a professional video crew and a crack editorial team, so they put together a FANTASTIC video for how you can make your own recruiting video with just a smartphone, your laptop, some basic video techniques and the people who matter most – your staff.
Check it out (it's really very, very brilliant!):
Twitter's While You Were Away Feature Expands to Android
It may have debuted in iOS over a month ago, but Twitter's catch feature While you were away has now finally made it's way onto Android devices.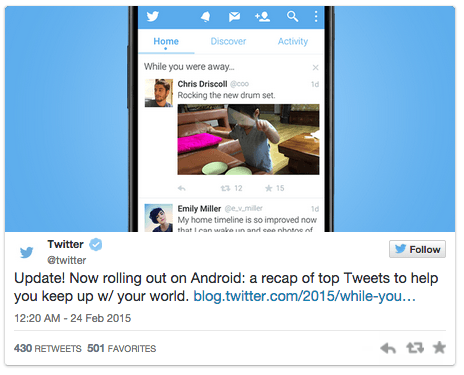 The feature moves away from the chronological format that Twitter has long relied on. Instead of displaying the most recent tweets, "while you were away" also displays the "top" tweets since the last time you've opened the app. It is based on an analysis of tweet engagement and users habits. And while that may sound a lot like Facebook's algorithm-driven News feed that drives a lot of people mad, Twitter insists it will remain more focused on real-time updates – offering just a quick snapshot of what you've missed, not a feed-load.
"If you check in on Twitter now and then for a quick snapshot of what's happening, you'll see this recap more often; if you spend a lot of time on Twitter already, you'll see it less," says Paul Rosania, one of Twitter's Product Managers.
Find out how the likes of IBM, IKEA and Siemens
drive hiring excellence with SocialTalent
---