Keep up with the latest hiring trends!
5 Uplifting and Inspirational Sourcing News Stories - 18th May 2015
In the news this week:
Facebook Search Ambitions May Actually Start Impacting Google (and Helping Recruiters!)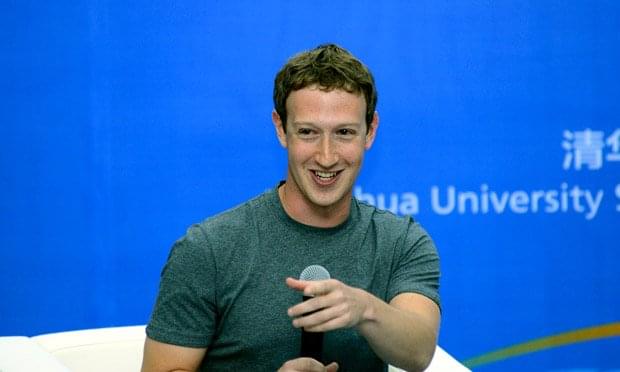 On Facebook's most recent earnings call, CEO Mark Zuckerberg noted that Facebook users perform more than 1 billion searches on its mobile app on a daily basis. In previous quarters, he's called out Search as a product that he wants to develop further and grow. While Facebook introduced more robust search functionality in 2013 with the release of Graph Search, its functionality is extremely limited compared to the potential in the social graph data behind it – as we recruiters well know!
Over the weekend, TechCrunch reported that Facebook is working on a new use for its social graph data, which will allow users to search for links to articles directly from Facebook's mobile app. The aim is to solve the problems facing users looking to share content via mobile devices, which involves lots of app switching and copying and pasting. This could have a small impact on Google now, but it could have a much more significant impact in the future.
Now as we all know, Zuckerberg isn't a shy guy and he certainly isn't shy about giving investors an idea of where he sees Facebook's search product going:
A lot of what we can get at are recommendations on products and travel and restaurants and things that your friends have shared. … That's the type of stuff — those are questions that we can answer that no one else can answer and that's probably going to be what we continue to focus on doing first.
Surfacing links that are popular on the network is a perfect example of what he described on the company's most recent conference call. As is the new feature Place Tips, which Facebook released last quarter to surface posts from friends in places near a user's location.
What's most interesting about the comment Zuck made is that he said those are things "we continue to focus on doing first." That statement implies that he has a much bigger vision for what search on Facebook could be. Considering Facebook accounts for nearly 20% of time people spend on mobile devices, and searching the Internet for answers has become one of its main purposes, Facebook has a big opportunity to lean on data unique to its service to create a new search engine.
Why Google Should Be Scared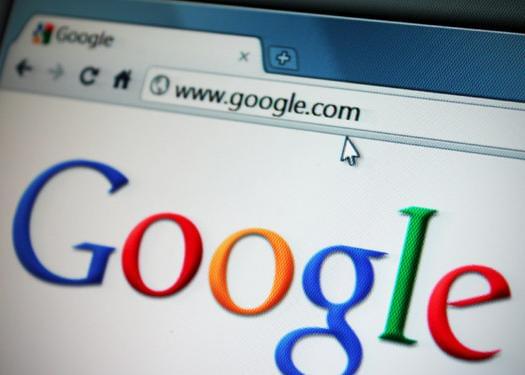 Facebook's popularity on mobile coupled with its unique data represents a huge potential threat to Google's success on mobile devices. Google's search engine runs mostly on publicly available data, and it tweaks its results based on a user's' previous browsing habits. So, if you visit TheUndercoverRecruiter a lot, you might see moreTheUndercoverRecruiter articles in Google News search results. Facebook, on the other hand, being the 'Big Brother' that it is, knows what you, your friends, and their friends are sharing and are interested in, which may provide better personalised results.
Additionally, with Facebook's push into native content with its new Instant Article program — where publishers publish content directly to Facebook — Google could see fewer ad impressions from partner websites. Given two links to the same article — one hosted on Facebook, the other hosted on a publisher's site — Facebook is going to recommend the link hosted on its own platform. That provides a better user experience, and ensures users stay on Facebook longer.
Searching for More Engagement
Facebook's push into search isn't too surprising as the CEO has spent several quarters discussing it as a key product on the level of Instagram, Messenger, and WhatsApp. Continued innovation in search within the Facebook app should lead to wider adoption and, therefore, more engagement among Facebook's users. We're seeing the same thing with Facebook's Instant Articles.
With more time spent finding and consuming content directly in Facebook, the company stands to increase its advertising revenue from more ad impressions, and increased ad spend from both brands and small businesses.
We for one CANNOT WAIT to see how Search develops and how it can help us find more and better talent more efficiently, so we'll be keeping our eyes peeled for developments. Watch this space. Oh and don't forget to register for our FREE webinar, 'How to: Source Top Talent on Facebook', which takes place on Wednesday, June 6th.
H&M Use Employees in a Stunning New Campaign to Recruit New Candidates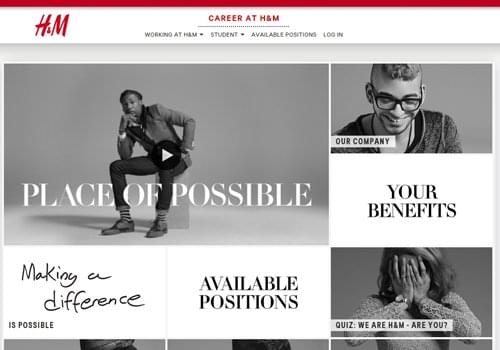 The big Swedish retailer H&M has planned to open 400 new stores worldwide during 2015, with most of those stores opening in China and the US. So, in order to attract new employees to run them the company is running a recruiting campaign called "Place of Possible" that'll encourage fashion-interested candidates to its American stores. The campaign will include  in-store advertising, online videos, outdoor billboards, a college tour and will feature about 50 H&M employees all telling their personal success-stories, and discussing the company's commitment to diversity as well as to sustainability.
Refreshingly, their words are unscripted and the topics of individualism, being accepted for who they are, and how they stumbled upon a career while just in search of a job are discussed at length.
"The fact that I'm in a senior-level position after less than a year with the company," says one employee in a video featured at the top of the company's career site, "I don't know anywhere else I could do that." Currently, 35% of employees in H&M's corporate office began their careers as store sales associates.
Daniel Kulle, President of H&M North America, says: "We are proud to launch of the Place of Possible campaign because we believe the best investment we can make is in our employees. H&M loves bringing fashion to the world and we need to find employees that want to join us in our journey."
Be sure to check it out, it's a beautiful campaign we should all aspire to!
YouTube "How To" Video Searches Up 70%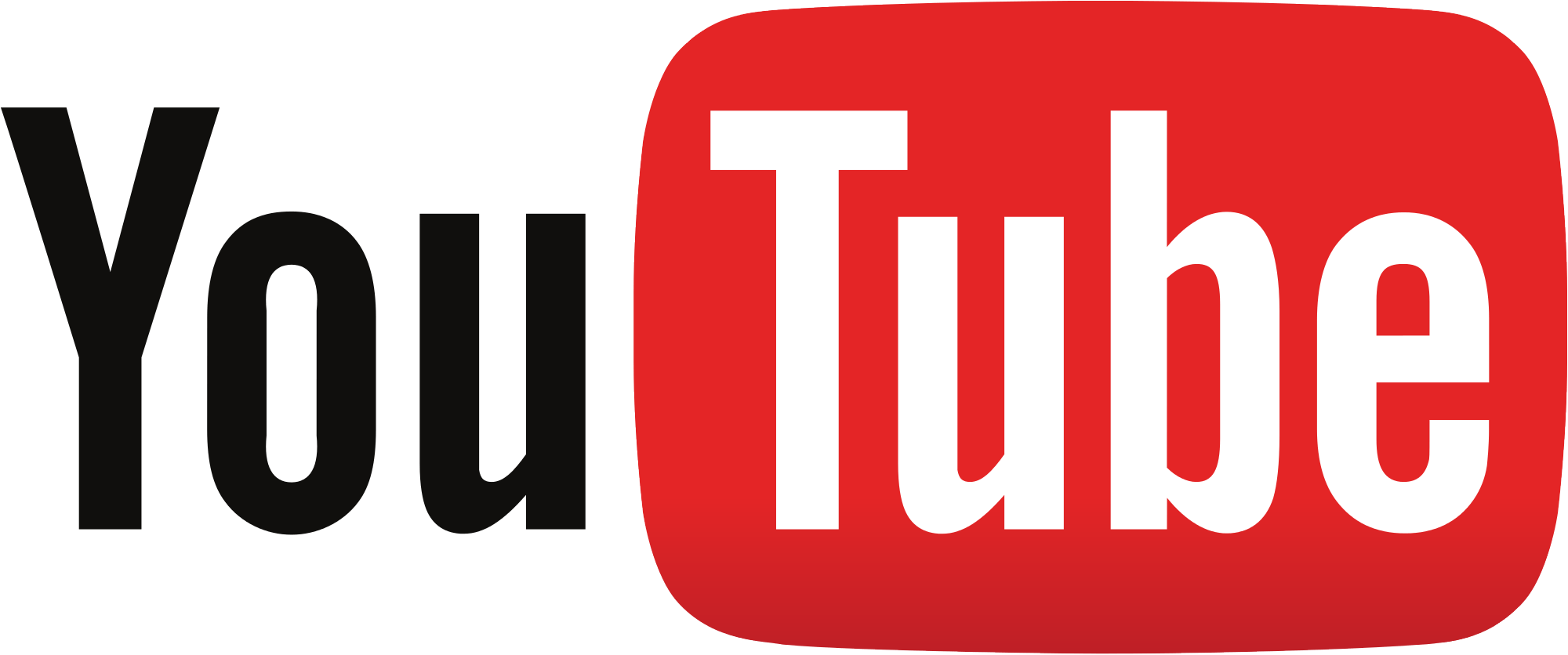 Still trying to figure out the best way to attract candidates via YouTube? Turns out "How to" videos could be the answer. According to SearchEngineLand.com, "How to" video searches are up 70%, with over 100 million hours of them already watched in 2015 so far.
YouTube found its most popular "how-to" searches are related to home-improvement, beauty and cooking videos. The top how-to home improvement video searches include "how to unclog a toilet," "how to remove wallpaper" and "how to decorate your bedroom." For beauty, users are most often searching for how-to videos related to "prom hair," "balayage" (a hair colouring technique) and "man bun."
YouTube accounts much of its search growth to mobile, noting 91% of smartphone owners turn to their phones to complete a given task.
"Being constantly connected has trained us to expect immediacy and relevance in moments of intent – the I-want-to-know, I-want-to-go, I-want-to-do and I-want-to-buy moments," reports Google, "These micro-moments are the new battlegrounds for people's hearts, minds, and dollars."
Google says Millennials have also played an integral role in driving YouTube's search numbers. Citing its consumer study from last month, Google reports 67 percent of Millennials agreed they can find a YouTube video on anything they want to learn.
So take note recruiters, this could be an ingenious way to attract passive candidates attention! Think "how to find a job on Twitter", "how to dress for an interview" etc.
The Top 10 Most Unusual Company Perks
According to LinkedIn, 56% of talent acquisition leaders say that employer branding is a top priority for their company in 2015. But while many companies are covering the main employer branding bases – culture videos, a vibrant social media presence etc. – a few are trying out something new. They're providing their staff with unconventional perks that give their employees something to talk about – often times on social media. After all, who can resist sharing a photo of an out-of-the-ordinary company gift? We're guilty of it ourselves in Social Talent! Dr. Dre Beats headphones for Christmas anyone?
The rationale behind this unique approach? Well, LinkedIn tell us that employees' social networks are 10-times larger(!!!) and are considered 3-times(!!!) more credible than the company's own social channels, so the potential reach of this type of employer branding is HUGE and some employers are starting to cash in on that fact.
Here are the 10 best examples of perks that are getting employees across the world buzzing online:
1. AnyPerk gives their top performers portraits of themselves as dragon slayers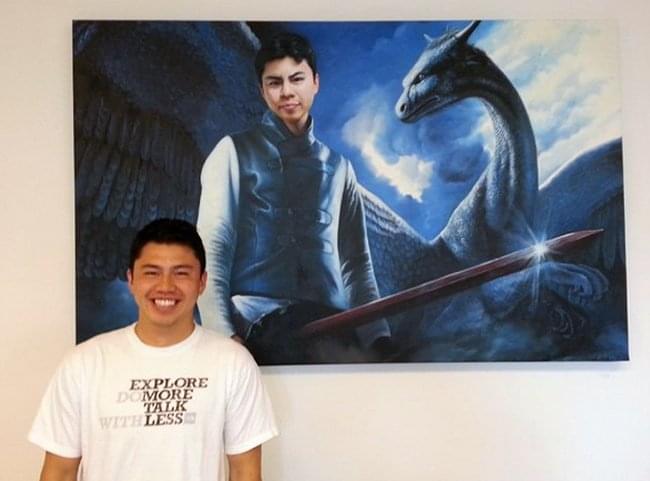 I mean, who wouldn't tweet out an awesome picture of themself painted as a dragon slayer? And who wouldn't want to work for that company upon seeing that tweet?
2. Ben and Jerry's gives its employees three free pints a day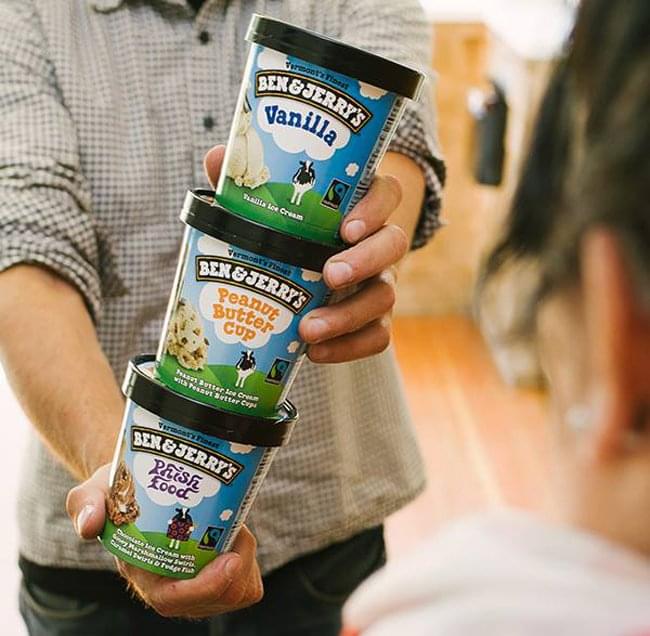 I guarantee the first day of every Ben and Jerry's employee ends with a Facebook update showing off of their three free pints of ice cream. And, the next day, Ben and Jerry's gets 24 more job applications from that person's Facebook friends. I can't help but wince at the amount of calories though!
3. Chartbeat has a "Puppytorium"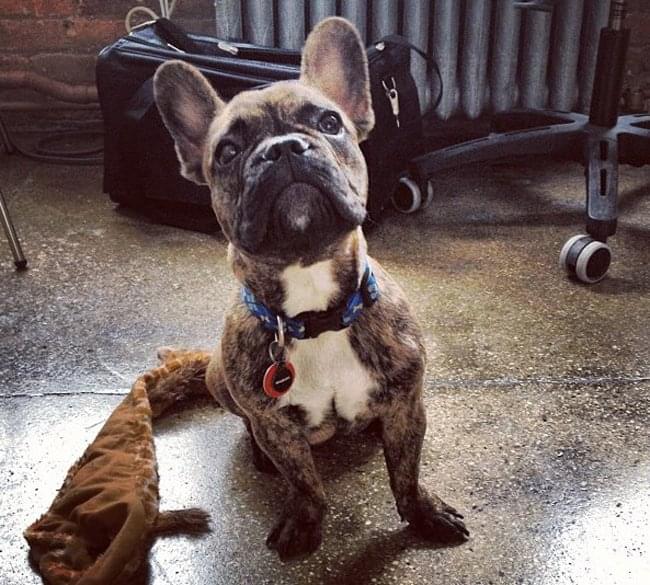 Yep, you read that correctly. Chartbeat have a special area for staff members to sit and play with puppies. I dare you not to post a picture of an adorable puppy on your Facebook page. It's impossible.
4. Recreational Equipment Inc. celebrates Worst Tie Day and Christmas in July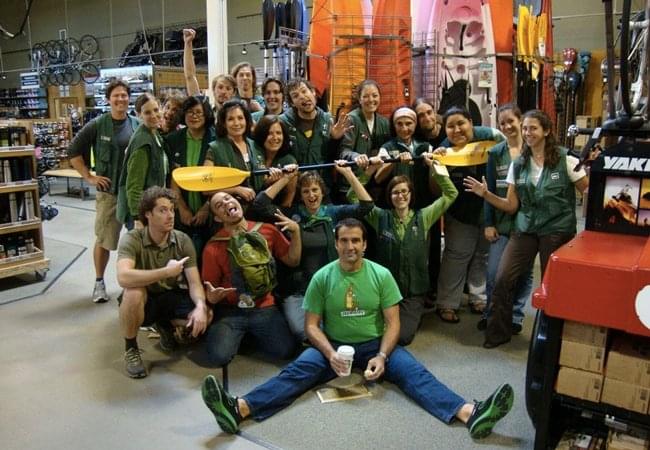 You know what gets people tweeting? Theme parties.
5. Airbnb has "Formal Fridays" (even the dogs dress up!)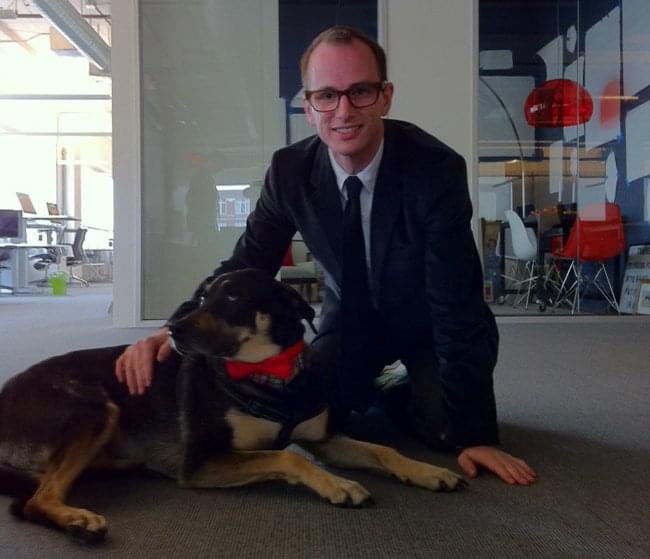 Casual Friday is so five years ago! And since the company, like many tech companies today, has a lax dress code anyway, they now use Friday as a excuse to dress up overly formerly.
6. Pandora has in-office concerts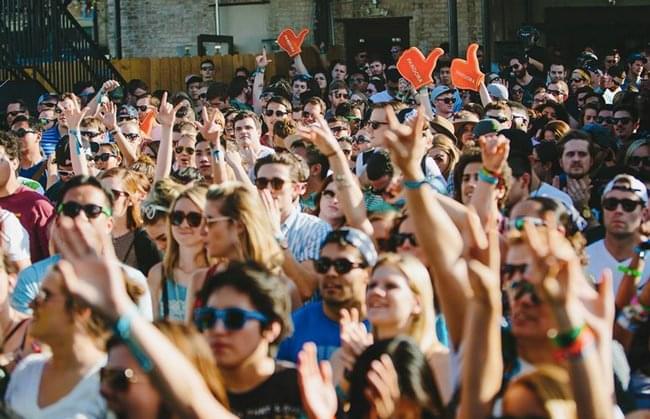 The Oakland-based music company takes advantage of its connections by offering FREE (I repeat, FREE) in-office concerts to its employees. When's the last time you saw someone at a concert without their phone out?!
7. The Huffington Post gives out sweaters for Christmas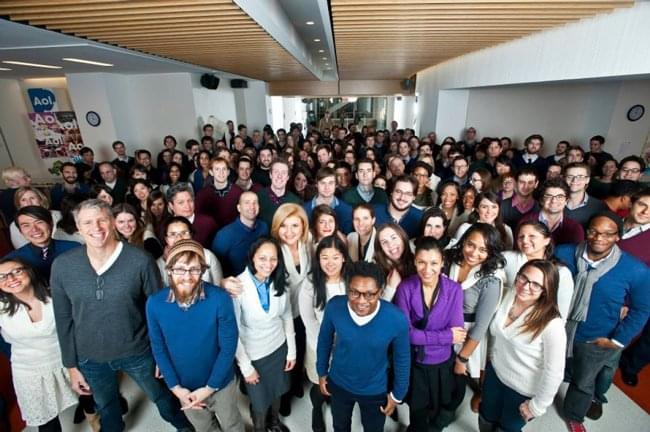 And not just any sweaters! Girls got J. Crew, guys got White & Warren… *drools*
8. Freeborn & Peters has an annual "luggage party" with a big-time payoff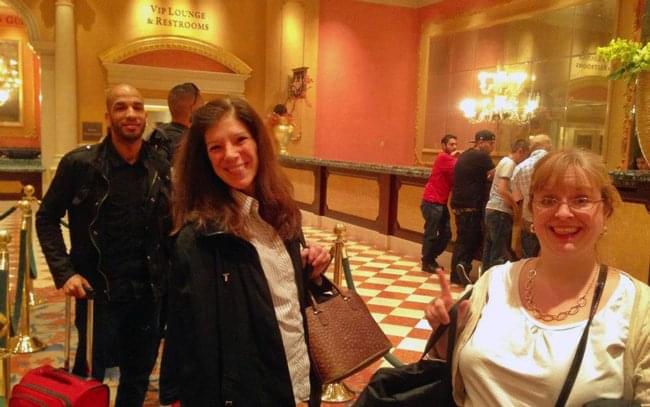 Once a year, all the workers at the Chicago-based law firm gather together, each armed with a piece of packed luggage. There, 4 employees are randomly chosen, where they are given an all-expense paid trip to Las Vegas. And you can bet that whatever happens there will not be staying there, it'll be plastered all over social media!
9. Dropcam gives out free helicopter rides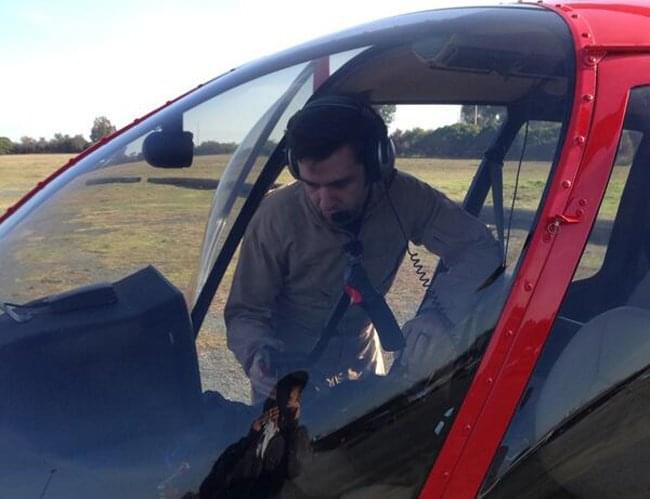 Work for Dropcam, get a voucher for a free helicopter ride with company CEO Greg Duffy serving as the pilot. Seems like a pretty good chance you'll take a photo up there and then want to humblebrag about it online.
10. Alibaba will help you get married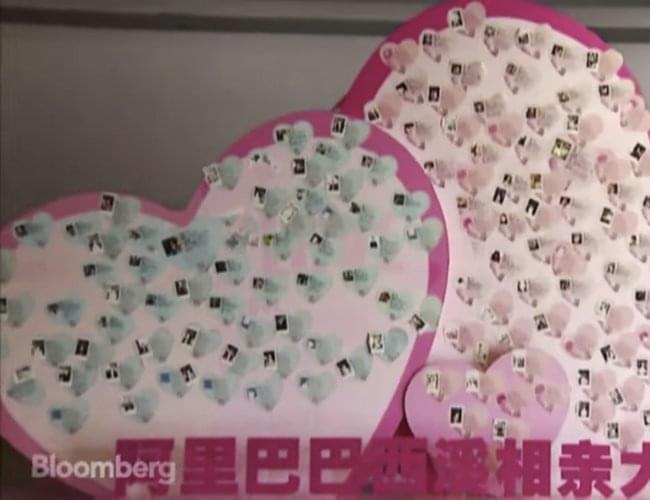 Perhaps the most interesting of them all. At Alibaba's Chinese offices, there is dating board full of blue and pink hearts. The blue hearts have the phone numbers and photos of single men who work at the company and the pink hearts have the phone numbers and photos of single women at the company, to encourage dating. This one is a little "alternative" but still a nice gesture that'll get people talking.
Amazon's "Life in Seattle" Recruitment Video Has Become the Target of Several Harsh Parodies
A recruitment video created by Amazon to encourage potential candidates to relocate to their Seattle HQ, has unwittingly become the target of several, rather harsh parodies.
The video in question (which was actually uploaded 2 years ago), consists of several interview snippets with Seattle based Amazon staff members highlighting the the key selling points of city and trying to douse any negative rumours about torrential rain:
However, some viewers thought the video had failed to include highlight One of those companies is Sub Pop Records (a record label also based in Seattle), who recently decided to parody the video with members of their own staff. Why? "Because we felt they left a few things out, we made this companion version to welcome all newcomers to our wonderful city." a Sub Pop Record employee told
HR Grapevine
with an impish grin:
But Sub Pop aren't the only company to give "Life in Seattle" their own spin, Amazon's attempt to 'sell' their hometown to prospective candidates has also been parodied by a Seattle-based Hip Hop music producer, Spekulation. His version points at the city's rich-poor divide by using voiceover artists to record over the original audio:
Which one do you prefer?!
Find out how the likes of IBM, IKEA and Siemens
drive hiring excellence with SocialTalent
---