Keep up with the latest hiring trends!
5 Great Free Email Tools for Recruiters
This time last year (almost to the day in fact!) we wrote a blog on the Best Recruitment Email Apps Ever, and these email applications have brought nerdy joy to recruiters everywhere. It's time for an update, since some of these tools are changed beyond all usefulness. Here's 5 tools that we love that are ideal for Recruiters.
Rapportive
Rapportive, an exclusively Gmail (and Google Apps for Business) product, is our still our absolute favourite. Its creators  (Rahul Vohra, Martin Kleppmann and Sam Stokes) sold the company to LinkedIn last year it's that good. If you use Gmail for your work email, we absolutely recommend that you use Rapportive in your day-to-day work. As soon as you receive an email from someone, or write in an email address to someone, their social profiles connected to that email address will come up in the Rapportive screen. Their LinkedIn (where you can instantly invite them to connect or see that you're already connected), Twitter, Facebook, Google+, blog and any private notes that you've inserted about this contact appear on your screen instantly.
Download it from the Chrome Webstore here, or for Safari, Firefox or Mailplane.
Oh yeah, Internet Explorer won't work, so if you still use IE for internet, today's the day we recommend you stop and switch to something that works. In other words, anything else.
Outlook Social Connector
When the Outlook Social Connector was launched out of Beta last August, it at last gave Outlook a look-in to socialised email. This is an application that shows you LinkedIn, Facebook, Xing and Viadeo information – so excellent for recruiters, including those recruiting French and German candidates. As an alternative to Rapportive if you use Outlook, it's ideal. Obviously, you don't get the other social profiles like Twitter, blogs, Google+ etc. but it's much better than nothing!
We recommend that Outlook users who were previously using Xobni (another Rapportive-type application for Outlook) install the Outlook Social Connector, as Xobni's API to LinkedIn has been revoked.
Download the Outlook Social Connector here.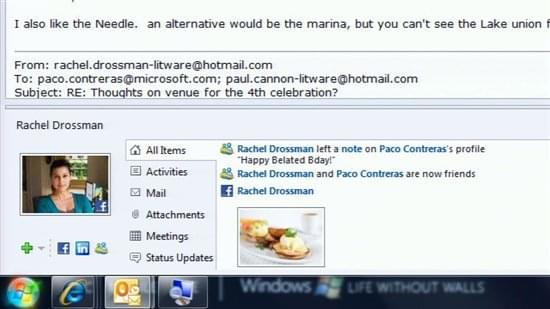 Boomerang
Boomerang is an excellent application (starting from Free) that prompts you to follow up with emails sent out if no response is received, or schedule your emails to send (using the "Send Later" function). This is super handy for recruiters who're approaching potential candidates for roles to remind you to follow up with them if you don't get a response after a certain period of time.
Following up with your cold-approach candidates, and any client for that matter, is essential in this era of internet recruiting. Your email may never have been opened or read (which Boomerang lets you select to alert you to as well), and remembering who to follow up with can be an admin-heavy task. This great free tool manages your email correspondence and prompts you to take action when it's needed.
Boomerang is available for free on Gmail and Google Apps for Business Email (install here) and as a free trial for Outlook here.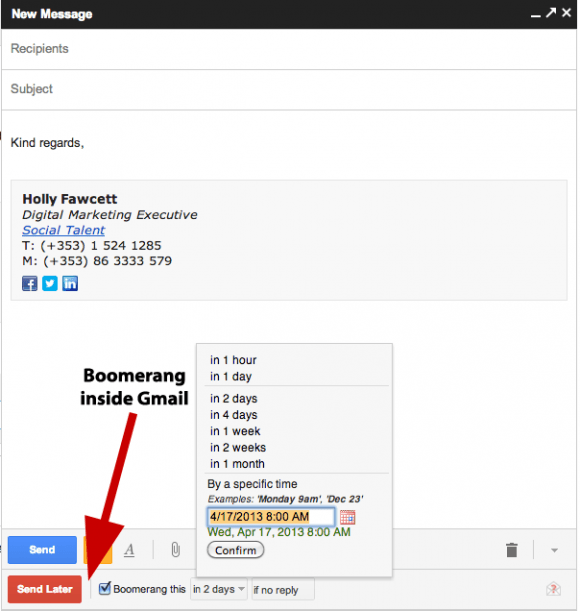 WiseStamp
WiseStamp is an email signature creator that pulls at real-time social data into your email signature, and is an easy way to embed your company logo, social profiles and important links, like your careers page or specific job descriptions, into your email signature. It'll also pull latest tweets, quotes you like or Facebook statuses into your email signature dynamically. This is ideal for getting your referral programme known (for example, having your Quote in your email signature as "By the way, I'm hiring for X role in X city – know anyone for this job?" etc.), promoting your LinkedIn profile or Twitter/Facebook page, and creating a consistent signature look and feel for all of your team with an official company logo, social links and recruitment messages.
It's available as a web-based application, so it'll work with your Outlook.com, Gmail, Yahoo!, Frontier, AOL and Roggers email clients, and is completely free, download it here.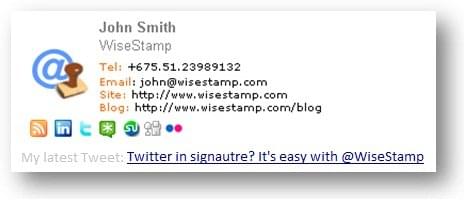 Unroll.me
This is a service for Gmail and Yahoo! email clients, which pulls all marketing emails (including LinkedIn, Facebook, Twitter updates) and newsletters that you're signed up to that clog your inbox, into one convenient daily synopsis email. As recruiters, we get hundreds of emails every week between receiving CV's from job advertisements or correspondence between you and potential candidates you've reached out to. Either way, it's enough trying to wade through all the marketing stuff that gets sent to you in order to reach the important stuff.
So, no more daily Groupon emails and incessant LinkedIn emails and notifications from Groups and the like. Just the emails that matter – from your candidates and clients! Add Unroll.me to your Gmail or Yahoo! mail here.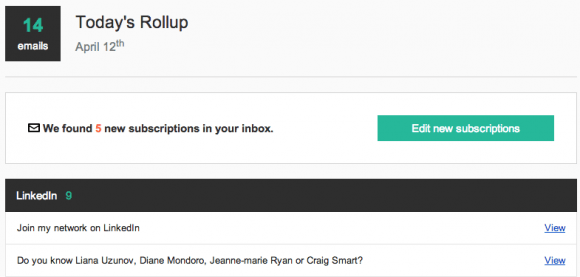 Have you any other email plugins that help you in your Recruitment tasks? Let us know your picks in the comments 🙂
Find out how the likes of IBM, IKEA and Siemens
drive hiring excellence with SocialTalent
---