Keep up with the latest hiring trends!
5 Incredibly Exciting Recruitment News Stories this Week - 19th October 2015
In the news this week:
LinkedIn Gets a NEW App (and a New Referrals Product)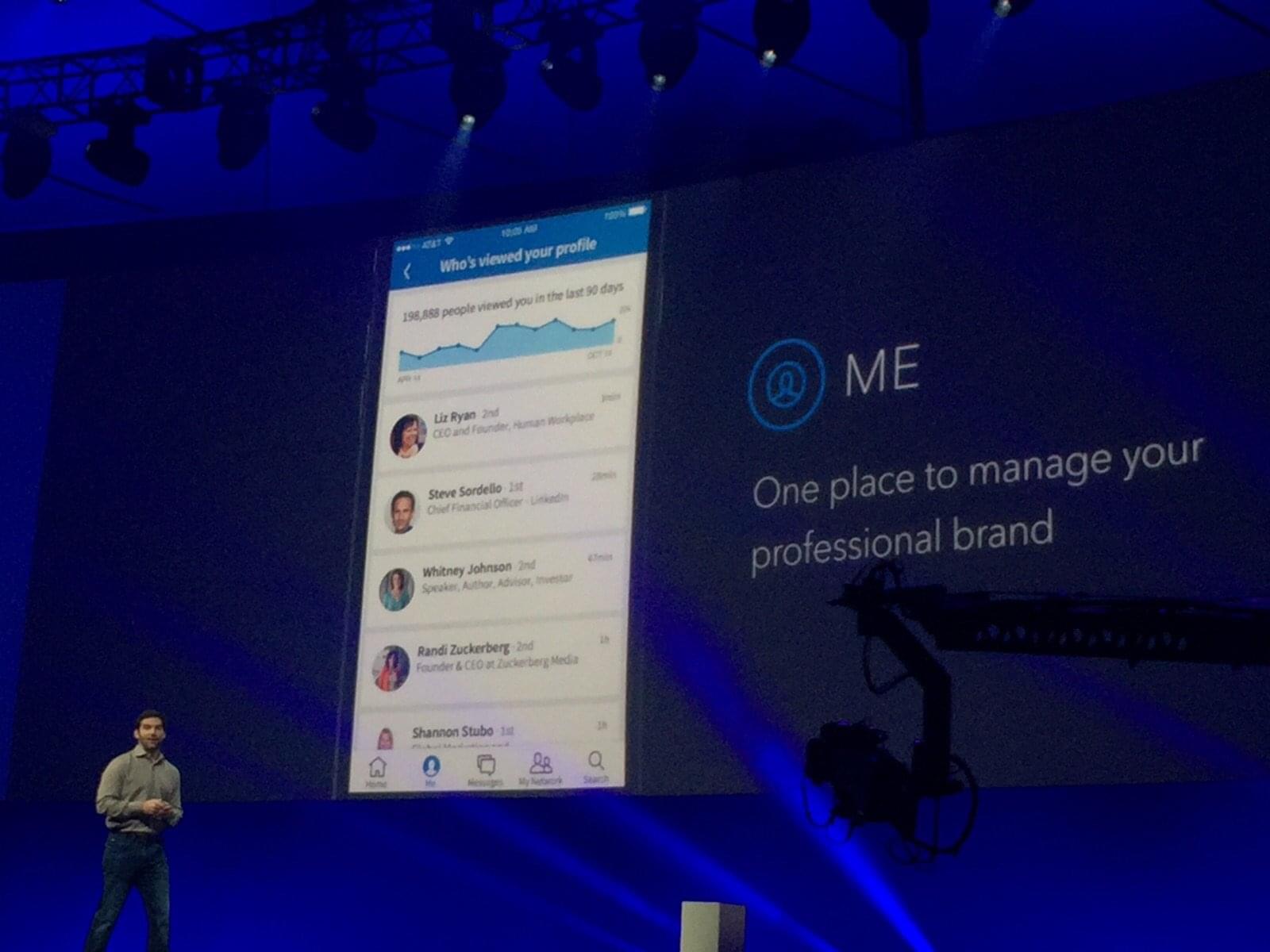 The LinkedIn app has gone through a massive redesign. Speaking at the company's Talent Connect conference, CEO Jeff Weiner showed off a completely redesigned app that is centered around a central feed of updates from your network that is similar in appearance to Facebook's News Feed.
Nicknamed "Project Voyager," the app will be available on iOS, Android and the mobile web when it launches in the coming weeks. Weiner, who is also the company's Head of Product, noted Project Voyager represents a significant departure from the current version of the app, which can feel disjointed. Instead, the new app features a simplified design that divides the app into five sections: Home, Me, Messages, My Network and Search.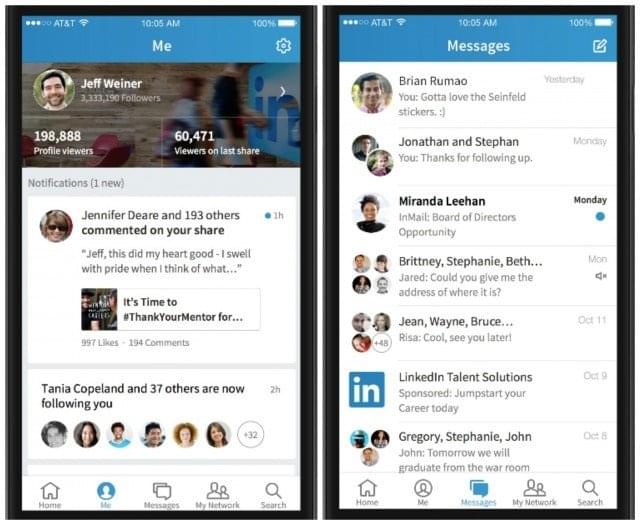 Similar to the recently redesigned Pulse app, the home feed will primarily surface news stories that are shared by people in your network as well as items it thinks will be most relevant to you. The new app also has a redesigned messaging experience that's similar to the changes rolled out on desktop earlier this year. Users will be able to exchange stickers and GIFs within the app as well.
"There's going to be an evolution from a little bit of everything to what matters most to you professionally," Weiner said.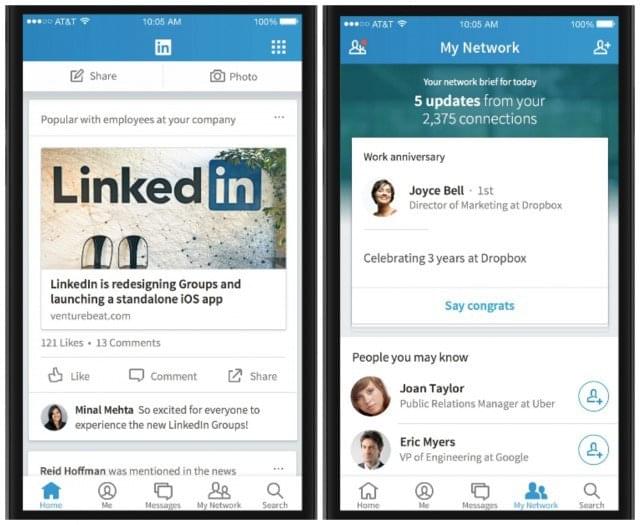 The company also announced Referrals (the rumours were true!), a way for companies to automate the process of tapping into their existing employee networks to hire new people; and debuted a rebuilt Recruiter, which will now let HR people find job candidates based on similar people profiles, as well as with more simplified search strings based on new algorithms.
The new LinkedIn Referrals does everything you would expect it to do; it allows Recruiters the ability to message all company employees to solicit referrals, the tool intelligently suggests connections that each employee has that match current vacancies and seamlessly allows them to forward the referred jobs to their network and track their progress. So far, nothing new but LinkedIn's big change is that they have decided to allow users to fully integrate this with their customers' ATS – which is vital to make a referral product work.
The main idea of the new Recruiter platform — already used by some 38,000 businesses — is that it will now be focused around a much more algorithmic approach to finding new employees. As LinkedIn's Head of Talent solutions Eddie Vivas describes it, the change was born out of a challenge that LinkedIn could see facing recruiters on the platform: it's just hard to find the right person in an efficient way.
Our very own Johnny Campbell was there at the Talent Connect event in California when each and every one of the new products was officially announced. So, for all the details about the new Recruiter and Referrals offerings and a more complete look at the new mobile app, check out his dedicated blog post "4 BIG LinkedIn Product Changes That Will Change the Way You Recruit (Forever!)".
GoDaddy Reveals Salary Gender Gap In New Twist On Diversity Reports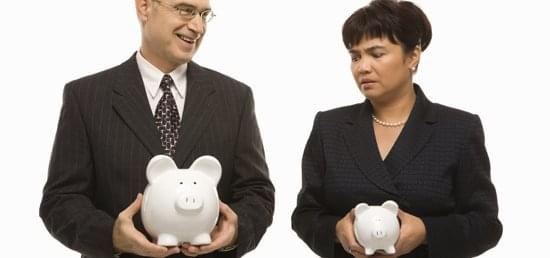 A GoDaddy compensation analysis released last Wednesday, exposed that female executives are paid at a rate almost 4% less than their male counterparts.
The report also found that throughout the total company, women are actually compensated .28% more than men. But the gap persists for women in technical roles: Women in technical positions make .11% less than men, while women in non-technical roles make .35% more than men.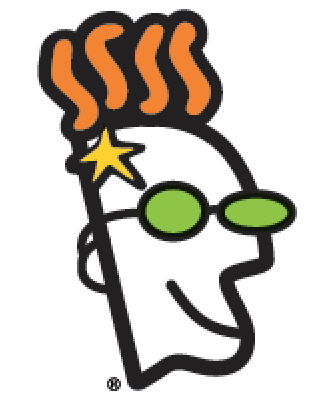 GoDaddy, a web hosting and domain company, is of course, most well-known for its controversial Super Bowl ads featuring scantily clad women – an image they have attempted to reverse in the past two years – so it's surprising the pay gap in the company is so small. The numbers even took the company's CEO Blake Irving off guard! "I think I expected a larger disparity," said Irving in an interview with TechCrunch. "By making this information available to the industry, we will hopefully make other companies follow suit."
As Silicon Valley companies increasingly release statistics about the gender and racial makeup of their companies, GoDaddy wants to take it to the next level. Rather than releasing a traditional diversity report, GoDaddy released the results of a compensation audit to see if there was a difference between how it paid male and female employees. Irving said from GoDaddy's study, the company has learned it needs to evaluate what is affecting the pay of its most senior employees. He said there are many factors that could be causing this disparity, such as what he calls "paying it backward." As women move from one job to another, Irving said their lower salaries are passed along with them.
Though other companies have said they internally audit for gender bias in pay, GoDaddy is the first public tech company to publish these results, Irving said. However, the report did not explore how other forms of diversity — such as race and ethnicity — impact pay.
The report comes as prominent tech diversity activist Erica Baker calls on tech companies to extend diversity efforts beyond gender. Irving said this report is just a starting point, and that future posts would incorporate data on race and ethnicity. "We're going to learn how to cut the data and go from there," Irving said. He expects to include that data in reports in the next year or two. The company has committed to reporting these numbers every year.
Introducing a NEW LinkedIn Groups Experience and iOS App
"The way we connect, communicate and share knowledge has changed dramatically. This is why I'm so excited to introduce you to an all new, rebuilt from the ground up, LinkedIn Groups and, for the first time, a LinkedIn Groups iOS app — designed to make it easier for you to find and engage in high-quality conversations, whenever you want to, from wherever you want." says Minal Mehta, Leader of LinkedIn Groups, in a dedicated blog post last week. 
Yes, along with several new product and feature offerings announced at Talent Connect last week, LinkedIn Groups is also getting a new app:
According to Mehta
, here's what you can expect from the new experience:
More engaging, high-quality conversations: Now you can add images to your posts and mention other group members — making posts more visual and engaging. You'll also notice less clutter in the form of spam and promotional content within the Groups you participate in.
Access anytime, anywhere: Join or continue conversations wherever you are with the new iOS app. The new app also gives group owners the ability to manage their group conversations and members on the fly.
Conversations with people you trust: A conversation can be more valuable when it's shared within a trusted space, so group conversations will now only be visible to group members.  To bring new voices to the table, group members can invite members of their network to join in the conversation.
Beautiful interface: A simplified navigation with a focus on making it easier to find, join and start quality conversations on LinkedIn.
Find the right community: Not in the right groups yet? We were inspired by our real-world communities to design a new way of suggesting new groups to members based on who you are and who you know. The simple action of accepting or dismissing those suggestions leads to smarter, more tailored recommendations for you.
LinkedIn Groups will began rolling out to English-speaking members around the world last Wednesday on desktop and on iOS.
A Dedicated Facebook Video Section Is On the Way
If your Facebook News Feed isn't already filled with videos, that may soon change. A series of new experimental video features, which Facebook announced Tuesday, include a dedicated feed for videos and a new picture-in-picture player for multitasking.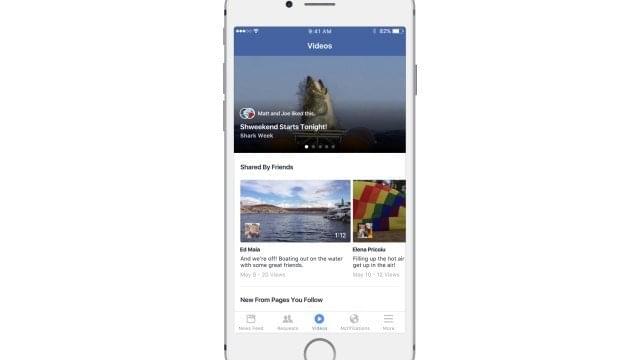 Since it's still in the early phases of testing, most are unlikely to see the new addition, though the company will likely expand the test to include more people in the coming weeks and months.
Facebook has also been testing a "suggested videos" feature for some time. It automatically brings up a feed of related videos after you've watched one in your News Feed, based on what you've previously watched. This feature — which includes ads — is already live for most people with iPhones, Facebook says, and will be expanding its tests to Android and the web soon.
Facebook is also introducing a new picture-in-picture video feature that lets you keep watching videos while scrolling through your News Feed or other areas of the Facebook app, much like YouTube's app offers: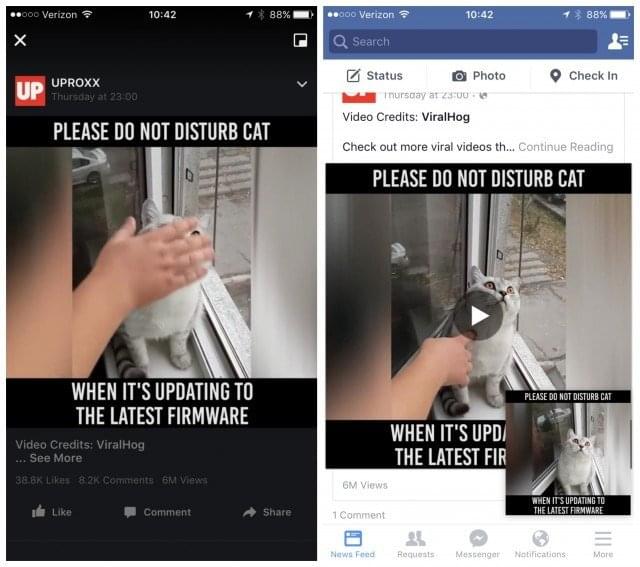 Similar to how you can save posts for later, you can also save videos to revisit later. Those will appear in the "saved" section of your account.
These updates are just the latest sign of Facebook's increasing emphasis on video, which has been steadily creeping in to more areas in recent months. The company has also been experimenting with live video and 360 degree video features. CEO Mark Zuckerberg and other executives have made it clear they see video as the future. Users are already watching more than 3 billion videos each day, Director of Platform Deborah Liu said at this year's F8 developer conference, and the newest features have potential to increase that engagement significantly.
I think, after this, it's fair to say that if you hope to continue successfully attracting candidates on Facebook, you need to make video a big part of your strategy!
Is This the Worst Job Advert in the World Ever?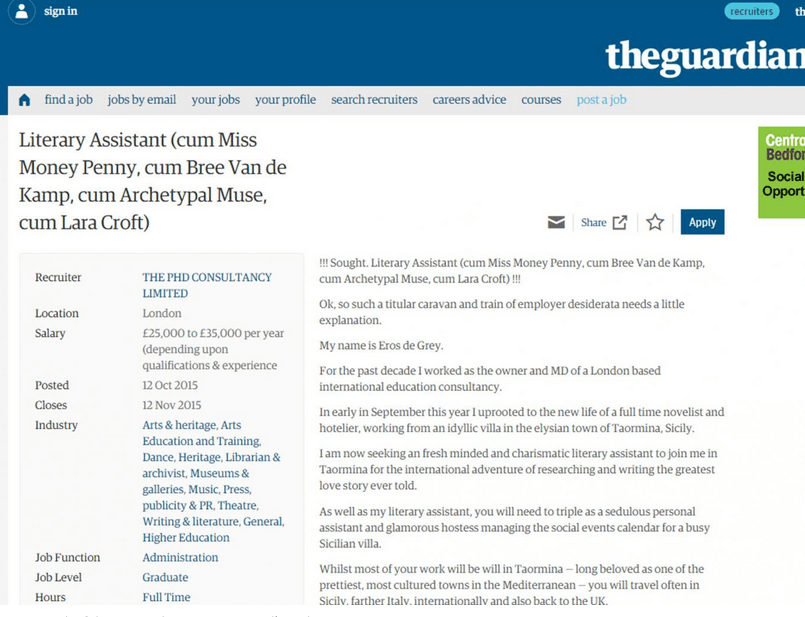 A job advert seeking "a charismatic literary assistant" has been labelled as '"the worst job advert in the world ever," on Twitter. The listing, which appeared on Guardian Jobs, was posted by Eros de Grey and was subtitled: "Miss Moneypenny cum Bree Van de Kamp cum Archetypal Muse cum Lara Croft."
The advert stated it was offering £35,000 in return for joining Grey "in Taormina (Sicily) for the international adventure of researching and writing the greatest love story ever told." It continued: "As well as my literary assistant, you will need to triple as a sedulous personal assistant and glamorous hostess managing the social events calendar for a busy Sicilian villa," The Independent reported.
Creating a social media uproar, observers compared the job advert to a 'lonely hearts ad' posted earlier this year by a "gentleman novelist seeking beguiling companion" on MillionaireMatchmakerOnline.net.
The Mirror states that Grey is an Oxford University graduate and formerly known as Stratos Malamatinas. The 33-year-old previously made headlines as a Director of PhD Consultancy, a company that sold essays to students. Under the name 'Lord Eros', Malamatinas also appears to have set up a verified AirBnB account for his villa in Sicily. He refers to himself on it as "a novelist [whose] main themes are erotic philosophy, sensuosity, the psychology of Carl Jung and the philosophy of the early Athenian hedonists."
Malamatinas stood down as MD of PhD Consultancy earlier this year, however The Guardian still listed the company as the recruiter.
Internet users have since reacted with various emotions from anger and confusion to hilarity, however the post has now been removed.
Find out how the likes of IBM, IKEA and Siemens
drive hiring excellence with SocialTalent
---