Keep up with the latest hiring trends!
5 Productivity Enhancing Pieces of Social Recruiting News - 14th July 2014
In the news this week:
Welcome Change to LinkedIn Recruiter InMail Policy
In a long overdue statement, LinkedIn have announced that they'll now refuse recruiters who wish to send InMails if their response rates are consistently below 13%, regardless of your account type.
In the official press release, LinkedIn stated; "Most recruiters know that personalised InMails garner higher response rates. But a handful of Recruiter users (less than 2%) still send thousands of generic InMails per month. 94% are bulk InMails (one InMail to two or more members) that aren't personalised to each recipient. Since these InMails are impersonal, they garner low response rates, create a bad member experience, and cause some members to be less responsive to other recruiters' InMails, which can decrease overall InMail response rates. Long story short, everyone loses."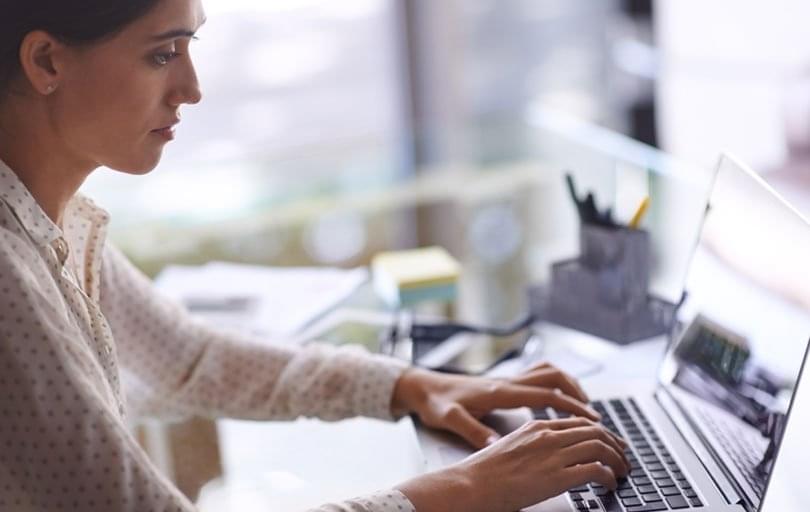 So in an effort to combat a plague of lazy recruiters, LinkedIn will be notifying Recruiter users that if their InMail response rate "drops below 13% on 100 or more InMails sent over a 14-day period" one of 3 things will happen:
The first time this happens, LinkedIn will send the Recruiter tips to help them increase their response rate.
If the user continues to have a less than 13% response rate after they have received these tips, they will only be allowed send "one-to-one InMails for a 14-day period".
After that 2 week period, users who raise their response rates will have bulk InMail message restored, but those who don't won't be able to send bulk InMails for yet another 14-day period.
LinkedIn say that more than 98% of Recruiters users won't be affected, but we're not so sure! This could put the cat among the pigeons and sort the men from the proverbial boys!
View your current InMail response rate here and for more information on how to ensure LinkedIn doesn't block you from sending bulk InMails, learn how to craft the perfect message with our Black Belt Networking & Engaging module as part of the Black Belt in Internet Recruitment online training course.
HubSpot launch Job Site for Inbound Marketing Professionals
If you're a Marketing Professional, HubSpot have "over 11,000 customers that are looking to hire awesome people just like you" and to help you get started in speaking to them, they've launched the Inbound Jobs section for their new community site; Inbound.org.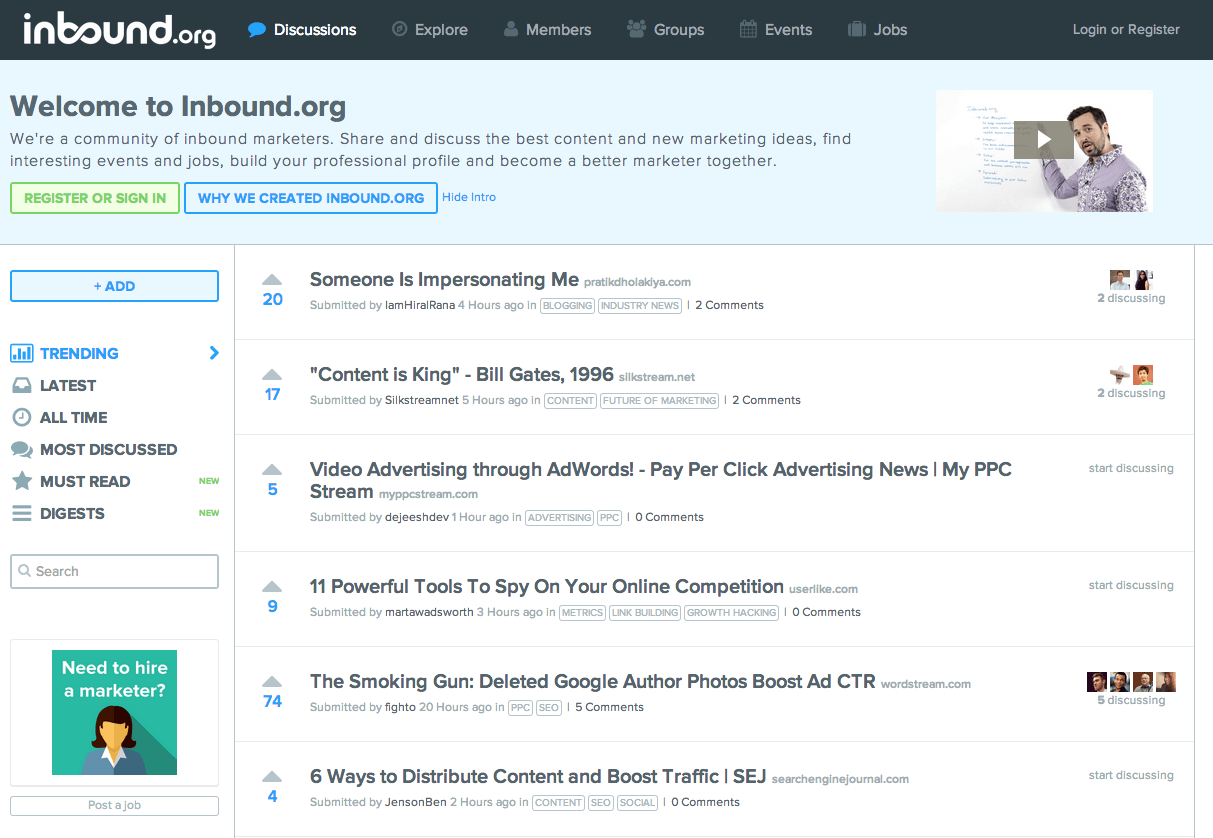 On the Inbound website, HubSpot state that "the goal of Inbound.org is to enable great content and people from the world of inbound marketing to get noticed. There's an amazing community of bloggers, marketers and enthusiasts passionate about non-paid channels like SEO, social media, content marketing, conversion rate optimisation, etc. and we believe they deserve a site where sharing great content is controlled by them. We do this by sharing and discussing interesting articles, building profiles to display our skills and letting our community members find and post jobs."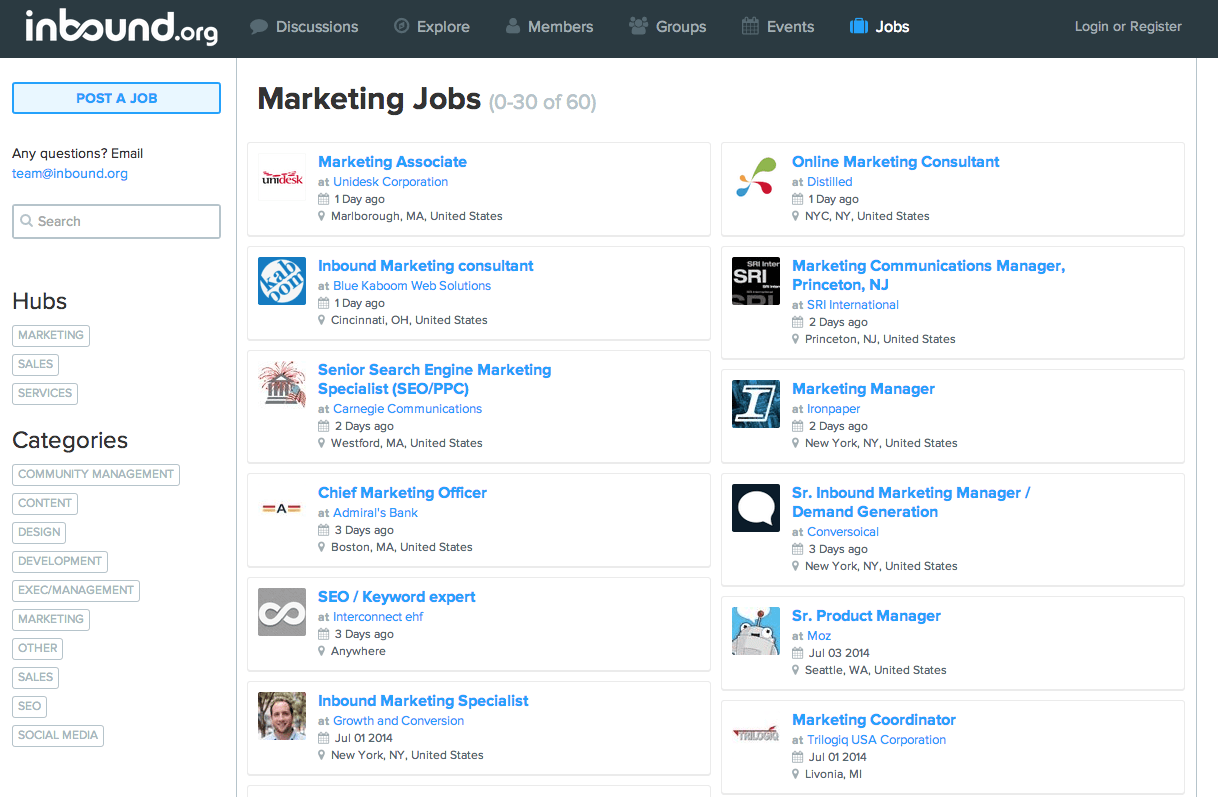 Share and discuss your thoughts with the community here.
LinkedIn Announce New Connected App
On Thursday of last week, LinkedIn introduced the new LinkedIn Connect app for iPhone. LinkedIn Connected "helps you reach out to people in your network when it matters most, so you can keep your network active and warm". "Connected gives you relevant, and timely, reasons to reach out and keep in touch with the people in your network".
In a nutshell, the main benefit the app provides is the ability to leverage your professional graph meaning the app provides you with better data in anticipation of you needing it. For example, by syncing the app to your iOS calendar it can provide a push notification just before your meeting with relevant reminder info about the people you're meeting. Simple yet highly effective and above all else, handy to have.
If you're looking for the techie side of things (i.e. how the app is built) you'll find everything your geeky heart desires here. Download the app from the Apple app store here.
Randstad Innovation Fund Invests in twago
twago, Europe's leading freelance marketplace, has concluded a strategic investment with Randstad, the world's second largest HR service provider. Thomas Jajeh, twago's founder and managing director, says "A global leader like Randstad gives us the possibility to further improve our service portfolio and our leadership as the pan-European freelance marketplace", while Paul Jacquin, for the Randstad Innovation Fund, reciprocated by saying "companies are more and more interested in short-term projects in order to meet demands for increased flexibility in a changing world of work".
The Randstad Innovation Fund started at the beginning of this year with the goal to "support innovative businesses related to the HR industry with know-how, reach and financial means". twago is only the second venture that the Fund has decided to back.
For more information about twago and there services, click here and for more information about the Randstad Innovation Fund, click here.
New Features Added to Streak for Gmail
It was crowned one of our best Chrome extensions for use by recruiters, and today Streak for Gmail just got even better. The clever people at Google have just launched Email Snooze and Thread Splitting as part of the products offering – "two magical tools to make you more productive in your inbox".
Email Snooze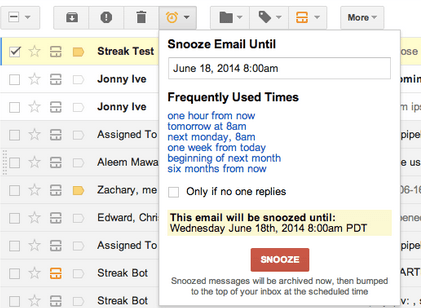 When you snooze an email, Streak will achieve the thread now and get it out of inbox. Then, at the time you specify, it will bring it back to the top of your inbox and mark it as unread. This is really useful to remind you to follow up on critical emails or help you clear out your inbox by archiving a message until you can deal with it later.
Thread Splitting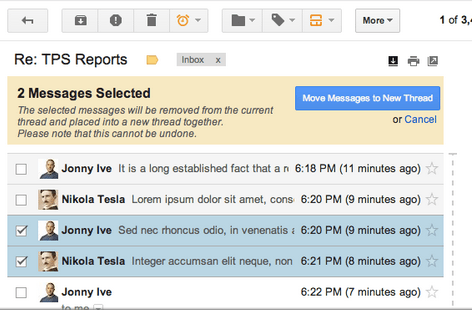 Everyone has experienced a case where Gmail adds messages all to the same thread even when they shouldn't be. It allows you to move specific messages from a thread out and into a new seperate thread. You can split a thread into as many smaller threads as you'd like.
Take a tour of the new features here and download Streak for Gmail here.
Find out how the likes of IBM, IKEA and Siemens
drive hiring excellence with SocialTalent
---