Keep up with the latest hiring trends!
6 Incredibly Important Sourcing News Stories this Week - 29th September 2014
In the news this week:
Employee Referrals Couldn't Be Simppler
There's a brand new employee referrals application on the market and it couldn't be Simppler to use, in fact, Simppler is the name of the app!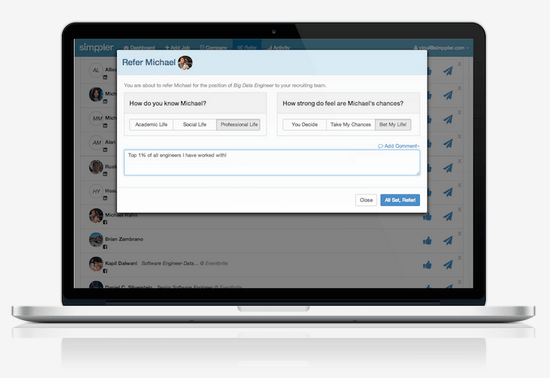 The apps co-founder, Eventbrite's Vipul Sharma, says the app was born because there "were significant challenges in promoting employee referral as part of employees' day-to-day activity due to the lack of engaging tools" at Eventbrite and he wanted to do something about it. So how does it work? Well, Simppler uses data science to recommend relevant referrals. In Sharma's own words, the app uses personalisation technology to make sure [your] recommendations are continuously learning from the actions of employees and recruiters. The platform deeply understands taxonomy and vocabulary of skills and job functions from gynaecologist to a big data engineer.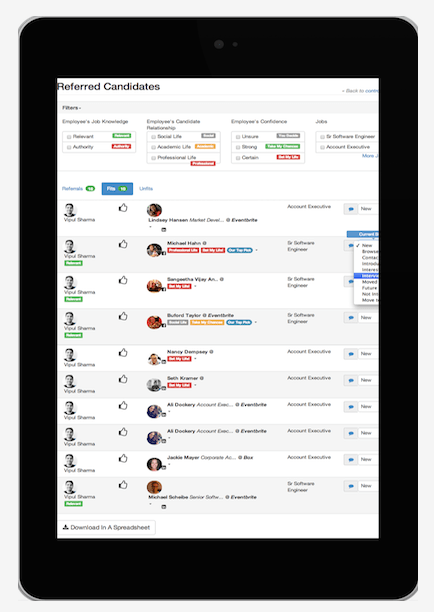 And with an advisory board consisting of big names like former LinkedIn exec Steve Cadigan and former Vice President of Intuit Chris Galy, we have high hopes for this one!
Recruiters in High Demand
Thanks to improving global economic signals, their is now more demand than ever for recruiters.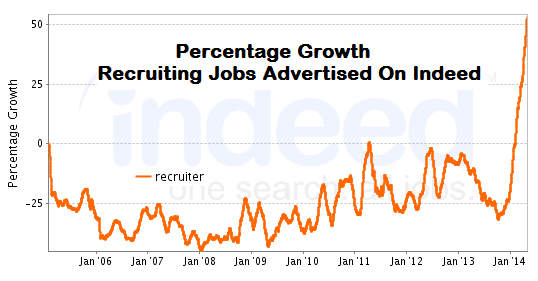 After analysing online listings from corporate sites, job boards and elsewhere, Wanted Analytics says the number of online job listings for recruiters rose by 4.5% in August from the same 30-day period a year previously. And in the HR category, recruiter jobs are now second only to the listings for HR managers. "Recruiter" was also the most commonly advertised job title according to Wanted's analysis and niche roles for 'Technical recruiters', 'IT recruiters' and 'Sales recruiters' were most frequently listed.
Jobs Staying Open Longer Than Ever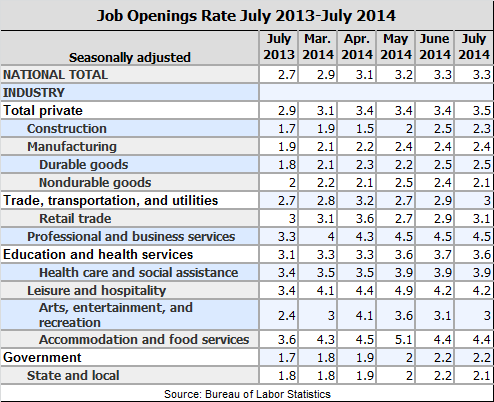 The demand for recruiters may be high, but that could have a lot to do with the intact that recruiting difficulty is getting worse. In the US alone, it took almost 25 business days to fill a job in the month of July 2014 (9% longer than July 2013) and, according to the Job Openings and Labour Turnover Summary from the US Bureau of labour Statistics, July's openings rate was 3.3% – a 22% increase over the 2.7% it was at the same time last year.
In other words, the number of open jobs is creeping up while the size of the labour force is shrinking. For example, according to our friends Wanted Technologies, the typical job posting for a nurse stayed open up for 50 days and for a software developer it stayed up for 47 days. Both jobs regularly appear on Wanted's Top 10 Most In-Demand jobs but openings rates are exceptionally high.
How difficult are you finding it to fill creation jobs? Let us know in the comments below.
LinkedIn Have Finally Integrated with WeChat
67% of LinkedIn members live and work outside the United States, so it's no wonder that LinkedIn have finally decided to add WeChat integration to their service. Starting from last Thursday with WeChat 5.4 for Android, you can now link your LinkedIn account to your WeChat account to make it easier to see which of your LinkedIn connections are on WeChat already, and which you'd like to invite to join.

For those of you who are unfamiliar with WeChat, WeChat is the world's fastest growing mobile social app and brings messaging, social and gaming features together in one interactive platform. It was first developed by Tencent in China, and supports sending voice, video, photo and text messages and can also do group chats, or find new friends to talk to nearby. WeChat works on iOS, Android, Windows Phone, Symbian and BlackBerry devices and is mainly popular in Asian countries.
How to: Integrate WeChat and LinkedIn
From within the WeChat app, simply select Add Contacts, then Mobile & Other Contacts. From there you will see the option to add your LinkedIn contacts. That's all there is to it.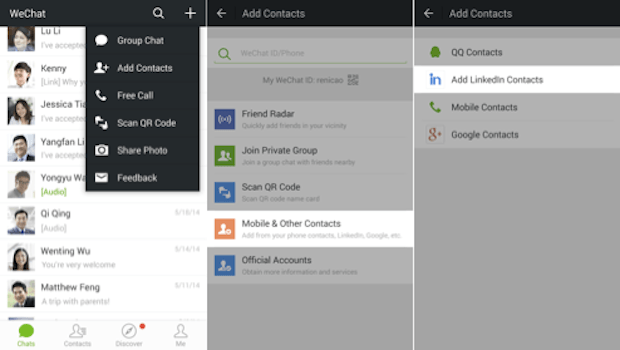 "As an added bonus" LinkedIn have made it clear that integrating the two apps will "enable you to weave your professional identity on LinkedIn into your presence on WeChat" which, in turn, "gives you one more way to expand your network on and off of LinkedIn". "Once you've added LinkedIn to WeChat, other members will be able to access your LinkedIn Profile from your WeChat profile, via a new LinkedIn namecard that appears on the WeChat profile page". A very handy piece of functionality indeed!
For more information about the integration visit the LinkedIn blog.
SourceHub: Build and Save Boolean Strings for FREE!
We had a little news of our own this week! While attending #SoSuEu in Amsterdam we announced our new sourcing tool – SourceHub.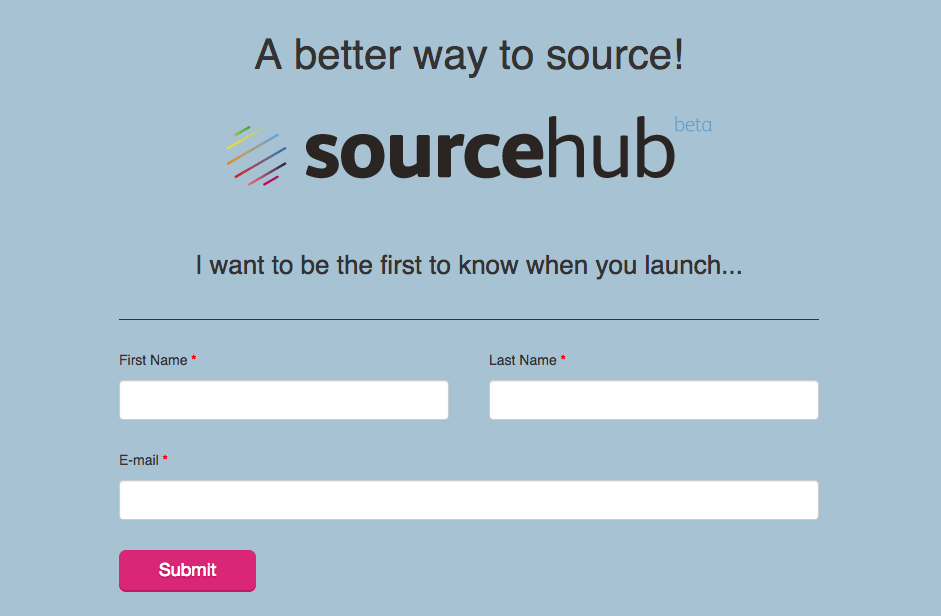 The product (originally named SourceDash, due to it's dashboard-like appearance), is a one-stop shop for online sourcing, as it not only allows you to create an all-encompassing Boolean string in a matter of clicks, it also allows you to save that string and run it in a variety of different online places including LinkedIn, Twitter, Facebook, Google+, Google, Monster, Indeed, Github etc. That's right! With SourceHub you don't have to do any Boolean, you don't have to research any synonyms and you don't even have to open a new tab. SourceHub does everything for you and in one place.
Our CEO Johnny Campbell has more details in this video:
We'll be granting access to the tool gradually to new users, but if you want to be one of the first to experience our revolutionary new tool you can sign up for access
right here
.
Get Ready for "The Sourcing Zone"!
Struggling to find candidates for your client's urgent role? Then get yourself down to the Recruitment Agency Expo in Birmingham's NEC this Wednesday and Thursday, where we'll be hosting a Sourcing Lab consisting of 8 separate learning sessions over 2 days to help you find the candidates you need.
No, you're not dreaming, we're taking it upon ourselves to listen to and tackle your toughest job specs across a variety of industries including Sales & Marketing, Engineering & Manufacturing, Banking & Finance, and IT & Technology. We're making your problem our problem and proving that with a little bit of Sourcing Ninja know-how, anyone can tackle the task of filling even the most awkward of job openings.
How will it work?
Come along to the Recruitment Agency Expo in Birmingham's NEC this Wednesday and Thursday (it's free!), and look out for our Sourcing Ninjas (you can't miss them, they're the ones wearing bright green t-shirts!) and follow them to the Sourcing Zone.
At the Sourcing Zone you'll find a whiteboard. Scribble down the most difficult job you're working on at the moment (job title and core skills are enough, we don't want you revealing too much to your competition!) and we'll include it in our Lab.
Then take a seat in one of the 4 sessions (times to be announced) hosted each day by our CEO, Johnny Campbell, and get ready to take note of the best tips, tricks, hacks and sourcing advice currently available, because we'll be sourcing candidates for your job openings live in each session. As a bonus, hand us your business card and we'll email you the search results!
Where is it happening?
The Recruitment Agency Expo in Birmingham's NEC from October 1st to October 2nd, 2014. Register for FREE by clicking the button below.

See you there!
Find out how the likes of IBM, IKEA and Siemens
drive hiring excellence with SocialTalent
---