Keep up with the latest hiring trends!
BUMPER EDITION: 8 Headline-Making Recruitment News Stories this Week - 8th August 2016
In recruitment news this week:
LinkedIn Finally Adds Video to Your Feed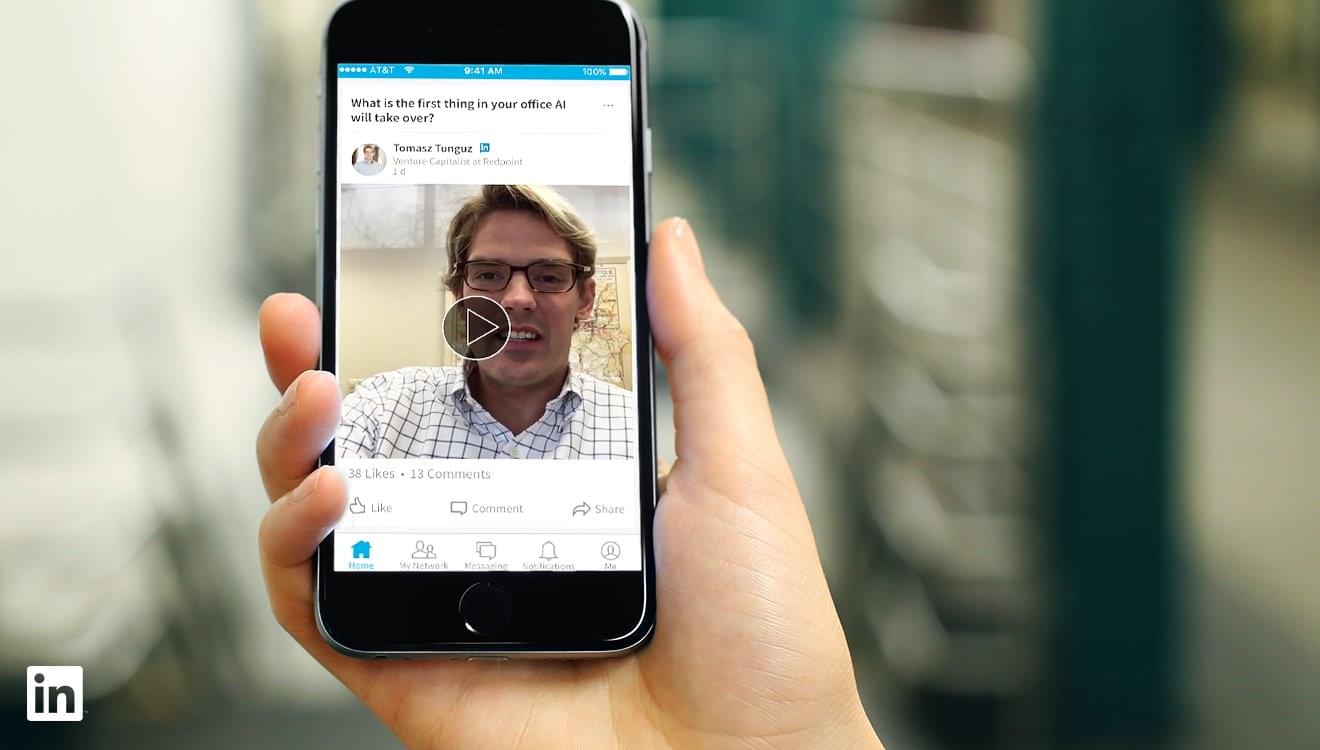 Hold onto your hats people! LinkedIn has just released a brand spanking new feature – on August 2nd the professional network added took it's first foray into video content.
LinkedIn will start first with videos created by LinkedIn 'Influencers' — an invitation-only group of 500 LinkedIn users who have significant numbers of followers and who regularly post content to the site — who will be making videos that are short, 30-seconds-or-less responses to questions put to them specifically or to the community at large. An example of which be be seen here.
Influencers will be creating their videos using a special app called "Record" that LinkedIn has created for this purpose.
The videos will run in-stream on users' feeds on desktop, and will break out into "immersive" experiences on blackened screens when you click on the videos themselves. LinkedIn's iOS and Android apps will see the videos pop out into blackened screens when you click on them, too — not unlike Facebook's video experience. In both cases, you are led, as the viewer, into a carousel of more videos either from that Influencer, or more likely more Influencer responses to the same question.
LinkedIn's latest move into video isn't surprising, after all it has been one of the biggest growth engines for a number of other social networks including Facebook, Twitter, Snapchat and most recently Instagram. The idea? To encourage users to spend more time on the site, become a one-stop shop, and of course, pave the way for video advertising in future.
Although the ability to create video content is currently only available to Influencers, we have no doubts that any and all LinkedIn users will soon have the power to create their own videos.
This Recruiting Tool is Using Gamification to Match People with Their Dream Job
Yes, you read that headline correctly.
Knack
, is tapping into the appeal of mobile games, and is using gamification to identify people's potential for jobs. "Use the Knack app to showcase your skills, connect with the right jobs, and have employers find you — all for free," says the app's website. "Your gameplay will pinpoint your skills and map promising career paths".
How, I hear you ask. It does so in 3 ways:
1. The Knack app's science-driven games uncover candidates abilities, competencies, and interpersonal and work skills using a number of specifically designed games: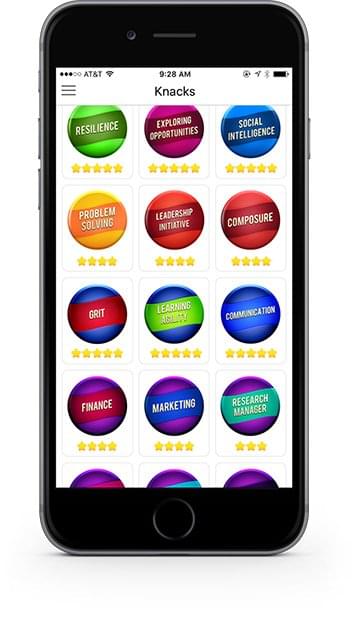 2. The app then maps the professions that match the candidates skills, and helps them leverage their strengths on the road to a successful career: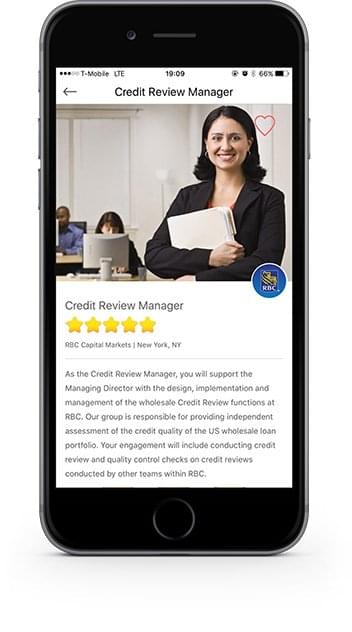 3. The Knack app sends the candidate personalised notifications about promising jobs, and gives them the power to instantly connect with employers without the painful online application process: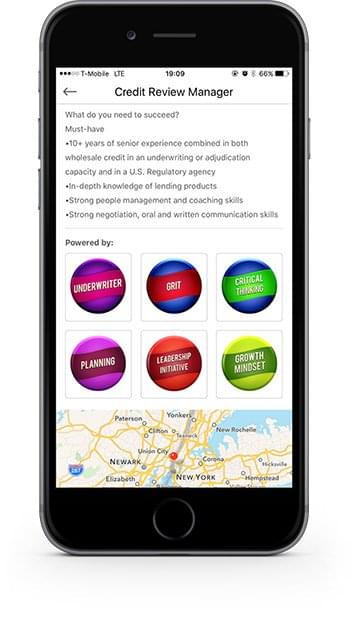 From a business perspective, Knack enables you to identify the right people—quickly, consistently and repeatedly—at web scale. As people play, the app's algorithms predict potential in real time so you can make the right decisions and hire the right talent.
We for one are very impressed by the uniqueness of this app. It really goes to show just how influential mobile is on the recruitment process in 2016. The app is currently being used by candidates in 83 countries around the world, and you can download it here.
Top 10 Most Popular Cities for Americans Working Abroad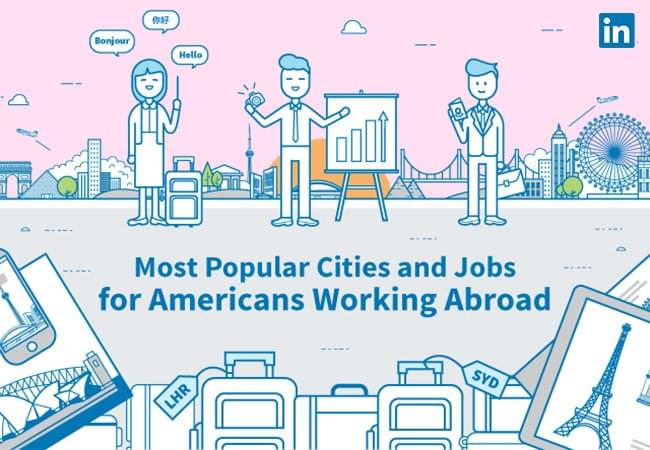 LinkedIn took a look at their data on US members working internationally to discover the most popular cities among US expats and what types of work they're pursuing. This is what they found:
Top 10 Cities:
London, UK (80K+ open jobs)
Sydney, AU (15K+ open jobs)
Toronto, CA (25K+ open jobs)
Paris, FR (45K+ open jobs)
Shanghai, CN (15K+ open jobs)
Madrid, SP (10K+ open jobs)
Tokyo, JP (40K+ open jobs)
Beijing, CN (15K+ open jobs)
Melbourne, AU (5K+ open jobs)
Amsterdam, NL (15K+ open jobs)
For those working abroad in these cities, the most popular careers are as follows:
Language Instructor / Teacher / Translator
Sales Manager
Marketer
Researcher / Graduate Assistant
Business / Corporate Strategist
Consultant
Project Manager
Corporate Finance Specialist
Public Relations Specialist
University Professor / Lecturer
Interestingly, the site also did some digging to discover which Americans are more likely to pack their bags and travel for work. From large cities, the most people working abroad are coming from Washington, D.C., followed by New York and Austin, Texas. From mid-size cities, the most people working abroad are coming from Tucson, AZ, Buffalo, NY and Providence, RI. And from smaller cities, the most people working abroad stem from Bloomington, IN, Urbana-Champaign, IL, and Santa Barbara, CA.
Is a Twitter Redesign Imminent?
If Twitter's most recent experiments are anything to go by, then the answer to that question is yes. A few weeks ago, some users noticed that a new tweet composer option was appearing at the top of their timelines in the iOS app: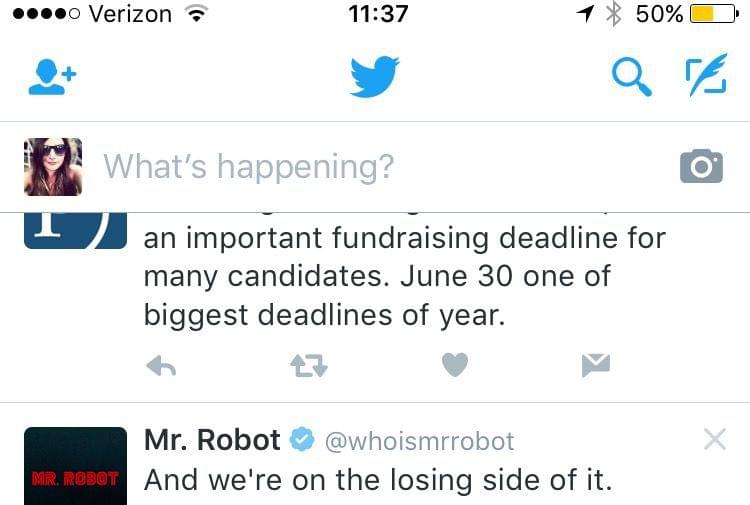 The new look causes the app to behave more like Twitter's website, which also has both a compose window and button. The redesign puts the tweet composer at the top of your timeline, along with the camera icon for adding a photo, video or live stream. Other media, like polls, GIFs and location info, are still available when you tap into the composer itself.
A Twitter spokesperson confirmed the experiment to Mashable.com, saying "we want to make it easy for anyone to Tweet. To that end, we're experimenting with ways to make the Tweet compose bar easier to access on Twitter for iOS, similar to the experience on Twitter.com."
It's not yet clear if Twitter plans to expand the test to its Android app or whether it could become a permanent feature. Twitter, like other social networks, often tests new features and design changes with small groups of users before making them available more broadly. So, watch this space!
It Could Become Illegal to Ask Candidates' Salary Information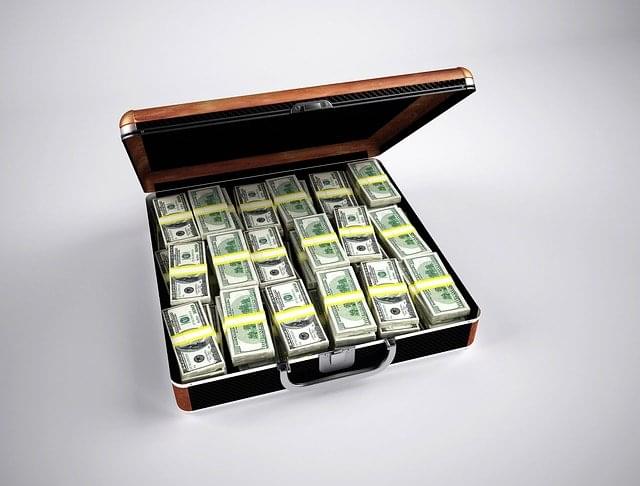 A new law, currently applied in Massachusetts, USA, that makes it illegal for employers to ask jobseekers about their current salary prior to offering them a position, is now being held as a model that could be applied elsewhere.
According to Kevin Charles, Director and Barrister at Crossland Employment Solicitors, the new law could be brought in to the UK very soon in accordance with the Equality Act 2010. "In the UK, the Equality Act 2010, prohibits indirect discrimination, which applies to recruitment and the terms and conditions upon which employment is offered as well as during employment. This arises where an employer applies a 'provision, criterion or practice' which is discriminatory in relation to a protected characteristic and cannot be justified as a 'proportionate means of achieving a legitimate aim". Charles believes that because the new US law has been brought about in an effort to reduce the gender pay gap, UK government will start implementing it soon to complement the Equality Act.
"It could be argued, with some force, that enquiring about a candidate's current or previous salary, and using this to determine what pay will be offered, is a 'practice' which indirectly discriminates against women because historically they have been, and are more likely to be, lower paid and hence this perpetrates sex discrimination and the gender pay gap," says Charles. And because introducing the Massachusetts law would be another positive step forward to reduce the gender pay gap in the UK, a hot topic of political conversation right now, Charles believes UK politicians will be keen to implement it.
Read the full story here.
Apple Have Released Their Annual Diversity Report
First Google, now Apple. Last Wednesday saw the release of Apple's third recent diversity report, which shows that while the company is still predominately white and male, their diversity efforts have yielded some improvements.
Globally, 32% of Apple's employees are now female. That's up from 31% in 2015. And although a 1% improvement might not seem massive, when you have 125,000 global employees, it is progress.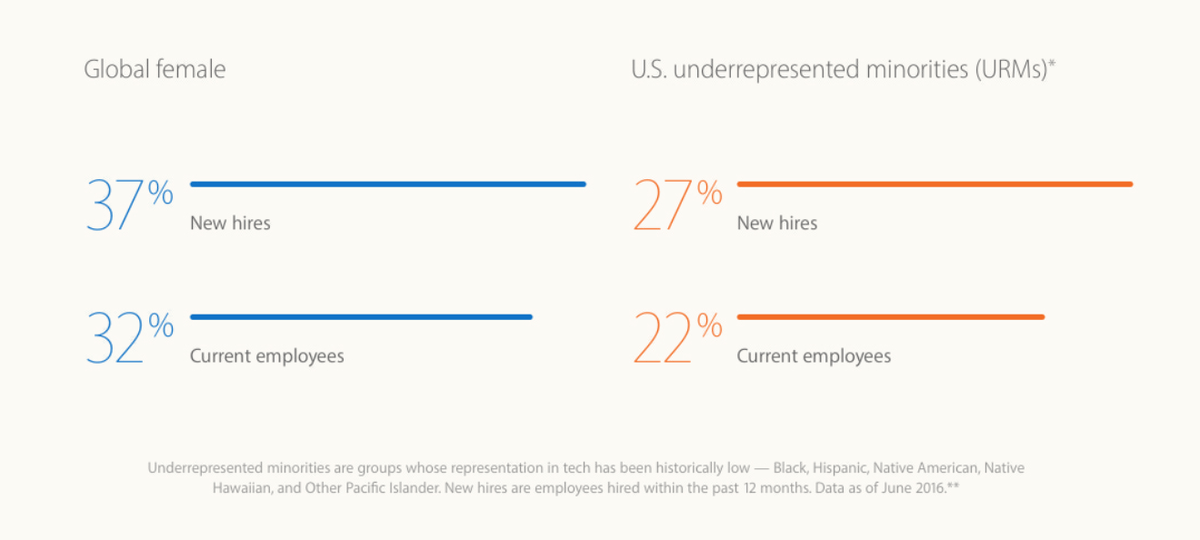 The data becomes a little more interesting, when you look at the trend of new hires. In 2016, 37% of global new hires were women. In the US, where racial demographic data is also collected, Apple reported that 27% of new hires in 2016 were underrepresented minorities (URMS). Apple says that in the US, 22% of its current employees are considered an underrepresented minority, which includes individuals that are black, hispanic, Native American, Native Hawaiian and Other Pacific Islander.
Moreover, the big news is that the trend of bringing more women and URMs into Apple has increased significantly since 2014. In 2014, only 31% of new hires were women and only 21% were underrepresented minorities. In 2015, 35% of new hires were women and 24% were URM.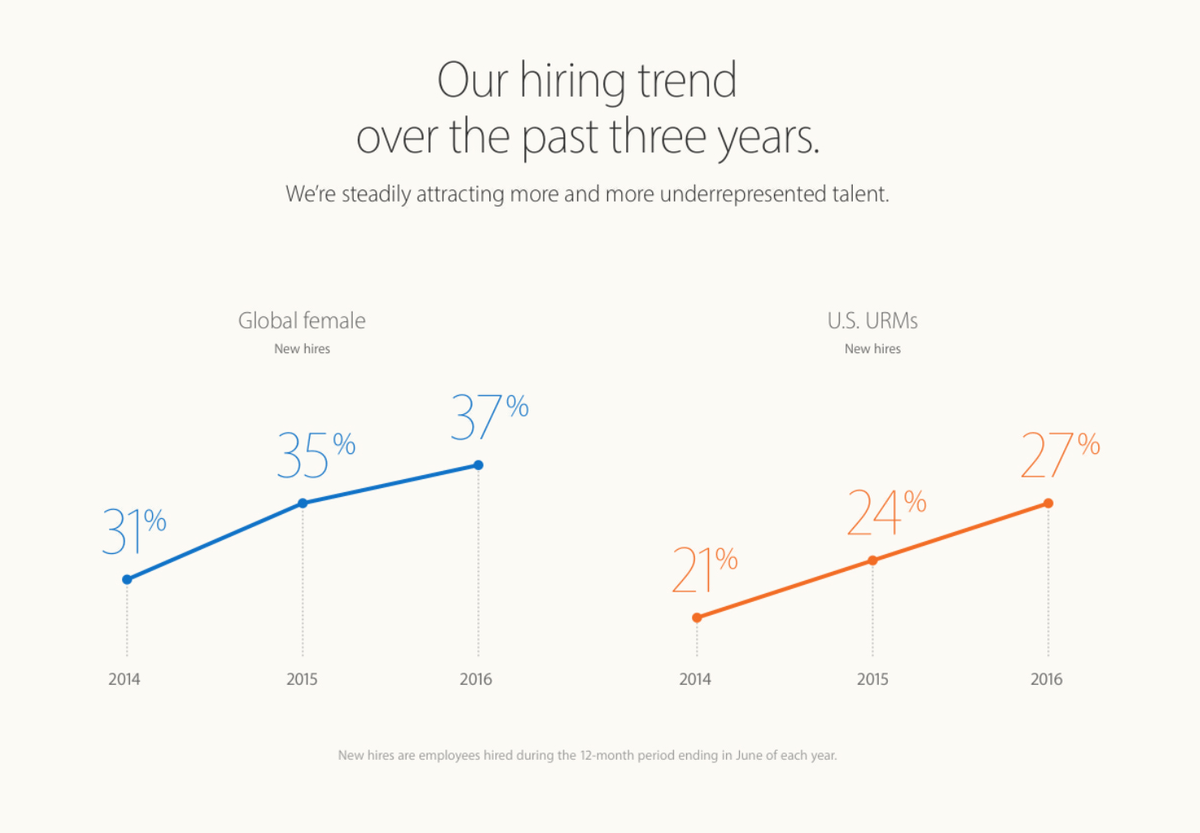 Even more interestingly still, this report is the first in which Apple has disclosed compensation data. It now says that it has achieved pay equity in the U.S. between similar roles and performance marks. In other words, women earn $1 for every $1 earned by a man. This applies to underrepresented minorities too. Those employees earn $1 for each $1 earned by a white worker. And while pay equity is great, Apple understands that this isn't something that can be declared "fixed." Like overall diversity, this is still something the company understands has to be continuously looked at and worked on.
When it comes to technical roles, 23% of Apple's employees are now women. That's up from 2015 – when women made up 22% of tech employees. And it's still better than Google, which improved to 19% women in technical roles in 2016, but it still shows that there is some way to go. To that end, Apple is continuing its partnerships with 37 STEM organisations, including Black Girls Code, Grace Hopper Celebration of Women in Computing, the National Center for Women in Tech and the Hispanic Heritage Foundation.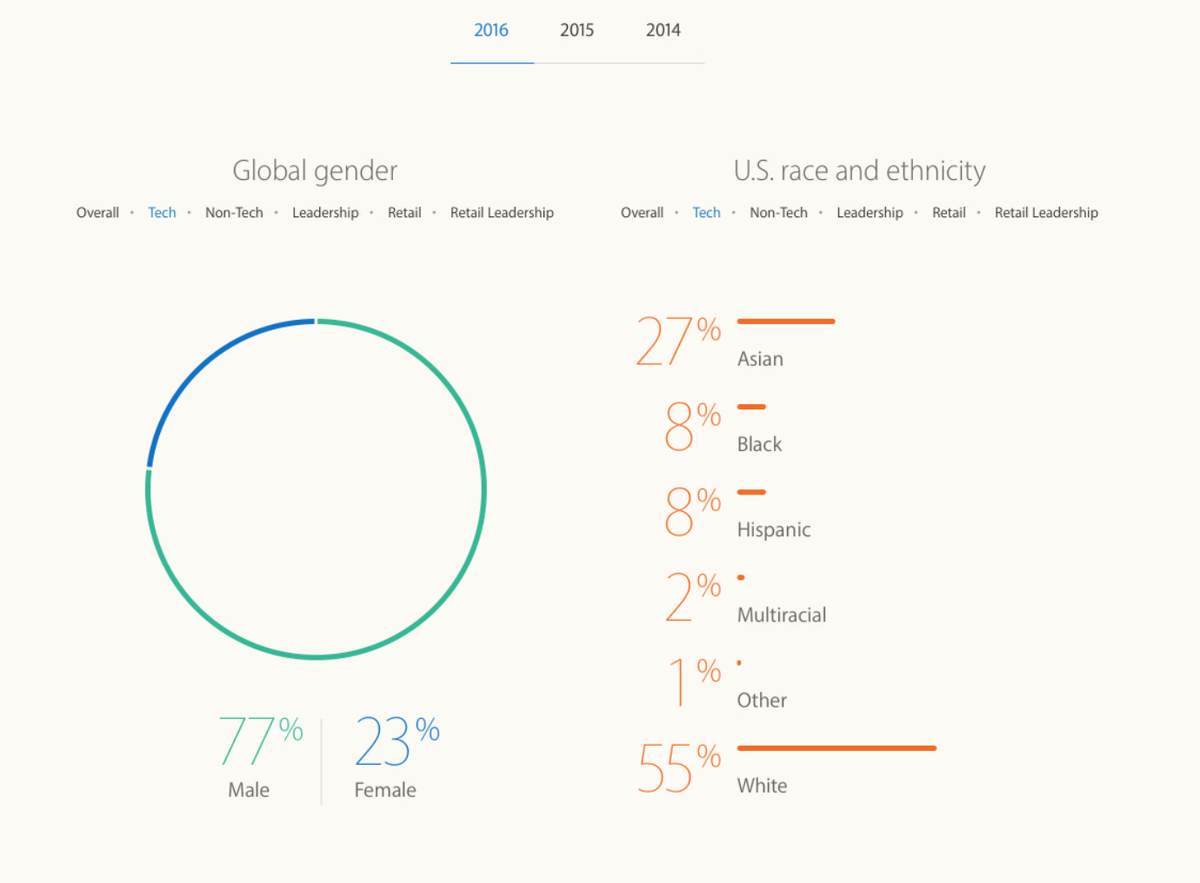 Glassdoor Sued for Wrongly BCC'ing Member
Just over two weeks ago, Glassdoor began emailing its users to let them know of an update to the site's terms of service. However, rather than BCC'ing its anonymous reviewers, Glassdoor pasted their email addresses into the CC field, and effectively outed at least 600,000 members of the site.
Now, one of those outed users is suing. Melissa Levine, a Los Angeles-based television researcher, has filed a class-action lawsuit against Glassdoor, claiming the employment review site violated state law by including her email address in the CC field and exposed her to potential retribution from her former employers.
In a statement made to TechCrunch.com, Levine's attorney said; "That the strict anonymity of users on Glassdoor could be so carelessly and recklessly violated and cast aside in such an amateurish fashion should make us all question the extent to which Glassdoor places profit over people."
The company acknowledged the mistake in a statement shortly after the terms of service email update was sent, saying; "As we've previously disclosed, a small percentage of Glassdoor registered users' email addresses were viewable in the "to" field to a subset of other users who received a routine email. No other information was viewable or revealed. We have directly apologised to the affected users. We do take the privacy of our users very seriously and are taking corrective steps to ensure this doesn't happen again. This certainly doesn't live up to our own expectations of who we are and what we represent."
The email went out to approximately 2% of Glassdoor's 30 million active monthly users and was sent in batches of 1,000 users at a time, so each user could see the email address of 999 other Glassdoor users.
10 Best Companies for Job Interviews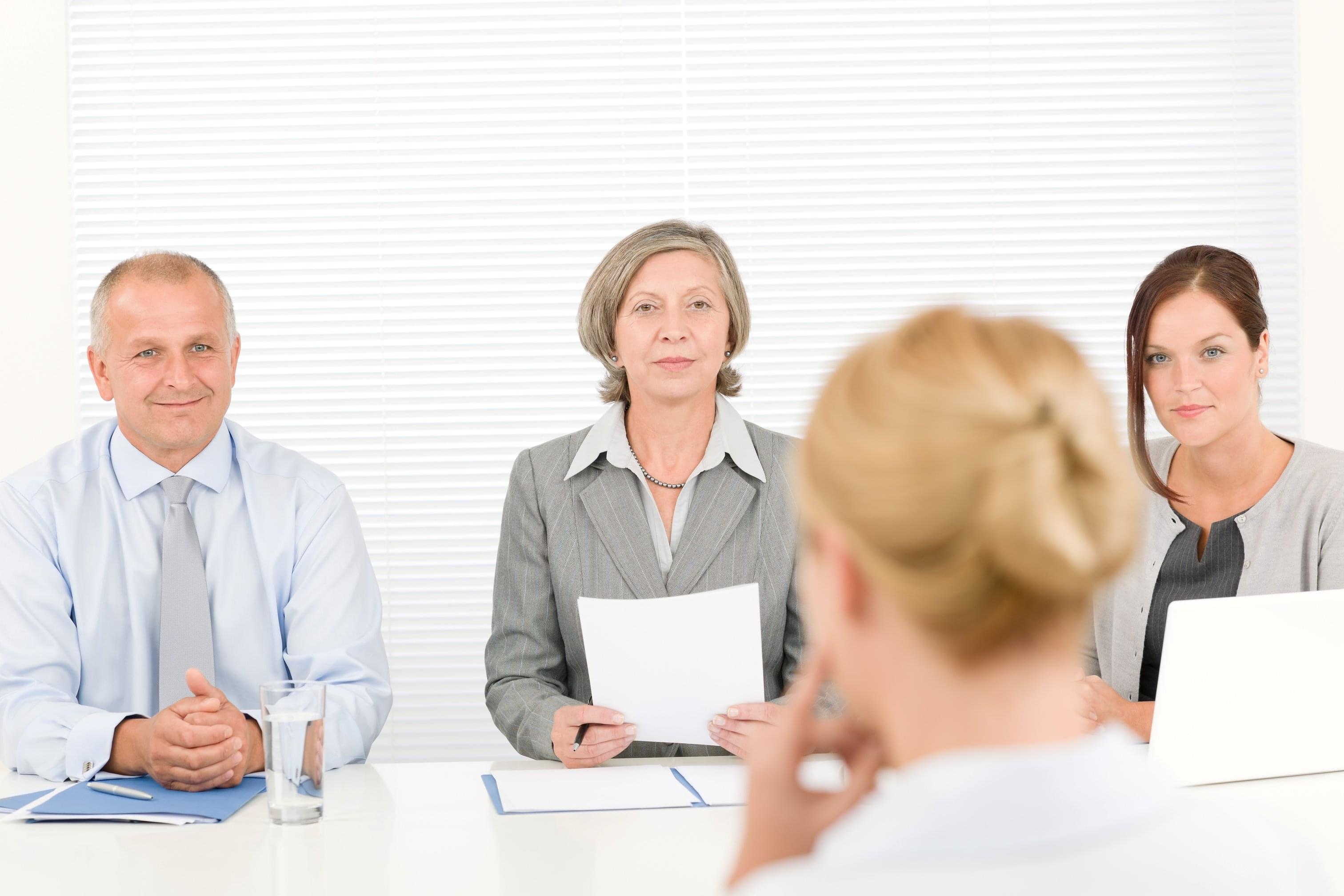 Speaking of Glassdoor, the company has just released a ranking of the companies with the highest interview scores based on the reflections of candidates who have interviewed with them.
Yes, the following ten companies are doing their best to transform the usually terrifying job interview into a pleasant, mutually rewarding experience for candidate and company alike:
Sherwin-Williams (88%)
Grant Thornton (87%)
Caterpillar (86%)
BNY Mellon (85%)
J Crew (85%)
H&R Block (84%)
Southwest Airlines (84%)
EY (84%)
Walt Disney Company (83%)
PWC (83%)
"Essentially, this is a list identifying the companies that are really getting it right in terms of the overall candidate experience," Glassdoor's Employer Communications Manager, Lisa Holden, told Forbes. "It helps jobseekers navigate toward companies that will treat them well. At the same time, companies can learn about what makes a positive candidate experience and how they can improve their best practices."
So what can you do to improve the interview process at your organisation? Research from Glassdoor's study points to several improvements, which are low-hanging fruit at many companies today. They include:
Sharpening up interview difficulty, focusing on testing specific on-the-job skills during interviews
Moving toward standardised interview questions to reduce interviewer bias and allow more objective comparisons of candidates
Cut unnecessary candidate screens (such as layered interviews) that add to hiring delays without significantly improving candidate quality
Use data, experimentation, and statistical methods to study what actually works and doesn't in company interview processes
Not connected with us on social? Stay in touch and keep up-to-date with all the latest recruitment news, research highlights and our wide range of useful resources.
Find out how the likes of IBM, IKEA and Siemens
drive hiring excellence with SocialTalent
---