Keep up with the latest hiring trends!
8 Industry-Rocking Recruitment News Stories to Sink Your Teeth Into this Week - 20th June 2016
In recruitment news this week:
Microsoft Buy LinkedIn for $26 BILLION
Yes, technology giant Microsoft have forked out the eye-watering sum of $26.2 billion to acquire our favourite professional network – one of the most expensive tech deals in history.
In a statement on their official blog, LinkedIn CEO Jeff Weiner says; "We are joining forces with Microsoft to realise a common mission to empower people and organisations". But Weiner was also quick to point out that "LinkedIn's vision – to create economic opportunity for every member of the global workforce – is not changing and our members still come first."
So what do we know about this acquisition and what do we think will be its affect on us, the users? Here's everything we know about the acquisition so far:
Microsoft considered acquiring LinkedIn around 2008 for $1.5 billion, according to multiple sources close to LinkedIn at the time, but Microsoft is said to have been "lukewarm" on the deal.
Microsoft bought LinkedIn entirely with cash (as opposed to using some shares in Microsoft).
LinkedIn is keeping its branding and product, and it will become a part of Microsoft's productivity and business processes segment.
LinkedIn's CEO Jeff Weiner will report to Microsoft CEO, Satya Nadella.
In a section called "Selling to Social Selling" in the slide deck below, Microsoft details how it plans to use LinkedIn's social graph as an integrated selling tool alongside its existing CRM products (which are second to Salesforce in the market currently). Users of Microsoft's Dynamics CRM and other systems, it notes, will want to use LinkedIn's Sales Navigator "to transform the sales cycle with actionable insights" — essentially lots of background information about users that can help find leads, open conversations and close deals. According to Nadella, it will redefine social selling.
LinkedIn/MSFT deal by TechCrunch
Also in its presentation, Microsoft explained how it could use LinkedIn's data in familiar Microsoft programs, like Outlook, Skype, or Office applications like Word, Excel and PowerPoint. The company says that today, there's not a single source for data on individual professionals — it's scattered around and often out-of-date. By integrating professional profile data into Office 365, email and other communication apps, users would be more inclined to keep that information up-to-date as it would be more visible to friends, colleagues and others. And on the flip side, these integrations would make that data more easily accessible to anyone who wanted to know more about a professional's background or experience. For recruiters, gaining access to the breadth of employees' networks (for those who grant that access) could transform referral programs. But even without that kind of access, just seeing who the go-to people are in a company can change the quality of the candidates being recruited.Microsoft CEO Satya Nadella also explained in an email to employees, that by integrating LinkedIn's network in Office 365 and Dynamics, the company can enable new experiences like "a LinkedIn newsfeed that serves up articles based on the project you are working on and Office suggesting an expert to connect with via LinkedIn to help with a task you're trying to complete." In other words, LinkedIn's newsfeed which today is still a hit-or-miss experience, can become highly personalised as it will know what you're currently working on, including what projects you have underway and what meetings you've planned. And, as you head into those meetings, Microsoft's digital assistant Cortana will be able to quickly give you background on who you're about to sit down with, as she'll have their LinkedIn resumes on file.
The presentation slides also note that the integration will give organisations deeper insights into the skills and effectiveness of their teams. Exactly how that will occur will take time to work out, but here's one possibility: If a manager discovers that her team rarely communicates with each other on a project — Yammer is another Microsoft product — that knowledge can prompt her to take action before deadlines get missed or worse.
Microsoft says that LinkedIn Learning (based on LinkedIn's acquisition of Lynda.com last year for $1.5 billion), will also be integrated into Office. That means users who want to learn how to perform advanced tasks could sign up for courses without having to leave Office and hunt around the web for an e-learning course – it could be smartly suggested right inside their document as part of the "help" information.
"Just as we have changed the way the world connects to opportunity, this relationship with Microsoft, and the combination of their cloud and LinkedIn's network, now gives us a chance to also change the way the world works," Weiner added in the statement. "For the last 13 years, we've been uniquely positioned to connect professionals to make them more productive and successful, and I'm looking forward to leading our team through the next chapter of our story." Read Weiner's letter on the deal to LinkedIn staff here.
We'll update you with more info on the deal as we learn it.
US Time to Fill Sets Record in April at 29 Days
Across all industries and all jobs, it took employers an average of 29.3 working days to fill a vacancy in April – a figure that trumps a previous (August 2015) high of 28.4 by almost a full day.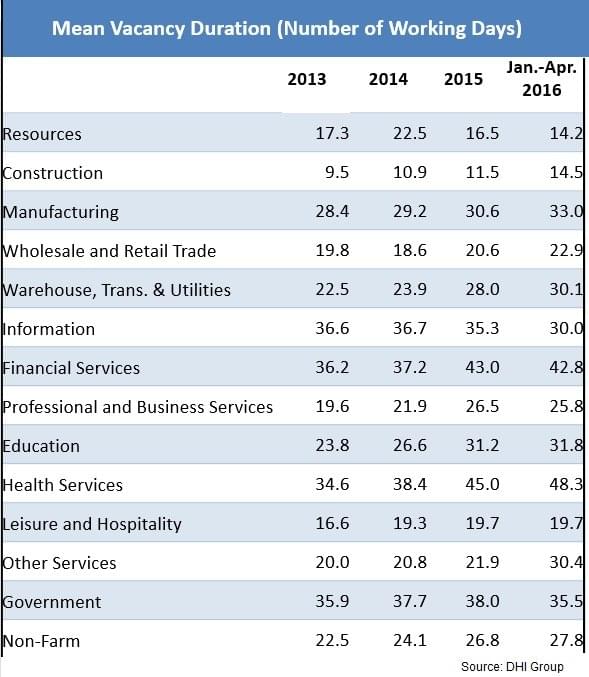 Yes, according to the latest DHI Hiring Indicators report, the average fill time took a big jump between March and April, rising by 1.6 days. Although, for some industries the rise was much greater. The average time to fill healthcare vacancies rose by 3.4 days from 46.1 days in March to 49.5 in April. That's the longest of the 12 industries (including government) reported. The shortest average fill time is for employers in the resources industry, where it takes just 15.7 days. Construction is close behind, requiring 15.8 business days to fill a vacancy.
"The growing length of vacancy durations in a time of modest economic growth suggests that employers have become more selective and cautious in filling their open positions," said Dr. Steven Davis, professor at the University of Chicago Booth School of Business, who prepares the monthly report for DHI Group.
Have you seen your time to fill rise over the last few months? What do you believe to be the cause if it is? Let us know in the comments below.
(Recommended Reading: The 2016 Global Recruiting Survey)
50% of Top UK Graduate Employers to Cut Grad Recruitment if Britain Leaves EU
Half of the leading graduate employers in the UK will reduce their graduate intake if Britain votes to leave the EU, according to a survey of top UK graduate employers by PathMotion. The research found that if the UK votes to leave the EU, the sectors most at risk of downsizing their graduate intake are Banking & Finance, Retail, Media, Technology and Law. These sectors, together with audit and professional services, employ over 50,000 graduates per year. The 3 main reasons cited for downsizing graduate hires under Brexit are:
the impact of Brexit on the economy and therefore on the volume of business
general uncertainty
a lower talent pool of EU graduates applying for jobs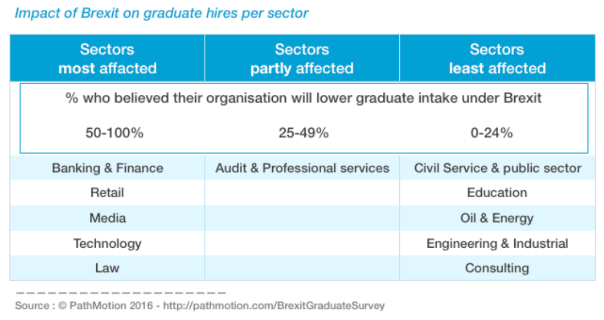 While some firms would increase the hiring of British graduates to compensate for fewer EU graduates, the majority reported they would either apply for work permits to maintain current levels of EU graduates or reduce operations in the UK to manage with fewer graduates. Some firms reported that hiring more Brits for jobs currently held by EU graduates could impact on overall quality. Of the firms that reported they find employing EU graduates beneficial, key reasons cited include:
Languages and other skills to be able to cover global clients, for example for banks and law firms
Specific job skills sets, for example in education and health
The need to be able to tap into a wider talent pool (cited across all sectors)
David Rivel, Founder and CEO, PathMotion, says: "PathMotion presents the first study dedicated to assessing the impact of Brexit on UK-based graduates from the viewpoint of those that employ them. The concerns raised by graduates about the effect of a Brexit are now confirmed by employers, who predict a loss of graduate jobs in the UK. British graduates are not protected, despite some employers shifting from EU to British graduates. The survey also reveals that employers are worried at the prospect of losing access to the talent pool that they can already tap into."
View the full report here.
Jobandtalent has Undergone an "Evolution"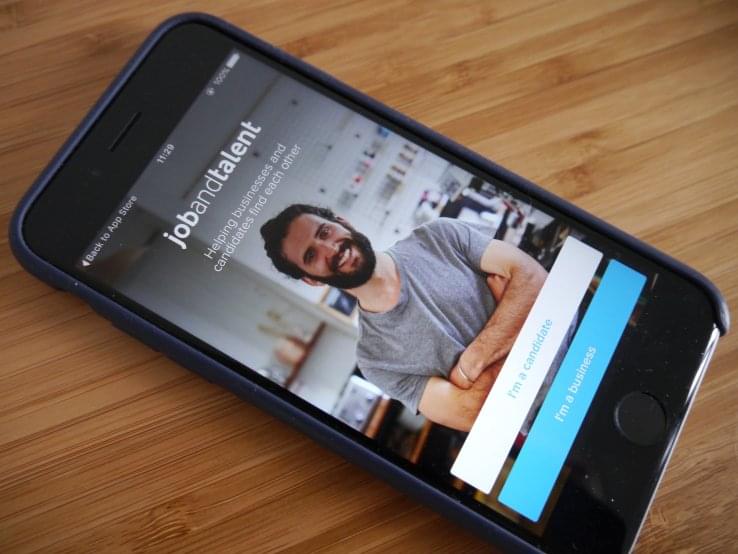 Jobandtalent, a startup that matches job candidates and employers using specialised technology, has undergone an "evolution" according to the CEO and co-founder, Juan Urdiales. The company is currently in the process of shuttering its desktop product and going purely mobile, adding mobile messaging and geolocation to its apps to accelerate utility to candidates and employers. Not only that, but the company has transferred its attention from enterprise recruitment to SMEs where staff turnover is faster and there are more jobs in play.
The change of focus for Jobandtalent is all about "increasing liquidity" on the platform says Urdiales, by which he means the number of jobs up for grabs and, consequently, the amount of hiring taking place — which in turn will generate momentum to pull in more employers and workers. With its new focus, Jobandtalent is now competing directly with recruitment agencies like Adecco, says Urdiales. Indeed, he says the "big aim" is to replace this agency layer entirely. "We see Jobandtalent, in some years, as the major provider of employment. The biggest employment company in the world!" he says.
The free-to-use hiring platform has a new business model too: opt-in staff management services where it can take care of recruitment and HR related admin for SMEs — from generating employment contracts to managing payroll to paying related taxes — charging a take rate from the hire's payroll for this service (it's experimenting with the exact percentage cut at present).
"Our focus is on small businesses, mainly in some sectors like hospitality, sales, logistics, administration. We're looking for these type of companies that are not as big as companies that we were working in the past," Urdiales told TechCrunch. "It's a change on the focus of the clients that we wanted to serve but it was a natural evolution. We evolved the company to bring on board other type of companies because we thought and we saw the real opportunity and the real pain in the market was more in the small companies and small businesses rather than in big enterprises that had a lot of services already and a lot of platforms."
Jobandtalent is also now limiting its platform availability to a handful of cities (Madrid, Barcelona, Mexico City, Bogota and London) — again with a view to concentrating its efforts to generate the most 'platform liquidity' — although of course it's planning to expand the number of cities it serves as it pushes for more international growth.
And it's doing all this with the $42 million Series B round of funding they just received. As part of the round, former SVP EMEA & APAC at Uber, and current executive-in-residence at Atomico, Niall Wass, joins the Jobandtalent board as non executive director to help with its strategy and international growth. Urdiales touts Wass' marketplace experience as a big boon here, noting the latter helped launch Uber into more than 200 cities.
150,000 companies have used the platform in total (cumulatively over its lifetime), along with 10 million users.
(Recommended Reading: Jobandtalent Gets $25M To Steer Its Linguistic Analysis Recruitment Platform Toward The U.S.)
More and More Millennials are Choosing to Freelance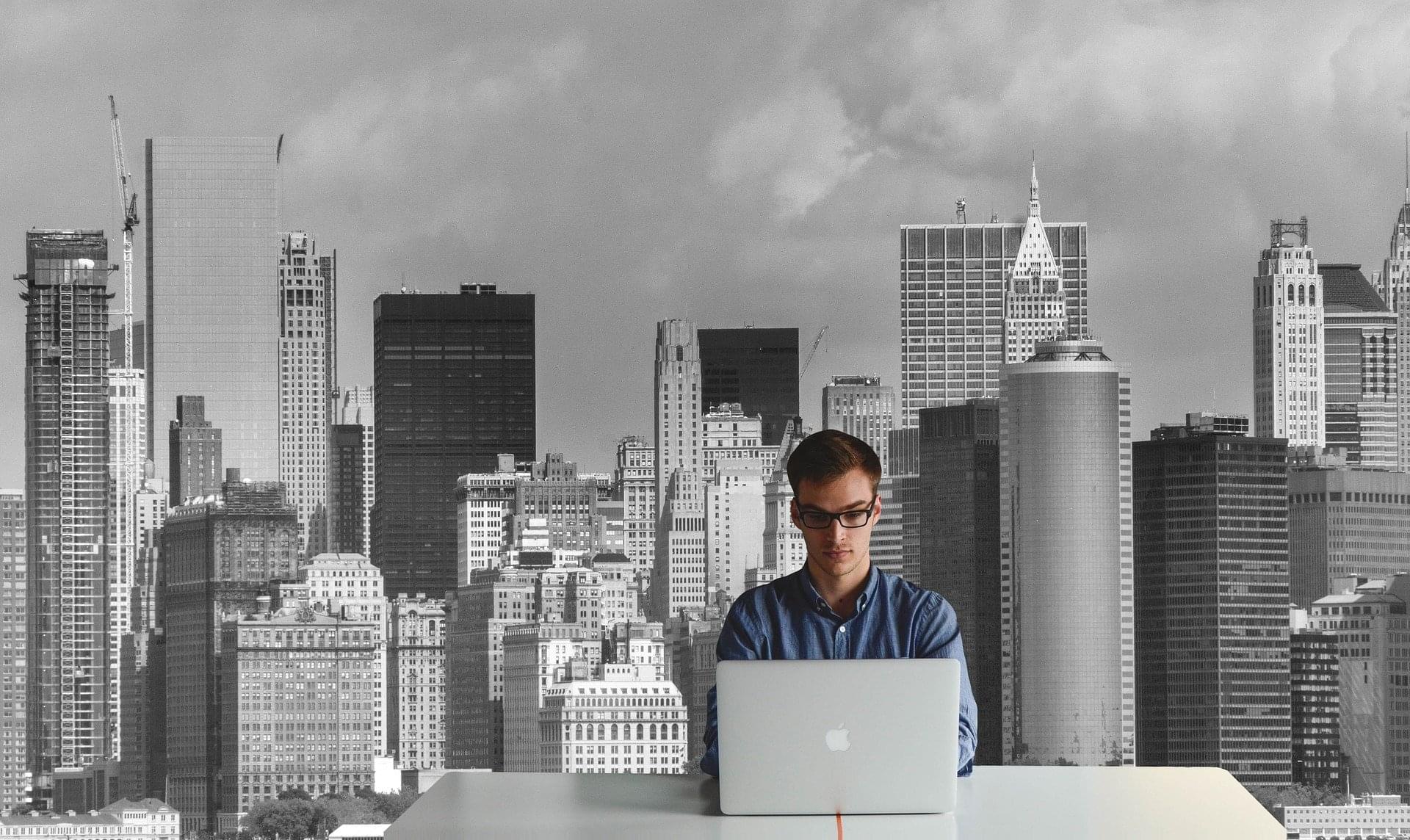 Take note recruiters! The "uberization" of recruitment is starting to really gain pace!
According to statistics from The Association of Independent Professionals and the Self-Employed, since the start of the economic downturn in 2008, the UK has seen a 36% rise in the number of people choosing to become freelance. That equals to 1.91 million Brits now working for themselves, with a staggering 51% increase in the number of Millennials choosing to take the freelance route.
Managing Director of on-demand staffing platform Coople, Jacques De La Bouillieries believes this is due to a culture shift and a rise in the on-demand economy. "Since the start of the economic downturn in 2008, Britain has seen a staggering rise in the number of people choosing to work for themselves; this has been highlighted by the 51% increase in Millennials working independently and taking charge of their careers," he said.
And this increase in self-set work has a knock-on effect for the recruitment and talent industry, according to De La Bouillieries. "In most recent years we can attribute a proportion of this rise in freelancers as a result from the growing on-demand economy, which has made the job market ripe for change. Smartphone usage and apps are facilitating this – they make it easier and quicker for businesses to find potential freelancers for their employment as and when they require it. In return, freelancers are finding it simpler to find work that fits around their schedules and lifestyle," he said. "This new wave of recruitment directly speaks to freelancers and the on-demand economy and helps established businesses adapt to this new model too. It's crucial for companies to wake up to the value of freelance work in supporting its core staff, and how this can perfectly compliment the peaks and troughs of demand that come with running a business."
(Recommended Reading: The 'Uberization' of Recruitment – What You REALLY Need to Know)
Beamery Raise $2 Million in Funding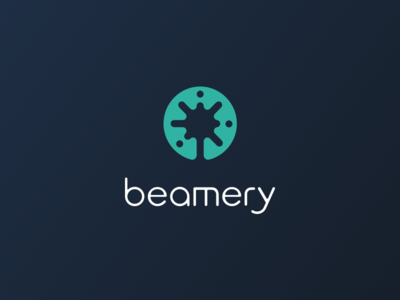 Beamery, the only recruitment software that combines Sourcing, CRM, Recruitment Marketing and Employer Branding in a single platform, have just raised $2 million in seed funding from Edenred Capital Partners and Grupa Pracuj to build recruiting software that lets companies connect with hiring prospects and nurture relationships long before they apply.
According to a press release, while "there are plenty of new recruiting tools to track applications and post job ads (e.g. Greenhouse and Lever) or test aptitude (e.g. HackerRank and Codility)", the core process "hasn't changed in decades" with most companies "still waiting for candidates to apply". This, in Beamery's opinion, is no longer sufficient. "The best candidates simply aren't applying anymore". So, using their newly raised funding the company have built Recruitment CRM software that enables companies to approach recruiting like customer acquisition – "from outbound prospecting and pipeline building, to targeted nurture and engagement" – that should give companies a huge advantage when it comes to building relationships with candidates that are not applying.
Using large-scale data-mining to automate relationship tracking for recruiters, the CRM system ingests relevant information from hundreds of sources including email, social, and other recruiting tools to create a complete 360-degree view of each candidate relationship and provides every data point that companies need to make smarter hiring decisions. Machine learning algorithms then determine which prospects are most interested which helps recruiters prioritise. Companies can then nurture top candidates with personalised drip-marketing campaigns to move them through their hiring funnel.
Beamery CEO, Abakar Saidov, says: "The are lots of great products to manage applications and screening, but the candidate journey begins long before people click apply. Every relationship begins with multiple touch-points and we are trying to be the system that brings it all together. For our customers, talent acquisition is a big priority, and we help them take it to the next level."
(Recommended Reading: 6 Automation Tools to Make Recruiters' Lives Easier)
Is This the Tastiest CV Ever?!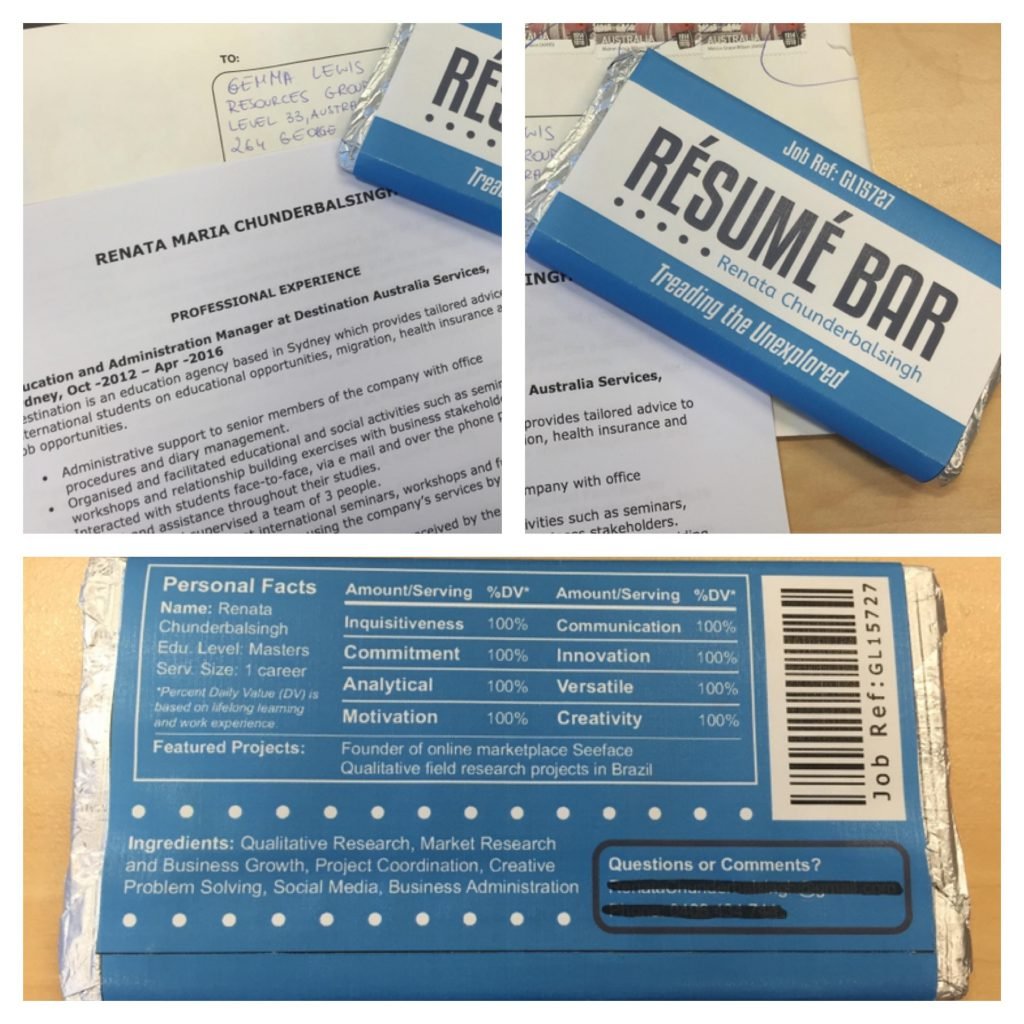 In hopes of getting her proverbial foot in the door, graduate job seeker Renata Chunderbalsingh decided to appeal to the sweet tooth of her chosen employers by sending them her resume in the form of a chocolate bar – which cleverly used the serving amounts and ingredients list to detail her skills and experience.
Writing in a LinkedIn post, Gemma Lewis, Director – APAC at Resources Group, said:

(Recommended Reading: 8 of the Best Stunts Ever Pulled By Job Seekers)
Ever Fancied a Job as a King Slayer? Westeros Recruitment is Here to Help!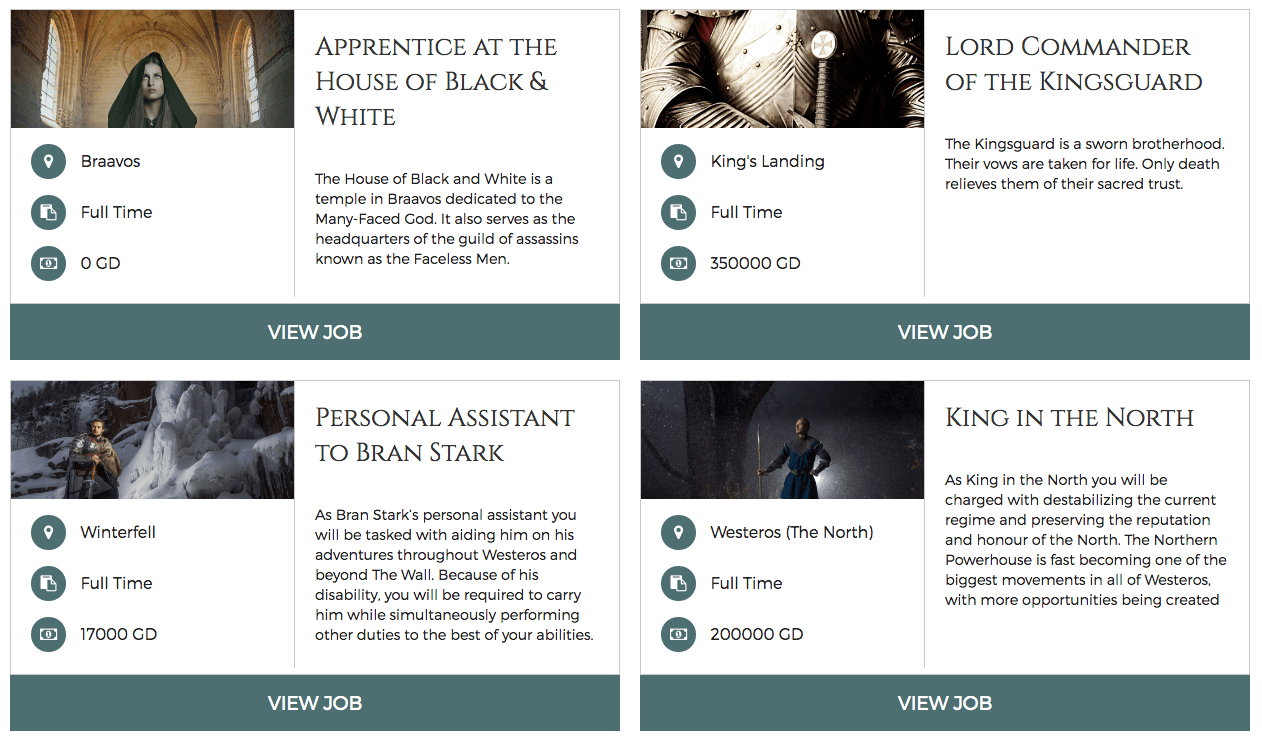 In one of the cleverest and most novel marketing ploys by a staffing agency we've ever seen, Time Recruitment have created and are now running a parody Game of Thrones job board called "Westeros Recruitment", advertising all the 'available' (read: fictional) roles for candidates who find themselves without prospects in the Seven Kingdoms.
The site lists jobs such "Lord Commander of the Kingsguard", which comes with such responsibilities as protecting the King, providing military advice on land-based warfare to the Small Council and blind allegiance. While other jobs on offer include Personal Assistant to Bran Stark (spoiler alert: presumably in an effort to replace Hodor), King in the North, Lord of the Seven Kingdoms and Warden of the North.
Westeros Recruitment explains their aims in the 'About Us' section of the site saying; "Thanks to our cut-throat attitude toward achieving results, we have quickly established ourselves as the leading recruitment agency throughout the Seven Kingdoms. Our growth means that we are able to tailor our services to both large and small businesses, as well as job seekers with a range of skills. As a job seeker you can rest assured that you'll receive a personally tailored service that meets all your requirements. You'll have the opportunity to discuss specific qualities that you possess in detail and identify positions which are best suited to you, ensuring you find the perfect job."
Sign me up for that Mother of Dragons role now!
Not connected with us on social? Stay in touch and keep up-to-date with all the latest recruitment news, research highlights and our wide range of useful resources.
Find out how the likes of IBM, IKEA and Siemens
drive hiring excellence with SocialTalent
---