Keep up with the latest hiring trends!
8 Intriguing Recruitment News Stories to Whet Your Appetite this Week - 18th April 2016
 In recruitment news this week:
Job-Hopping is Accelerating (Particularly Among Women)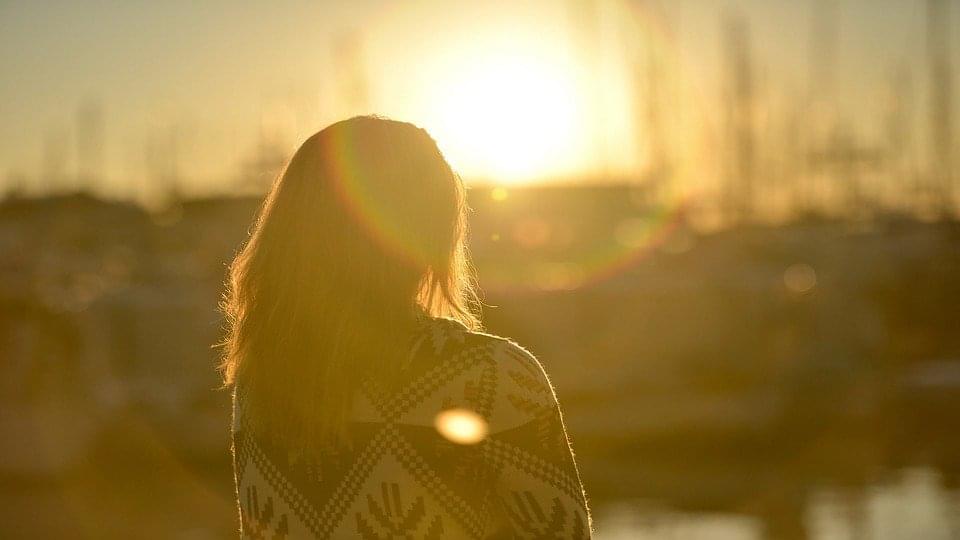 There is no such thing as a forever job anymore, that's according to new research from LinkedIn Economist, Guy Berger.
His research, conducted with the help of the Economic Graph, tells us that between 1986 and 2010, the average number of companies professionals worked for in the first 5 years after they graduated has nearly doubled. While professionals who graduated between 1986-1990 averaged 1.60 jobs during their first 5 years working, those who graduated between 2006-2010 averaged 2.85 jobs. However, the job hopping pace does slow down as professionals get older, as you can see in the graph below. Still, younger generations are likely to work for more companies in the second decade of their careers than previous generations did.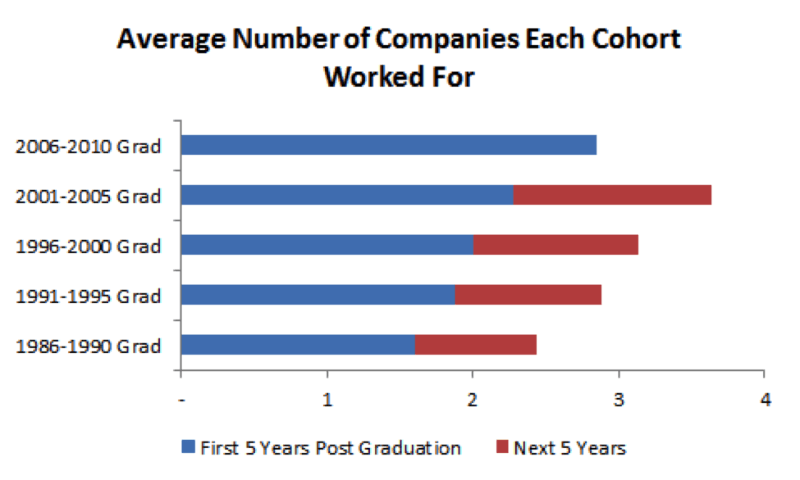 But millennials aren't just changing jobs within their first 5 years of graduating, they're also changing industries. In fact, 2006-2010 grads explored 60% more industries during its first 5 years in the workforce than the 1986-1990 grads. "A college degree used to slot you into a 40-year career. Now it's just an entry-level point to your first job," said Guy Berger.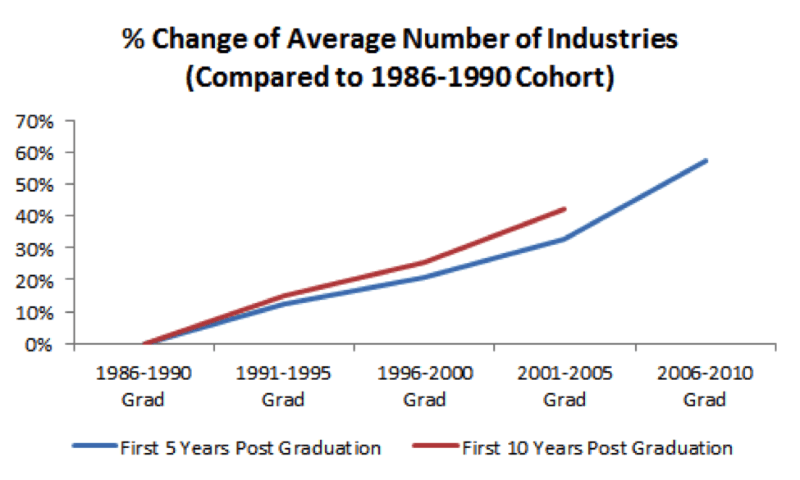 Interestingly, he also discovered that professionals who ended up in the Media & Entertainment, Professional Services, and Government/Education/Non-Profits industries job-hopped the most the 5 years after they graduated, meaning what they studied in college didn't necessarily lead them to their eventual career.
While job hopping is common among both genders, women actually job hop slightly more than men, with the biggest difference so far between the sexes being displayed between 2006-2010 grads.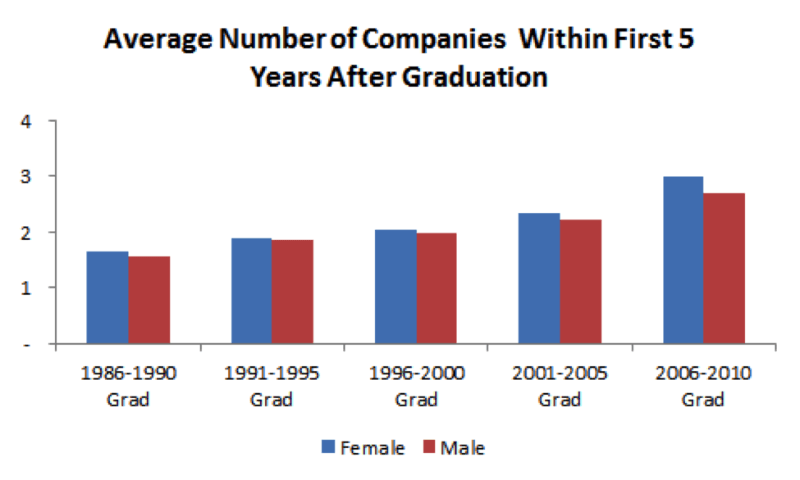 This research shows us that retention is going to become an increasingly important issue in the recruitment industry in the not too distant future. If we are to keep a hold of our best talent (particularly in industries like Media & Entertainment, Professional Services, and Government/Education/Non-Profits), we are going to have to start putting serious retention plans into practice like training and development, leadership programmes etc.
Is the Power Shifting Away from Jobseekers?
For the last couple of years, we've been told that the job market is now a candidate lead one. As a result, there has been a lot of emphasis on the candidate experience and related topics at expos and events across the globe. But is that all about to change?
Well, according to CV-Library, the power balance between employers and candidates is shifting away from the latter, as the recruitment industry gears up for a period of growth. "The industry is celebrating a period of rapid growth – each month we're seeing more job vacancies, job applications and higher advertised salaries, suggesting that the UK labour market continues to flourish despite some economic uncertainty," said Lee Biggins, Founder and Managing Director at CV-Library. "Increasing applications should come as particularly good news for the industry as power begins to slowly shift away from candidates, and back into the hands of employers."
We just hope this doesn't mean organisations will once again start ignoring the candidate experience!
(RELATED: How to: Create An Excellent Candidate Experience)
XING Acquires Referral Startup Eqipia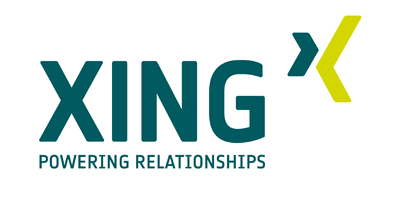 XING, the leading online business network in German-speaking countries, has added to its portfolio this week by acquiring Zurich-based startup BuddyBroker and its product, Eqipia – the leading intelligent and automated employee referral programme in Switzerland.
The purchase price is set at €2.94 million, but an earn-out payment of up to €4.41 million may also take effect if the operative goals are reached.
BuddyBroker's 7 employees will all continue working for the company, while founders, Flurin Müller and Patrick Mollet, will stay on board to drive the product's further development.
According to EU-Startups.com, employee referrals are already one of the most effective recruiting tools in the German-speaking world today. Many companies have implemented a bonus programme in order to make use of employee referrals. However, for many, this is a manual, time-consuming process for both HR and employees. The "Eqipia ReferralManager" digitalises and automates this complex process by analyses employees' networks (which it can access via their XING profiles), and identifying suitable colleagues using a matching algorithm. These potential candidates can then be contacted automatically via the tool, significantly reducing the workload in HR.
The employees concerned receive all the important information about the vacancy and can pass this on to their contacts. HR departments then receive transparent reports about the success of the recruiting tool. They also have the option of awarding a bonus for the successful referral of a contact.
XING CEO, Thomas Vollmoeller, stated: "An automated solution for employee referrals is the superior recruitment tool. The advantage for companies: They can find better qualified candidates at much lower costs and much more quickly than with traditional methods. Their own employees serve as ambassadors for the company and the process of approaching candidates is personal, reliable and purposeful. As a result, the proportion of employees recruited on the basis of referrals is very high. Eqipia is an outstanding product in this area. It offers typical Swiss precision and fits perfectly with XING. The acquisition of eqipia asserts XING's position as a leader in innovative recruitment solutions."
BuddyBroker Founders, Flurin Müller and Patrick Mollet, are looking forward to the integration with XING and said: "With XING we can implement our product visions even faster and achieve even better results for our customers. XING's established distribution network enables us to offer eqipia in the German speaking region in one fell swoop."
The Eqipia ReferralManager is available immediately as a part of XING's e-recruiting range. For the launch, XING is offering a special on the eqipia ReferralManager. XING is currently also developing a solution that is completely integrated into the XING platform.
(RELATED: The Incredible True Value of an Employee Referral (Infographic))
Twitter Overhauls Board
Twitter is taking diversity and inclusion seriously. Very seriously. After months of rumours (and after being referred to as "a country club for old white guys" by one of its largest investors), Twitter announced a long-awaited shakeup of its dysfunctional board on Friday 8th April, to help pave the way for a corporate turnaround and bolster the diversity of its top ranks.
On their way out: two of the three white men named Peter who have been longtime members of the board. On their way in: Hugh Johnston, vice chairman and CFO of PepsiCo,
and Martha Lane Fox, an Internet entrepreneur and a fierce critic of a male-dominated Silicon Valley culture.
In his announcement of the new board appointments, Twitter co-founder and CEO Jack Dorsey stressed the need to improve the company's diversity to "represent the strong communities on Twitter":
More additions to the board soon, ones that will bring diversity and represent the strong communities on Twitter. This matters & is a must.

— Jack (@jack) April 8, 2016
But although the board shakeup is a welcome one, and proves that big tech firms like Twitter are starting to take the issue of diversity and inclusion much more seriously, there is still a lot of work to be done. Twitter's board now has 2 women and one Iranian-American, but it also still has 5 white males.
(RELATED: How to: Increase Diversity Through Improved Recruitment and Hiring Processes (FREE Download))
UK Background Checking Platform Onfido Raises $25m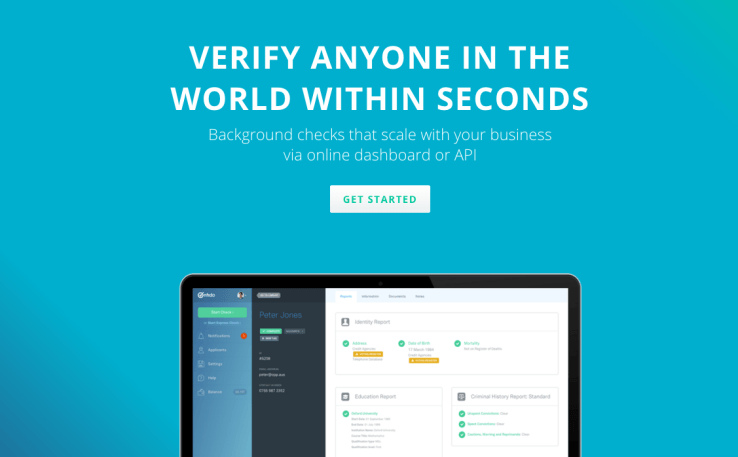 Onfido, a UK based background checking platform that aims to provide the world's most reliable ways to verify new hires and customers, has raised $25 million a Series B round of funding.
The company plan to use the capital in 2 ways:
To continue expanding its business internationally: originally founded in the UK by 3 friends from Oxford, Onfido is now focused on US, which co-founder and CEO Husayn Kassai told TechCrunch is currently its biggest market among its 1,000+ customers, who have collectively run 10 million checks through its platform in the US, Europe, Latin America and Asia.
To continue building out its machine learning platform. The company, which offers its service by way of an API to its customers to integrate into their bigger HR systems, now claims to perform basic ID checks in seconds, and is constructed to learn more about fraud patterns to identify quickly when people are trying to hide their backgrounds in more sophisticated ways.
Read the full story here.
(RELATED: Could YOU Spot a Fake Employment Reference?)
Tech Women Ask for Less – And Receive It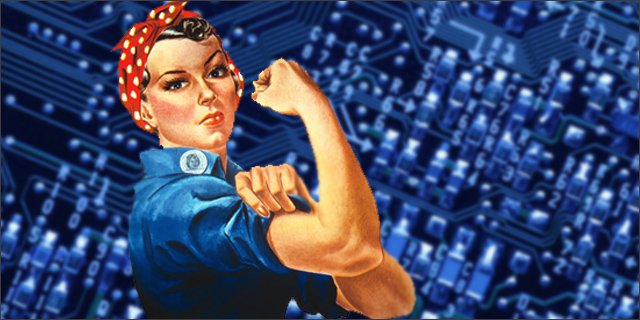 According to a new study published by tech workers jobs marketplace, Hired, the average female candidate sets her expected salary at $14,000 less than men.
Related or not, 69% of the time, men receive higher salary offers than women for the same job title at the same company. (On average, employers pay women 3% less for the same roles, though some companies offer as much as 30% less!)
But why is this?
According to Hired, the pay gap is bigger in roles that feature a higher percentage of men, like heavily male-dominated software engineering roles. This is where the so-called expectation gap is likely playing a role. Hired's lead data scientist, Jessica Kirkpatrick, believes women are asking for less because they don't know what their peers are making or, in some cases, they question whether they deserve the same amount. (Pinterest engineer Tracy Chou shared her own personal experience with this issue in a piece on Quartz published earlier today.)
Kirkpatrick also notes that a women's comparative lack of success when it comes to negotiating for better pay (as documented by Catalyst, among others) can also take on a kind of snowball effect over time. If you get paid $15,000 less than your male counterpart in one job, it's hard to make up the difference when your next employer asks you about your last salary.
There is, thank goodness, a silver lining. According to Hired, once employees know the salary expectations for a certain job, whether male or female, they tend to ask for the same amount, and they get it. "When people know their worth and set it appropriately," says Kirkpatrick, "they get what they are asking for."
Indeed, the biggest takeaway for readers, Kirkpatrick adds, is that women do their research at the outset of their job hunting process.
Read the full Hired round-up here.
(RELATED: Recruitment and the Gender Pay Gap)
PROPHET Gets Some New Tools
Everyone loves a free recruiting tool, right? Well,
PROPHET
is one of
our favourite free recruiting tools
and today it has announced the impending launch of 2 new beta features that will add even more value to the already brilliant product!
Lists: Are you tired of copying and pasting while sourcing social sites? This allows you to use Prophet as a CRM or ATS. No more cutting and pasting profiles, just add them to a list while you browse. Then, after you're done adding, you can review them in the new "lists" section: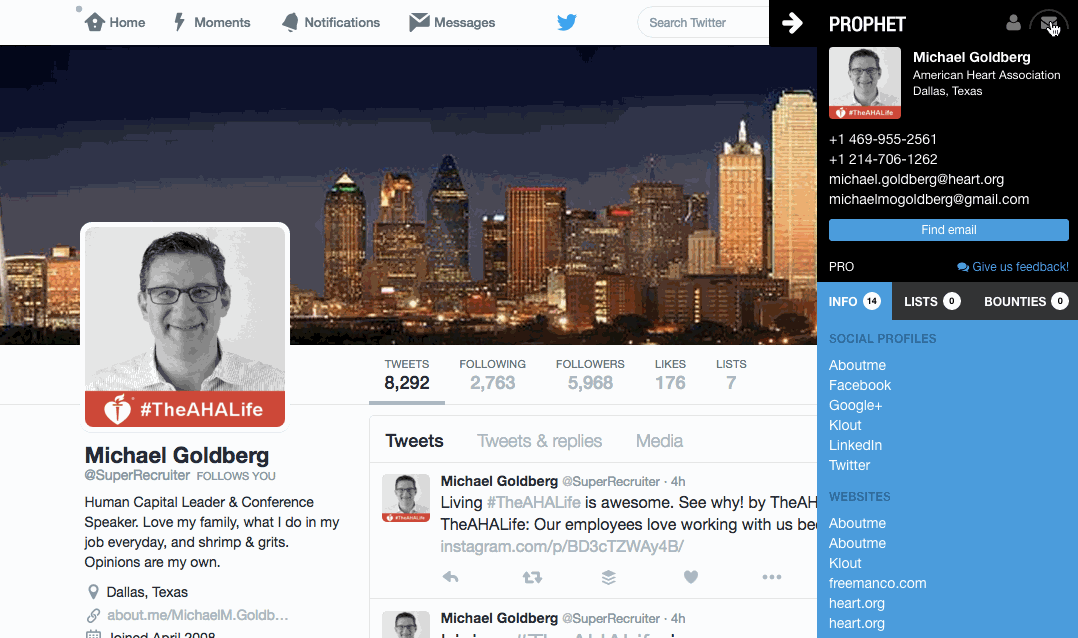 Bounties: Did you find a great candidate but the contact information isn't there? Put out a reward for phone numbers, websites, or emails and let the community help you. PROPHET users running low on credits can complete a bounty to earn more! It's a win-win!: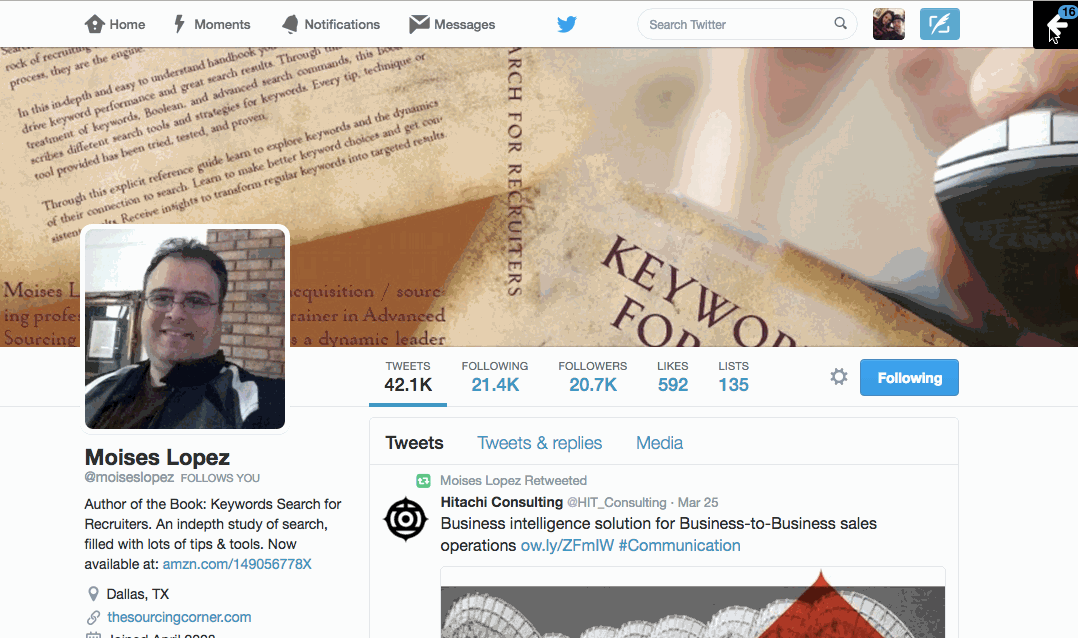 So, if you want in on the two brand new features (we know we're dying to try them!), join PROPHET's 27,000 users by installing it
here
.
Your Hiring Manager Thinks They Could Do a Better Job Than You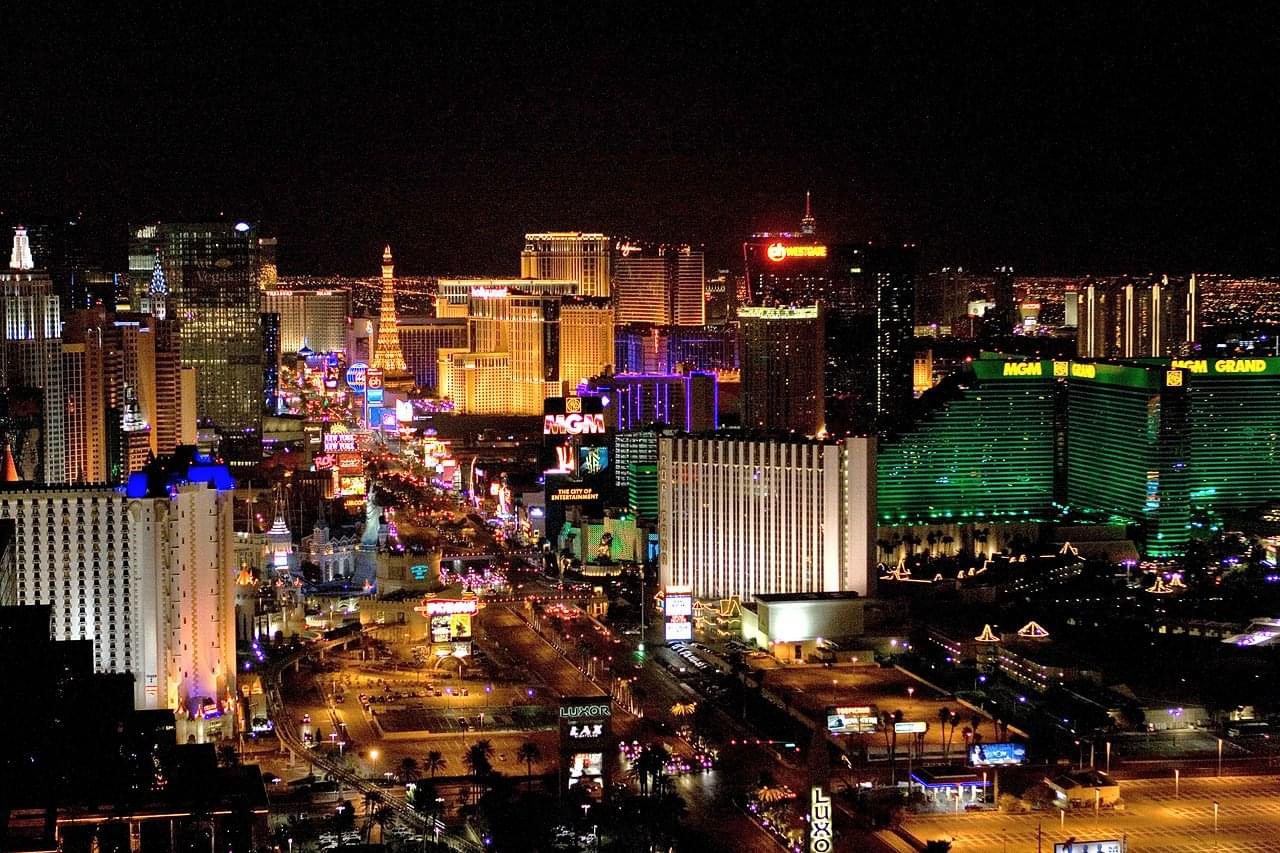 At ERE's spring recruiting conference in Las Vegas over a week ago (at which two of our own Sourcing Ninjas were attendees), ERE CEO and president highlighted some rather unsettling stats to an audience of over 600 talent leaders.
The stats, derived from ERE's State of talent Acquisition Survey 2016, related to a rather large disconnect between recruiters and hiring managers.
When asked to grade their teams, talent acquisition leaders believe their teams are doing a pretty good job. Good enough to give themselves a B-. But when hiring managers were asked to grade those same teams, they marked them down a whole grade point, C-.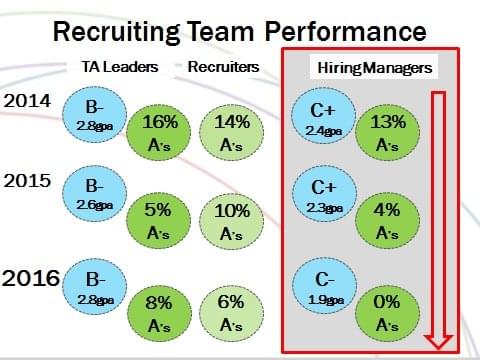 Furthermore, when asked to rate the quality of candidates from various sources, hiring managers scored the candidates they find themselves significantly higher than those submitted by the recruiting team. Even more upsetting was the 3.6 score they gave to recruiter candidates was only slightly ahead of the 3.5 score they gave to candidates from job boards and the company career site!
But how can we quickly and easily improve the situation? That was the question Mester asked of a panel of experts including Jeanna Barries, David Watson and John Ricciardi.
The first step in improving relations with hiring managers, the State of TA 2016 Panelists with agreed, was to ask them what's working and what's not. "Pick up the phone," suggested Watson. You may not always get a direct answer, but if "there's a pause," he added, "There's a problem."
What is the quickest way to begin improving how hiring managers and recruiters work together? At the intake session, Ricciardi said, with quick agreement from Watson and Barrie. That's when you can set the roles and responsibilities, making clear not only who does what, but when. "Get the details and the specifics," Watson counselled.
Share relevant recruiting data with them, they all agreed, even when it may not reflect positively on the TA team. By sharing that — and describing what you are doing to fix the problem — you build credibility. But to get hiring managers to care about your data — good or bad — it needs to be made relevant to them.
"Put it in a context that relates to the hiring manager's interest," said Ricciardi. Agreed Barrie, "Every hiring manager has a stake in the game."
Find out how the likes of IBM, IKEA and Siemens
drive hiring excellence with SocialTalent
---