Keep up with the latest hiring trends!
8 Recruitment News Stories the Industry is Buzzing About this Week - 31st August 2015
In the news this week:
NEW LinkedIn Recruiter Search Insights Surface Valuable Talent Pool Data

Last week, via their Talent Blog, LinkedIn announced that new search insights are now available in LinkedIn Recruiter and Recruiter Professional Services "to help you use data to identify quality talent". According to the site, the goal of these new search insights is "to help you quickly visualize, analyze, and interpret talent pool data". After you enter your search criteria, search insights will "reveal the talent pool's current and past employers, years of experience, education, and location via intuitive, interactive bar charts".
LinkedIn believe there are 3 ways these new search insights can help you hire top talent:
1. Set effective search strategies
According to a Bersin study, one thing that top recruiters have in common is the ability to analyze and understand talent pools. Yet, LinkedIn data shows that only 1/3 of recruiters say they have access to the tools they need to do this well. With search insights, you can now gain a deeper understanding of the talent market and quickly identify and prioritize the best talent pools to recruit from.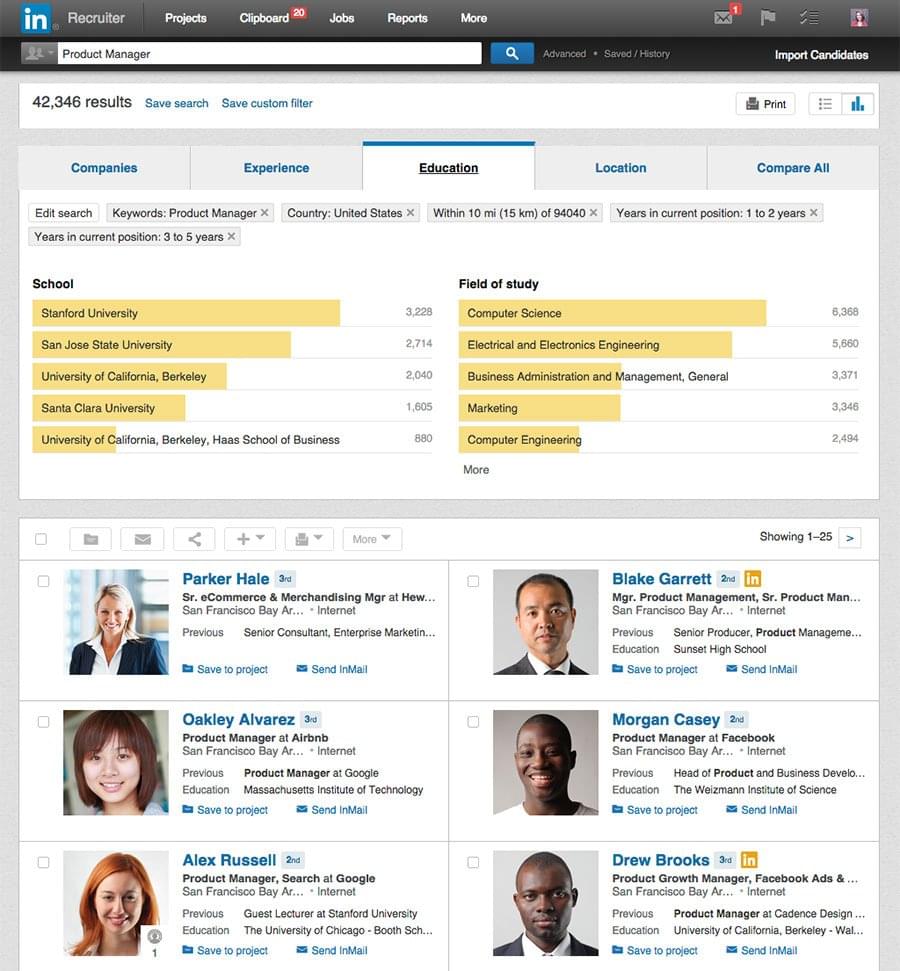 2. Manage hiring manager expectations
According to a LinkedIn survey, 82% of recruiters share that their hiring managers can sometimes have unrealistic expectations. Search insights can help you summarize candidate market data to educate your hiring managers about the realities of any given talent pool. These insights will help you and your hiring manager determine, for example, whether you should expand your search to new markets or adjust the compensation or title.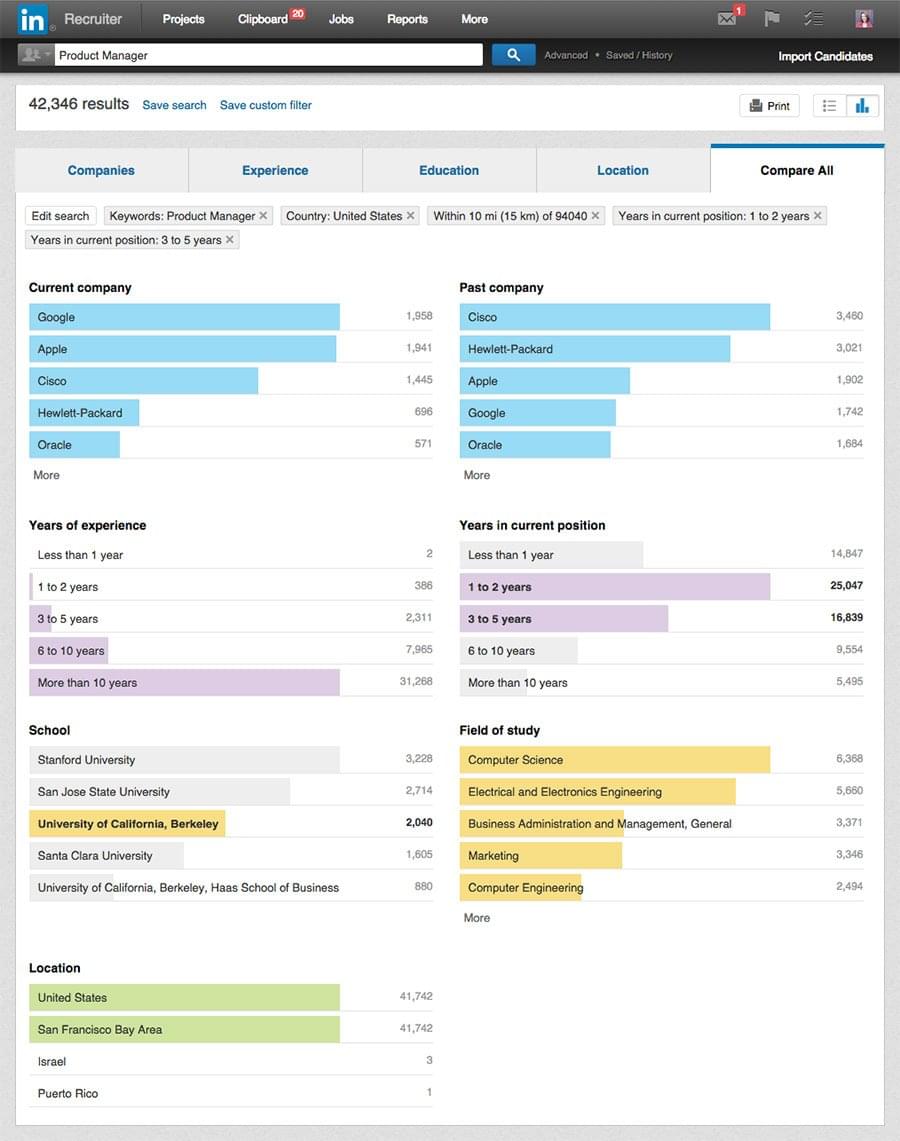 3. Build rapport with candidates
Search insights can also help strengthen your relationship with candidates by enabling you to advise them on current market dynamics. For example, you can share data with candidates to help them understand what experience they will need for a given role, which job markets are most competitive, or who the top employers are for a given talent pool. These insights help you act as a trusted advisor.
To learn more about the new search insights, check out LinkedIn's handy tutorial video below:
SlideShare Rebrands As "LinkedIn SlideShare"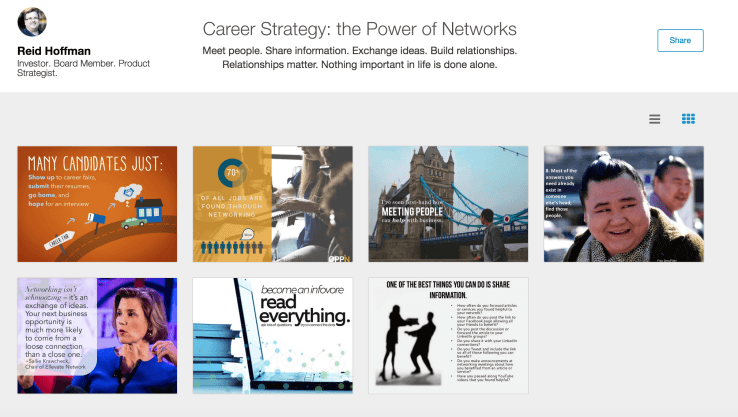 It's been over 3 years since it was bought by LinkedIn, but only now is SlideShare receiving a deeper integration with the professional social network, namely a rebranding (now it's "LinkedIn SlideShare") and a new tool that allows users to clip out the best slides from presentations and save them to topic-based clipboards.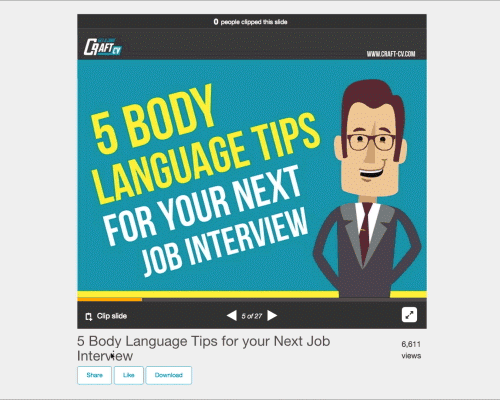 The added feature, simply called "Clipping," now allows all Slideshare users utilise the new "Clip Slide" icon at the bottom-left corner of slides, to save individual slides to a new section under your user profile called "My Clipboards." From here, you can organise the individual slides you've saved into their own Clipboards – for example, you may create a board for career advice, job hunting tips, industry stats, how-to's, and so on.
For example, LinkedIn co-founder Reid Hoffman's board on career strategy is here. Speech coach Michelle Mazur, meanwhile, has a clipboard on public speaking tips and tricks.
When your board is finished, you can choose to make it public and searchable as well as share it across social media sites, including Facebook, Twitter, Google+, and, of course, LinkedIn.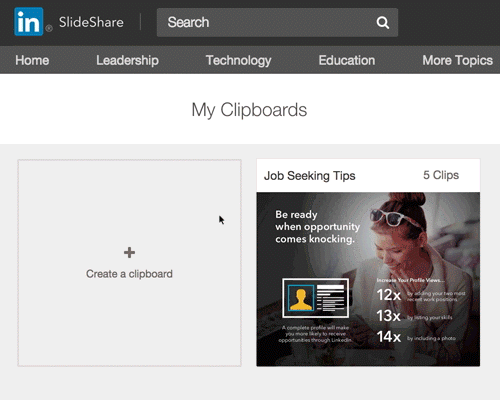 The feature is somewhat reminiscent of the bookmarking service Pinterest with its highly visual focus and board creation aspects, but instead of allowing you to clip, save and organise content from around the web, the clipping feature only works on SlideShare itself.
In addition to the Clipping feature, SlideShare is also now more deeply integrated with LinkedIn, so you can learn more about the person who posted the content in the first place. That's meant to aid in your research, allowing you to better vet the content as well as determine if it's been shared by someone who's a topical or industry expert, for instance.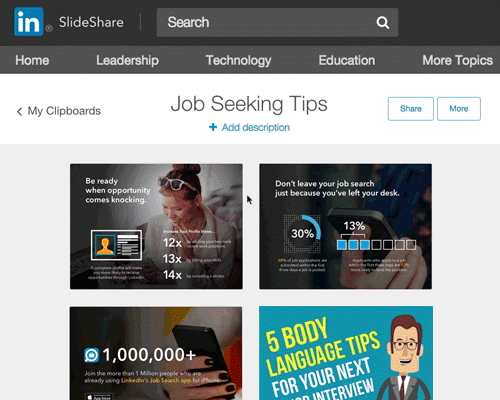 The company says that Clipping is only one of many upcoming ways SlideShare and LinkedIn will become more deeply integrated – other features in the works include tools for better organisation, ways to position yourself as an expert or seek out experts on various topics you want to learn more about, and other personalisation tools for LinkedIn SlideShare itself.
Today, SlideShare has 70 million monthly active users on its site and now sees 400,000 presentations added each month. Content on the site has nearly doubled since joining LinkedIn, growing from 10 million in 2013 to over 18 million pieces of knowledge today.
Google Brings Tweets To Desktop Search Results
Back in May, Google and Twitter partnered to bring tweets into mobile search results. It was, and is, a pretty big deal for both companies.
The relationship is apparently going well, as Google announced in a short update on its original blog post that it'd be including tweets within search results on desktop as well: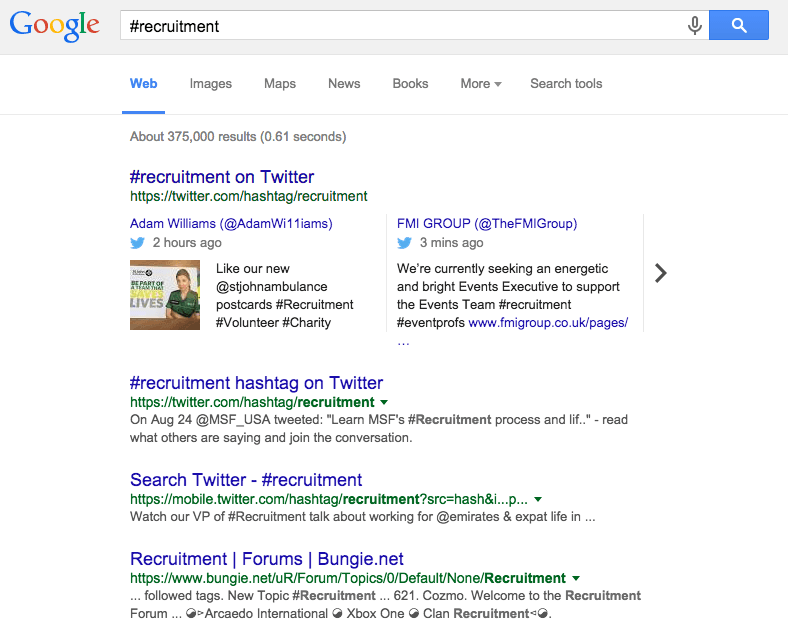 It doesn't take a rocket scientist to figure out that this means more tweets surfacing, which is great for Twitter. If someone were to come across a tweet, like the ones illustrated above, and feel like they want to jump into the conversation, that's a reason for them to sign up.
You got it, @google. We'll bring the Tweets. ????

— Twitter (@twitter) August 21, 2015
Google helps you search for things and Twitter/Tweets help you find what people are saying about things. It's a marriage made in heaven, which is why the rumours have always swirled about the search giant acquiring Twitter. Those rumours might kick up again now that its stock is hovering just above the original IPO price (it's currently $26.50).
Try searching #graduatejobs or #salesjobs, or the equivalent hashtag for your industry now, to see the conversation being had right now. Then join in! It's a great way to get your face in the place with potential candidates searching the hashtag for jobs.
Women Work Unpaid for 100 Minutes A Day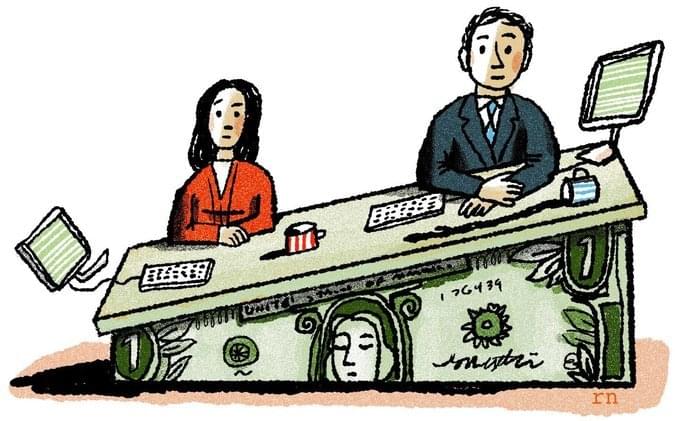 New data on the gender pay gap has revealed women work a total of 57 unpaid working days every year!
The pay gap for men and women now stands at £8,524. The average male salary is £39,136; the average female salary is £30,612. Last year, the pay gap stood at £9,069, or 23%. This year's percentage stands at 22%, which equates to 100 minutes a day, or 57 working days a year.
The more senior the position, the larger the gap seems to be. Director-level staff face a gender pay gap of £14,943, with men earning an average of £138,699, and their female counterparts taking home £123,756. There is also a difference in bonuses. Men receive £4,898 while women receive £2,531.
Ann Francke, CEO of Chartered Management Institute (CMI), said:
"Working for free [nearly] two hours a day is unacceptable. While some progress is being made, it's clear from our research that Lord Davies is right to target the executive pipeline. Having more women in senior executive roles will pave the way for others and ensure they're paid the same as their male colleagues at every stage of their careers."
The data shows that executive women are also in short supply. Women make up 67% of the entry-level workforce, with the number decreasing to 43% at senior management level, and 29% at director level.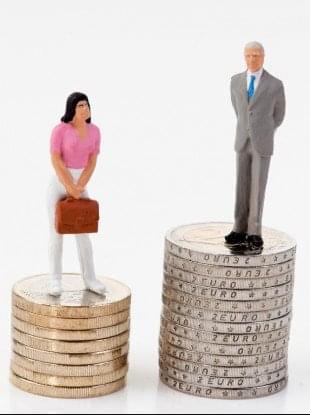 "Transparency is a powerful driver for closing the gender pay gap. The Government's new reporting legislation is a welcome step forward and will be good news for business. Clearer employee data, improved recruitment and a reinvigorated focus on business culture will help unblock the talent pipeline and support more women to become senior managers and leaders," Francke continues.
The pay gap widens as employees age too. Women aged 26 to 35 earn 6% less, with the figure rising to 20% for 36 to 45 year old females, and 35% for women between the ages of 46 to 60. Post-60 this figure expands to 38%.
Mark Crail, Content Director of XpertHR, said HR in larger companies has a responsibility to close the gap:
"An entire generation has now worked its way through from school leaver to retirement since the first equal pay legislation came into effect in 1970, yet the gender pay gap persists, and many employers still prefer not to know just how bad it is in their organisation rather than getting to grips with the data and doing something about it.
The survey, National Management Salary Survey, of 72,000 UK managers was published by the CMI and XpertHR. The figures were based on the average full-time working week of 37.4 hours.
Best and Worst UK Cities to Find A Job (July 2015)
According to new research carried out by Adzuna, a UK-based job search engine, Sunderland is the worst city in the UK to find a job, while Cambridge offers optimum conditions to job hunters. In fact, Cambridge proves 3x less competitive for those seeking work than Bristol or Manchester!
Fortunes in Salford have improved, with competition for open roles dropping to 1.80 jobseekers per vacancy, lifting it out of the top ten worst locations for finding work. Meanwhile, however, larger cities like Belfast and Glasgow, both feature in the toughest towns for job seekers.
Check out the full breakdown below: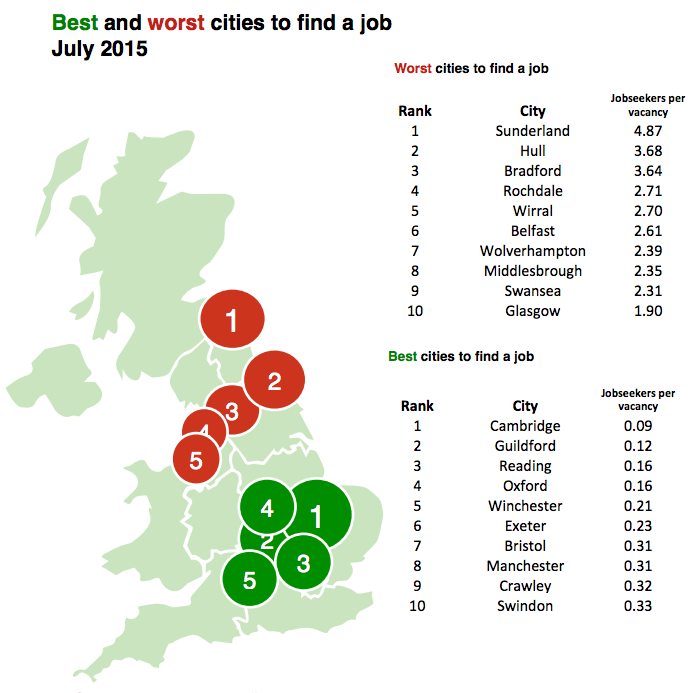 Adzuna's full job market report for July 2015 can be found here.
Recruiters have Unconscious Bias Towards Hiring 'Mini-Me's'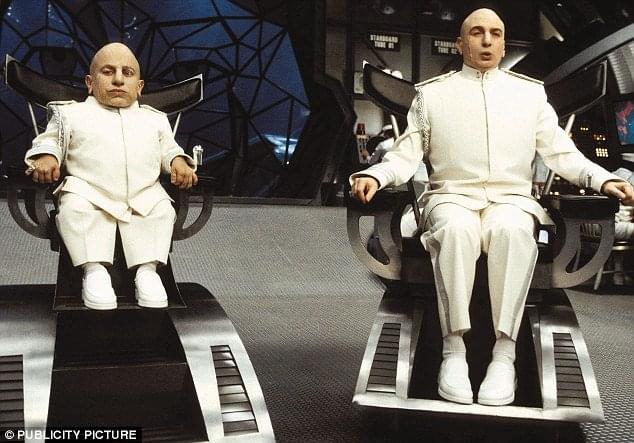 Managers would rather hire people like themselves, especially if the candidate is white and male. That is the conclusion of a new report from the CIPD.
A Head for Hiring: The Behavioural Science of Recruitment argues that recruiters and hiring managers should learn more about insights from behavioural sciences to avoid making hiring decisions based on unconscious bias. One such unconscious bias is the fact that employers like to hire people like themselves. The report refers to these types of candidates as "Mini-Me's" after the character from the Austin Powers movie trilogy. It means that hiring managers might hire people who have similar hobbies, experiences and sense of fashion as they have.
The report reveals that both male and female managers tend to favour male candidates over female. It also reveals that CVs where the applicant seems to have a white name gets more call-backs than ethnic minority names do. Jonny Gifford is a Research Adviser at the CIPD, he says:
"So many recruitment decisions are based on a 'gut-instinct' or what feels intuitively right, and this is a real problem. We like to think we can spot talent, but insights from behavioural science show that our decision-making is highly prone to 'sloppy thinking' and bias. Even highly trained assessors make systematically different decisions depending on the time of day and their 'cognitive load' or 'brain-strain' at that point in time."
Some of the things that may influence such bias are physical factors like the weight of a clipboard that a CV is presented on or how warm the interviewer feels. The decision time could also be a factor. The risk of bias-based decisions increases after just the few candidates. After the fourth candidate, the bias is more prone to kick in.
Gifford says:
"Regardless of the level of resources and techniques one has to work with, there are a few steps that employers and recruiters can take to ensure that candidates get a fair recruitment experience ant that employers find the person that best fits the role and can drive business performance."
The first trick to avoid bias, conscious or not, to influence hiring decisions is spread out the workload. The report suggests that the interviews should be spread out over several days to avoid fatigue but that all other conditions should be kept the same way. A second trick is to use the interview to collect information, not make decisions. The information should be used afterwards to make the decision. A third trick is to include people who have not been involved in the interviews in the final decision process.
If you would like to learn more about how to tackle unconscious bias in your recruitment strategy, ask our Sales team to show you the Diversity Hiring module as part of the Black Belt in Internet Recruitment. Not only does it explain what unconscious bias is and how it plays out in every day recruiting practices, but it also shows you several ways to combat it on an organisational level, in your recruitment advertising efforts, in your talent pools, in the interview process and in the general management of your recruitment process. Click here to find out more.
(RELATED: How Badly is Your Unconscious Bias Affecting Your Recruiting Skills?)
Snapchat Discover Adds 3 More Publishers
Snapchat Discover's roster of publishers just got bigger. The popular app's media content section already highlights daily content from 12 publishers, such as Buzzed, the Daily Mail and CNN. But last Thursday, 3 more publishers joined Discover's growing roster with live channels of their own, including IGN, Tastemade and Mashable.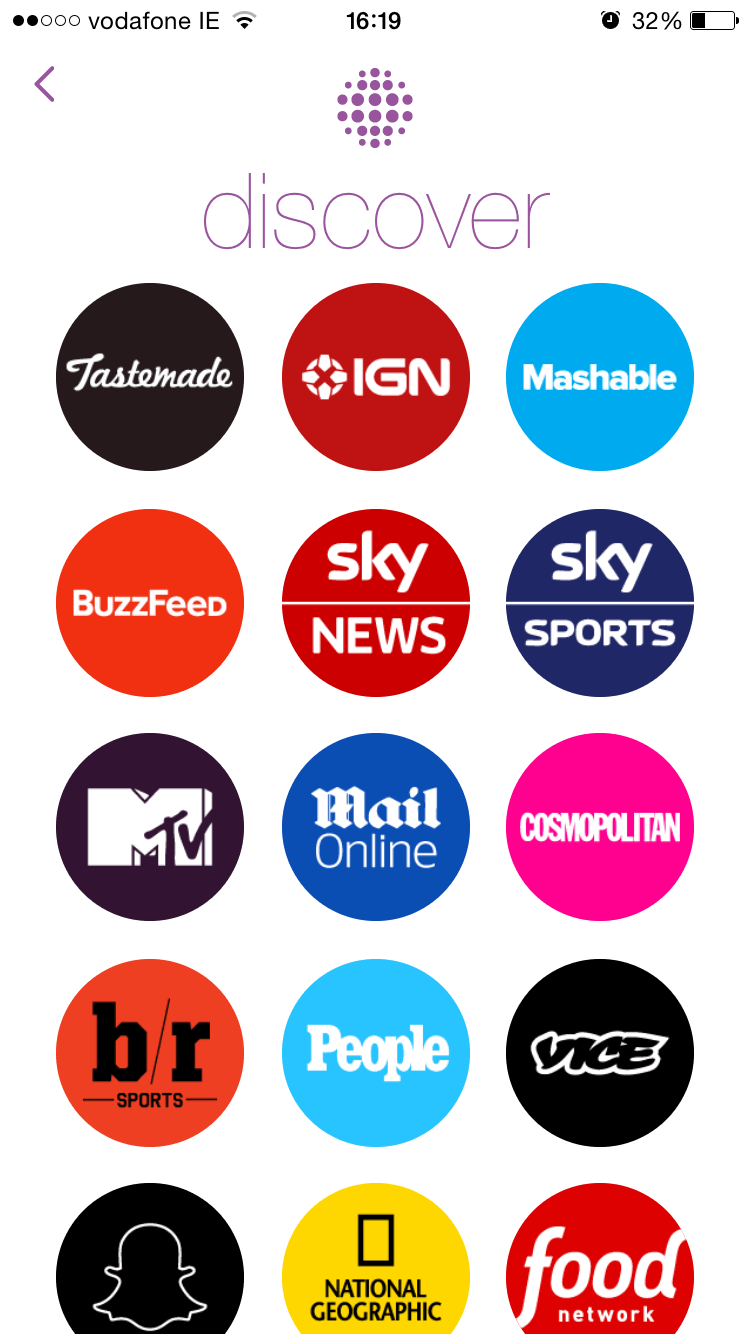 Snapchat, which launched Discover in January, has until now capped the number of publishers to 12. Last month, for example, it swapped out Yahoo and Warner Music for iHeartRadio and Buzzfeed. The company is relaxing that rule though, and the new additions won't kick anyone else out. That means more potential ad revenue — the likely impetus behind the decision.
Currently, all content piped through Discover includes advertising, one of Snapchat's two revenue sources at the moment. (The other? Location-based filters user can only activate when using Snapchat in a particular location.) In fact, Snapchat reportedly expects to generate $50 million in revenues this year, according to a Re/code report from July.
Discover partners aren't just repurposing content for Snapchat's 100 million-plus active users — they're creating original content. Discover partners aren't just repurposing content for Snapchat's 100 million-plus active users — they're creating original content. Tastemade, Mashable and IGN all plan on including vertical video alongside all-new franchises and series. For IGN, that includes six-second reviews and behind-the-scenes video. For Mashable and Tastemade, it means new franchises and shows, respectively.
There's no doubt that SnapChat's popularity is on the rise.
(RELATED: A Recruiter's Handbook Guide to Snapchat)
Gmail To Auto-Populate Google Calendar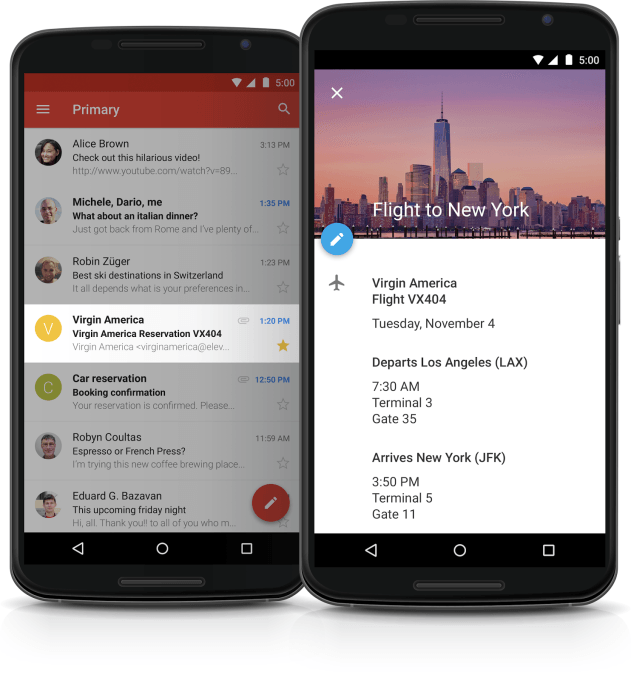 We are LOVE, LOVE, LOVING this news here at Social Talent HQ!
Last Tuesday, Google announced that Gmail and Google Calendar will start working together, with Gmail automatically adding travel-related events to your schedule.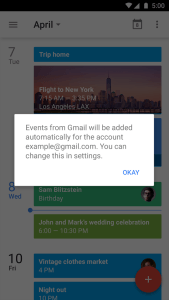 How will it work? Well, whenever an email that contains flight, hotel, restaurant, or any ticketed event information lands in your Gmail inbox, it will be automatically added to your Google Calendar – check-in times and flight numbers included. Furthermore, if you receive an email that changes an existing event, that event will also be automatically changed in Calendar *claps*.
The feature will be enabled by default (both on desktop and mobile Calendar), but users can choose to turn it off or delete individual events that were automatically created. The events will be visible only to the owner, even if the calendar is shared with someone else.
Following the launch this week, the feature will gradually roll out over the next few days.
Find out how the likes of IBM, IKEA and Siemens
drive hiring excellence with SocialTalent
---