Keep up with the latest hiring trends!
Apple Planning Self-Driving Shuttle Service For Their Employees

Apple Planning For The Future
Apple have always been ambitious, especially when it comes to planning for the future. Not so long ago they had planned to build an entire self-driving car. However, that plan has somewhat shifted towards the software side of autonomous driving technology. Thanks to a recent New York Times article, we now know that Apple are going down a new route and taking a different approach. Apple are now working on a new autonomous self-driving shuttle to ferry employees from their current campus over to their proposed new HQ – 'Spaceship'.
The shuttle project, rumoured to be called 'PAIL', short for Palo Alto to Infinite Loop, will use an existing vehicle with autonomous technology equipped. This isn't the first we've heard about companies taking a step towards autonomous driving, with companies such as Cruise and Waymo offering a rail hailing service to their employees.
Overly Ambitious Plans?
Always 'dream big', that's what they say…right? Well, you could say that Apple were a bit overly ambitious in some ways with regards to their plans for a complete self-driving vehicle. Apple's original 'Project Titan, is something that you could certainly call ambitious. Picture this – spherical wheels, so cars could move laterally and car doors to open with motors – that I would have liked to have seen! It proved to be a stretch too far at the time.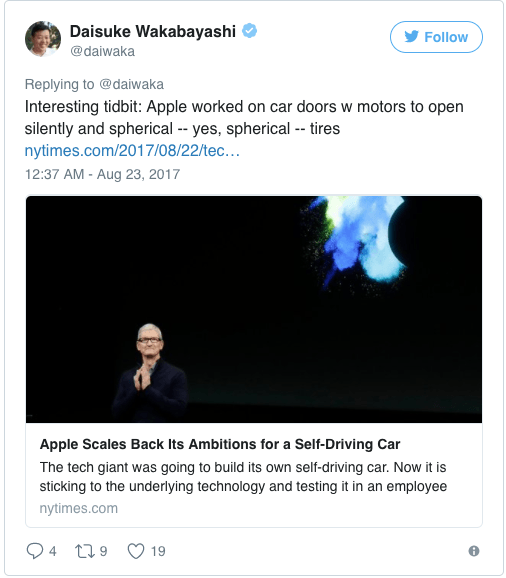 Apple are testing the waters presently with their PAIL project, but bulk of this project could lead to something far outside of Apple's realm. The tech giants will be transporting their employees from their office in and around their Spaceship campus for the time being. The testing of this technology could eventually lead to a wide scale public service for the future, something that would be revolutionise the transport service. This Apple project is exciting, and it's something we'll certainly be keeping an eye on here at SocialTalent. Mind you, we wouldn't mind that royalty service. But then again one can dream, eh?
Why not let us know what you think of Apple's new PAIL project by contacting us on Twitter or our Facebook community!
Find out how the likes of IBM, IKEA and Siemens
drive hiring excellence with SocialTalent
---