Keep up with the latest hiring trends!
Blatant Self Promotion: Our 500th Graduate & 1st Birthday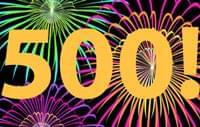 OK, just in case you didn't see this coming, this blog post is a blatant plug for our training courses but we're extremely proud so why the hell shouldn't we shout about it?
We launched our Black Belt in Internet Recruitment qualification nearly 9 months ago and since then we have been busy training recruiters in how to use Boolean search techniques to find candidates on social networks, x-ray search LinkedIn, Twitter, Google Plus, Blogs and other social profiles, write complex Boolean strings to source highly specific candidates for hard-to-fill roles, and see 100% of public profiles on LinkedIn from a free account. And that's just some of what we teach on one of our three courses!
The week before last we added the 500th person to our graduating list – David Gittings, the Training & Development Manager at Darwin Recruitment who is also an experienced recruiter.  Here's what Dave had to say:
"The training was a great asset to the skill set of our consultants, we have always used social media and internet search techniques however since Jonathan and Holly visited we are now using these methods to their fullest (with a few new tricks up our sleeve). The delivery of the training is clear, concise and most importantly relevant to the recruitment process which we found matched our needs."
Over the last four weeks alone, we have trained recruiters in Ireland, the UK, Austria, Romania, Hungary, the Czech Republic, Poland, Slovakia and Bulgaria. It's been a super busy year for us at Social Talent, so as we approach our first birthday this coming Thursday (when we will be talking all things social recruiting at truDublin), we are busy making plans to re-write the rules on how recruiters learn and share knowledge in social and web-based recruiting. We're hatching plans for a fantastic new platform to enable us to deliver an expanded range of technology-led training for HR professionals and recruiters around the world that will stay true to the spirit of our freemium ethos that is involving of the community that we learn from and share with every day.
Back to 2011 though. The recruiters who we've trained this last year, some hugely experienced and some not so, have all been fantastic to get to know and help out, and we've heard such positive feedback from our Blue Belters on how they've made high-value placements from social networks like LinkedIn and Twitter, among others, and have presented candidates that no other recruitment company had found to their clients. We've trained corporate recruiters in these techniques also, to enable them to search directly for candidates, both passive and active, for their internal roles.
It's great to see the growth in the Recruitment market this year after three years of contraction, doom and gloom. Jobs are out there, and now recruiters can source the best possible candidates for those jobs. Further testament to this return to growth is the expansion we're seeing amongst Recruitment agencies themselves. Speaking of which, our 500th-trained Blue Belters in Darwin Recruitment in Essex are hiring trainee and experienced recruitment consultants across the company. Click here if you'd like to apply .
If you'd like to learn more about our Blue Belt in Internet Recruitment course, or any of our training courses, click here. Our next open-courses in Dublin are on Tuesday December 20th and January 17th, and in London on January 19th. We're delaying our next online course for a month or two until we have something really special to show you!
Here's to another growth year in Recruitment in 2012! Merry Christmas!
Find out how the likes of IBM, IKEA and Siemens
drive hiring excellence with SocialTalent
---