Keep up with the latest hiring trends!
BUMPER EDITION: 11 Recruitment News Stories to Kick-Off the New Month - 1st February 2016
In recruitment news this week:
The Recruitment Video that Makes You Want to be a Flight Attendant
There is nothing we love better than a fantastic recruitment video here at ST towers, but as you're well aware, they're a rare find. So few companies are able to get the balance right when it comes to promoting their company as a great place to work. Too many go down the corporate "look, we're so great route".
But this week, Air New Zealand, recipient of a 2014 ERE Recruiting Excellence Award for the best career website, put a HUGE smile on our faces when they released one of the most stunning employer (or should we now say "employee") branding videos we've EVER seen.
Think it'll involve a lot of footage of flight attendants with passengers on airplanes? Think again. Air New Zealand shows you what flight attendants do when they're not on the plane. And it looks a lot more glamorous than asking people if they want decaf with their peanuts!
Take 3 minutes to enjoy this, because I can guarantee you'll want to apply for a job yourself by the time it's finished!
Tests are Better at Hiring Than You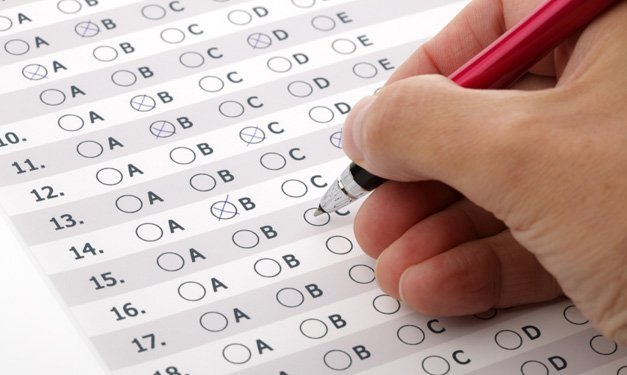 When hiring managers and recruiters use their discretion to overrule the results of assessment tests, their hires do less well than workers selected exclusively on the basis of test scores. So say the results of a research paper published by the national Bureau of Economic Research.
Yes, after studying the tenure and performance of 300,000 hires at 15 different companies, a trio of researchers concluded that "firms can improve worker quality by limiting managerial discretion. This is because, when faced with similar applicant pools, managers who exercise more discretion (as measured by their likelihood of overruling job test recommendations) systematically end up with worse hires."
The evidence shows that at least for low-skilled work, assessment testing improves job tenure by 15 %. Human intervention, the researchers found, was strongly correlated with poorer results. When managers and recruiters chose candidates based on considerations other than their test results — interview performance or resume qualifications — their hires were more likely to quit or be fired.
Why is that? Bias or poor judgement, say researchers Mitchell Hoffman, of the University of Toronto's school of management, Lisa B. Kahn, from Yale University's School of Management, and Danielle Li, from the Harvard Business School. "Managers exercise discretion because they are biased or have poor judgement, not because they are better informed."
To demonstrate that, the researchers examined the productivity of workers hired out of the pool of top scorers on tests against the productivity of workers who were hired despite their poorer scores. They found no difference in productivity among the different groups. But when it came to longevity, those hired out of the top of three pools of workers assigned according to test results stayed on the job an average of 29 days longer than those at the bottom. "Better test scores predict longer tenures," said the researchers, who noted that longer stays lowered costs for the client firms, which provide from a week to 2 months of paid training.
Managers' poor hiring decisions, the researchers say, "generates increased turnover in a setting where workers already spend a substantial fraction of their tenure in paid training."
The research only applies to hiring for such low skilled jobs as data entry, call centres, and standardised test grading.
The First 12 Words Candidates Utter Can Make or Break an Interview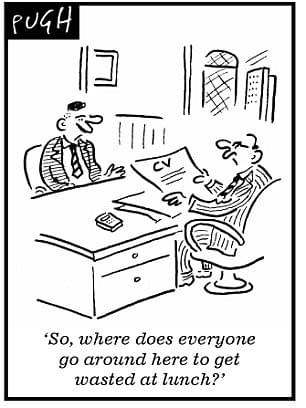 With that last news story ringing in our ears, now is the perfect time to mention the results of another study conducted by Resurgo Trust, a charity which helps disadvantaged people into work.
According to the report, recruiters have already made up their minds about candidates within minutes of first meeting them, based solely on the the quality of their small talk.
The report also explained that candidates without privileged backgrounds were more likely to struggle with small talk, and as such were put at a disadvantage during interviews.
Researchers who carried out the study found that the first 12 words candidates utter to an interviewer could be a deciding factor of whether or not they are offered the role. The first impression that jobseekers give to recruiters is made during the walk from the waiting area into the interview room, during which, according to the survey, the recruiter assesses their characteristics.
Iona Ledwidge, a spokesperson for the charity, explained the results to the MailOnline, saying: "Unlocking the secret world of the workplace is not about being posh. It is asking simple questions such as "How are you?" or "How was your weekend?"
"It is things like how you greet the receptionist, what you say in the first few minutes or when walking down the corridor. It is smoothing over the gaps; a lot is social graces which (some) young people haven't been exposed to.
"Small talk is part of building confidence and communication skills in the workplace."
6 Ideas for Attracting (and Retaining) Millennials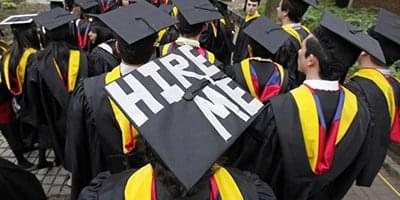 According to LinkedIn, millennials now make up the largest generation in the workforce. Therefore, attracting and retaining them is no longer a nice to do, but something all companies HAVE to do. And while it would be a mistake to stereotype an entire generation, there are some adjustments all companies are going to have to make to get the most out of millennial talent.
To find out what those are, LinkedIn held an hour-long roundtable discussion with some of the UK's top business minds to get their thoughts on recruiting and retaining millennials. From that conversation, 6 key ideas emerged that any company can use in the pursuit of attracting and retaining millennial talent:
1. Start a reverse-mentoring program that takes advantage of millennials' tech savvy
Andy Hill, executive vice president of talent and resourcing at Sage Group, found that often his millennial employees were better with technology than their older colleagues. To take advantage of that, he set up a reverse mentoring program, where millennial employees help older employees get more accustomed with newer technologies. Not only does the service improve the technological skills of Sage employees overall, but the program also helps morale by making millennials feel empowered and building intergenerational relationships within the organisation – something that serves as a retention device that helps keep millennial employees around longer.
2. Talk with employees about their career aspirations and help them reach their goals
Kathy Allison, head of HR at FitFlop, helps recruit and retain top talent by talking with her employees about their career aspirations, even if they aren't within FitFlop. Of course, FitFlop hopes to have employees build their career within their company, but Allison said she will help them get jobs elsewhere if there isn't a clear path for them to pursue with FitFlop. The reason for doing this is it keeps employees engaged, but also helps FitFlop's employer brand, Allison said. Ultimately, that's going to increase the demand of millennials wanting to work for the company.
3. Attract millennial talent with a strong company mission
Paul Drechsler, president of the Confederation of British Industry and chairman of the Teach First education charity, says that part of his challenge at Teach First is finding recent college graduates who are willing to work in some of the UK's toughest schools.
How does he do it? He sells purpose to millennials. Obviously, being a charity, salaries can be tight but he overcomes that by showing millennials the difference they can make working at Teach First. "Millennials have a much stronger bias to make a positive different in society," Drechsler said. "We have to resonate with the values young people have today."
4. Utilise new channels to reach candidates, like Vine and Snapchat
Jörgen Sundberg, founder of Undercover Recruiter and CEO of Link Humans, believes in using platforms millennials are already on to help recruit, like Snapchat and Vine. For example, he said he recently had people apply to a job at his company by attaching a six-second Vine video as part of their application. One applicant's video was particularly engaging, and ultimately Sundberg hired her. Not only do these techniques give you a better insight into the candidate, they also create a buzz and an excitement within younger communities, Sundberg said.
5. Ensure your consumer and employer brand are aligned
Joshua Graff, country manager of the UK for LinkedIn, stressed the importance of having your company's employer brand and consumer brand aligned. A company that markets itself one way to consumers and another way to talent is going to be seen as inauthentic, and potentially lose both millennial applicants and customers.
Recently, LinkedIn studied companies that utilised one cohesive strategy for their consumer and employer brands, as opposed to ones who emphasised one or the other. The results were that companies who did both well across the board had 35% more sales than expected.
6. Empower all your employees to challenge the status quo
James Caan, CEO of the Hamilton Bradshaw Group, said perhaps the biggest key to recruiting and retaining millennials is to encourage them to challenge the status quo. Rather than having a culture of young employees doing what they are told – a "command-and-control model" – it is crucial to have all employees within your organisation be able to suggest better ways to do things.
For example, Caan said a few years ago, one of his employees had a better idea on how to do something within his company. Under the "command-and-control" model, the only way that person could get their idea through was to go somewhere else or start their own company and ultimately compete against the Hamilton Bradshaw Group. But instead, that employee felt empowered to bring the idea to Caan. Seeing its worth, he immediately backed the idea and now that employee runs her own division.
Bottom line, by having this type of meritocracy within your organisation, not only will you attract talent of all generations, but your business will stay agile and ahead of competitors.
Introducing Peakon: Bringing "People Analytics" to Employee Engagement and Retention
Peakon, the self-described 'people analytics platform' for employee engagement and retention, fully launched last week and announced it's closed €4 million in Series A funding.
Peakon offers what it calls a simple data-driven solution to "understanding, engaging, and retaining staff" through automated surveys and specifically tailored insights and analysis of what drives and motivates teams. One way might be to think of it as "people analytics" for the HR department and managers.
More frequent employee surveys, rather than, say, the traditional annual review, are increasingly becoming a tool used by more forward-thinking and data-driven companies, such as the Googles, Amazons, and Facebooks of the world. Peakon wants to make that a reality for more companies, targeting those with 100 employees or more, citing existing clients such as Delivery Hero, Urban Airship, and Opera.
"We want to bring the same level of analytics, sophistication, and scientific rigour to managing people as is currently applied to managing finance and customers," Peakon co-founder Dan Rogers tells TechCrunch. "To give a concrete example; in the same way that customer preferences vary wildly — some want cheaper prices, some want a cool brand, some want great customer service — employee preferences also vary wildly; some want career growth, some want status, some want interesting work, and some just want a pay rise."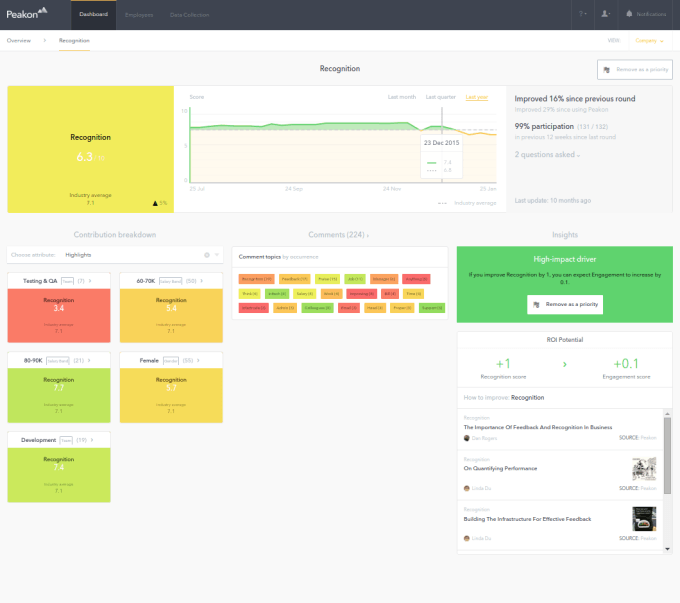 By taking a more data-driven approach, Peakon helps with both the collection of employee engagement data and, most importantly, the resulting analysis.
Rogers says that other levers beyond simply offering greater remuneration can be used to make for more motivated and therefore, productive employees. "If companies knew what their employees really wanted, not only would they be saving money, they'd also have more motivated staff, and they'd have a better long-term future to boot," he says.
What Recruiters Want Vs. What Recruiters Get
Candidates who think putting volunteer work on their CVs will give their careers a boost are in for an unpleasant surprise, according to a new research from Michael Page.
The survey polled 2,000 people living in the UK who were aged 18-years and above. Additionally, 481 PageGroup employees were surveyed to find out what candidates continually get wrong on their CVs.
Here's what they found:
While 70% candidates may believe that having been at a company for a decade will make their CVs stronger, only 36% of recruiters think this was important.
Boasting about running the London marathon won't do candidates any favours either as only 41% of recruiters thought personal interests were important.
While 83% of candidates thought it was important to keep the summary of their careers to two A4 pages, only 32% of recruiters thought it was vital to keep resumes shorter than 2 pages.
Candidates highlighting their volunteer work experience aren't doing themselves any favours either, as only 11% of recruiters thought it was important, compared to 54% of the public.
100% of recruiters thought it was important that candidates avoid spelling errors. 92% of candidates thought the same.
100% of recruiters thought it was important that jobseekers avoid grammatical errors, compared to 93% of candidates.
95% of recruiters believed it was essential that candidates list specific details about what they have achieved in previous roles. 91% of candidates thought this was important.
98% of recruiters thought it was critical to use a professional tone, compared to 91% of candidates.
95% of candidates thought it was imperative that candidates listed their previous responsibilities, compared to 91% of jobseekers.
Surprisingly, soft skills are not as high up on recruiters' wish lists according to Michael Page's survey. Only 55% of recruiters thought it was it was important, while 89% of candidates thought it was vital for their chances of securing the role.
Facebook Hits 100M Hours of Video Watched a Day
Facebook's Q4 earnings call saw a tonne of impressive new stats released about the social network and its various accoutrements including WhatsApp and Instagram.
Let's break down some of the most important figures:
Facebook now sees 100 million hours of daily video watch time.
1.59 billion people now use Facebook every month.
There are 1 billion monthly users now users on Groups – up from 925 million at the close of Q3.
80 million people use Facebook's stripped down app Facebook Lite for the developing world's slow connections – up from 50 million at the end of Q3. 500 million users are on Events – up from 450 million in July, and 123 million events were created in 2015.
Facebook has 2.5 million advertisers and 50 million small businesses on Pages – up from 45 million last quarter.
There are 900 million monthly users on WhatsApp.
800 million monthly users on Messenger.
Instagram monthly users have grown to a whopping 400 million.
Facebook's latest figures prove just how serious a competitor to YouTube for video viewing the site is becoming. Facebook are also building ways to attract users in the developing world. They're producing ever more ways to share than just the News Feed. They're solidifying themselves as THE way to invite people to events like birthday parties and big ticketed events. And businesses are using it increasingly to host communication with customers.
Pinterest Is Looking To Tackle "Belonging Uncertainty"

"Belonging uncertainty" is a phenomenon that occurs in people entering a new environment, like a new school or job. It refers to the spending of mental energy a person uses to determine whether or not they'll belong somewhere. A concern can be a lot more pronounced for people from underrepresented groups in particular environments.
"When something good happens, they feel like they probably do belong, but when they have a negative experience, they're more likely to question whether they belong," Carissa Romero, a Partner at diversity consulting start-up Paradigm, wrote. "This means that instead of focusing all of their mental energy on their work, some mental energy is expended on trying to figure out whether or not they belong by interpreting information from the environment around them. As a result, belonging uncertainty can prevent people from performing to their true potential."
Pinterest is gearing up to test an intervention process aimed at addressing belonging uncertainty alongside Paradigm, who they partnered with last year. Using survey prompts from previous academic belonging uncertainty research, Paradigm has already found that women new to Pinterest have experienced more belonging uncertainty than men.
Paradigm also found that people who feel more confident about their belonging at Pinterest are more likely to feel better about their performance at work.
"This study is an important step in understanding how to build a more inclusive environment," a Pinterest spokesperson told TechCrunch. "We're in the early stages of designing a program to help all employees feel certain they belong at Pinterest from day one. We hope other companies can benefit from this study, and we'll share additional findings as they become available."
Ideally, Paradigm would like to test this hypothesis more broadly at other tech companies because the larger the numbers, the better, Paradigm CEO Joelle Emerson told TechCrunch. Paradigm also works with tech companies like Slack, Airbnb and Asana, and is reaching out to those companies today with the hope that they will get on board the intervention train.
You can read more about this fascinating study on Medium.
Dropbox Diversity Report 2015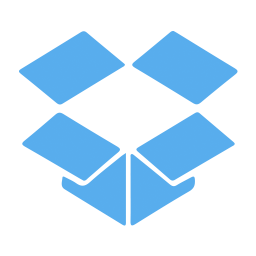 Dropbox just released its diversity report for 2015 on the company's blog, citing some progress around having more women in leadership positions, with 25% of the VPs at the company being women, but an overall decline in percentage of women. Last year, Dropbox was 33.9% women worldwide. This year, that percentage has dropped to 32% worldwide.
Regarding blacks and Hispanics, Dropbox has seen an increase in representation but the numbers are still VERY low. Last year in the U.S., Dropbox was just 1% black and 3.7% hispanic. This year, Dropbox is 2% black and 5% Hispanic. In technical roles in the U.S., Dropbox's black representation has increased from 0.3% to 1% black and its hispanic representation has increased from 2% to 3%.
"Although we've seen improvement in the number of Blacks and Hispanics in the company, and in technical roles, their representation is starting from a very low base," Dropbox CEO Drew Houston and Dropbox Global Head of Diversity Judith Michell Williams wrote on the company blog. "We know we have to do a lot better. Our goal is to continue to increase the number of women and underrepresented minority applicants in our pipeline and make sure we remove any biases in the hiring process."
At the decision-making level, white people make up 73% of the senior leadership; Asian people represent 15% of the senior leadership team; and blacks and Hispanics make up just 2% each of the senior leadership team. Those with two or more races make up 8% of the senior leadership team.
Check out the official breakdowns in the graph below: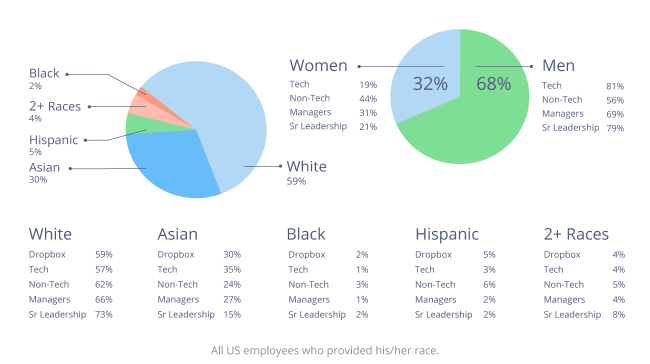 Fair play Intel!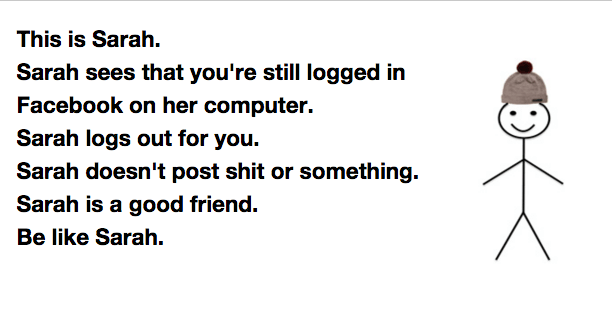 The "Be Like Me" meme (that stick figure about [insert name here] blowing up on your Facebook feed) is the latest viral hit glorifying our greatness. And it's just got its own recruitment twist.
Those clever, clever folks at Intel (Irish recruiter Conor Walsh to be specific) have been quick to spot the trend and the first to start using it as part of a clever job advertising campaign for Engineers:

Bravo Intel! Bravo!
Vote Now for Johnny Campbell as Your Favourite SourceCon All-Star!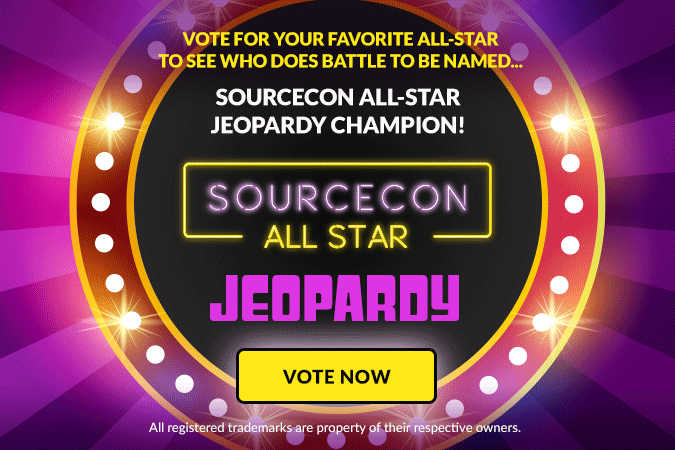 This March, SourceCon All-Stars is bringing together some of the most technically savvy sourcers in the world. To test their knowledge of the internet, sourcing and recruiting technology, and some history, the organisers are hosting a Jeopardy-style game to wrap up day one. The problem is, they can only accommodate 3 contestants.
That's where you come in. We'd like you to vote for your 3 favourite All-Stars from a list of 14 and make our guy, Johnny (Jonathan) Campbell, one of your 3 faves.
Who wouldn't want to see him square off and sweat it out onstage in the first-ever SourceCon gameshow, and be named SourceCon All-Star Jeopardy Champion?!
Apart from us being very thankful for your vote, if you do decide to vote, the lovely folks at SourceCon will give you an exclusive 10% discount off your total registration price to attend SourceCon: All-Stars! Well worth it guys!
Find out how the likes of IBM, IKEA and Siemens
drive hiring excellence with SocialTalent
---