Keep up with the latest hiring trends!
Employee Referrals - Why they're worth more to your business than Applicants
Last Wednesday we ran our Weekly Webinar on Online Candidate Referral Tools, with guest host JG Archer of SocialReferral.com, reviewing several online products on the market which enable employees to use their social networks to refer friends and connections to vacancies in their company. Referrals in the Recruitment industry are rare gems, and it's a wonder why we don't ask for referrals more often from employees.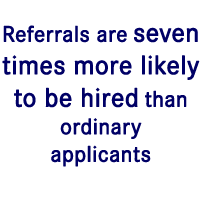 Why Referrals?
Statistics from Jobvite show that referrals are 10 times more likely to be hired – therefore referrals are a no-brainer. Your current employees are more likely to know the right people to work in your organization. Getting referrals instead of applicants will have an impact on how many CV's you have to sift through in order to find the right hire.
Referrals are also a higher quality source of hire – current employees of your company know what your organisation's culture and expectation of hires are, and so will generally refer people who they know are a good fit. The new hires will generally be of a higher quality and prove to be a better fit than someone who is unknown to the company.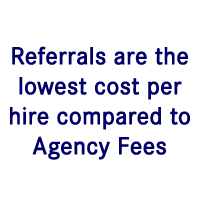 Referrals are typically the lowest cost per hire – The reward to employees who referred your new hire are significantly lower than the cost  of agency fees or from direct sourcing (about 80% less). Mind you, you cannot expect to make 100% of your hires through referrals, but successful organizations (particularly those in the IT space) who employ staff through referrals can make between 50% and 70% of their hires through referrals alone.
There are lower levels of attrition from Referrals in your organisation. This makes a lot of sense: employees know your organisation well and know who will fit, plus the new hire who was referred already knows someone in the organisation and won't feel completely alone when they start!
The Psychology of Referrals
The altruistic nature of people, however, does not normally extend to helping out recruiters! They are more likely trying to help their friend, brother, wife, next door neighbour or cousin, and in return make themselves feel better!  Your hiring or fee targets do not factor into their decision making!
Also, don't expect referrals unless you ASK for them! This is all about old-school networking. As a recruiter you need to be a salesperson – you're selling your company (or your client if you are an agency recruiter) and the vacancy, and so you need to ask "Do you know someone who is suitable?" If you want to engage your own employees en-masse then a decent reward is warranted. If you're spending '¬8000 on agency fees to fill the role and you are only prepared to reward your employees '¬400 for their referral, don't expect any results.  You need to reward appropriately. Equate the value of the reward to the value of the hire. Companies like Ernst & Young, who have seen great results from employee referral schemes, are paying a bounty of between $1,000 – $2,500.  Also, you need to make the referral process simple – you'll need to get about 25% of your employees engaged in this process in order to make it work, and to get that figure engaged, you must provide a solution that is simple to understand and process, from how to refer a friend and what reward to expect.  Here's a great article that explores the potential pitfalls of employee referral schemes.
The Power of Social
Social is a new thing in the context of referrals. Social media can be very powerful to get referrals and see who's worth referring – it provides easy access to your network and also information on what your contacts actually do for a living (do you even know what your own family do for a living….really?). Social media also makes it simple to broadcast your job vacancy. Ask your employees to look for specific people in their networks who work in a certain sector. You can even automate this using social referral software (see SocialReferral.com, Careerify, Surge and Bullhorn Reach). Top Tip: Volume can sacrifice quality – you might want to think about restricting your employees to referring a maximum of three people per role. This gets them to really think about the people that they refer, and will increase the quality of the referees who come your way.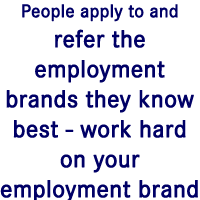 Substance over Form
"People apply to and refer the employment brands they know best" – Fistful of Talent. This is absolutely imperative – you need to work on your employment brand first before you ask for referrals, as potential hires who know nothing about you simply won't apply for your roles. If you're not a big company or don't have a strong consumer brand, you need to work hard on your employment brand. Look at Sodexo for example – they're not a customer-facing brand, but have put considerable resources into developing their employment brand so that people apply for their roles before any other competitors in the food services sector, particularly those competitors who may have customer-facing brands.
Rule of thumb: You must respond to all of your referrals, otherwise the effort you put into employment branding will have been wasted. These are your employees' friends and connections – don't abuse them, and don't waste them. It is more important to respond to referrals than ordinary applicants.
Watch the webinar here on Online Candidate Referral Tools.
Find out how the likes of IBM, IKEA and Siemens
drive hiring excellence with SocialTalent
---