Keep up with the latest hiring trends!
Facebook Messenger App for iPhone and Android Launches - So What's The Difference?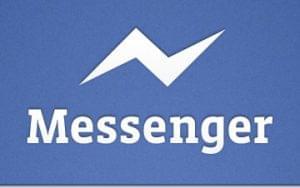 Facebook launched their new Messenger App for iPhone and Android on Tuesday night (North America only unfortunately, but we're expecting a worldwide rollout soon enough), and on paper (or screen) it looks to be a fairly worthwhile piece of kit.
So, what can it do?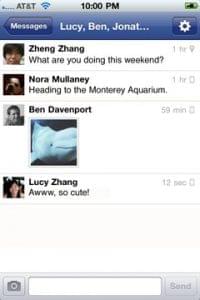 With the Facebook Messenger App you can send messages to your Facebook friends and even your phone's address-book contacts too with a really simple interface (just type in their name), and that friend will receive the message wherever is quickest: via text-message, or by Facebook notification, so if they're always online or always out and about, you'll be able to connect with them. Facebook engineer Lucy Zhang in a blog-post introducing the new app last night wrote: "More and more of us rely on our phones to send and receive messages. But it isn't always easy to know the best way to reach someone on their phone. Should you send an email or text? Which will they check first? Did they even get your last message? We think messaging should be easier than that. You should be able to write a message, click 'Send' and know that you will reach the person right away."
The messenger app has both one-to-one and group messaging, and 9to5Mac.com even discovered that Video Conferencing features are within the coding and will probably be released soon. Look out Google+!
The Same but Different
Other messenger providers, like BlackBerry Messenger (with 45 million users worldwide, including about half a million youths involved in the London Riots this week), Apple's iMessage (announced at the WWDC conference in June of this year and due to launch with iOS 5 in September), and Google+ with their Huddle one-to-one and group messaging features, all do precisely the same thing – allow messages to be sent to your friends via the social networking platform from your smartphone. But where Facebook Messenger has a small edge on the competition is in their ability to contact not only Facebook friends through this app, but also people in your phonebook. The message will be delivered to your contact whichever way is fastest – either by Facebook notification if they're online at the time, or by text. You can respond to that message by text too, so if you don't have a smartphone you won't be left out of the loop. You can incorporate locations, maps and photos in to your messages as well.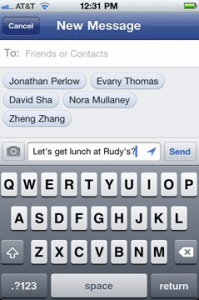 How can we incorporate this in to Recruitment?
Well, LinkedIn still only has about one eighth the number of members that Facebook has, so Facebook is still a HUGE database that we can tap in to for positions where candidates just aren't on LinkedIn. While you can't message people you don't know, if you get a potential candidate's phone number, you can message them through the App. Video conferencing will be the most convenient factor, because you will have the ability to interview a candidate like you would in Google Plus. Since Google Plus is still in Beta, and Facebook has the members right now, it could be just what we need in the interim before Google Plus becomes the most dominant social network.
So how would you use Facebook Messenger? Do you think Facebook is an appropriate place to recruit from, or is it just an invasion of a private party? Let us know your thoughts in the comments.
Find out how the likes of IBM, IKEA and Siemens
drive hiring excellence with SocialTalent
---