Keep up with the latest hiring trends!
Farewell LinkedIn Tweets App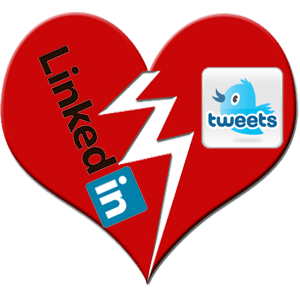 Last week, LinkedIn announced that as of January 31st they will be shutting down the Tweets Application from all LinkedIn profiles. What does this mean? And what did Tweets actually do?
Tweets was a brilliant and handy little App that allowed you to synch your Twitter to your LinkedIn, enabling you to follow your LinkedIn connections on Twitter and create Twitter Lists of those connections (easy way to separate your candidates, clients, friends and fellow recruiters) directly from LinkedIn.
So, as of next Tuesday 31st January, LinkedIn will shut down this app, meaning you can no longer follow your LinkedIn connections over Twitter, create lists, or see their Tweets in your LinkedIn feed.
Tweets is (or was) a great tool for connecting your two social worlds: your older LinkedIn contacts with a newer, faster method of keeping in touch with candidates and clients alike.
There are two likely reasons why LinkedIn is axing the application:
Most of the time it just doesn't work as the amount of data being processed when you load up the app is probably proving too much of a strain on LinkedIn's servers. These servers are already having to cope with an increasing volume of searches that are, in themselves, becoming increasingly sophisticated and processor hungry.
Twitter is a direct competitor of LinkedIn Today and Signal, therefore the company is probably trying to force users to consume news and real-time info in their LinkedIn sphere only. This always tends to back-fire – open is best!
ZDNet report that the app is being closed both because of lack of usage and that Twitter is acquiring the app, but LinkedIn's official reason for shutting down the app is:

If you haven't done so already, we'd strongly recommend that you install the Tweets app to your LinkedIn profile before January 31st, so that you can analyse your LinkedIn connections who're on Twitter and follow them accordingly, as well as creating appropriate Lists within Twitter of your LinkedIn connections, candidates, clients, colleagues and more. We posted a blog back in September on how to find and follow your LinkedIn connections over Twitter using Tweets, click here to find out how to install the app and use it to spread your reach to Twitter.
However, don't dispair if you already selectively post a tweet that you want displayed on LinkedIn using the #in or #LI hashtags, as this will still work.

This Wednesday at 4pm GMT, our free 30-minute Weekly Wednesday Webinar will be on 2012's Coolest Twitter Apps for Recruitment, with thanks to Zartis. Click here to RSVP on our Livestream channel.
Is this a sad loss for LinkedIn apps? Did you use it, and did you find it useful? Let us know your thoughts in the comments.
Find out how the likes of IBM, IKEA and Siemens
drive hiring excellence with SocialTalent
---