Keep up with the latest hiring trends!
How to Schedule News Updates about your Company to automatically post to your Social Networks
When you're busy in work, a time-consuming task of searching for and distributing company news updates, press releases and announcements across your and your employees social profiles may be the last thing you want to do. Every time they happen.
Here's a way to schedule news updates about your company that will automatically post to your company's social places on Twitter, Facebook and LinkedIn.
Step 1:
Firstly, you need to create an RSS feed of news articles about your company (or your company blog if you have one). This is really simple to do.
You can either: Search Google for mentions of your company name, your employees, projects that you're working on, or your company blog. If you're regularly mentioned in Recruiter magazine or the Daily Telegraph, or simply just want to link your Press Releases section of your site to an RSS feed, search for these sites.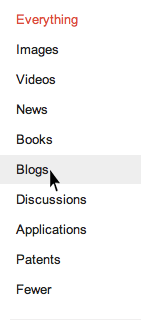 For example, I want to find mentions of Social Talent or my boss, Jonathan Campbell, across a specific blog, that of Recruiting Think-Tank-Extraordinaire Bill Boorman. So, I conduct a search in Google for:
site:recruitingunblog.wordpress.com ("social talent" OR "jonathan campbell" OR "johnny campbell")
OR,
Search Google for our company's blog as it gets published:
site:socialtalent.co
And then in the search results along the left margin (see image on the right), click on "More" and then on "Blogs". This will bring only blog posts that get published by Social Talent.
Now, at the very bottom of the first page of results, Google will present you with a few options: create an email alert for this search, subscribe to the blog, or get the RSS feed for this search. Click on RSS.

NOTE: Generally, Google will not prompt you with an RSS feed button in your search results, but if you filter your search to News or Blogs etc, Google will give you the RSS option. Alternatively, create a Google Alert but instead choose Feed instead of Alert in the "Deliver To" options here.
Now, you'll be brought to a rather confusing-looking page with loads of code, just ignore this – all you want is the URL in the address bar. Copy this entire URL and continue to the next step.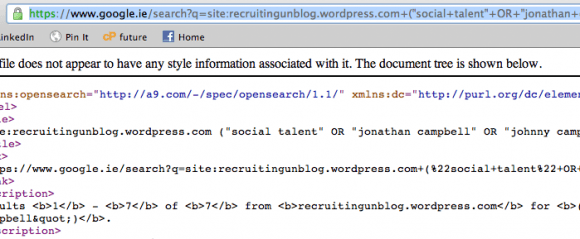 Step 2
Go to Twitterfeed.com and set up an account if you don't have one already (it's completely free and really useful!). Set up a feed by pasting the copied URL from earlier in to the Feed bar, and click "Test RSS Feed". Once it gets approved, name your feed (something like "RSS feed of Company mentions"), and then click on "Advanced Settings".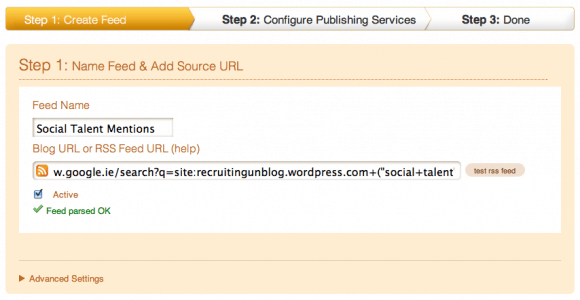 This will bring you a load of options to tailor your RSS feed, from prohibiting the automatic distribution of posts should they contain certain words (like mentions of an employee who used to work at your company, if they get referenced as being previously of your company), choose what to post of your content (like the title only, the body only, or title and body), whether to include a thumbnail from the site when posting to Facebook, to end each Tweet with a certain word (like a hashtag of your company) etc.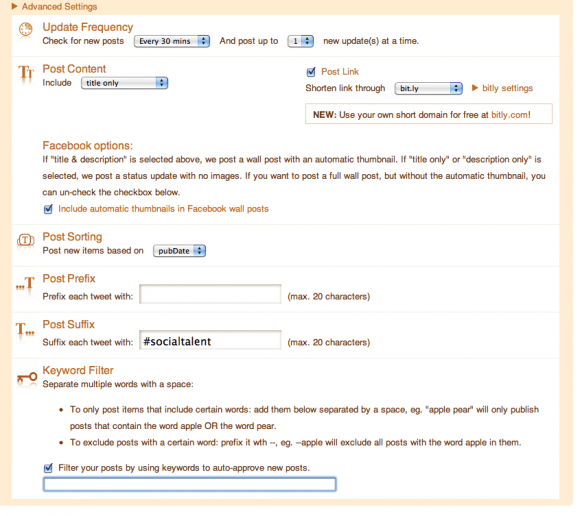 Now, continue to the next step in Twitterfeed and start to synchronize your social networks (Twitter, Facebook and LinkedIn).
You can use custom URL shorteners if you own one, and can synchronize multiple Twitter accounts, or one Twitter account and one Facebook and LinkedIn account, per feed.
When choosing to post to your Company Page on Facebook, ensure when you sync your Facebook account that you choose the appropriate Business page to post to, rather than to your personal Facebook account. Only page administrators will be given this option, so if you're not the page administrator for your company page, use the Facebook account of the person who is and ask them to authenticate it for you (or ask to become an administrator).
This entire process will probably take you the guts of about 7 minutes the first time you do it, and it means that your company updates or mentions, news stories about your company or just your company blog will be automatically distributed to your social properties without you having to manually do them yourself every time. More time for actually working! 🙂
Find out how the likes of IBM, IKEA and Siemens
drive hiring excellence with SocialTalent
---