Keep up with the latest hiring trends!
Is Glassdoor the next big thing in Social Recruiting?

Have you ever bought something on Amazon? What about eBay? Ever checked out a hotel on TripAdvisor to see if its any good? If so, then you're one of the vast majority of internet users who increasingly rely on peer reviews to buy books, book restaurants and check out potential vacation destinations. Let's face it, we don't really trust companies and service providers who tell us that their products are brilliant but we'll listen to a couple of hundred people's opinion, weigh up the pros and cons and tell ourselves that we have made an informed decision. In a world of social media and social networks, employers talk more and more about their employer brand and using social to sell authenticity. Most of us don't really know what they're talking about but if you were to stick a rating of 1-5 against that employer's name then we all get it. Well, that's exactly what GlassDoor does and they've been doing a really good job of it for over 4 years now. If you're one of our US readers, you probably know all about it but outside North America, few people really know who or what Glassdoor is. That's all about to change.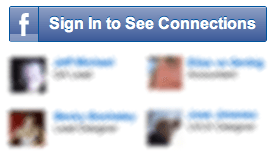 It took over 2 years for Glassdoor to attract their first 1 million users but only 1 year to attract their second million. Wanna guess how long it took them to gain their 3rd million users? 7 days. Yup, that's how fast GlassDoor is growing right now. The Tipping Point? Well, in February of this year GlassDoor introduced a Facebook API integration that allows users to sign-up or log-in using their Facebook ID and also shows you whom you are connected to in each company. Coincidence are not, the site's gone viral and although the company has no international offices, some of its fastest growing user markets are the UK, India and Australia.

So, let's start with the basics of what GlassDoor is. I had the pleasure of meeting Bob Hohman, the company's CEO and Samantha Zupan, their VP of Public Relations, whilst I was attending SHRM National in Atlanta this week. Sam took an hour out (sitting on a concrete floor in the expo hall) to tell me all about their business. She describes Glassdoor as "the TripAdvisor of jobs and companies" and this is not terribly surprising considering that Stephen Kaufer, the President and CEO of TripAdvisor is on their board and Bob Hohman came from Expedia!
The concept is really quite simple, Glassdoor started off by completely focusing on the job seekers and employees. The site was created as a simple ratings site where employees could anonymously rate their employers and provide information about the company that non-employees might find helpful (info such as salary details etc). The job seekers loved it; all of a sudden they had somewhere to go that they could research a potential employer and hear what their current and former staff had to say about them. Prior to Glassdoor, all you had was what the company said about themselves. To get a third party, independent view you had to search around on boards and chatrooms or try to find someone you know who worked there. At first, employers were a little shocked and those who didn't understand it were no doubt outraged. I am sure many still see it as the Wikileaks of employment! However, as Glassdoor introduced more premium employer services, the vast majority of employers are now quite happy with how Glassdoor ranks them, in fact 67% of the companies listed on Glassdoor are satisified or happy about their rating on the site. Considering that the average company has a 3.1 rating out of 5 and the average CEO received a 62% rating, that's pretty good!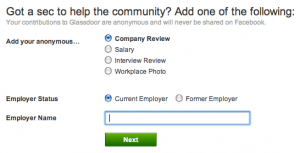 If you're a former or current employee of a company, it's pretty simple to register your opinion on the site. Over 3 million people to date have signed up and left a review of their current or former employer (most only leave one review) and to date there are over 175,000 companies listed. With one click Facebook sign-on, it's never been easier to log on and have your say. However, Glassdoor have gone to great lengths to ensure that the site isn't populated by a wave of crazies who have nothing but bad things to say or false comments from employers trying to game the system. If you want to rant, you must list at least one positive of working for the company. Likewise, if you have great things to say about an employer, you must list at least one con. These submissions are individually reviewed by a real team of 10-15 people (no automatic robots here folks!) who scrutinize the quality of each review to make sure that it complies with their terms and conditions and is "genuine". This Content Services team look at the email addresses of the users, the volume of reviews being received at any one time about that employer and a host of other criteria to make sure that the reviews are not biased in any way. The Content Services Team can see who you are, but your details are never revealed on the site. You can review a senior exec from a business (i.e. anyone who is already high profile and in the public domain) but if you want to sound off about your low level manager, Glassdoor consider this a violation of that person's privacy and they will not publish your review. If you're the CEO of a public company, however, then you're fair game!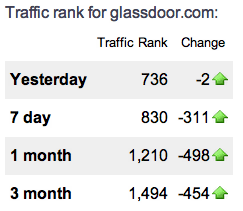 The company tell me that in the world of peer review e-commerce, the average visitor reads 7 reviews before they make an opinion. That sounds about right to me as I personally don't trust reviews that are 100% positive or negative. Most are somewhere in the middle so you have to review a few of them to filter out the "crazies" in your own head! The concept of Glassdoor has been mimicked by several other companies, notably Vault in the US, Ratemyjob in Canada and WorkplaceFit & JobAdvisor in Australia, but Glassdoor certainly has the first mover advantage that has seen them explode to 10 million unique visitors per month, 20% of whom came from outside the US! An analysis of the site's traffic on Alexa.com shows an explosion in visitors in early June that has seen the site move from 0.1% of the world's internet users to nearly 0.2%. Don't be fooled by the small percentages, that's actually an amazing number and a huge climb. As of yesterday, there are only 735 websites in the world that get more visitors, up from 1,209 only last month.
Glassdoor is chomping at the heels of Monster, Careerbuilder and Indeed.
So building it in the hope that the employees would come seems to have worked. What about the employers? Can I just pay to influence my rating? Well, it turns out that you can and you can't. You most definitely cannot pay to remove or scrub real reviews, but Glassdoor offer employers a number of ways in which they can promote themselves on the site and execute their employer branding strategy in the hope that it influences the user base.

The first of these premium offerings is an Enhanced Employer Profile. This allows you to edit some of the information about your company, integrate your social channels, list your current jobs and integrate the live review data into your ATS.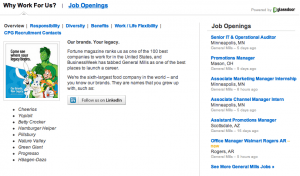 The second offering is a Facebook Career Profile, something I really love. This provides a Careers tab for your Company's Facebook Page that you can populate with tons of beatifully laid out content including videos, documents and job spotlights. I believe only 600-700 employers have installed this particular feature so far, but I expect that we will see plenty more once employers become more aware of it.
The third offering is straightforward job ads that can be targeted based on the demographics you are looking to reach (here's where the Facebook open graph really does its best work!).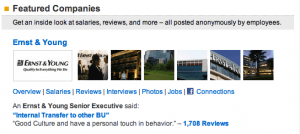 Last, but not least, is the Spotlight Company feature that can put your company on the homepage or better still, feature an ad for your company on a competitor's profile! Walmart, the world's largest retailer, has a business called Walmart Labs Silicon Valley for whom they recruit software engineers, but in the Valley, they are definitely not an employer anyone in that sector would consider offhand. They used the company spotlight to advertise on the profile pages of companies that generally attract software engineers. Nice. Glassdoor assure me that you cannot advertise on the profiles of their current paying clients, yet another reason to have a premium profile! Today I just checked, and Autodesk are advertising their jobs on Google's profile page.
Next up for the company (once they have made sure that their servers can cope with all this new traffic and attention) is international expansion and the development of a mobile app. They're constantly looking at different ways to enhance the qualitative data they are emassing on employers and no doubt this will lead to some further tweaks in the platform. The overall usability of the site needs some work and it could certainly be prettier, but all in good time (my opinions, not theirs!). For now though, whilst everyone else is busy talking about BranchOut and LinkedIn, Glassdoor are increasingly driving the conversation of employer branding and that's something none of us can ignore!
Have you used Glassdoor yet? What do you make of it? Share your thoughts in the comments.
Find out how the likes of IBM, IKEA and Siemens
drive hiring excellence with SocialTalent
---