Keep up with the latest hiring trends!
LinkedIn Introduce New Job Updates

Over the last two weeks, LinkedIn has been rolling out across its user-base updates via email about their connection's new jobs. While this feature was always in the background in one's newsfeed (therefore a huge propensity to miss these updates considering the deluge of updates), LinkedIn have realized the value in isolating members new job updates and emailing them to their network.
This new email alert from LinkedIn is an excellent opportunity for recruiters to get in touch with that connection to congratulate them on their new appointment, keeping a valuable relationship alive within your network. This is also one of the best ways for recruiters to keep their ATS data refreshed, giving you accurate information regarding their new employer and job role that you would otherwise forget about updating until it comes time that they're suitable for one of your vacancies, and by then your data is past its sell by.
These updates are part of a raft of upgrades to the LinkedIn platform, encouraging members to re-engage with their network and participate in discussions on the site, from new group suggestions to network summaries. Included in this New Job update is a summary of information about their new company, where this connection worked beforehand, and any industry-change information.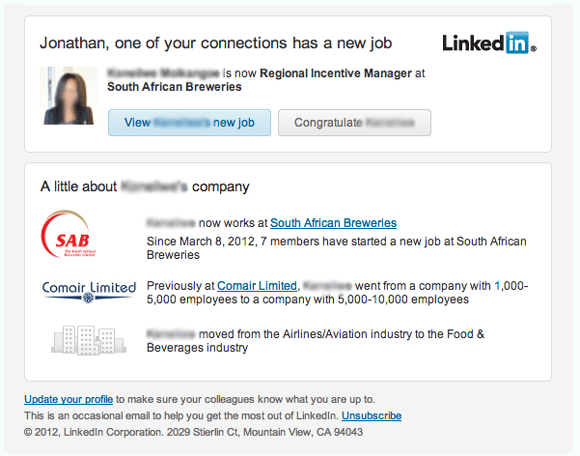 Previously to this alert from LinkedIn, services like jobchangenotifier.com and the JobChangeAlert in LinkedIn app for iPhone would notify you if people in your network changed jobs. Alternatively there's the Radar service by Bullhorn Reach, which sifts through all of your updates in your newsfeed and picks out ones that can signify if someone in your network may be preparing to change jobs (like updating their profile, or finishing a role and not updating if they've started a new one etc). This is a great service (and it's free!) for recruiters, providing that intelligence that puts you on the front foot. You can catch them for one of your vacancies before they've found a new job through alternative means (like a competing recruiter).
Have you had these new job updates dropping in to your inbox? Have you found them useful? Let us know your thoughts in the comments.
Find out how the likes of IBM, IKEA and Siemens
drive hiring excellence with SocialTalent
---