Keep up with the latest hiring trends!
Monster Resume Database & Power Search: Has-been or Hidden Gem?

Monster Worldwide put out a press release yesterday to announce that they had secured their single biggest ever contract. Which massive multinational was the client? Well, actually it was the Department of Work and Pensions (DWP) in the UK, not a multinational company at all. In fact, the UK civil service is trying to shed jobs, so what is the story with this kind of a deal? I read several tweets that implied that the UK government was wasting even more taxpayer's money and could have easily built their own database. So which is it? Proof that only dinosaur organisations use Monster or evidence that the UK government is indeed getting smart about their recruitment costs?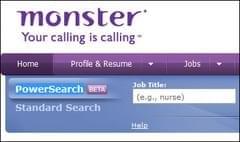 As readers of this blog will know, we are big into training other recruiters on how to search LinkedIn, Twitter, Facebook, Google+, Blogs and the worldwide web in general for hard to find talent. Often we meet recruiters who quickly dismiss the massive job boards like Monster, Career Builder, etc as relics of an online advertising model that has failed in recent years. We agree – but only in part. I recently approached the Head of Monster in Ireland, James Mailley, and asked him if I could play around with their Recruiter Database for a few days. Rather than get defensive, he went out of his way to accomodate me and let me use a "global" candidate database account to experiment with their older Search tools and their new Power Search, which has recently launched in the UK and will soon roll out to Ireland and some other European countries (it's been live in the US for a couple of years now).  Yesterday's announcement felt like a timely reminder for me to share my experiences.
The sourcing greats such as Glen Cathey have written previously of the untapped potential of Monster's CV database, but as I no longer recruit staff, I hadn't had the opportunity to try it out. So, here's how the experiment went:
1. I started out with a very general search for Java Developers in London. I admit I was under a preconception that I wouldn't find many of these "in-demand" candidates and that the ones I would find would likely be on LinkedIn already.
2. I started by pulling together a Boolean search with my list of synonyms and related terms (Monster supports AND, OR AND NOT, ( ), and " ") and was quite stunned by the results!
3. 40% of the Developers that I found did not have any sort of LinkedIn Profile. Of those that did, 33% of their LinkedIn profiles had an out-of-date profile.
4. I was able to very quickly identify a very strong shortlist of candidates and could prioritise them by those who had uploaded their CV's most recently. If I was so inclined, it would have been very easy for me to then reach out to them by email or phone (not an InMail in sight!).
5. I then ran a Power Search for Java Developers (no Boolean) with just those two words and the location London. The results were impressive. The whole idea behind Power Search is that Monster have created what they claim is the world's greatest taxonomy of professional keywords and job titles, so that you don't have to write Boolean strings to include what you think are all of the alternative terms and job titles that a candidate may used. For a popular skill like Java Development, it worked a treat, meaning that even the most inexperienced of recruiters can find great talent and ensure that they don't miss out on hidden talent pools.
6. Impressed by the Power Search and thinking that I may have to hang up my Boolean hat (well, at least when it comes to searching Monster), I tried two more searches that are probably less common: an Insolvency Senior and a Recruiter with "In-house" experience. Unfortunately the search taxonomy didn't get what I meant by "In-house" and delivered lots of agency recruiters and it didn't seem to have a clue what an Insolvency Senior was, even when I added "nice to haves" like Accountant and "Corporate Recovery".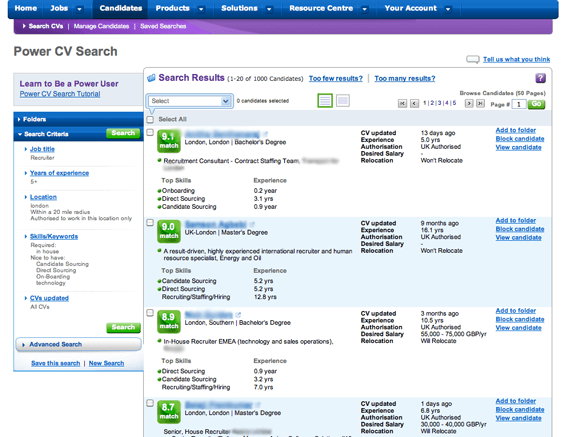 7. I then used my Boolean skills to run a "normal" search using the normal synonyms and related terms that I have run time and time again for these roles. I found lots of in-house recruiters, although I concede that it required considerable tweaking to get it right. I found very few corporate recovery seniors, which suggests that there just arent many on Monster CV Database in the UK, but I did find 2 excellent candidates that really should have popped up on the Power Search.
So what were my conclusions:
1. If you can afford it (and it really isn't that expensive), this is as essential source of CVs to kick-start your search.
2. The depth of information on an average Monster CV far exceeds the info contained on most LinkedIn profiles and the ability to see when a CV was last updated it powerful.
3. There are many, many more profiles on LinkedIn, so Monster is unlikely to usurp their dominant position anytime soon.
4. Monster's 6Sense technology is very impressive when it comes to popular job titles, and will make sourcing really easy for the average recruiter.
5. You still need to know your Boolean for any niche search or even any role or skill that is off the beaten track. Unfortunately this is the type of role that agencies get most frequently – the ones that are hard to put your finger on. Nothing beats a good recruiter armed with the right knowledge and training in finding these people.
Back to my original comment about yesterday's announcement: I think that the DWP have probably made a wise investment, as they now have access to a massive database of candidates that can be very easily searched using Monster's intelligent 6Sense technology which will result in very good results for even the most inexperienced recruiter in the Department. It would be madness for them to try to build a search function that is as semantic and intelligent as 6Sense, and probably unlikely that all of their recruiters would master Boolean search to properly search a traditional database. Good purchase guys!
What is your experience of using Monster CV Database? Do you find the Power Search tool effective? Let us know in the comments below or in your tweets to @Recruiterblog or using #socialtalent.
Find out how the likes of IBM, IKEA and Siemens
drive hiring excellence with SocialTalent
---