Keep up with the latest hiring trends!
Move over Outlook Social Connector, Hello LinkedIn Outlook App
We've spoken before about the power of LinkedIn integration within your email client and covered LinkedIn's purchase of Rapportive in February of this year. In the last 6 months, very little appeared to have changed in the world of Rapportive and Outlook users were still reliant on the clunky Xobni or Microsoft's hard to find Outlook Social Connector. Well, it looks as if the Rapportive team have been working hard as LinkedIn and Microsoft announced a new App last week for the forthcoming upgrade to the Office suite of products which is due this fall.
 If you are familiar with Rapportive or Xobni then you will know that social integration in your email provides some of the following benefits:
1) In-application photos and professional data from the people whom you email or receive email from
2) Reminders to connect with people you haven't yet connected with
3) Live data from their social networks such as Facebook, Twitter and LinkedIn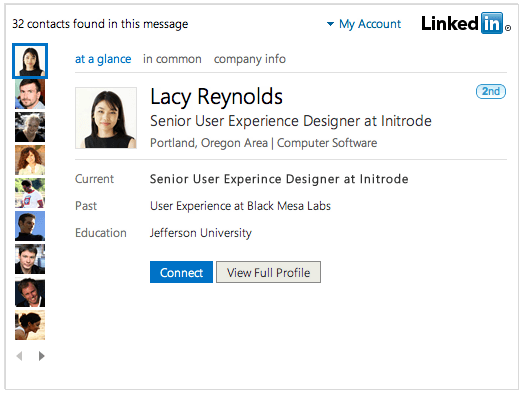 When Microsoft launch Windows 8 they will be launching a new version of Office alongside it. The new Office will allow seemless syncing between an offline traditional app and an online, web-based app (similar to Google Docs and other such inventions from 5 years ago). Will it be amazing? Probably not, but corporates have been reluctant to move away from the traditional Windows/ Office/ Outlook/ Exchange environment hence most of the recruitment (and corporate) world have been stuck with Outlook as their default email client.
To be fair, the new app looks fairly cool from the screenshots and if you want to get a sneak preview then you can download a test version of the new Office here and then install the App from the new Office App store here.
As a Mac and Google user, my only question is when the Google Apps and mobile version will arrive? For now, I'm happy with my Rapportive tool but I'm getting itchy!
Find out how the likes of IBM, IKEA and Siemens
drive hiring excellence with SocialTalent
---