Keep up with the latest hiring trends!
Social Scheduling Tips for Recruiters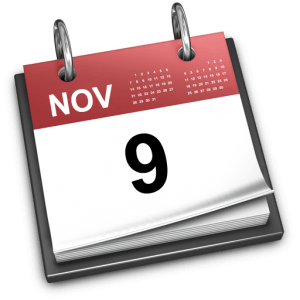 Here are a few time-saving Apps for your calendar that help you to schedule meetings between fellow colleagues and external candidates and clients, with no schedule clashes and no more digital volleyball trying to find a suitable time that suits all.
For companies of all sizes, in any industry (particularly recruitment) that use Google Apps for their email (and documents, and calendar, and photos etc), the new Suggested Times feature in your Google Calendar could save some valuable time.
With one click of the Suggested Times button, Google Calendar will show you the first time that everyone is free to take the meeting, just click on the available slot and it inputs it automatically in to your calendar.Suggested Times allows you to access available meeting times from within your accessible calendars (ie, all those in your organisation), thereby eliminating the process of sending a series of pointless emails back and forth to several people about whether they can meet at a certain time.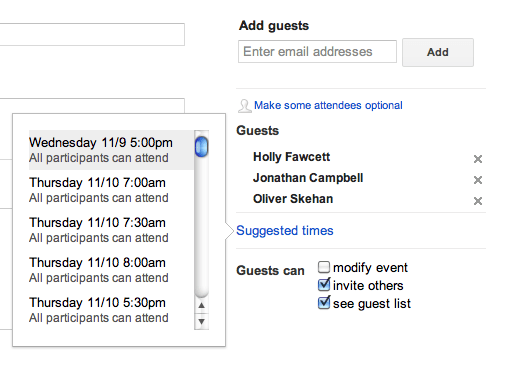 Suggested Times is the latest Google Apps feature available and it follows on from other Labs products highlighted in a previous Social Talent blog such as the handy Canned Responses, which allows you to save and re-use an infinite number of standard responses when you reply to an email; the recruiter-friendly "Sender Time Zone", which makes easy work of dealing with recipients in multiple time zones and Undo Send, a feature which can hold back delivery of emails for a few seconds if you inadvertently clicked "Send".

Alternatively, use Tungle.me to email your calendar to multiple people to pick their own times to meet you. Tungle.me is a cloud-based calendar that allows you to share publicly, including embedding on your website, for people to see when you're available to meet. For external clients and candidates, finding a time that suits all can be a hassle, especially if you're trying to figure out a schedule of back-to-back candidate interviews.
So, with Tungle.me you can synch your current calendars (it supports Google, Outlook for Windows and Mac, iCal, Entourage, Lotus Notes, LotusLive, Facebook, Windows Live, Yahoo!, Tripit and PlanCast), then email your calendar to all those invited to your interviews, and they can pick an individual slot on a first come first served basis that suits both you and them. Once a slot is taken by one candidate, all others will see that the slot is no longer available.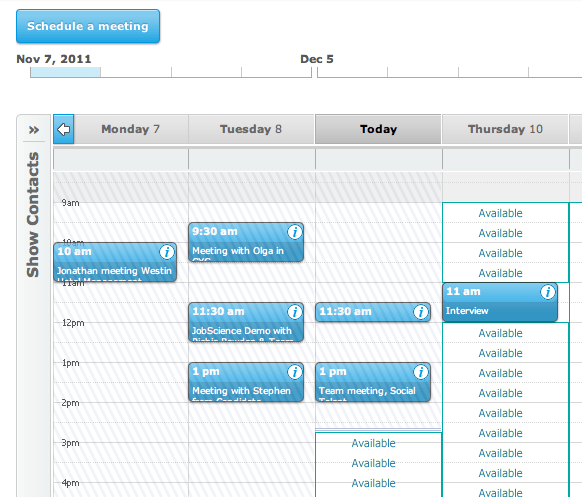 As we're getting busier in our work, it makes sense to streamline the process of booking meetings. And if these few tools don't save you time and effort I don't know what will!
Do you have any widgets or cloud-based tools that you couldn't live without, let us know what they are in the comments!
Find out how the likes of IBM, IKEA and Siemens
drive hiring excellence with SocialTalent
---