Keep up with the latest hiring trends!
6 Pieces of HUGE Social Sourcing News - 23rd June 2014
In the news this week:
Watch the video:
Introducing Insights for Google+ Pages
We've been able to see the stats relating to our company Facebook, Twitter and LinkedIn accounts now for quite some time, but as of this week we can now finally do the very same for our company Google+ accounts.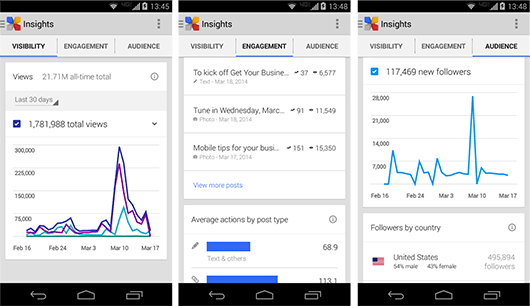 Insights for Google+ helps you "better understand who your audience is, how your content is performing over time, and how to tailor and optimise your page and posts to capture new followers". Metrics can be broken down by month and by week and the following info will be readily available to you:
Activity regarding your last posts under your Google+ Page
How your audience has reacted, under the Engagement tab.
Extra info about what is your Google+ audience and where they are coming from.
On the "Audience" view, you'll see demographics relating to:
New followers on your +page segmented from the last 7 and 30 days
Your followers broken down by gender and their age range
The geographic distribution of your followers, along with a chart that shows follower numbers and gender
percentages by country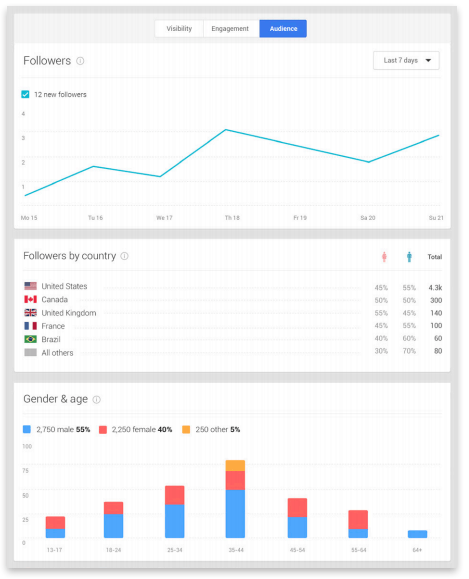 On the "Engagement" view, you'll see reports with stats including:
Actions on posts will show you the number of times a post was +1'd, commented on, or re-shared
You'll also get a list of your most recent posts, along with the number of total views and actions per post

See Stats on posts (select first 72 hours when viewing a single post) to see what the shelf life of the post is after publishing
View public post ripples to identify key influencers per post

Average actions by post type shows what type of media generate the most social actions for your page (text, image, video). See which types of media generate the most engagement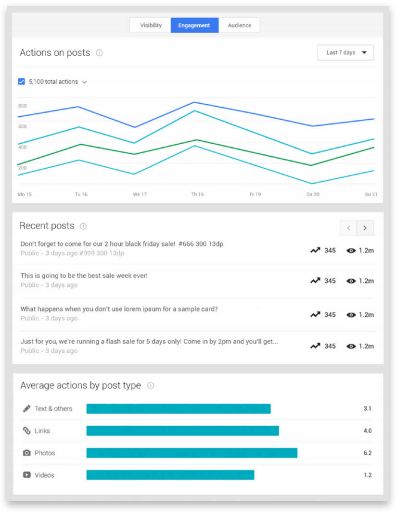 The "Visibility" tab will show you:
Views: Shows total Post Views + Photo & Album Views + Page views (all time*)
Photo views: Views of all photos owned by the page, including those never shown in a Google+ post but surfaced on other Google properties
Page views: Cumulative number of times the Page was displayed to the user on Google+
Post views: Cumulative number of times all page posts were viewed by users

Twitter now supports GIFs on Twitter.com, iOS and Android!
We are now loving the fact that Twitter are now enabling our GIF obsession, but we're also excited that you will also now have the option to promote jobs and your company using them as well.
Starting today, you can share and view animated GIFs on http://t.co/wJD8Fp317i, Android and iPhone. http://t.co/XBrAbOm4Ya

'¬€ Twitter Support (@Support) June 18, 2014
Yes, last Thursday Twitter finally announced it will now support the ever-popular animated GIF format and the change is live on the Twitter.com desktop site as well as it's mobile subsidiaries on Android and iOS. So what are you waiting for? Get animating!
LinkedIn Releases Latest In-Demand Employer List for North America
Unfortunately, it doesn't have many real surprises on it though but it seems like being a consumer or web product certainly helps your ranking! McKinsey are a slight exception, although their research is used by business people everywhere so they do publish a lot, which means their brand is constantly in the public eye.

For more information, click here.
LinkedIn Now Available in Traditional Chinese
There are now more than 50 million LinkedIn members in the Asia Pacific region and everyone's favourite professional networking site is now making their platform available to them in traditional Chinese. The site had previously been available in simplified Chinese only.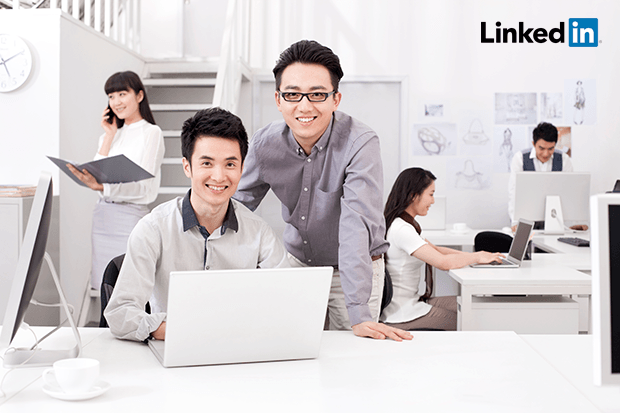 The latest language addition marks the 8th Asian language to be added to the platform and the 23rd overall language to be added.
To register for LinkedIn in traditional Chinese click here and if you are sourcing candidates in the APAC region please contact one of our Sales people for a copy of our China-specific sourcing content with Mandarin content.
LinkedIn Reveal Details of New Galene Search Infrastructure
LinkedIn have revealed the details of its new Galene search infrastructure, which is replacing their 10 year old Lucene system. Key points:
It allows LinkedIn to combine synonyms, correct spelling etc on your searches
LinkedIn can better personalise the ranking of results but does so at the expense of number of results to save time (not all results are returned if the available volume is larger: this is presumably why LinkedIn Recruiter users sometimes have less results in their searches than those that use the free product, something that was flagged to us by many of our users.
Changes to profiles etc are made available faster to users who are searching and viewing data
Faster, more accurate Instant Search (in the Common Search bar) that suggests people outside our 2nd degree network, when appropriate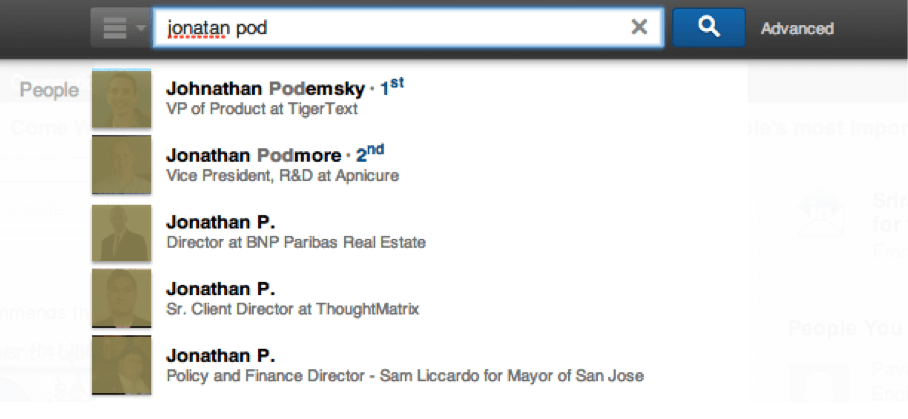 5.  Future support of Semantic queries similar to those support by Facebook Graph Search where LinkedIn understands the intent of your search in one sentence rather then relying on exact keywords in specific fields.
The future looks bright!
For more information, click here.
 LinkedIn Launches Its First Standalone Job Search App
40% of LinkedIn's 300 million users access the site using their mobile devices, so in a bid to tap into the trend just that bit more, LinkedIn are launching 'LinkedIn Job Search', a free iOS app that will "let people search and apply for jobs on the social network". And, in a dramatic change is LinkedIn's policies on many other features to do with their site, for once, your behaviour will not be tracked. "Everything you do on the job search app remains private".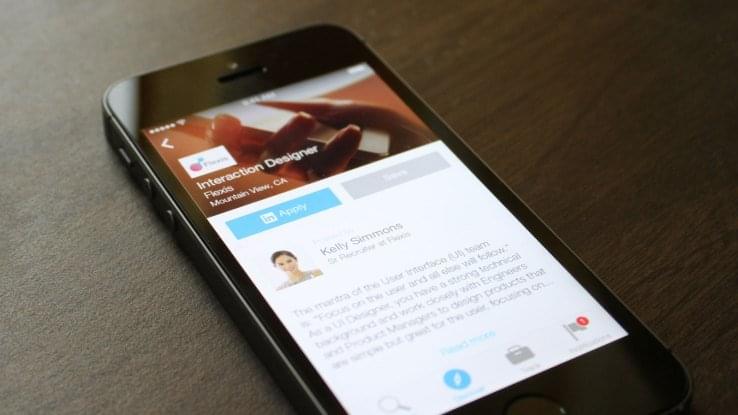 It can be hard to search for a job while you're at your desk, not to mention the potentially awkward conversation with your current boss, our goal is to help make this process easier for you and to help you be discreet" says product manager Daniel Ayele.
LinkedIn are also saying that their new app has more features than it had previously rolled into its main app, including:
A more detailed way to search for, research, and apply for jobs, including customisations based on job title, location, company, industry, and seniority level.
Tapping into LinkedIn's ongoing search algorithm development, it will also offer tailored job recommendations based on saved searches as well as jobs a person has viewed and that person's own LinkedIn profile.
More detail on how your own network extends to the prospective company in question, as well as more facts about the company.
And tapping into both the finite and fleeting nature of job availability, a notifications service so that you can keep up with when new jobs are coming up, or those you've flagged are closing their application window in case you've forgotten.
For more information on the new app and how you can get your hands on it, click here.
Find out how the likes of IBM, IKEA and Siemens
drive hiring excellence with SocialTalent
---