Keep up with the latest hiring trends!
The 5 Good, Bad & Surprising Recruitment News Stories this Week - 10th November 2014
In the news this week:
Meet 'Intro' the Virtual Business Card App
We've all been there; talking to an important client or conversing with a great potential candidate, before reaching into our pockets for the all important business card to place in their hot little hands, only to find you've left said business card/s in your other jacket and this fantastic business opportunity is about to walk away without your contact details. What do you do now? Swap phones and struggle to enter your information on their phone? Write your info down on a scrap of paper that you just know they're bound to loose sooner or later, and besides that just feels unprofessional. Well, with Intro, you needn't have to worry about such a scenario ever again.
Intro, is a brand new app by the people over at About.me (the startup, which enables users to create simple one-page websites about themselves), that helps you stay in touch with new contacts by sending your About.me page as a digital business card, or sharing it quickly with interesting people you meet on the go.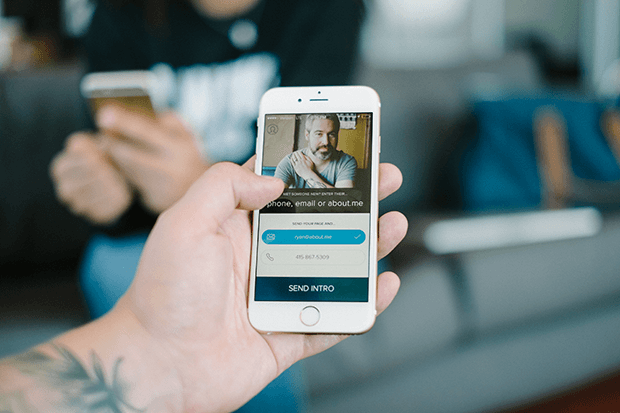 The clue is pretty much in the title, but as the name suggests, Intro is focused on enabling those first, often critical, introductions. Log in with your About.me credentials, and the app creates a card with your photo, biography, email and phone number (provided you've shared that information with the service.) But unlike other social networks, which only allow you to connect with other users, Intro's users can share their information with anyone, even if the person they're sending it to DOESN'T have the app. What's more, users can choose what type of information they want to share each time. Now that's clever! But what's even 'cleverer' is that each introduction you make is saved within the app, so you can quickly find people you've connected with in the past. The app also adds a small amount of contextual information about those connections by displaying the date and location the introduction was made.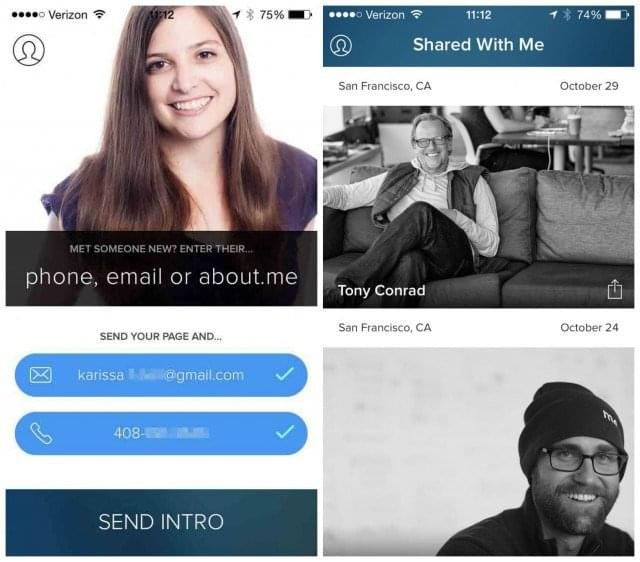 "We live in a world where almost everyone has a device," says Tony Conrad, About.me's CEO. "It feels like the time is overdue for somebody to have come in and solved this problem. It's obvious [your device] should be your business card.
Intro is free and iPhone only for now (you can download it on iTunes here), but an Android app on it's way.
Monster Names New CEO, Announces Q3 Earnings and says 'We're happy with our new strategy'
Sal Iannuzzi has announced he will be stepping down as Monster's CEO, and letting former CFO and current director, Tim Yates, take the reins. He made the announcement during a quarterly financial conference call with investment analysts. After discussing Monster's financial performance in Q3 (which surpassed Wall Street's predictions on both earnings and revenue), Iannuzzi told those on the call he was stepping down for undisclosed personal reasons.
But while the phrase "undisclosed reasons" usually means someone is being forced to relinquish command over board unhappiness with performance or strategy or both, Monster's much talked about 'Three Pillar' strategy, shows signs of paying off. Monster earned 5 cents a share in the third quarter, beating the 3 cents a share Wall Street predicted. Revenue grew to $191.2 million, compared to analysts' estimates of $189.9 million.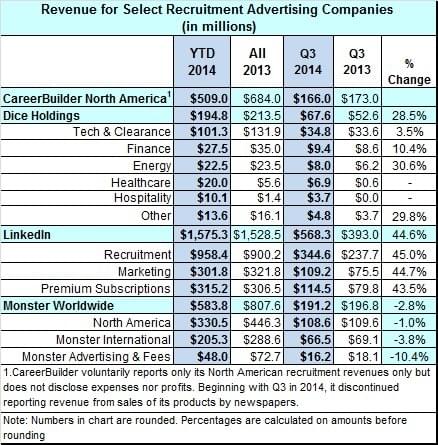 Still, revenue was down 2.8% versus the Q3 2013 and down 2% compared to the quarter ending June 30th. However, Iannuzzi and his successor who participated in the conference call expressed confidence the company was turning the corner. Iannuzzi reported bookings '¬€ corporate contracts for postings, résumé searching and other services '¬€ were up 7%. He also noted the growth of the jobs aggregation, which is up to 4.5 million listings, and the use of TalentBin and Twitter Cards.
With the company's redirected strategy '¬€ toward providing services to the recruiting industry and not just job posting and advertising '¬€ still new and not fully tested, analysts asked during the Q&A if it might be changed. To which new CEO Yates replied; "We do not plan to – we're not going to revisit the strategy. We're full committed to it". Iannuzzi followed up by saying "The strategy is what we laid out. The strategy is taking off There is no dispute whatsoever between the board and myself or the management team with regard to the strategy. We are all very much behind it. In fact, I'll continue to assist anyway that I can. I am not stepping away. I think I will continue to be an employee of this company for a number of months to come, okay, to see that, that strategy is executed. So I '¬€ one message I want to send very clearly is that the strategy is solid. The strategy is right. Everyone here is behind that strategy."
Iannuzzi will remain on the board as non-executive chairman.
LinkedIn's Recruiter Corporate and Job Slots Price Increases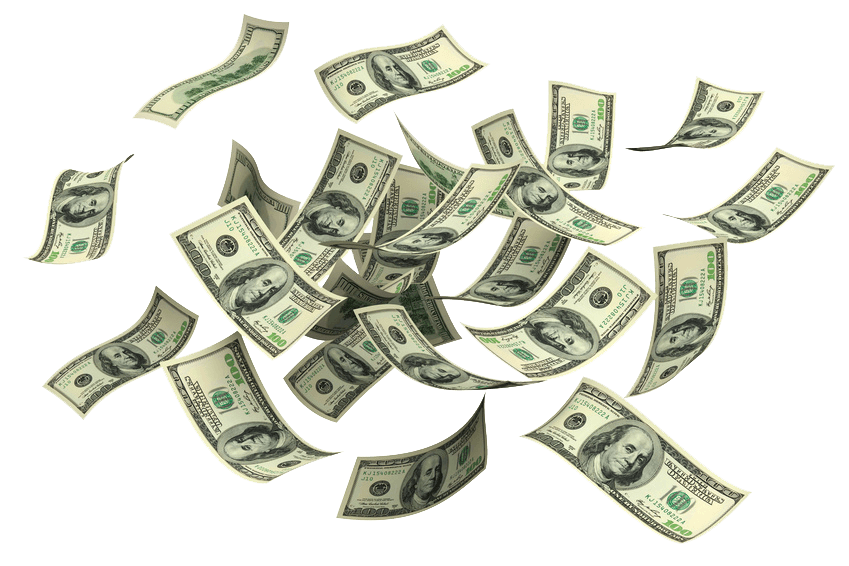 In a post on the LinkedIn Talent Solutions blog, LinkedIn have finally given out details of the price increases to befall paid LinkedIn members come January 1st 2015.
The prices of Recruiter Corporate and Job Slots will be adjusted for customers paying in the following currencies: USD, CAD, EUR, GBP, and AUD, and the average price increase will be in the single digit percentage range, with "regional nuances". LinkedIn say they'll "contact customers with more information prior to contract renewals", but they are encouraging anyone with queries to contact their sales representative for more information.
Moving forward, LinkedIn say they plan to review the pricing of their products and services on an annual basis.
Sneak Peak: LinkedIn's Two New Product Upgrades for 2015
Well at least they'll be putting our hard earned cash to some good use!
At the year's Talent Connect San Francisco, Wade Burgess, the Vice President of Talent Solutions at LinkedIn, gave the eager attendees a sneak peak at two of the upcoming product upgrades LinkedIn has planned for 2015. The first of which is a a new search capability that, "with the click of the button", gives you talent pool insights '¬€ like the top companies, geographies, experience, and education of the talent pool you're recruiting from '¬€ which will help you quickly determine, for example, whether or not you need to expand the search to new markets, or adjust the compensation or title. Why? LinkedIn claim these market insights "will arm recruiters with the information they need to lead the conversation with the hiring manager from the get go, set expectations, and set their recruiting team up for success".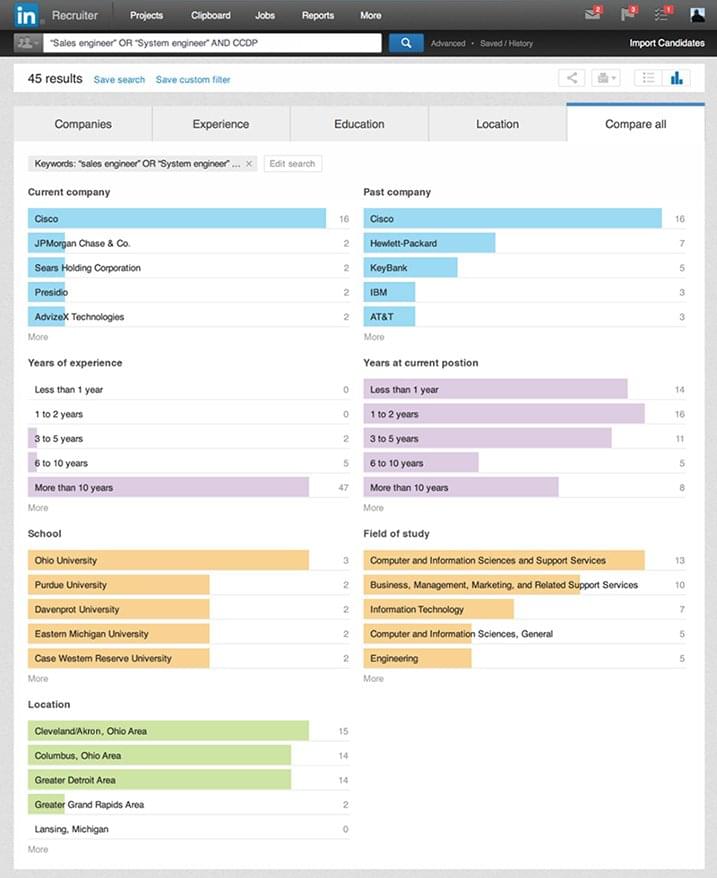 The second upgrade is one we're actually quite excited to see. LinkedIn are going to start bringing company fit to their search results. "Today, search is great at surfacing all the LinkedIn members who are a good fit for the job. That's important, but it's equally, if not more important, that they also be a good fit for your company." says Burgess, and is why LinkedIn "went back to the drawing board" to develop a new version of search that analyses more of the professional information on LinkedIn to find people who aren't just a good job fit, but a great fit for the company too.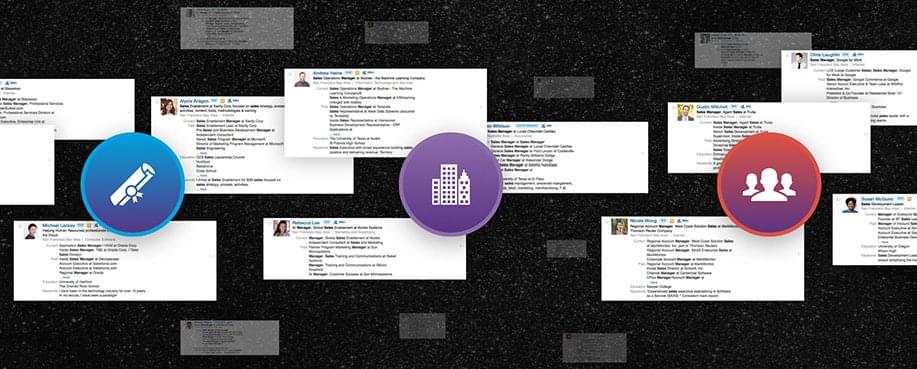 This ultimately means that when you conduct a search, you'll be presemted with a prioritised list of LinkedIn members who are "more likely to respond to your InMails, accept the job, and be a successful hire". Search will now do so by spotting patterns '¬€œ like the top colleges/universities that your company tends to recruit from; the companies that you tend to hire from for certain roles or geographies; or the people your employees are already connected to '¬€œ and surface people who aren't just a good job fit, but who are also a good company fit. The better the person's job and company fit, the higher they appear in the search results.
Exciting stuff? Or more unnecessary tweaking? Give us your opinion in the comments below. But if you missed the live presentation of the two new product upgrades, we've got the whole 26 minute presentation right here complete with the opening rock concert (we kid you not!):
Canada Goings Nuts for Recruiters
Looking for a job in recruitment? Then you'd better hop on a plane to Canada.
Yes, Canada has the highest market share of recruiting jobs to be found anywhere in the world with about 1.3% of Canada's jobs advertising for recruiters. India is close behind with 1.2% of its online job openings seeking recruiters.
Market Share of Recruiting Job Ads vs. All Ads in the Largest English-speaking Countries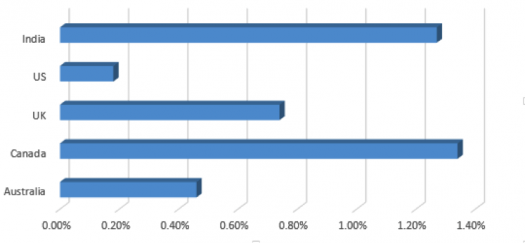 But if you're looking to get into HR, than you should be UK bound. The UK has the greatest percentage of HR jobs that require recruiters at 39%. India has the second highest percentage at 29%.
Market Share of Recruiting Ads vs. HR Ads in the Largest English-speaking Countries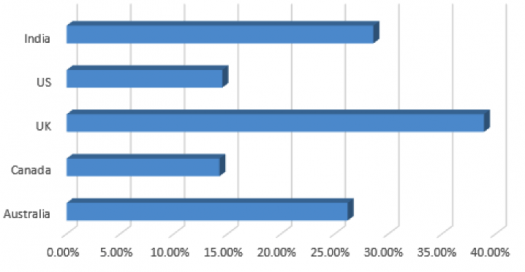 Overall however, India is the country with the greatest need for recruiting professionals. 'Human Resources Recruiter' is the most advertised recruiting job title in the country. Three of the English-speaking countries surveyed by WANTED Analytics, listed feature titles that refer to a recruiting position for a particular field. In India, the U.S., and Australia, 'Technical' or 'Information Technology Recruiter' or 'Consultant' are among the most sought after types of recruiting professionals. IT jobs are highly in demand in these markets. In the UK and Australia, 'Recruitment Consultant' titles appear in multiple places.
Most Advertised Recruiting Titles in the Largest English-speaking Countries 
India
1. Human Resources Recruiter
2. Information Technology Recruiter
3. Recruiter
4. Recruitment Executive
5. Recruitment Manager
US
1. Recruiter
2. Technical Recruiter
3. Recruiting Coordinator
4. Senior Recruiter
5. Corporate Recruiter
UK
1. Rercruitment Consultant
2. Trainee Recruitment Consultant
3. Recruitment Administrator
4. Recruitment Manager
5. Senior Recruitment Consultant
Canada
1. Recruiter
2. Recruitment Consultant
3. Recruitment Specialist
4. Recruitment Coordinator
5. Senior Recruiter
Australia
1. Recruitment Consultant
2. Graduate Recruitment Consultant
3. Senior Recruitment Consultant
4. Information Technology Recruitment Consultant
5. Recruitment Coordinator
Find out how the likes of IBM, IKEA and Siemens
drive hiring excellence with SocialTalent
---