Keep up with the latest hiring trends!
The Biggest and Best TruDublin EVER launches Monday!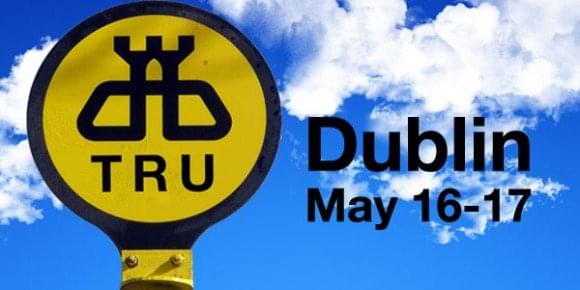 We are delighted to announce the third TruDublin Recruitment Unconference will take place on Wednesday and Thursday May 16th and 17th, in the Sycamore Club Temple Bar (above the Purty Kitchen), for two days of all things recruiting and technology.
Tickets for TruDublin go on sale on Monday 16th April from 8am, with a special Early Bird rate of '¬149 until May 5th (normal price '¬199) from Eventbrite.
A TRU unconference is a a unique event where the emphasis is on conversation, communication and the free exchange of ideas and experiences. Participants come from the people space, usually made up of Recruiters (corporate and agency), Human Resources, Talent Acquisition, Technology Developers and Vendors and more.
The format is to run a minimum of 3 tracks each hour. The tracks are started by a track leader who has some experience of the discussion topic. The role of the track leader is to start the conversation and let the conversation evolve wherever it goes. Participants are actively encouraged to move between tracks according to what they need individually. No one is offended and there is no need to stand on ceremony.
We have 4 simple rules:
1: No PowerPoint (or KeyNote, or Prezi…)
2: No Presenting
3: No Name Badges (Just ask!)
4: No Pitching
Outside of that, anything goes!
Track Topics so far:
Attracting Graduate Talent
The Future of the Recruitment Agency
Legal Pitfalls of Social Recruiting
The Future of Semantic CV Search
Has Video Assessment gone mainstream?
LinkedIn: Social or Job Board?
Power & Pitfalls of Interruptive Communication
The Social Agency
Building an In-House Recruitment Agency
The Challenge of Large Numbers
Growth in Recession
Employee Referrals: The Holy Grail?
Global Culture in a Social World
Email: The Unsexy Social NetworkThe CV is Dead, long live the CV
Dumb Database & The Futureof the ATS
Big Data
(More tracks and topics will be announced over the next two weeks)
We can exclusively reveal our first batch of Track Leaders are:
Be ready for the tweets on Monday (#trudublin) with an exclusive discount code for the first 10 tickets at just '¬99! Looking forward to seeing as many of you there as we can fit!
Find out how the likes of IBM, IKEA and Siemens
drive hiring excellence with SocialTalent
---