Keep up with the latest hiring trends!
The Greatest Sourcing Team the world of Recruitment has ever seen!
I've just finished reading Bill Boorman's excellent synopsis of the agenda for this month's truLondon recruitment event taking place on October 22nd and 23rd. I've attended about 15-20 of Bill's events over the last few years and have never been more excited about a line-up as I am this year.
One of the events that I will be involved in this year and that we are proudly sponsoring as part of the launch of our new online learning platform, MySocialTalent, is the Sourcing Lab where Bill has put together what is arguably the greatest team of global sourcers to ever come together at one event. Over the 2 days of truLondon, 10 track leaders and sourcing experts will run hands-on, practical sessions on how to source for talent on LinkedIn, Facebook, Twitter, Flickr, YouTube, Google+, Stack Overflow (from the founder of the word's largest developers' network!) and much, much more.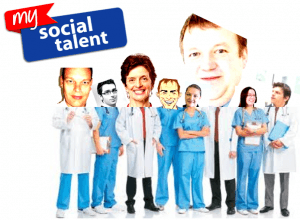 Track leaders include:
Irina Shamaeva
Katharine Robinson
Martin Lee
Shane McCusker
Oscar Mager
To add to the "carnival" atmosphere of a tru Event, the sourcers will be donning their personalised #MySocialTalent lab coats and dishing out sage advice to all attendees. I expect we will all learn something new from each other and the attendees who come to the lab.
We're going to be running sourcing challenges during each track over the 2 days with free t-shirts and annual licenses for MySocialTalent (worth £199) for the intrepid sleuths!
Bring your most difficult jobs and challenge the sourcers to find both the needles and the haystacks from which you can find more!
If you are interested in finding out more about MySocialTalent, you can register here to be notified of its launch!
Click the following link for an exclusive Social Talent readers discount for truLondon
See you all in London!!!
Find out how the likes of IBM, IKEA and Siemens
drive hiring excellence with SocialTalent
---