Keep up with the latest hiring trends!
The New LinkedIn App - 10 Times More Useful Than Before!

Last week, LinkedIn launched their new and updated App for iPhone and Android, which up until now was rather basic and had very limited functionality. Our initial impression of this update was of complete surprise – it's animated, it's really really fast, and it's really simple to navigate. We've had a few days to play around with it, and we're really impressed. LinkedIn stated in their blog announcing the new app that mobile page-views have grown more than 400% year on year, so it's a no brainer that a very impressive mobile-app was more than necessary.
So what's changed?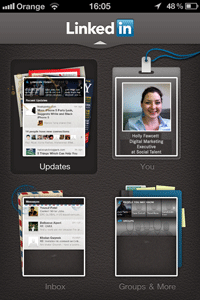 The original home-screen has changed from being just a simple grid to one with four action-packed and illustrated clipboards: one for your updates/news, one for your profile, another your inbox, and one for your groups.
Updates/News:
A gorgeous new screen-display shows news headlines around your industry and news-sources you follow at the top, and recent updates from your connections underneath in an easy-scroll stream. LinkedIn aggregates news-sources together in the one place and lets you comment and share the news-story immediately across your network. On your connection's updates, you can Like, comment, share with your connections and also reply privately, all without leaving the comment itself.
Your profile:
This somehow looks much neater and attractive than before (although that could be just your profile photo), with a very mobile-friendly vertical scroll and lateral toolbars to explore your recent activity/updates and connections, websites, Twitter and contact details. This is replicated across the profiles of your connections, with two buttons at the top of their profile – one to phone and another to message them. Not everyone has their phone-number accessible on LinkedIn though, and we hope that this isn't going to be another Facebook phone-number-within-apps fiasco!
Your Inbox:
This is pretty clean too, with a quick-compose icon at the top to write a new message or new invitation to connect, and simple options to file/archive, bin it or reply to your messages.
Your groups:
This is probably the most impressive change, with two tabs available to play around with – connect with people you may know from your groups through LinkedIn suggestions, and see an overview of the groups that you're a member of and the new discussions/comments that are shared within them. In this section, you just see the headline of each new discussion with a lateral scroll to view the whole discussion, link to article (if there is one) and social sharing options including like or comment.
There is also a LinkedIn Search tool too, however no Advanced Search is available (unfortunately). By typing in a person's name, or a job title, LinkedIn will display profile results and allow you view their profile and connect with them (just by touching "invite to connect", no email address needed or selection of how you know them – no fuss at all), all within the app. Furthermore, you can't edit your profile from the app, but then again that may have been too much to ask.
Check out this video that LinkedIn produced to introduce their new app – this is a literal representation of how the app behaves, and we are suitably impressed!

Find out how the likes of IBM, IKEA and Siemens
drive hiring excellence with SocialTalent
---