Keep up with the latest hiring trends!
The Social Recruiting Round-Up: June 2015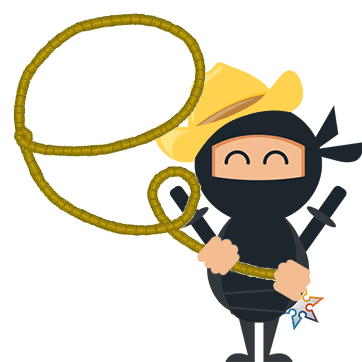 At the start of June we decided to dedicate most of the month's blog content to helping you guys make the most of all of the excellent recruitment/HR conferences that were taking place around the world in June (and the months to come).
Each week, we strove to bring you practical and useful tips for which conferences to attend, how to make the most of conferences you were attending, and the networking mistakes to avoid when there. We also gave you a heads up on some of the hottest topics being discussed at these conferences, like the issue of unconscious bias and the deadly affect it can have on the recruitment process. And we even showed you some tools you could use when you got back to the office including, Sidekick, Crystal and Google Trends.
Today, Hiroto has his lasso out once again because we're bringing together all of that knowledge into one blog post package – the Social Recruiting Round-Up for June 2015.  In it you'll find everything we mentioned above, some added funny bits, this month's webinar entitled "How to: Source Top Talent on Facebook", and the biggest news stories to shake the recruitment industry this month.
It's not to be missed so enjoy it, share it and have a very happy Friday recruiters!
Top Recruitment Blogs in June:
Top 11 Recruitment Conferences You MUST ATTEND in Summer/Autumn 2015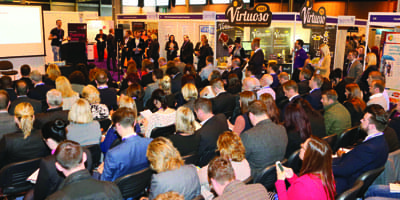 If you're planning on attending a recruiting conference in 2015, we've put together a list of 10 of the best worldwide recruitment events you should be saving the date for throughout Summer/Autumn 2015.
6 Tips for Attending a Recruitment Conference (and Actually Enjoying It!)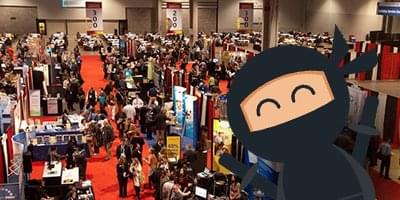 You've paid a lot of money to be there, so be sure to follow these six tips to ensure you enjoy a productive and enjoyable recruitment/HR conference going experience (every time)!
The 6 Deadliest Networking Mistakes a Recruiter Can Make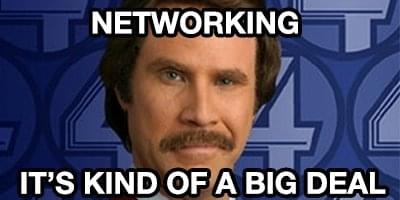 Have you been intentionally sabotaging your own networking efforts? Are you guilty of making any of 6 deadliest networking mistakes a recruiter can make? It's time to find out, and discover how to put right any mistakes you've been making.
How Badly is Your Unconscious Bias Affecting Your Recruiting Skills?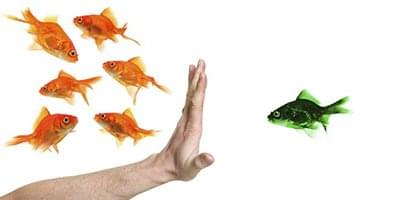 Are you aware of your own unconscious bias? Are your unconscious bias compromising your recruitment process? We have two tests to help you find out.
6 Productivity Boosting (FREE) Email Tools for Recruiters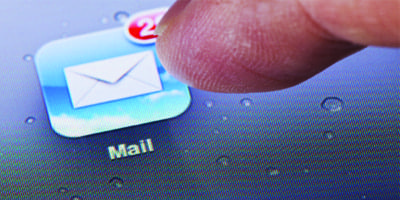 We're helping you spend less time looking at your email inbox and more time looking for great candidates with these productivity boosting email tools and plugins.
Does Crystal Know You Better Than You Know Yourself?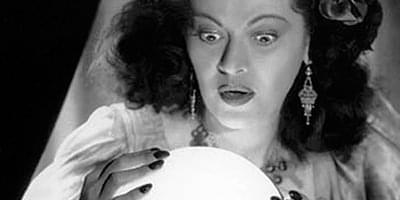 If you've ever struggled to engage a sought after candidate, you're about to be blown away by an incredible new tool! Crystal is a brand new Chrome extension that analyses public data to tell you exactly how to communicate with different individuals. And it does so with startling accuracy.
How to: Drastically Improve Your Job Ads SEO Using Google Trends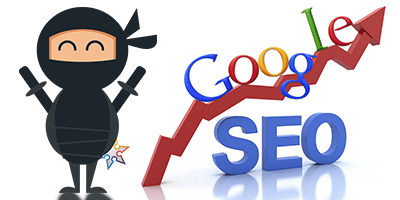 One of the simplest ways to ensure your job ad is more easily found by the right candidate, is to ensure it contains the most relevant keywords. A great resource for figuring out which keywords most candidates are searching for online, is Google Trends.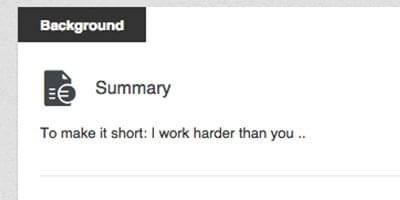 So….what does your LinkedIn bio say about you? Because these bios have WHOLE lot a say about the individuals that wrote them! Get ready to be blown away by the size of these guys egos.
Top Recruitment Infographic in June:
The Incredible True Value of an Employee Referral (Infographic)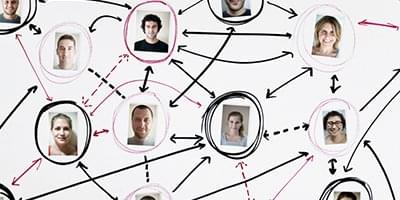 Take the time to "connect the dots" between the perfect candidate and your current staff members by seeking out employee referrals, you'll be delighted you did!
Top 10 Job Hunting Mistakes to Avoid (Infographic)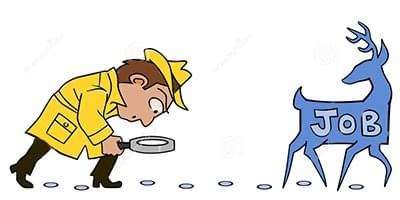 The best way to prepare yourself for the job hunt is to be prepared and to avoid making any of the following Top 10 job hunting mistakes.
Our June Webinar:
What makes some job ads resonate with candidates and others get passed by? What are the magical ingredients that set them apart? Well, according to the incredible research of Chip and Dan Heath (and in particular their book Made to Stick), the best job ads have 6 key elements in common:
Simplicity
Unexpectedness
Concreteness
Credibility
Emotions
Stories
And in this 30 minute webinar we're going to tell you all about them and EXACTLY how to use them in your job ads to increase the number of high quality applications you receive:
Top Recruitment News Stories in June:
NEW Indeed Tools and Tweaks Coming your Way!

As announced at their Indeed Interactive event in Austin Texas last week, Indeed, the world's most popular job board, are working on a variety of tools and tweaks to improve its product – and we're highly impressed by all of them!
One of the new offerings will match employers with "actively seeking, motivated" candidates who have richer profiles and have passed through a screening process. The new feature is set to dramatically reduce the time it takes to find immediately available candidates. (Contractors and temp recruiters rejoice!)
Indeed is also working on a new tool at the campus.indeed.com address that ensures college student users see entry-level jobs first. Also, by re-organising their campus-recruiting site to list jobs by college major, students may come across a job they may not have otherwise searched for, had they merely typed a search into the main Indeed.com engine: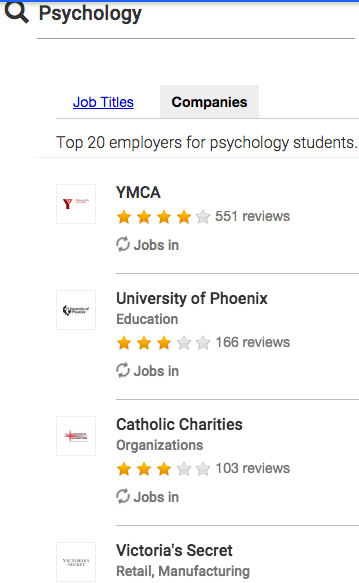 The company have also started using a "job seeker applicant tracking system" of sorts for candidates to manage their applications. Using the new "My Jobs" tab, job seekers can start tracking the applications they've made to various employers and Indeed can push them information in relation to these applications e.g. "Lucy, don't forget your interview tomorrow".

And it would appear more matching tools are also on Indeed's horizon, if rumours from the Indeed Interactive event are to be believed. At the event, the company let on that job-seeker behaviour knowledge it has been collecting for a number of years now (and particularly knowledge relating to the use of location in searches) may be put to good use in the near future. The company said that a new feature they're working on examines the jobs people click on after doing searches, learns the complexities of job-seeker behaviour, and modifies its search results accordingly. For example, if you're on Long Island, or Connecticut, a job may be close by, but with the Long Island Sound in the way, you may not want to commute to it. On the other hand, you'd go more miles for a job with an easier commute.
Exciting times over at Indeed HQ it would seem! Which new feature/tool are you most excited to see?
Twitter Introduces New Audience Insights Tab to Analytics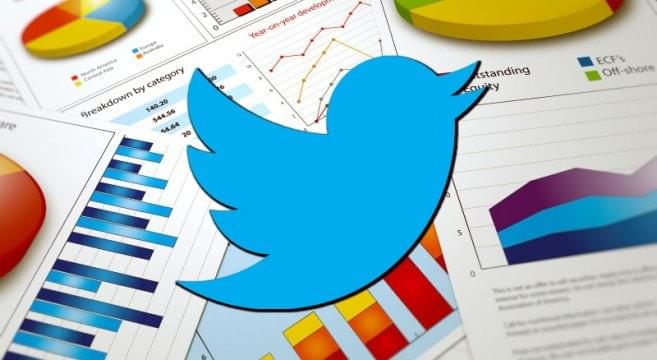 Twitter is hoping to help marketers (and recruiters in the process!) better understand their Twitter audience by adding a tool that will give them deeper user behaviour around organic tweets.
Yes, the audience insights dashboard tool adds some similar insights as the Facebook advertising platform with aggregate information on really useful stuff like user demographics, interests, purchasing behaviour, education, income level, their mobile usage and even the type of programme they like to watch on TV. These new insights are expected to help advertisers identify a more relevant audience for upcoming campaigns on the platform – and guess what? Recruiters can use them to do exactly the same thing for your job tweets and general content sharing on Twitter.
"You can also use audience insights to learn more about your followers and the people who engage with your Tweets, and then tailor your targeting and content accordingly. For instance, if you're an app developer and see that the majority of your followers use an iPhone, you can make sure your rich media is tailored for that device," a Twitter blog post about the new insights states.
When checking out our stats for example, we were able to see the following details about the followers of our Social Talent Twitter account:
79% of our audience are interested in technology
77% are interested in careers news and general info
63% are male
56% are married
66% like to consume premium brands
31% are from the US
57% prefer to watch drama on TV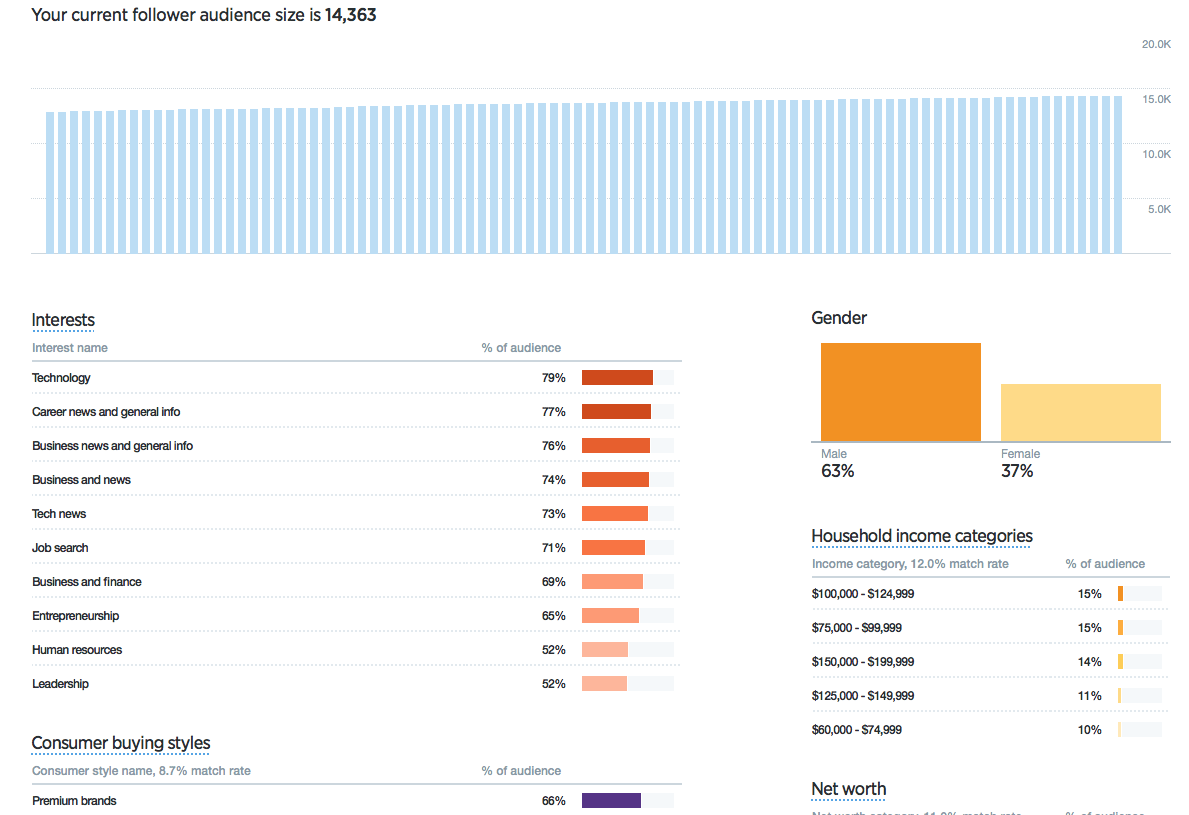 Go and check yours out now! You'll be amazed at the insights you'll glean! The new audience insights tool is now freely available to all Twitter advertisers and analytics users, just go to ads.twitter.com -> Analytics tab -> Audience Insights. Twitter-specific information can be accessed within the U.S., with plans to roll this out more broadly over the next few months.
Twitter will Remove 140-Character DM Limit
REJOICE!!!! You will soon be able to send much longer direct messages on Twitter.
In a post on its developer forum last Thursday, Twitter said plans to remove the 140-character limit on its direct messaging feature in July and impose a new 10,000 characters limit in it's place. But for those of you wondering, the character limit for regular tweets, which is also 140, will remain in place.
Announcement: Removing the 140 character limit from Direct Messages. https://t.co/Y885KhE9jR

— TwitterDev (@TwitterDev) June 11, 2015
The move is the latest in a series of major changes the company has made to direct messages over the past year. Group messaging features were introduced in January, before an option that allows users to opt-in to receive private messages from anyone else on the service was put in place. Previously, only users who followed one another could exchange direct messages.
But what does this new character limit mean for recruiters? Well, even before the new limit was set, DMs were a brilliant candidate contact method because (depending on a candidate's settings) private messages from recruiters arrived both on the candidate's lock screen of their mobile device and via email into their inbox – giving candidates two options to see your message. This new change means those messages will continue to be as prominent to candidates, but you will now be able to elaborate more on your reasons for messaging. Trying to get your point across in an engaging fashion in 140 characters (as anyone who's tried it will tell you), can be quite a cumbersome task. And sending multiple DMs just to get your point across feels and looks like spamming.
So we say, roll on July!
Remember eHarmony's Proposed Recruitment Product?
Yes, you may recall that dating site, eHarmony, announced a few months ago that it was starting work on creating a skill-personality-competency-culture matching tool, for use in the recruitment space.
Well, the fruits of that labour have now been unveiled! Yes, ERE.net have received the first screenshots of the new product and we have them to show you too:
Though software development and other delays have slowed the timeline on this project a bit. eHarmony have said they expect to launch the product in about a month's time. Comments on ERE's website show that there is an uneasy-ness within the recruitment community about the viability of such a product, with many recruiters voicing concerns about the accuracy of a skill-personality-competency-culture matching tool.
Many believe honesty, both on the part of the employers and job seekers filling out matching tests, will be an issue and that a cultural match for what an employer thinks its culture is, versus what it actually is, could lead to an unacceptable failure rate.
Others took our view point on the matter:
"[It] will be interesting to see how matching tool works considering the strong reviews they get on their dating site. Very intriguing to see a player from that scene apply their research and algorithms to a job functionality. Always good to have "outside" perspectives!"
We couldn't have put it better ourselves! Roll on the launch!
Introducing the New LinkedIn Pulse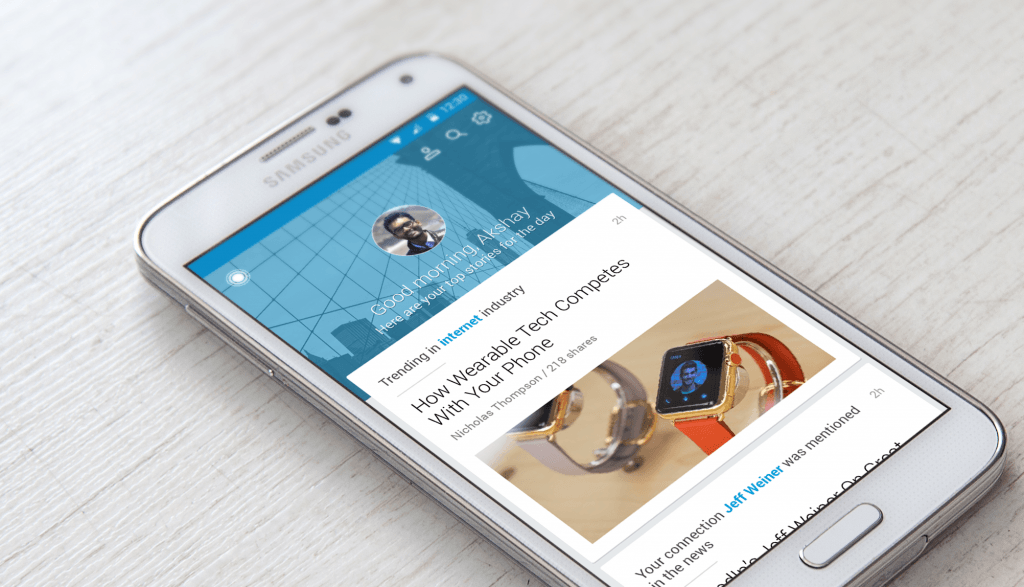 Pulse, the news reading app founded back in 2010 and acquired by LinkedIn in 2013, has released a major overhaul of its iOS and Android apps — the first major update since getting bought, in fact.
The app will now feature a cleaner UI that borrows a swipe-left to reject/swipe-right to save gesture borrowed from popular apps like Tinder, but perhaps more importantly it will provide a whole new approach to how it helps you discover news.
In a blog post, Akshay Kothari, Pulse's co-founder said "In this whole puzzle, we missed one key component: Identity. We knew 30 million users had used the Pulse app, but we didn't know who they were or who they knew. The new Pulse app focuses on delivering you personalised news—news that is powered by your professional world.  Just log in with your LinkedIn account, and Pulse instantly gives you today's news based on the industry you work in, who you're connected to and what you follow on LinkedIn."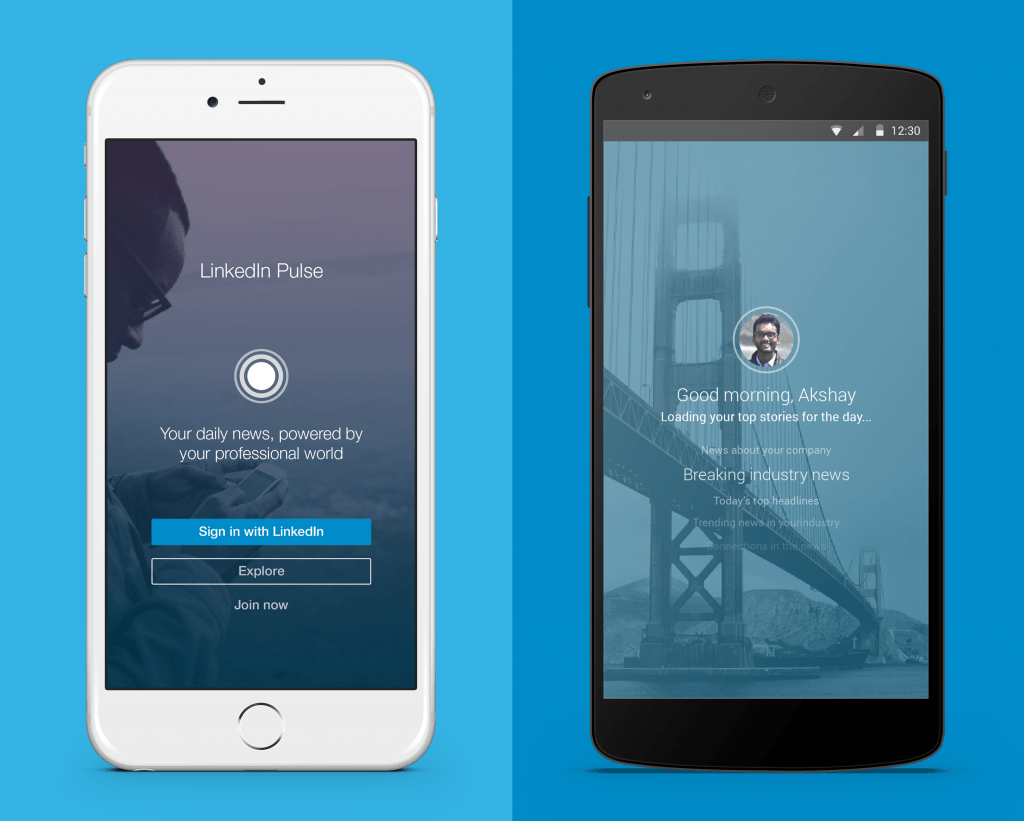 Yes, while the older Pulse app had more of an emphasis on you selecting what you wanted to read in the app, before you could use it, the new Pulse app now "reads" you based on your LinkedIn connections, what you're reading and commenting on, and where you work. In a nutshell, Pulse now provides you with a selection of news based on your LinkedIn "professional graph" – a mix of resume details, network connections and content that you choose to read on its platform.
The new cards-based interface has been designed to enable users to skim through lots of content quickly. Now if you don't like a story you can dismiss it by swiping left. Or if you want to save a story to read later, you can save it by swiping right. If you like the author of the article you can follow them in one click. And all of these interactions will continuously refine your content recommendations.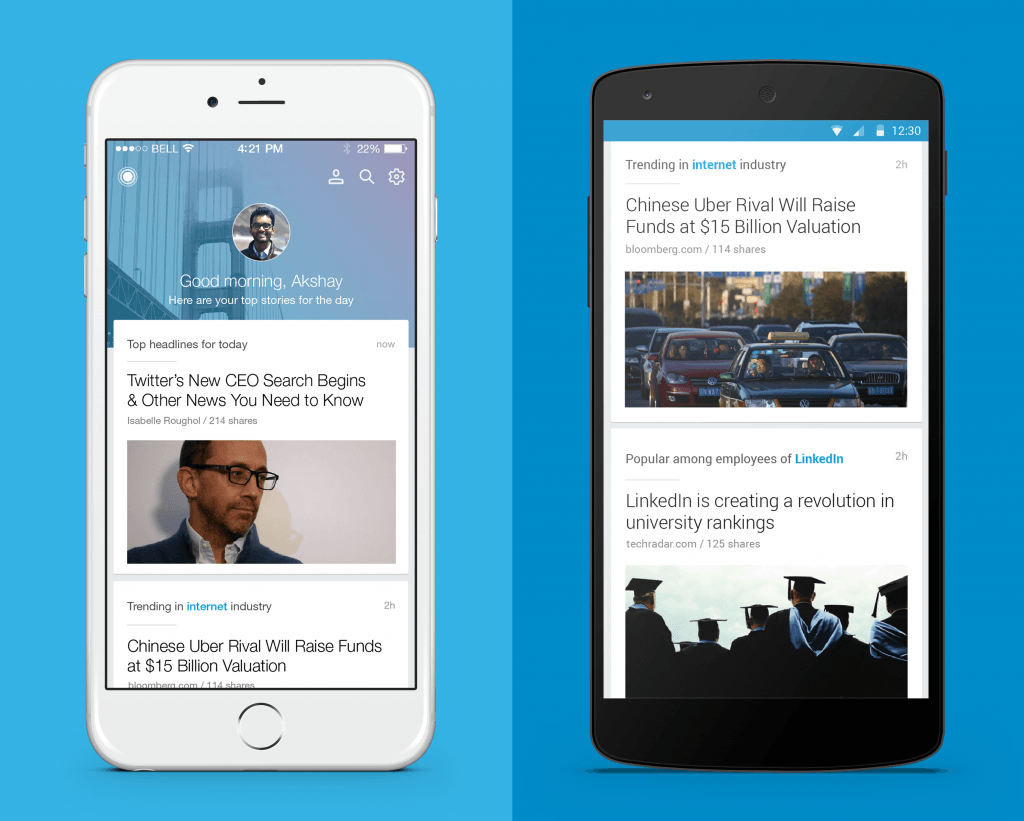 The news fed into Pulse comes from some 250,000 sources, and will include not just a selection of news and magazine sources, but also content from LinkedIn's own publishing effort. You can still add specific publications into the mix alongside this, and for those who are using the current Pulse app, you can continue to do so until the end of this year. This new feed of news will be a mix that could include news about your own company, but could just as easily include news about a company that is competitive to yours. It will feature not only stories highlighting your network of contacts, but stories people in that network may have flagged themselves.
While the new app is welcome, it still has to be said that what people really want in their news feeds may not always be obvious from their LinkedIn profiles. So, in order for Pulse to be as useful and as relevant as it claims to be, the team behind it will need to keep working on maintaining Pulse going forward.
Dropbox's New Requests Feature Lets Anyone Upload Files To Your Account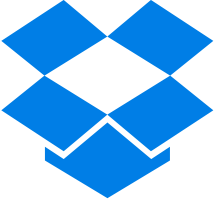 Now this is a FANTASTIC product update! On Thursday, Dropbox today rolled out a new feature that will allow those without a Dropbox account to share files with Dropbox users.
Called "File Requests," the new option gives anyone you ask the ability to upload files into your Dropbox account, into a folder of your choosing. Through a simple interface on Dropbox.com/requests, you can specify what file(s) you're looking for, and you're then provided a link you can distribute or you can select the option to have Dropbox send a request email on your behalf.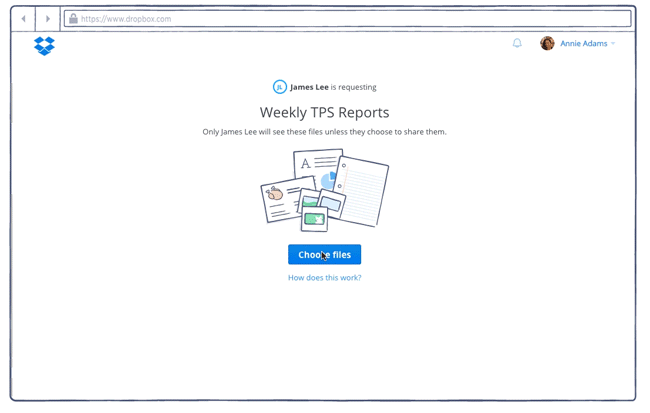 The company says the feature was implemented to address a common pain point among users. Today, most people continue to share files with one another as email attachments, which can be cumbersome to sort through. This continues to be the case because not everyone uses the same cloud service for file sharing, too. Dropbox's File Requests feature is meant to offer an alternative to email-based file sharing, as it puts those in need of the files in more control. The company suggests the feature can be used for a range of sharing scenarios, whether it's collecting bids from contractors, asking for files from clients, or even asking family members to share vacation photos. However, we can see this being big with recruiters receiving CVs, cover letters or even more complex files like video CVs. Because unlike with email attachments, File Requests can handle files as large as 2 GB!
As previously mentioned, when asking for files, users can also indicate which folder should host the files as part of the request process. Then they can either copy the link Dropbox provides (which points to a file uploader interface), or they can enter in the email addresses and message they want to send.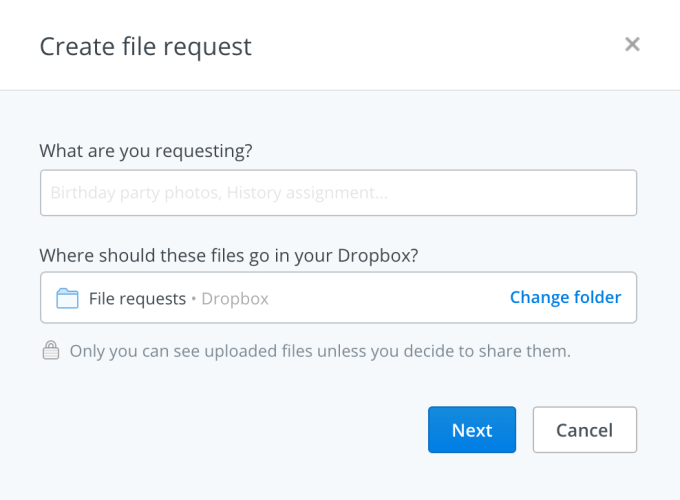 In addition to making it easier for current Dropbox users to ask for files from others, the new option may also serve to introduce Dropbox to others who had yet to try the service. Of course, the feature also lets you ask for files from those who are already on Dropbox, it just simplifies the collection process by centralising all the uploads into a single folder available across your devices.
File Requests is currently available for Dropbox Basic and Pro users, and will arrive for Business customers in the next few weeks. In our opinion, you'd be a fool not to start using it!
LinkedIn Imposes New Limits On Messaging Fellow Group Members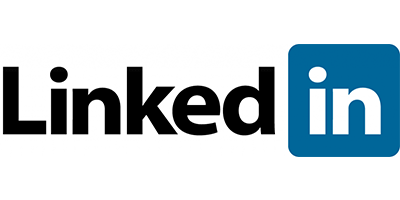 We have some breaking news on some new limits imposed on messaging LinkedIn Group members, courtesy of SourceCon's Chris Russell. According to Chris's post, if you like to send more than 15 messages per month to members of a LinkedIn group you belong to, you can no longer do that. Why? Because, LinkedIn has set new limits on this frequently used feature which was often touted as a way to "get around" their other InMail limitations.
The new LinkedIn Group member messaging guidelines are as follows:
You can now only send a total 15 free 1:1 group messages to fellow group members each month. This limit is set for all the groups you belong to and not for each group individually. If you go over the limit, you'll see an error message until the next month begins.
Unsent messages don't carry over to the next month. This limit includes messages sent directly from a group, to your 1st degree connections.
If you need to send more messages for recruiting, promoting, or connecting with members outside your network, you must upgrade to one of LinkedIn's Premium accounts or Recruiter product options.
You have to be a member of a group for at least 4 days.
You have to be a member of LinkedIn for at least 30 days in order to send messages to fellow group members.
How will this affect your messaging habits? Will this new limit be a big blow? Tweet us @SocialTalent with your thoughts and concerns, or hacks to get around this new limit if you have any.
Instagram Overhauls Search Features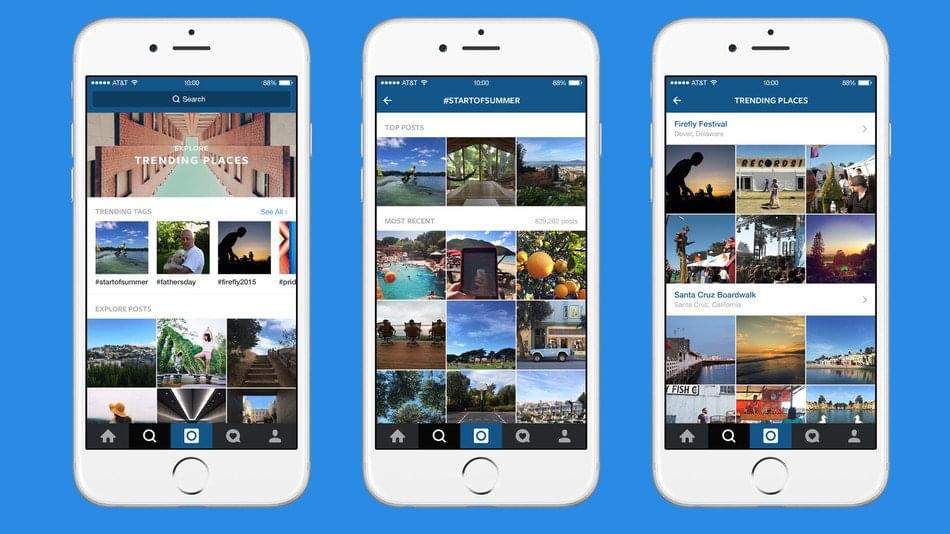 Instagram's search just got a lot more like Twitter. The company's latest update has completely overhauled the app's search and Explore features making it easier for the likes of you and me, to find posts around specific events, places or themes in real time.
Explore
The new Explore menu is a major departure from previous versions of the feature, which surfaced photos and videos solely based on users you followed and posts you liked in the past. The app now takes a much more Twitter-like approach by surfacing posts based on tags and locations currently trending on the platform.
Instagram says that because its algorithms are able to identify posts as they begin to trend, the new feature will be particularly useful to newsrooms and other organisations looking to stay on top of the latest trends. "The new Explore now surfaces trends as they emerge in real-time, connecting you to events and conversations both near you and around the globe," the company wrote on its blog.
The new Explore also includes a section for curated collections of posts from various communities within Instagram. The section, meant to highlight interesting posts users may not otherwise see in their normal feeds, will be updated twice a week with new themes collections like "extreme athletes," "beautiful bridges" or "ancient ruins."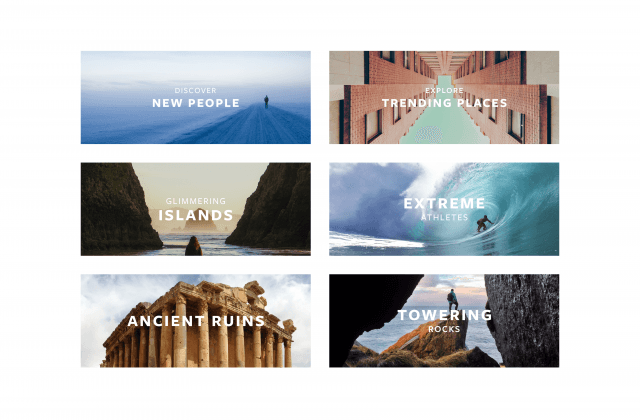 Be don't fret, those of you who liked the personalised recommendations offered by previous versions of Explore will still be able to browse their more targeted suggestions via the "explore posts" section of the Explore menu.
Search
Tuesday's update also overhauled the app's search features, which now allow users to search for photos and videos posted from specific locations. Searches for specific locations will turn up results for both the most recent and top posts tagged with that location. The new search menu also makes it easier to narrow down searches by allowing you to sort results by people, places and tags – do I see stars springing up in those eyes recruiters? Because they should be!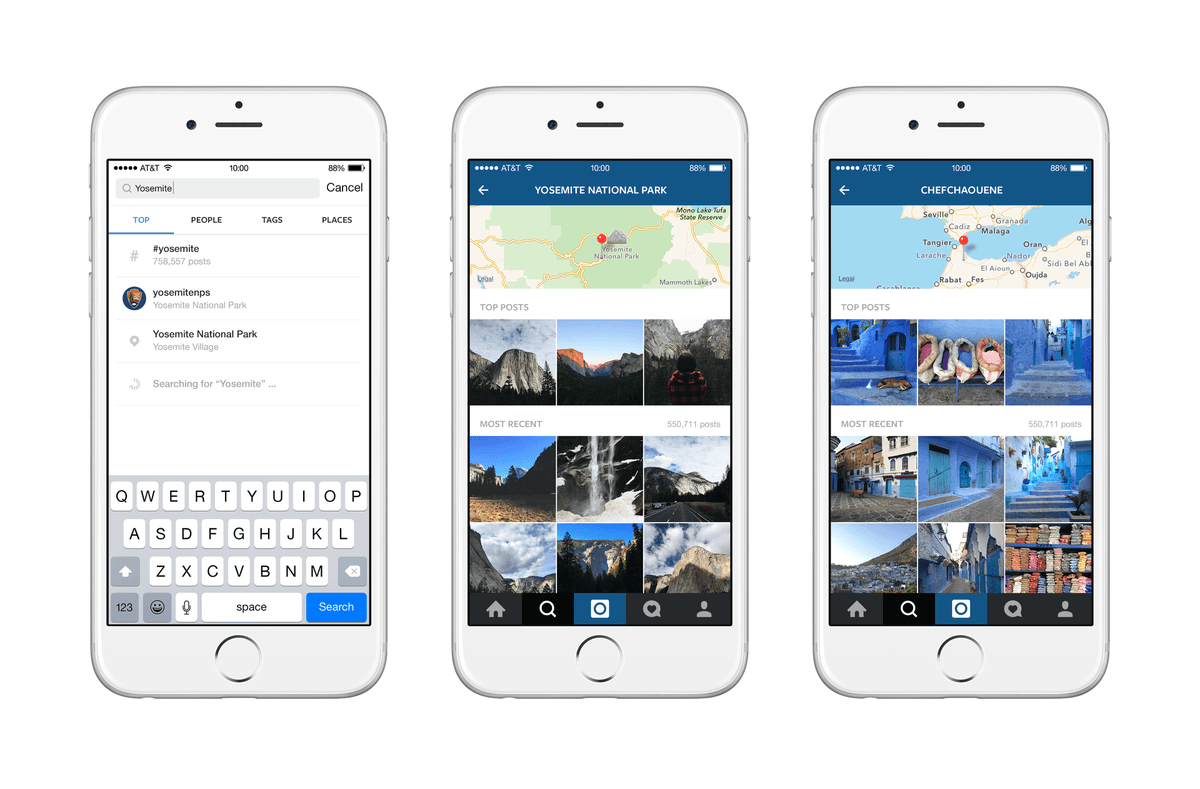 There are more than 70 million photos and videos posted to Instagram each day, according to the company, which makes it increasingly important for the service to provide its 200+ million users (and recruiters!) with ways to find fresh, relevant content (and candidates).
Instagram's updated iOS and Android apps are available now. The new Explore features will only be available in the US to start, though Instagram says it will bring the update to more countries as it work
Employer Brand More Important Than Ever in Gaining Job Seeker Interest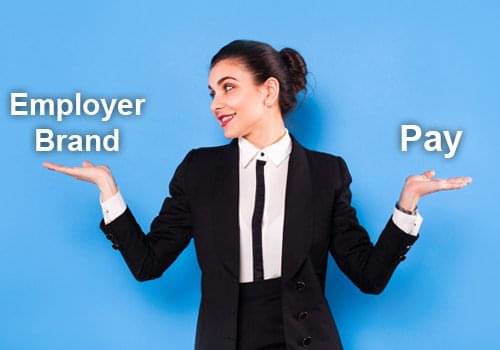 The findings of a survey conducted by RPO provider ManpowerGroup Solutions, show that 1 in 4 job seekers believe that company reputation is most important when making their next career move.
The study, which questioned more than 200 US job seekers, found that candidates are increasingly seeking employers with a clear corporate identity and positive reputation, and that brand reputation is now as important as the type of work and pay, when it comes to a candidate's motivation.
Lisa Schiller, Vice President of Client Delivery at ManpowerGroup Solutions RPO, says:
"Employer brand is an increasingly powerful tool for creating competitive advantage in today's marketplace. HR professionals that can draw out the uniqueness of their company's brand and reinforce a compelling dialogue with candidates, but also current employees, will find top recruits heading straight to them – creating a robust talent pipeline for filling present and future positions within the organisation."
The survey also revealed that nearly 9 out of 10 candidates use company websites as their preferred source of information about a prospective employer. Search engine results (52%) and peers (45%) ranked second and third, respectively. As a result, it was found that company websites are critical to brand development. With 36% of job seekers cite that detailed company information, job opportunity and compensation is the most valuable information to be found on these sites. So, to attract the best talent then, ManpowerGroup Solutions say companies must ensure their website is dynamic and content-driven.
Find out how the likes of IBM, IKEA and Siemens
drive hiring excellence with SocialTalent
---