Keep up with the latest hiring trends!
Top 5 Browser Extensions that every Recruiter should use
The Modern Recruiter aka "Recruiter 3.0", otherwise known as "the Internet Recruiter"  or "Recruiter who wants to make their target this month" uses the internet a LOT in their job.  He/ she sources candidates online, gathers business intelligence, blogs, communicates through multiple social networks and occasionally dips into Facebook to check up on their ex.  We are "plugged in" most of our working day and often in the morning and after work via or iPhones or Androids.   Yet when I ask recruiters who attend our Internet Recruitment Training courses what Browser they use, many are still stumped.  For a lot of recruiters, the internet is that big "e" at the bottom of your screen or on your desktop.  For those of you who are slightly more informed (or bothered) you are probably using Internet Explorer, Mozilla Firefox, Google Chrome or maybe even all three!
The bottom line is that we spend most of our day using search engines, accessing our cloud-based ATS and browsing the internet. Here's how to shave some precious minutes and possibly hours from your daily browsing experience: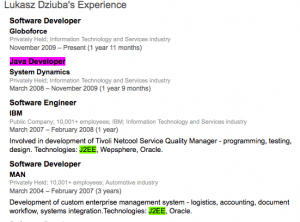 If you use IE or Firefox you already have a Google or Bing search button in the top right hand corner of your browser window. We're not talking about that Google search box, we're talking about the one you download as an extra bar on your browser from here.  There are tons of things that this nifty tool bar does but the only one I really care about is "highlighting".  When you turn this feature on (by clicking the little yellow highlighter pen), it will highlight in different colors all of the key-words you are searching for in a web-page, including LinkedIn profiles and web-hosted CVs.  So what?  If you are searching LinkedIn for 10 different key-words but you really want to find one in particular, it can take some time to pick the word out of all that black text. Sure, you could go to "Edit" and "Find" on your browser, but it takes time.  Trust me, this little toolbar massively speeds up the process of evaluating a profile or on-line bio and can save you a huge amount of time every day.
2. The LinkedIn Browser Toolbar:

Until LinkedIn release an upgrade to make this work in Firefox 4,5 or 6, we will have to settle for it working in Internet Explorer but don't let that hold you back. In IE this handy tool provides shortcuts to some essential parts of the LinkedIn database including Advanced Search, your Inbox and Groups.  It also saves the last 5 searches that you ran in LinkedIn and the last 5 profiles you looked at, all available within one click from the Toolbar.  Saves you precious time when using LinkedIn throughout your work day.  The LinkedIn Insider feature also shows you who you are connected to when viewing jobs on Monster, CareerBuilder, HotJobs, Craigslist, SimplyHired, Dice, or Vault.  Great for Business Development if you are an agency recruiter!
3. FastestChrome/ FastestFox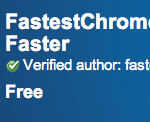 This super little plug-in for Google Chrome or Mozilla Firefox saves you from having to click "Next Page" on search engine results.  You just scroll down past the end of the first page of results and the second page appears….and so on.  Really handy when trying to x-ray LinkedIn profiles or just go further then page 1 for the right info.
4. OutWit Hub for Firefox: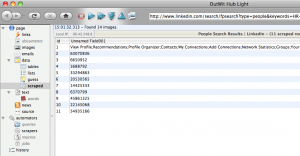 This little beaut is for the slightly more technically savvy recruiters out there.  It allows you to parse any data you want from a web-site or list of search results into an Excel compatible format.  Amazingly useful for extracting lists from LinkedIn (LinkedIn don't allow you to do this so proceed at your own (minimal) risk!) including profile data and unique ID numbers.  Also great for parsing from CV databases, search results from Twitter etc etc.  The free version allows you to create your own Scrapers based on whatever underlying code patterns that you can find (there are tons of structured patterns in LinkedIn!).
5. The LinkedIn Sharing Bookmarklet: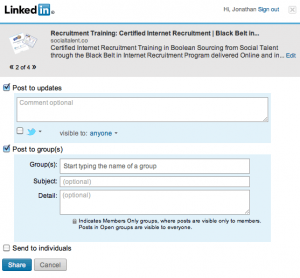 If you use Firefox or Chrome then LinkedIn's full toolbar sharing options are not available to you.  Instead, you can share any page from within your browser to up to 50 Groups, any of your contacts or post as your status by using the Sharing Bookmarklet here. This allows you to post your job vacancy, blog, discussion or announcement to 50 Groups in one click.  Very handy indeed for getting your name out there and getting eyeballs on your jobs or content.
What else can you learn?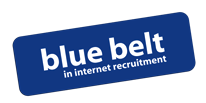 Browser shortcuts are only the beginning of what we teach recruiters on our Black Belt in Internet Recruitment course.  We are running this full day course in Dublin and London and also online all throughout October.  To date we have trained over 350 recruiters.  You can find out more about our Training programs here.
Find out how the likes of IBM, IKEA and Siemens
drive hiring excellence with SocialTalent
---