Keep up with the latest hiring trends!
What do Facebook's latest changes mean for Recruiters?

At the moment, it's more the rare recruiter that uses Facebook as a recruiting tool, but over the next year us Social Recruiters expect to find our space a little more crowded as more and more recruiters join us. The latest waft of changes to Facebook that were announced this week will mean several key changes for recruiters to adopt before they continue publishing posts to their Facebook fans, otherwise they'll quickly lose their audience.
Currently, Recruiters use Facebook at its most efficient level as a Talent Community base. We set up specific pages and groups on Facebook to which people join, and we can then assume that these people have either skills or careers in the areas we wish to recruit judging by the fact that they joined our page. We also have pages on Facebook that represent our brands as agencies, to which jobseekers Like them and then receive updates in their newsfeed about jobs. Well all of that is about to change, and change utterly.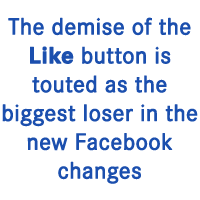 The demise of the Like button is touted as the biggest loser in the new Facebook changes and will play a much smaller role in marketing your brand, jobs and talent pool page. One of our goals was to get people to Like our page, and therefore we believed we had them hooked in to viewing our updates as long as they were fans. Furthermore, we relied on fans Liking our page and that very action being posted on their wall for all of their friends to see and virality of our pages to spread. That will no longer happen either.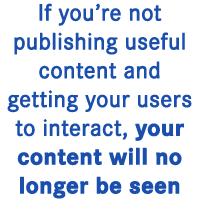 Facebook added a control in the top left corners of each post for users to select what they believe to be important updates from friends and pages that they like (while still remaining friends or fans), so if you're not publishing useful content and getting your users to interact with you, your content will no longer be seen.
So, what does this mean for marketing your jobs and getting people on Facebook to apply? Ask yourself this: do you constantly feed out jobs as your updates? Do you ever get engagement with those posts (ie, your fans liking or commenting upon your job post)? At its most basic level, if you fail to get engagement, or publish engaging content, your updates will lose their visibility fairly quickly. All of your effort in using social media to engage with jobseekers and non-active candidates will have been wasted. Your already-skeptical director will soon pull the plug on your social recruiting venture and order you to return to standard recruitment methods. That can hardly be a useful outcome.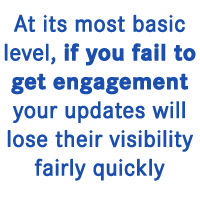 Colin Murphy, social media director at Skinny, said "He [Mark Zuckerberg] really threw down the gauntlet today. You actually have to deliver something of value to a customer rather than just being a person spamming." Taking this on board, we must pull our socks up and start publishing things that are useful to our audiences. Start writing blogs about the latest news and innovations in the industry you recruit for, write about salary expectations. Ask your audience engaging questions (using the Facebook Questions tool) like How many recruitment agencies do you believe you have to go through to find a job? If you run a talent community, ideally the community will never be aware of the fact that the page they joined a community in order to be recruited, so you have to post meaningful content that the community will read and interact with. Post a video, post a link to your blog, add photos. Do Something More.
And as they say – adapt or die! We'll be running an essential webinar on Talent Community Building with guest host Bill Boorman (Wednesday October 5th, 4pm UK time, 11am EST 8am PDT), and we'll bring you through these new changes in Facebook and what they mean for Recruiters in their Facebook presence and talent-community building actions. You can register for this free Webinar here.
Find out how the likes of IBM, IKEA and Siemens
drive hiring excellence with SocialTalent
---