Keep up with the latest hiring trends!
Why Paid Advertising of Jobs on Twitter Can Be Money Well Spent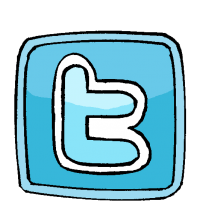 Twitter is being used more and more by businesses of all kinds as a communication tool, whether it's for helpdesk support, announcements, updates or PR. While being one of the most dynamic social media interaction tools out there, it can be a fairly lonely monologue if no one's engaging with your business on Twitter.
Twitter have been developing their self-service advertising platform over the last few months, and now we've seen the development of Interest Targeting introduced late last week for Twitter accounts who wish to promote their tweets to audiences that will most likely be into them and interact.
For recruiters or recruiting organisations, using Twitter to communicate your employer brand and job vacancies in your company can reach niche audiences and open a line of two-way communication between you and potential candidates. Using the Promoted Tweets advertising tool can be an effective way of growing your following, engaging more effectively with your audience, and in the long term increase your number of applications to job vacancies.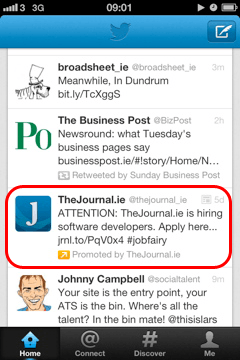 To set up a Twitter advertising account, you need to register your account for Twitter for Business. It's completely free to do, and Twitter will process your request fairly quickly. To ensure that Twitter promoted accounts and promoted tweets are for valid businesses, postal address information and full contact details are required so that nothing spammy gets through. This is a huge bonus for Twitter users, considering the number of spam accounts present on the network!
When you start your self-service campaign, you're the one who sets your budget (you can do a full campaign to your targeted audience for around $100 and see some valuable results – you can set a bid of $0.01 each if you'd like!), zero in on audience interest-categories that are relevant to you (for instance, are your vacancies in the area of journalism, or fashion, or technology? Select the ones you want accordingly, from a list of over 350 categories, see screen-shot below), and let Twitter's algorithm work away in the background. Your Promoted Account or Promoted Tweets are based on an engagement ranking, rather than simply being charged for appearing on a user's feed. You only pay when someone follows your account (promoted accounts) or engages with your promoted tweet (for instance, retweeting or replying).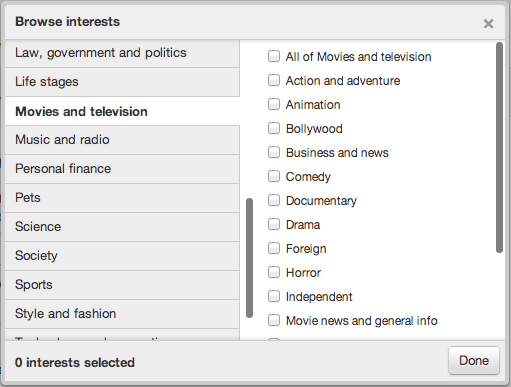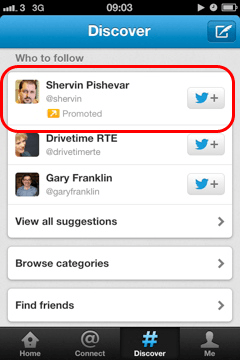 Promoted Accounts advertising will recommend your account to users who match the interests you've selected to target in the "Who To Follow" section. Promoted Tweets advertising will monitor your tweets' and their engagement and select your best tweet that's receiving the most engagement, pushing that tweet out to Twitter users' who match your selected interests. Typically, tweets about jobs often get a lot of engagement as people aim to spread the word to their network.
If you're going to use Twitter to instigate a conversation with your potential candidates and future employees, then having a strong and engaging Twitter presence is essential. And yes while social media is more often than not a free channel, an investment in advertising (targeted to reach only those who are relevant to you and not a penny wasted) can see a dramatic return. The only way to measure social media presence and word of mouth is through paid advertising, and as a business, you shouldn't expect anything for free.
Have you used Promoted Tweets or Accounts on Twitter yet to promote your jobs? What's been your experience? Let us know your thoughts about using paid social media advertising in the comments!
Find out how the likes of IBM, IKEA and Siemens
drive hiring excellence with SocialTalent
---