Keep up with the latest hiring trends!
/
/

5 Top Mobile Apps for Recruiters
5 Top Mobile Apps for Recruiters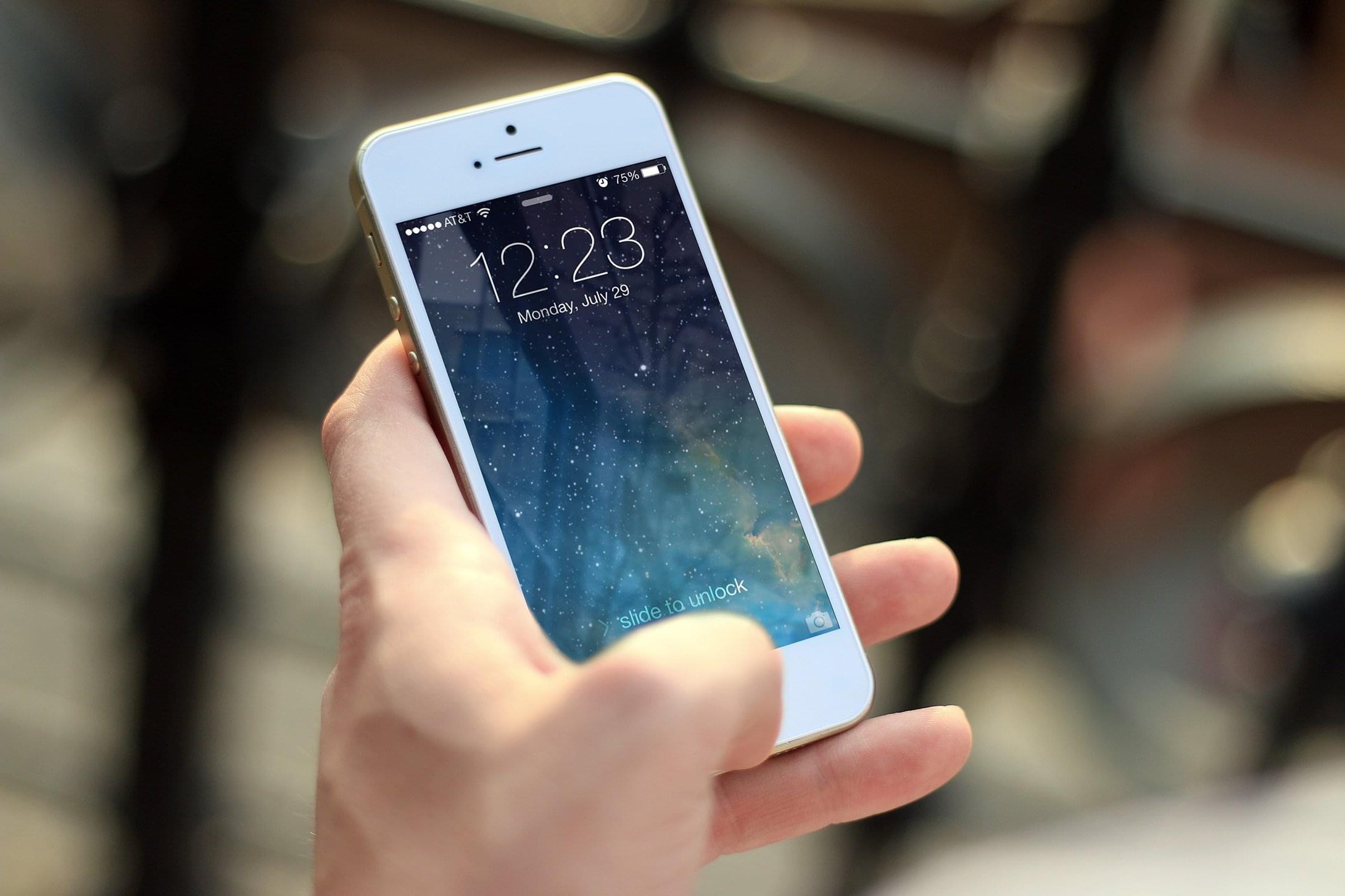 There's no disputing that we are now living in an era of mobile. We'll let the numbers do the talking. According to a recent comScore report:
Smartphone usage increased by 78% from 2013-2015
Mobile apps now drive the majority of time spent on mobile at 56%
Desktop has lost 12 percentage points since 2013 and has receded to 35 percent of digital time spent
But how does this apply to recruitment? Well job seekers have very much embraced mobile with Simply Hired, LinkedIn and Sonru all reporting that upwards of 70% of candidates use mobile to browse for career opportunities online. As a recruiter, HR professional or talent acquisition manager, there is huge need to embrace mobile in order to source, contact and hire the right candidates. Downloading apps that are focused on recruitment can enable you to become more efficient when it comes to your workflow. As a result, you can become more productive, find more qualified candidates and hire the best candidate which is the ultimate goal. Here, we break down our top 5 mobile apps which are geared towards a wide range of recruitment activities, from posting job ads to hiring a candidate.
1. LinkedIn Recruiter
With over 400 million professionals on the network, LinkedIn is the primary place to find and source talent and is one of the reasons why LinkedIn Recruiter is the most popular recruiting mobile app for many recruiters. Think of it as massive pool of potential candidates where you can engage with the best talent anywhere, anytime. This app allows you to stay updated with the latest developments such as candidates editing their profiles, new applicants for your job position and new results on searches you have saved.
It is a quick and easy way for recruiters to connect with candidates they think are a good fit and message or call them directly. Alternatively, you can save prospects to project folders or share them with your hiring manager. Built for both Apple and Android devices, LinkedIn Recruiter is a classic example of an app focused on on-the-go recruiting activities e.g. Boolean searches are not integrated as that can be very time-consuming but you can do simple things like view InMails, send quick notes or conduct a quick profile search.
Price: Free (need to have a paid LinkedIn Recruiter account)
Available on: iOS and Android
Skill Level: Intermediate

2. Instajob
In a world where 55% of users who view a page spend less than 15 seconds looking at it, capturing a user's attention is vital. Enter Instajob: the first ever mobile app that allows users to take pictures on their smartphone and turn these pictures into visual job ads which can easily be shared on your social channels. Developed by career media company CareerCloud, Instajob is the perfect tool to give candidates an insight into what it's like to work for a certain company. You can get creative by posting pictures of your work space and your employees for example.
What really makes this mobile app particularly useful for recruiters is that applicants don't have to go through the inconvenient process of typing the link displayed on the captured photo into a new tab. By embedding your site url onto the picture you are making the link clickable which results in actual visitors. At $2.99, this is an absolute bargain especially since you can post unlimited job ads. See below for an example of a job posted via Instajob.
Price: $2.99
Available on: iOS and Android
Skill Level: Beginner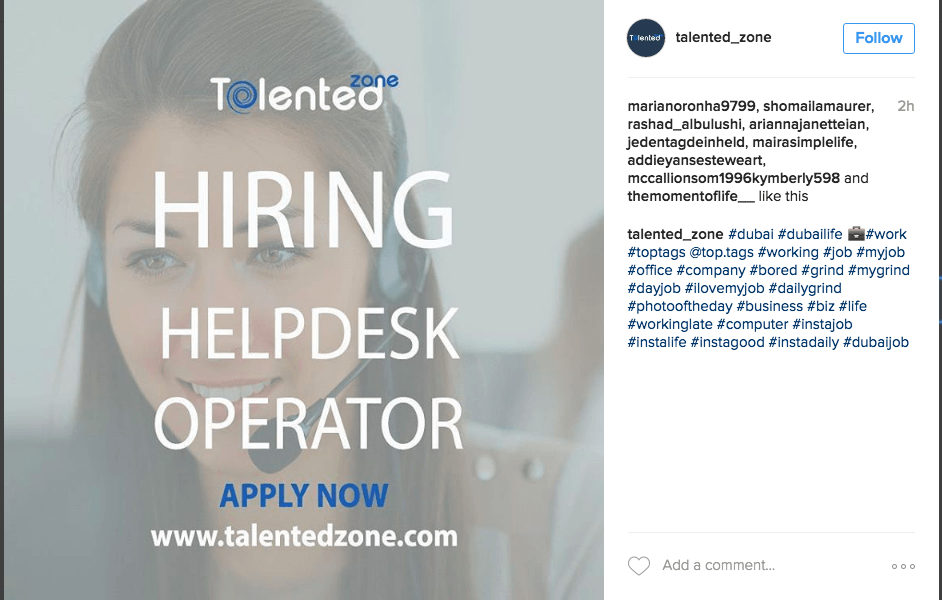 (RELATED: 5 Ways to Engage Talent on Instagram)
3. WhatsApp
Although WhatsApp has a userbase of 1 billion, it still remains a mobile app that has flown under the radar when it comes to recruitment. WhatsApp is essentially a cross-platform mobile messaging app that uses the Internet to allow users to send and receive messages without having to pay the SMS charge. WhatsApp sometimes gets a bad rap from some recruiters who believe it to be only for teenagers or deem it too unprofessional but these recruiters sometimes forget the ubiquity of mobile and that its primary goal is to connect people on a global scale and share information. Furthermore, emails can easily go unread or unanswered while mobile users are more likely to respond via instant messaging.
A few ways in which you can use WhatsApp for recruiting includes:
You can see if your message has been delivered and if it was read
You can check your prospect's name and profile picture and determine if their phone number has been verified
It's a private way to get connected with candidates – you don't need to call them during business hours or send them an email
Since mobile users are connected to their devices from early morning to late at night, it's also a perfect tool for global recruiters to get answers to time-sensitive questions from candidates in different timezones
Price: Free
Available on: iOS and Android
Skill Level: Beginner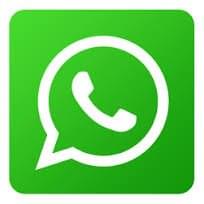 4. Interview Assistant
A fantastic tool for conducting interviews and hiring staff. This mobile app has a number of features which help interviewers organise, structure and prepare their interviews. You have full flexibility when it comes to design and you can create an unlimited number of your own questions or select any of the 250 pre-set questions for the interview if you run out of ideas.
This app will have you covered in all areas through its 'Careers' feature, which includes the ability to track multiple interviews, reviewing and post-interview rating capabilities. If that's not enough, you can create your own question templates so you can conduct your interviews much faster.
Price: Free
Available on: iOS
Skill Level: Intermediate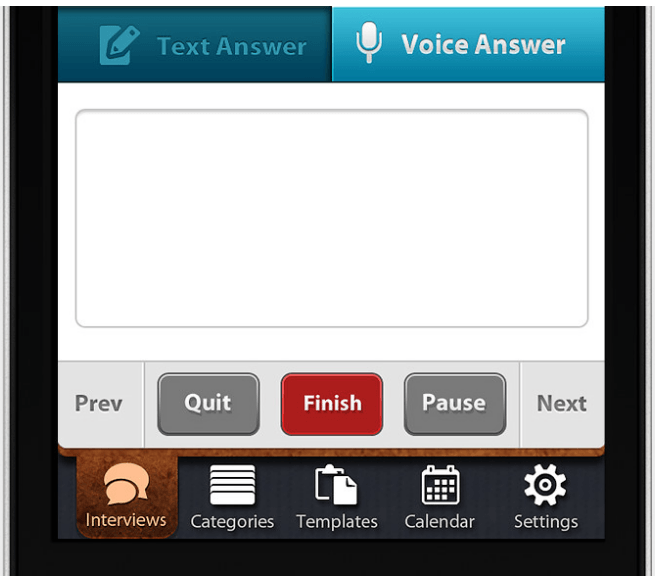 5. SmartRecruiters Mobile Hiring App
Not massively well-known, SmartRecruiters is a software company that provides a 'Talent Acquisition Platform' which helps optimise enterprises' recruitment marketing activities. Their mobile app covers the whole spectrum of the recruitment process, from managing and responding candidates on the go to approving jobs and offers. It has a very clean but effective user interface and allows users to scroll through candidates and reviews the same as they would when using social networks like LinkedIn.
This mobile app is also an effective way to collaborate with your hiring team and share ratings and feedback for specific candidates. You can use the analytics dashboard to view your job positions and understand your progress, and use this data to optimise your hiring process. We love this mobile app so much that we even use it ourselves! Note: You will need to have a paid SmartRecruiters account to download this app.
Price: Free (need to have a paid SmartRecruiters account)
Available on: iOS and Android
Skill Level: Intermediate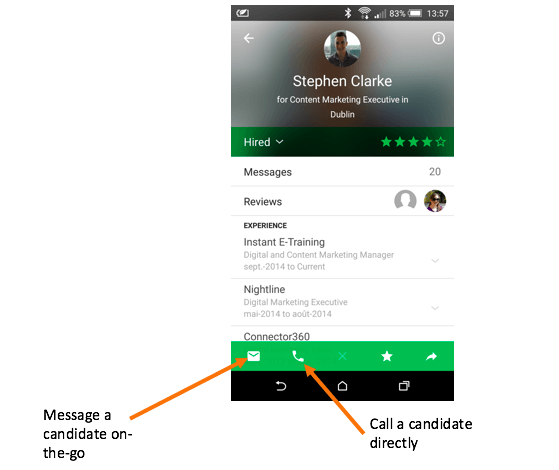 So these are our top 5 mobile apps you can use to take your recruitment activities to the next level. The mobile era has truly arrived in force and app usage is at the forefront of this growth so it is important that you stay on top of this trend as you can easily your lose competitive edge.
Have you used any of our top 5 apps before? What was your experience like with them? Are we missing out on any particular golden app for recruiters? Let us know! And be sure to check out our ultimate recruiter's guide to mobile as well!
Find out how the likes of IBM, IKEA and Siemens
drive hiring excellence with SocialTalent
---