Keep up with the latest hiring trends!
/
/

Improve Your Candidate Experience Ratings x10
Improve Your Candidate Experience Ratings x10

Welcome to SocialTalent's Live & Learn series!
Each week we gift you with a little bit of info that will help smoothen your recruitment process and expand your knowledge of your industry.
With this Live & Learn series we promise we kept it:
Short
Simple
Ready to use!
Sound good to you? Let's begin!
Map The Candidate Journey
Gerry Crispin knows exactly what it takes to achieve superb candidate experience ratings. Through his work with CareerXroads and TalentBoard, he has helped his clients work on candidate journey maps and believes they are a key feature to happy candidates.
Key Takeaways
This video has shown you the key touchpoints that you need to be aware of when creating a dynamic and sustainable candidate experience journey map.
Look at each stage of the recruitment funnel from the candidate's point of view to give you a fresh perspective
Drill down into how you interact with the candidate and develop a strategic communication plan
Develop a feedback loop. You need to be able to have a conversation with your peers and your talent leads about what changes need to be made according to the data you've collected
---
SocialTalent we have created the best recruitment training for our Recruiter Academy. Packed with insights from Recruitment experts like Johnny Campbell, John Vlastelica and Stacy Donovan-Zapar to develop your skills as a recruiter, whether you work for an agency or have a role as a corporate recruiter as part of a team of flying solo- we have the training for you!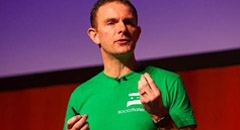 SocialTalent Recruiter Academy
A full library of videos that can help your team transform their hiring process
Find out how the likes of IBM, IKEA and Siemens
drive hiring excellence with SocialTalent
---