Keep up with the latest hiring trends!
/
/

Best Job Ads in the World EVER!
Best Job Ads in the World EVER!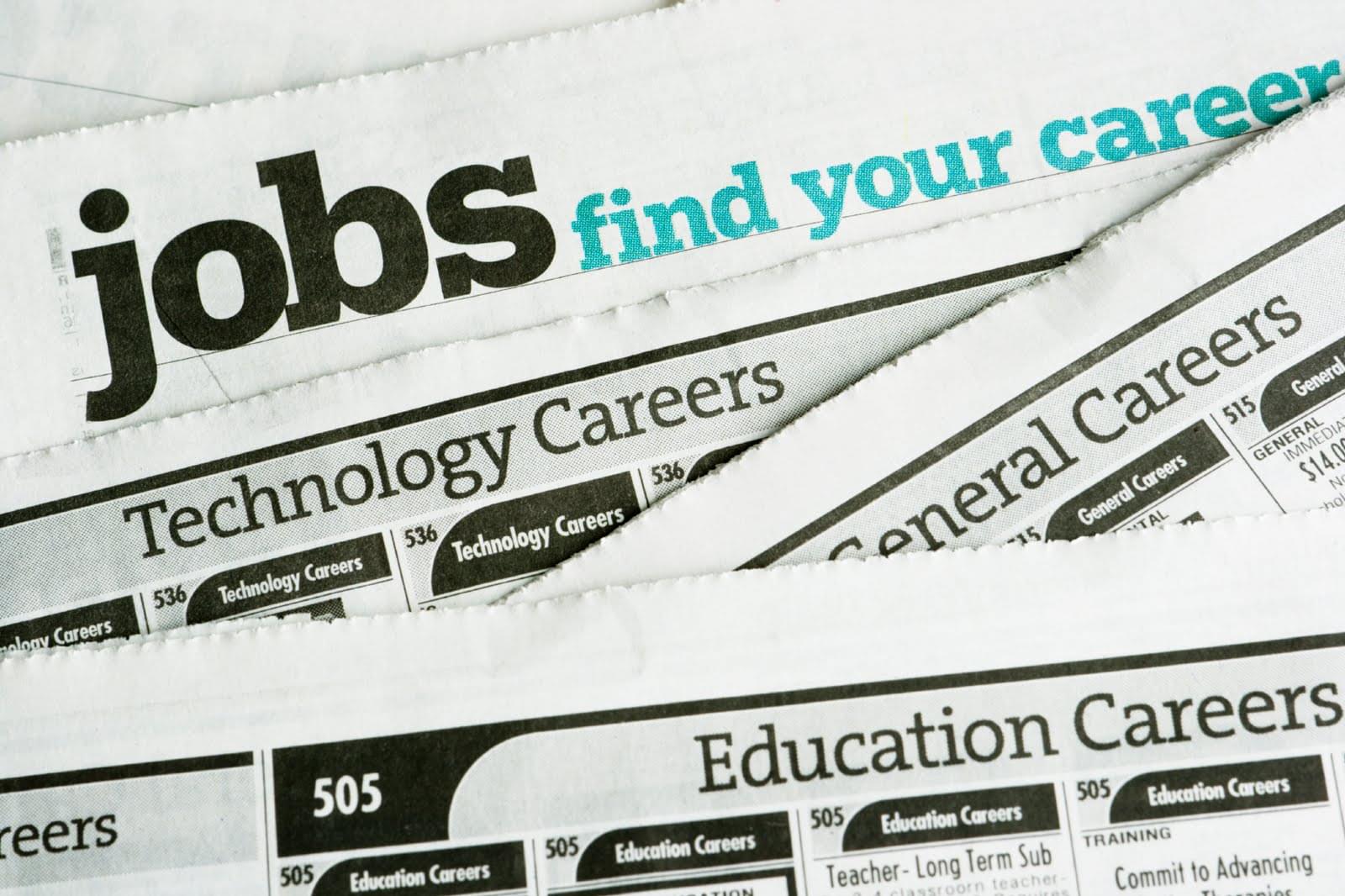 Job ads. They're a recruiter's bread and butter. To get candidates to fill a job, you need to advertise that job with a job ad. Simple as. But there's more than one way to skin a cat. You're not just looking to hire any old candidate, you're looking to entice the best candidate and the best candidate will need to be seduced by what you're offering. You need to sell them the job and the company you recruit for in one fantastically creative and well written package.
We've already provided you with The Ultimate 3 Part Guide to Job Advertising (Part 1, 2 and 3 are here), so today we're giving you a little inspiration with our selection of the Best Job Ads in the World EVER! There's no excuse for shoddy job ads after taking a gander at these beauties!
Poke London are after a Copywriter:

MI5 seek a Head of Health and Safety:
Head of Health and Safety

Salary depending on skills and experience
London based with some UK travel

We can't show you the buildings.
We can't talk about the people you'll work with.
We can't tell you much about the job.
We can't give you the exact locations.
We can't mention the kind of technology involved.

Is it still a risk worth taking?

What we can tell you is that whatever your role at MI5 you'll be contributing to protecting the UK from threats to national security including terrorism and espionage.

Like other large organisations, at MI5 we use a variety of equipment to carry out our work, except here our work is often covert and our equipment classified. That can raise interesting challenges when it comes to health and safety.

Our Health and Safety team develops systems and procedures to ensure that across the spectrum of our work we meet our health and safety responsibilities and that we conduct operational activity as safely as possible.

We currently have a vacancy for a Head of Health and Safety.

(read the rest and apply here)
Berrge Tattoo are searching for the next big thing: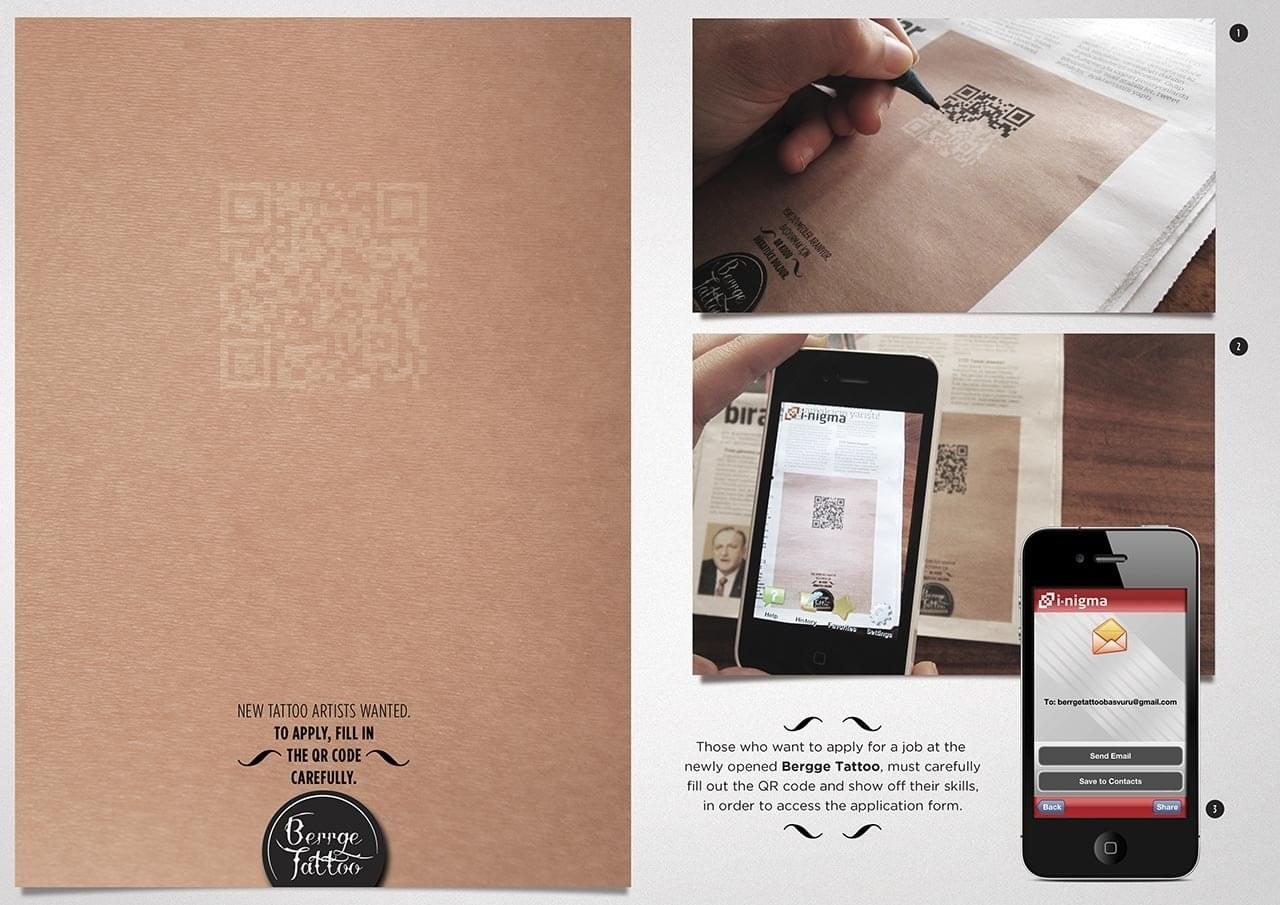 We want to add some talent to the Sarasota Herald-Tribune investigative team.

Every serious candidate should have a proven track record of conceiving, reporting and writing stellar investigative pieces that provoke change. However, our ideal candidate has also cursed out an editor, had spokespeople hang up on them in anger and threatened to resign at least once because some fool wanted to screw around with their perfect lede.

–

We do a mix of quick hit investigative work when events call for it and mini-projects that might run for a few days. But every year we like to put together a project way too ambitious for a paper our size because we dream that one day Walt Bogdanich will have to say: I can't believe the Sarasota Whatever-Tribune cost me my 20th Pulitzer. As many of you already know, those kinds of projects can be hellish, soul-sucking, doubt-inducing affairs. But if you're the type of sicko who likes holing up in a tiny, closed  office with reporters of questionable hygiene to build databases from scratch by hand-entering thousands of pages of documents to take on powerful people and institutions that wish you were dead, all for the glorious reward of having readers pick up the paper and glance at your potential prize-winning epic as they flip their way to the Jumble well, if that sounds like journalism Heaven, then you're our kind of sicko.

–

For those unaware of Florida's reputation, it's arguably the best news state in the country and not just because of the great public records laws. We have all kinds of corruption, violence and scumbaggery. The 9/11 terrorists trained here. Bush read My Pet Goat here. Our elections are colossal clusterfucks. Our new governor once ran a health care company that got hit with a record fine because of rampant Medicare fraud. We have hurricanes, wildfires, tar balls, bedbugs, diseased citrus trees and an entire town overrun by giant roaches (only one of those things is made up). And we have Disney World and beaches, so bring the whole family.

–

Send questions, or a resume/cover letter/links to clips to my email address below. If you already have your dream job, please pass this along to someone whose skills you covet. Thanks.

Matthew Doig

Sarasota Herald-Tribune
1741 Main St.
Sarasota FL, 34236
(941) 361-4903
[email protected]
Murder Burger require the right sort of staff: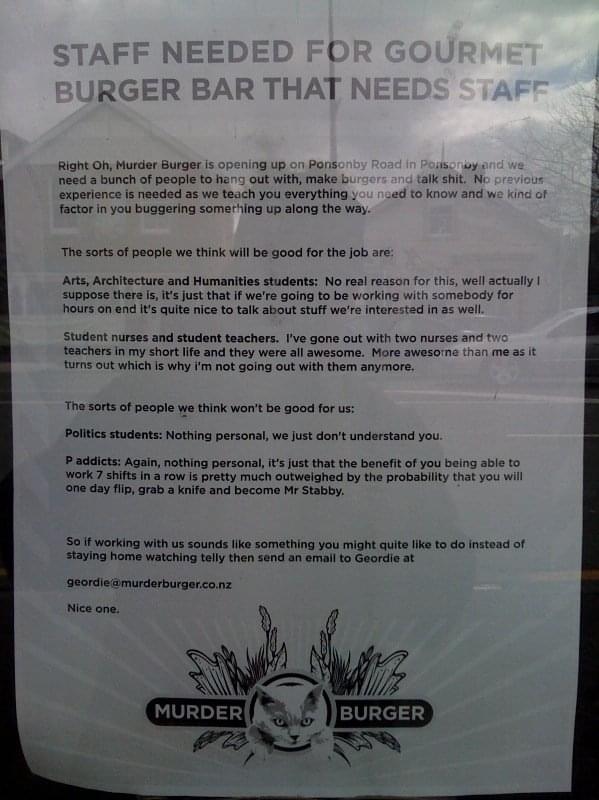 Twitter want you!:
Feeling inspired? Have you seen any great job ads recently? Pass them on and spread the love in the comments below. If you want to learn how to write effective jobs ads  and a whole host of other candidate attraction techniques, then why not check out our Black Belt Online Internet Recruitment Training course or book a place on one of our open days in London (Sept. 11th), Cork (Sept. 26th), Helsinki (Sept. 27th) or Dublin (Sept. 30th).
Find out how the likes of IBM, IKEA and Siemens
drive hiring excellence with SocialTalent
---