Keep up with the latest hiring trends!
Attitude and aptitude, we don't want a choice- we want it all
Introducing: Maren Hogan, CEO and Founder of Red Branch Media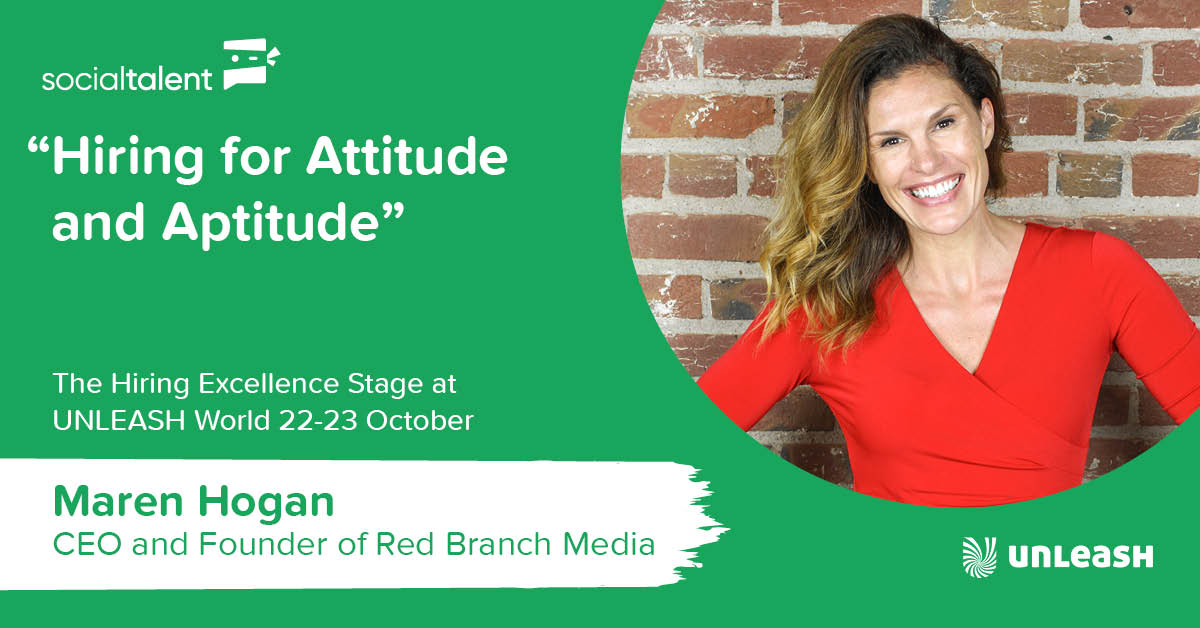 Starting her professional life as a marketing major she found herself working in a recruiting firm- a world she knew nothing about. At the same time social networks, including LinkedIn, began to set down roots and start their unprecedented growth. 

This new uptake in social media led to a craving for consuming and publishing recruiting content. Maren was the Community Manager for Recruiting Blogs which is part of the Recruiting Daily group. Her blend of marketing and new-found recruitment expertise enabled her to grow a small community of 200 to 250,000 recruiting and HR professionals.
"This helped me understand what people buy and what they feel in terms of issues and frustrations. My key questions became 'what's keeping them up at night'. From recruiters in staffing agencies to those who work in-house in a corporate environment and everything in between."
After working Head of Marketing at Brave New Talent and then becoming a partner of Recruiting Blogs and acting as their CMO she decided to become a consultant. Maren ended up starting an agency that helps companies markets specifically towards HR and recruiting tech and services. Red Branch Media works with many vendors and also helps companies define their EVP, develop a strong employer brand and create recruitment marketing strategies.
What are you speaking about at UNLEASH World?
Maren will be talking on the Hiring Excellence Stage at UNLEASH world about hiring attitude vs aptitude. This is a popular subject as more and more hiring professionals begin to question the idea of culture fit and hiring in the likeness of a workforce that already exists.
"I had been delivering talks and facilitating conversations within the hiring industry for many years before Red Branch Media. I saw the frustrations my clients were experiencing when hiring and began to apply different practices to hiring within my own company."

"What works for one company won't necessarily work for another. We can't keep assessing people in the same way. What really matters to me as a CEO, is whether or not somebody has the right attitude. We need to know how to assess personality and skill without making the process super formal and expensive."
How has it impacted Hiring Excellence in your organisation?
"I would much rather hire for attitude and teach the skills."
Maren contests that every time attitude wins out within her organisation. She recalls specific examples of high-achieving individuals who have had a negative impact on the company as a whole. "If a work environment becomes toxic then the company as a whole suffers. It doesn't matter how skilled somebody else is if they are stunting the growth of their company. I've seen it within Red Branch Media and clients I work with."
Maren reiterates that when you create a workforce that is built upon the right attitude engagement and productivity skyrocket.
3 Key takeaways you can expect from Maren's talk on The Hiring Excellence Stage
Maren's talk promises to illuminate and inspire anybody who is lucky enough to be in the audience. As she delves into the importance of hiring people with the right attitude she hopes the audience leaves having learned three major lessons:
 It's not about personality– it's about attitude
Understanding the definitions and differences of these two qualities is critical
Companies have to invest in learning and development for the entire employee lifecycle
Companies will get left behind unless they realise the importance of this. It's critical from sourcing to leadership development
Every company is different- you have to start with your own company's DNA

Copying and pasting another company's playbook is a great place to start but it won't fix everything.
See Maren Hogan speak on The Hiring Excellence Stage at UNLEASH World on Tuesday 22nd October
Talk Title: Hiring for Attitude and Aptitude: Get the Brains and the Smile
Talk Description: Attitude or aptitude? All recruiters want a candidate with the skills to perform, but not at the risk of losing a good cultural fit. Truth is, we don't want a choice – we want it all. For a long time, talent acquisition professionals have been under the impression you should focus on one over the other. Maren Hogan dives into this question to strike the balance between what we need and what we want in a candidate. At the end of this session, you will know how to approach your own assessment process with a more critical eye, building your hiring decisions around what will work best for your company.
About Maren: Maren Hogan is a seasoned marketer, writer and business builder in the HR and Recruiting industry. Founder and CEO of Red Branch Media, an agency offering marketing strategy and outsourcing and thought leadership to HR and Recruiting Technology and Services organizations internationally, Hogan is a consistent advocate of next-generation marketing techniques. She has built successful online communities, deployed brand strategies and been a thought leader in the global recruitment and talent space. You can read more of her work on Forbes, Business Insider, Entrepreneur, and on the Red Branch Media blog.
---
The Hiring Excellence Stage will welcome a blend of the most distinguished and successful pioneers of the recruitment industry. A mix of TA leaders and industry experts will share their views on the future of work, the intersection of humans and technology, their thoughts on transformative processes and of course, how we can achieve hiring excellence.
For more information visit: The Hiring Excellence Stage at UNLEASH World
Find out how the likes of IBM, IKEA and Siemens
drive hiring excellence with SocialTalent
---