Keep up with the latest hiring trends!
/
/

Building a culture of hiring
Building a culture of hiring
Great hiring is integral to business success. No matter the circumstances, people will always be the biggest asset and differentiator for any organization. Talent is the lifeblood that sustains innovation, performance and growth. So, finding (and retaining) the right teams will see organizations thrive. But, make bad hiring decisions and the foundations of success inevitably chip-away and crumble. 
Yet, according to McKinsey, 82% of Fortune 500 executives don't believe that their companies recruit highly talented people. And of the minority that do, only 7% think they can actually keep them. It's interesting that a function like hiring, which is so keenly linked to the strength of a business, is often siloed away to a small core. Traditionally seen as a the job of Talent Acquisition or HR, it represented the concerns of a few, rather than being a priority for the organization as a whole.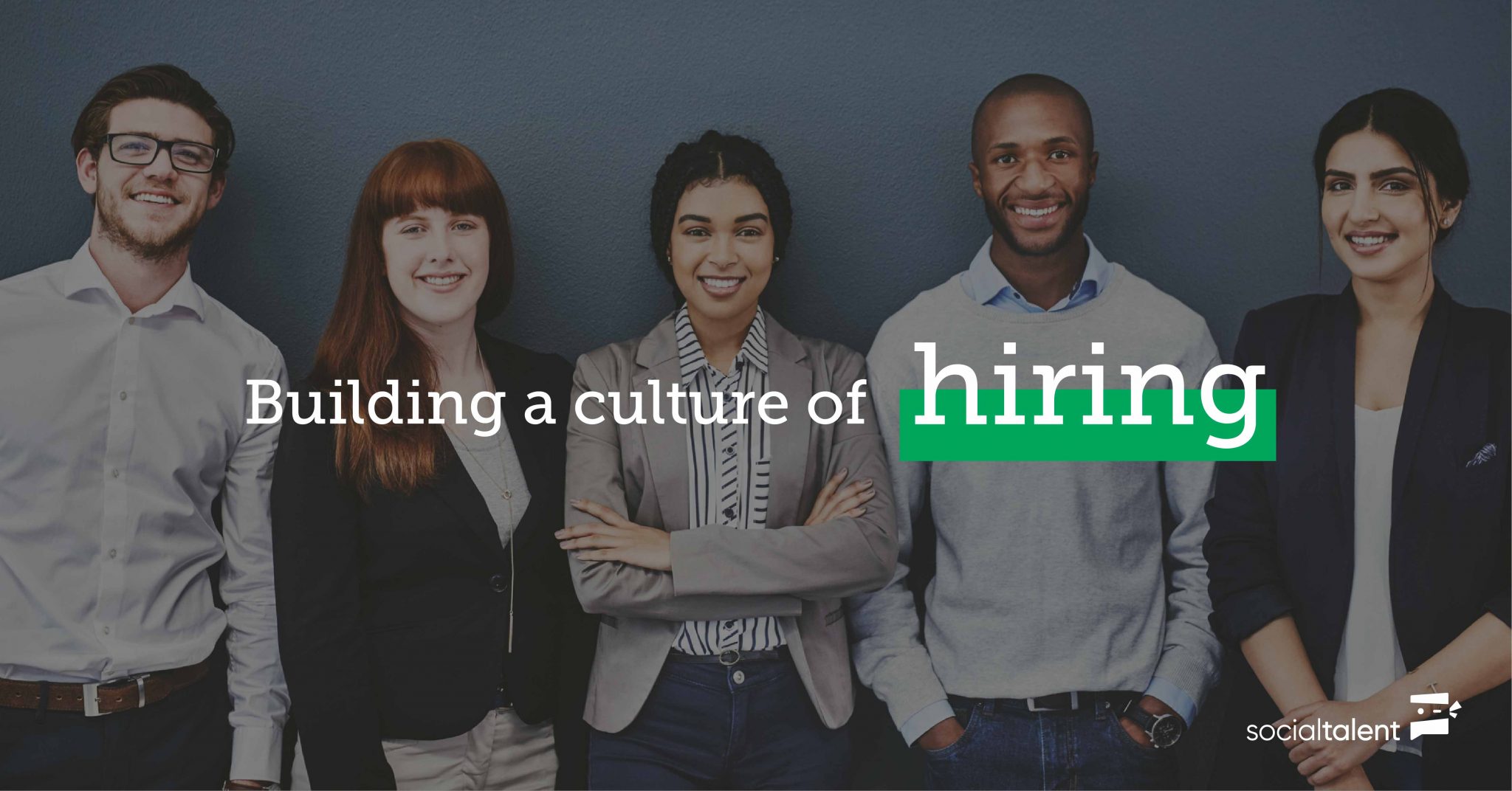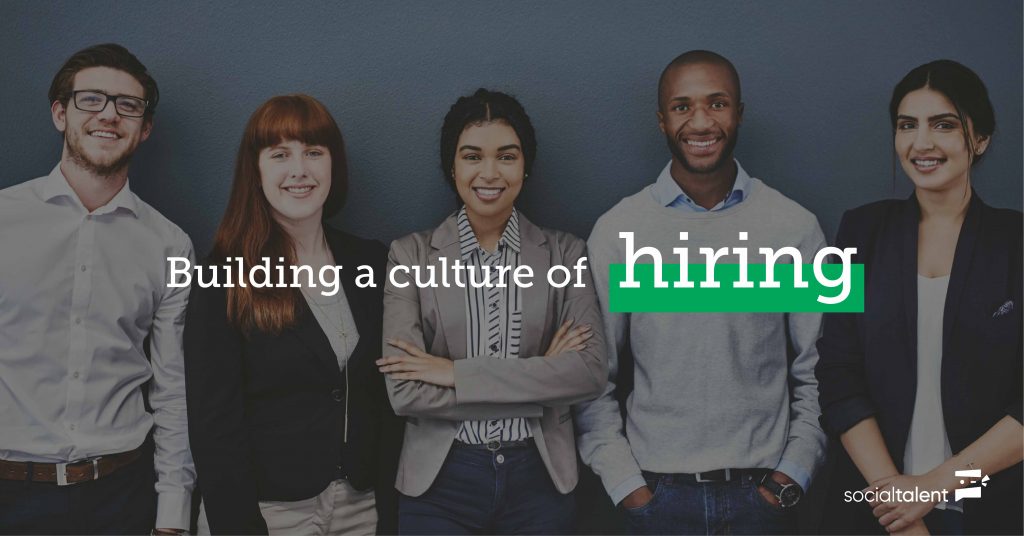 So, what is the alternative approach?
The future of recruitment should be considerably more holistic. SocialTalent's CEO and Co-Founder, Johnny Campbell, has always said that "hiring is a team sport." And he's right. It's up to everyone – from leadership and Talent Acquisition to Hiring Managers and HR – to be engaged, informed and aligned on this front. The function of hiring should permeate the DNA of an organization. It needs to become a shared goal for every stakeholder, rather than just being "someone else's" responsibility. 
Essentially, what companies need to be advocating for is the creation of a culture of hiring. 
What is a hiring culture?
In the same way that company culture embodies the values, expectations and practices of the workforce, a hiring culture refers to this same established and collective approach to how your organization recruits. Essentially, everyone in the company is vested in the process of hiring great talent, and it becomes a strategic priority. There's an understanding that whether you play a direct role in hiring or not, you are still active in your awareness that having the best talent is linked to long-term business success. Even the late Steve Jobs recognized how vital it was, stating in 1996 that he considers "the most important job of someone like [himself] is recruiting."  
Why is establishing a hiring culture important?
According to Greenhouse's Workplace Intelligence Report, 48% of business leaders feel that talent-related challenges are their most important concern. So it's well documented that hiring the best is directly linked to strategic success. And when everyone has skin in the game, you reduce your risk of making a bad hire. And we ALL know how costly that can be! But when everyone involved in the hiring journey is aligned, engaged and shares a common purpose,  this can help drive so many other benefits as well, such as:
Improving the drive for diversity and inclusion 

Reducing bias

Creating a better candidate experience 

Boosting employer brand

And ultimately, helping you hire the best candidates
By ensuring that you have buy-in and alignment on what good hiring looks like across the board, you increase your chance of finding and recruiting the right people for your team and business. And with this talent in place, you enable your company to become more agile, innovative and competitive, extremely important traits in a post-pandemic world. 
How can I learn more about hiring cultures?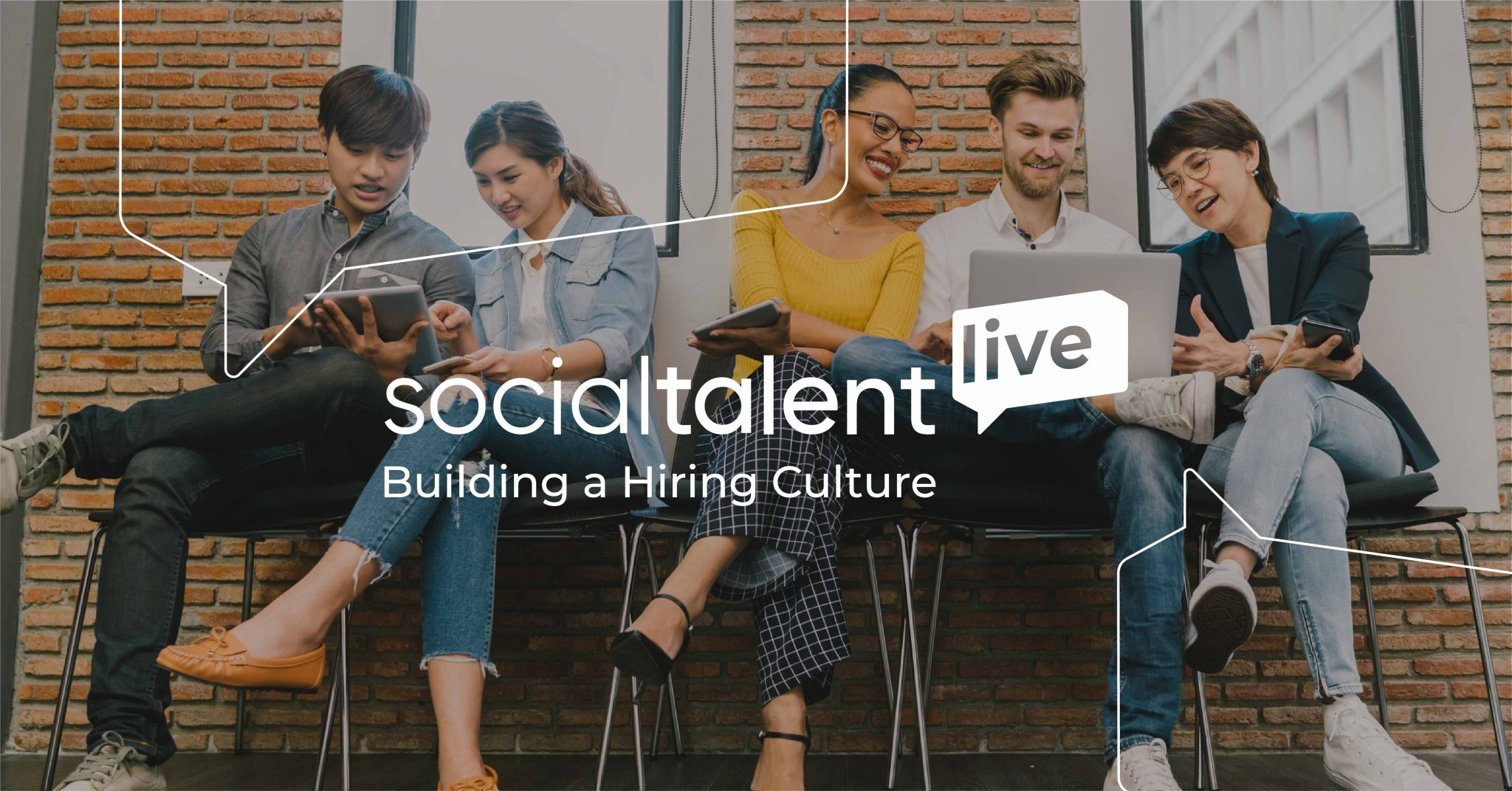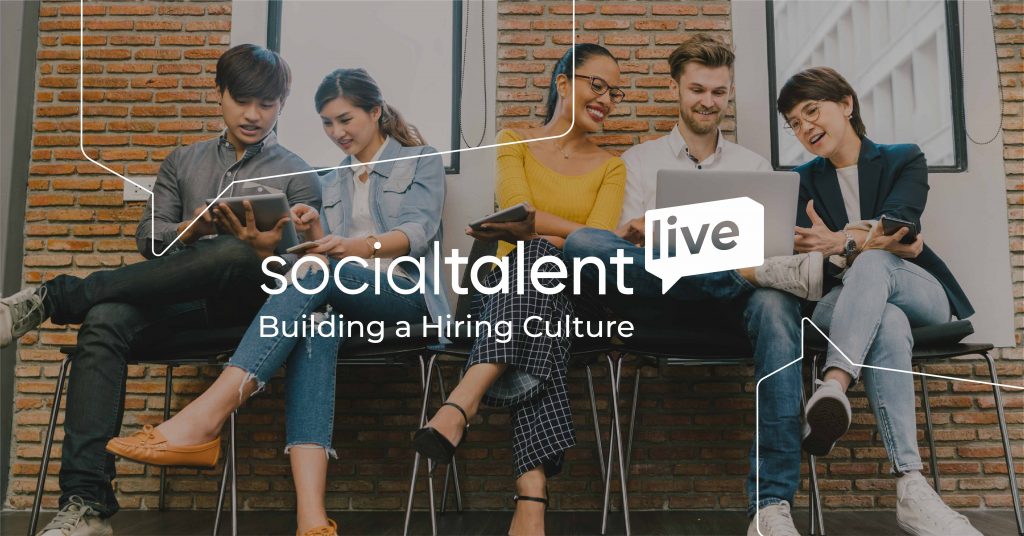 We recently hosted an online talent leadership event, SocialTalent Live: Building a hiring culture, to find out exactly how to create, operationalize and sustain a hiring culture in your own organization.
We brought together industry leaders from some of the world's best known organizations, like Cisco, Siemens and Adidas, to unpack the concept of a hiring culture in terms of its strategic importance.
Our speakers and panelists included: 
Kelly Jones,

VP Global Head of Talent Acquisition at Cisco

Aimée Meher-Homji,

VP, Global Talent Acquisition at Adidas

John Vlastelica,

Managing Director of Recruiting Toolbox
Michaela Schutt, Global VP, Head of Global TA Ecosystem at Siemens
Taryn Sheldrake, SVP of TA & People Strategy at PTC
SocialTalent is designed to help companies achieve hiring excellence. Get in contact with us today if you want to see what we can do for you. And don't forget to subscribe to our newsletter and follow us on LinkedIn.
Find out how the likes of IBM, IKEA and Siemens
drive hiring excellence with SocialTalent
---