Keep up with the latest hiring trends!
How To Recruit Successfully in a Mobile World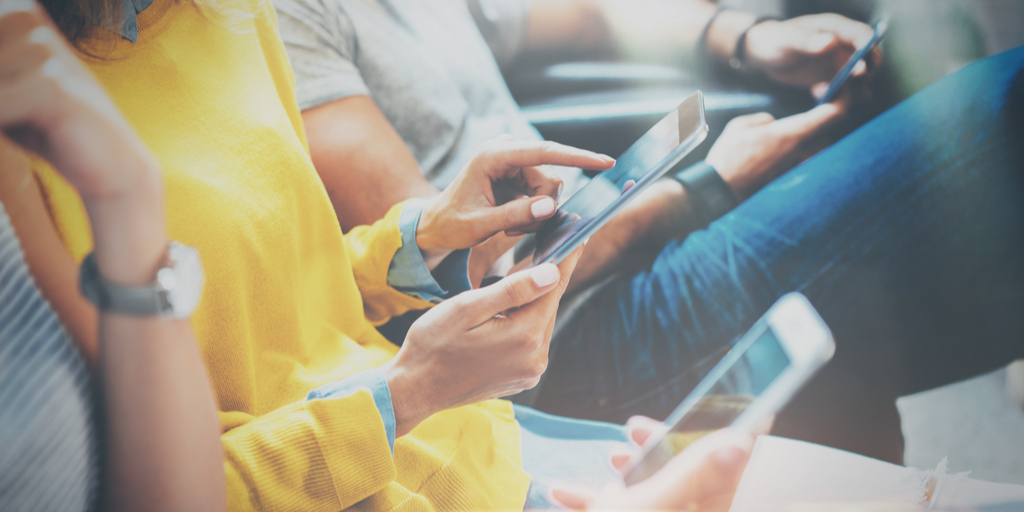 The fact that 78 per cent of job candidates apply for jobs using their mobile devices, and 55 per cent of mobile users look for jobs using their phones means you need to start to think about the do's and don'ts of mobile recruiting. Mobile recruiting is a strategy that allows you to attract, connect with, and ultimately hire qualified candidates for your organization in a way that's optimised for the mobile world we live in.
The Dos
89 per cent of those seeking employment believe that mobile activity is critical to the job hunting process. In fact, 65% of traffic to Indeed.com, a leading job offers website, comes directly from mobile.
Send Text Messages to Encourage Instant Replies
In the world of recruiting, time matters. You don't want another enterprise to hire your ideal candidate before you can even make an offer. With text messages, you get an open rate of 94 per cent or higher and a nearly instant reply.
Companies like Cataphract, an HR and Recruiting service, have used this factor to keep the applications process moving along while sensitive data is gathered from the clients. The company verifies criminal records, references, work permits, and employment history.
In Cataphract's case, the speed and convenience of text messages have helped tremendously when it comes to placing the right applicants in the right positions.
Ensure that Candidates Opt-In
It is both unprofessional and illegal to send text messages to those that have not explicitly opted to receive them. Make sure you have permission before texting any of your potential recruits.
Make Sure Your Website is Optimized for Mobile
If you want potential recruits to contact your company or business, makes sure that your website can be viewed on a variety of mobile devices. If a given website fails to load or takes longer than 3 seconds to load, it will result in 53 per cent of users abandoning the site.
Reduce image sizes, do away with redirects, and make sure you have a responsive design and layout. You should also test to make sure that all forms, buttons, and links work just as well via touchscreen as they do from a desktop.
Embrace the Power of Messaging Apps


Apps also make mobile such a powerful tool when it comes to finding the perfect candidate.
Developing a strategy using popular messaging apps like WhatsApp or Facebook Messenger should become part of your recruiting plan. A great way to explore the power of messaging apps is to look at what Resource Management Solutions Group does. When their recruiters cannot find top-notch candidates' emails and phone numbers, they turn to Messenger app to reach out. The company advises that the most important thing about using apps is to always be honest about why you are reaching out.
Companies should pay close attention to what universities are doing to recruit using WhatsApp. After all, these are the kids entering the workforce. The University of East Anglia wanted to find a way to extend communication opportunities with prospective students beyond their open day. So, they employed WhatsApp because it allowed for more in-depth communication with applicants. University researchers found that conversations on Twitter ended too quickly, and the character limit made meaningful conversations challenging. They understood conversations in WhatsApp had more substance, and they wanted to expose students to it because it was used more often in the business sector.
What they found after the event is precisely what they expected; prospective students asked more thought-provoking questions and engaged more than they did on other platforms. So, if you are looking to extend conversations and communicate on a deeper level with prospects, WhatsApp is a great tool.
One very beneficial feature of WhatsApp is video calling. If you are struggling to pin down a time for a candidate to come in and talk with you about the position, you can use WhatsApp's video calling feature. By doing so, you eliminate the potential candidate interviewing with another company.
And, you can't overlook the fact that WhatsApp is well known for its groups, and the popular messaging service's mobile recruiting community is growing quickly. In fact, about 10 job openings are posted in WhatsApp recruiting fraternities daily, and recruiters share their resources. By using WhatsApp's communities, you are gaining a few extra sets of eyes in the talent pool.
The Don'ts
With so much to take into consideration, it's easy to get swept in the excitement of trying new initiatives. However, there are some core concepts that should always be at the front of your mind.
Don't Ignore Social Media
McDonald's did a social media campaign to allow potential recruits to send 10-second Snapchats to start their application journey. Then the company would reach out to those they felt were qualified. This is a quick and easy-to-implement mobile recruiting strategy that has since caught on at Taco Bell and GrubHub.
Alternatively, many employers are accepting "one-click" applications using resume sites like Monster and LinkedIn. This makes it easy for mobile and desktop users to apply when they are away from their primary computer.
Don't Make Your Application Process Too Long
With mobile, no one wants to text-type an answer to more than five questions. If you have an online application process with, say, 35 "necessary questions," you can't expect anyone on mobile alone to apply. That's completely unrealistic.
Allow attachments and links in the process to speed things along. Gather just the basics, if possible, and consider following up with the recommended texting or phone interview process for those that are immediately qualified. If you can keep the application under 5 minutes, you're looking at as many as 365% more replies than a longer application process.
Without a doubt, mobile is a huge factor in your hunt for the right person. And, in order to make your hunt productive, you need to ensure your mobile recruiting strategy is on point. To do so, start paying attention to best practices. Use opt-ins, embrace texting and messaging apps, optimize your website for mobile, keep things short and take advantage of social media. When you follow these tips, your mobile recruiting efforts will go a long way in finding the perfect candidate.
Anastasia Sviridenko is a content marketer at TextMagic. When she's not working at a new piece of content, you can find her coming up for the ideas for her short story.
Find out how the likes of IBM, IKEA and Siemens
drive hiring excellence with SocialTalent
---