Keep up with the latest hiring trends!
Understanding the Importance of Internal Mobility, with Colleen Rush
Internal mobility consistently ranks as a top indicator of great workplaces. It's a win-win for talent development and retention. But it's also still a challenge for many companies – especially within large workforces. How can you create a culture of internal mobility when it's difficult to know the true extent of the talent within your organization?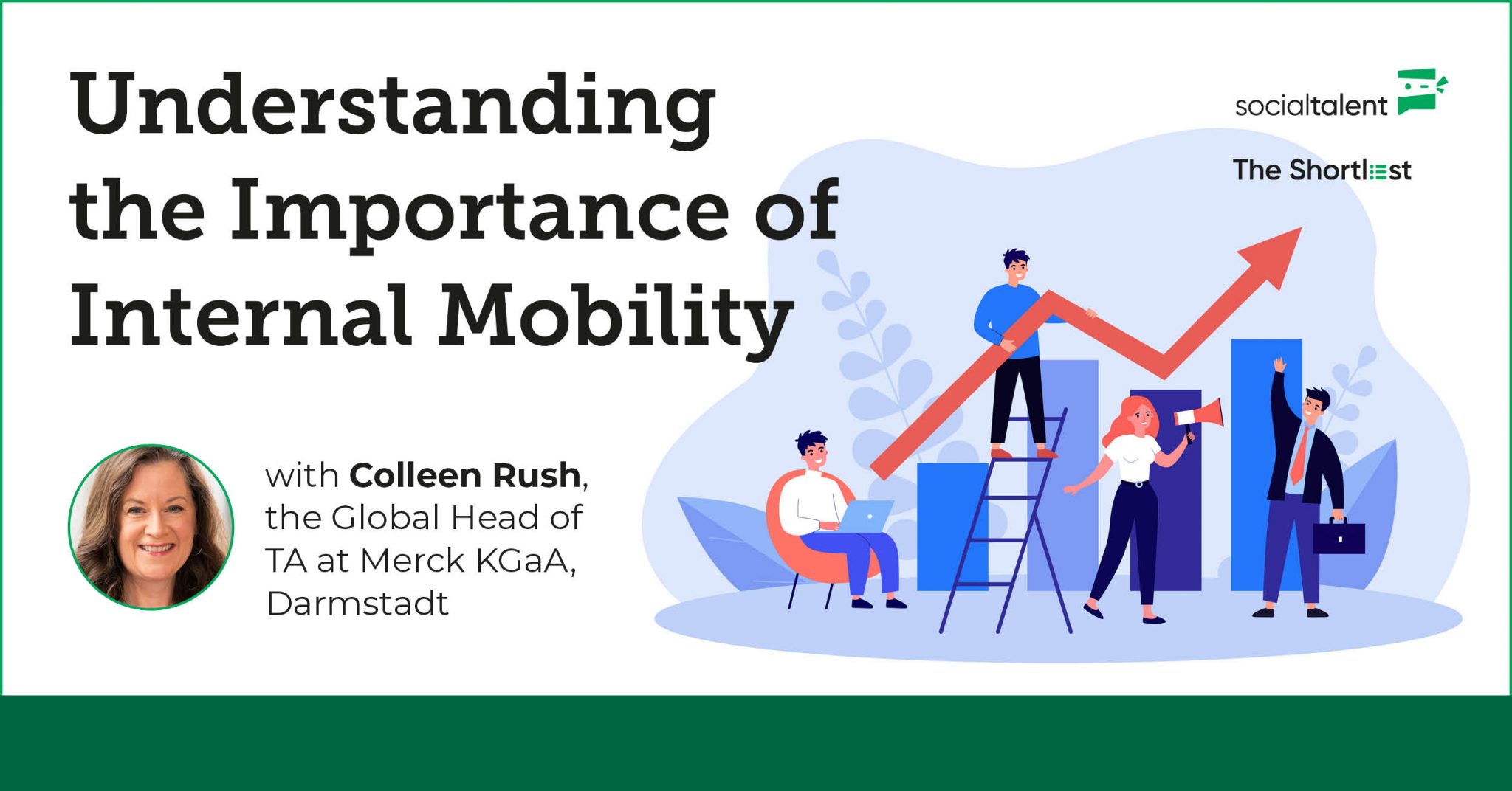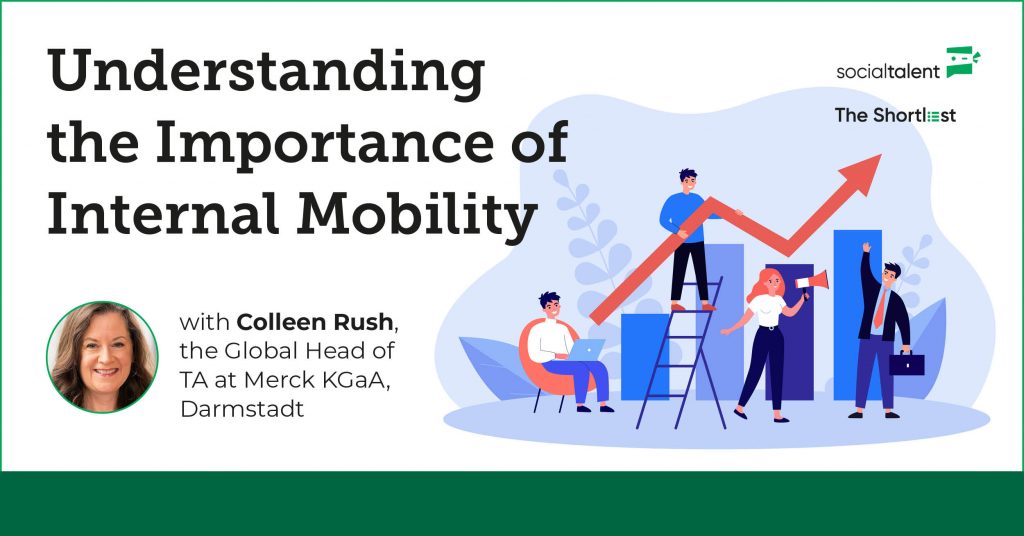 Our guest on The Shortlist this week was Colleen Rush, the Global Head of TA at Merck Group. Colleen shared her experience of working in large organizations to talk about collaboration across disciplines, building internal mobility at scale, and how learning and development can unlock new possibilities for talent and the company alike.
In this episode:
What is internal mobility and why is it important?
The role of data and processes
Internal mobility vs. external hiring
Defining talent silos
The role of leadership in development
Career coaching
Key takeaways:
1. Defining internal mobility and overcoming the obstacles. According to Colleen, internal mobility is about both the different roles an employee takes in a company, and also career development. And so much of this is dependent on the degree to which a company supports or facilitates its people to pursue career interests within the business. Some employees struggle because the possibilities could be endless and overwhelming – Colleen pointed out that in Merck last year they had 4,500 openings at one time! Skills transparency is also another barrier some companies have for internal mobility. Without this knowledge, it can be difficult to match employees to roles.
2. How do we source internal talent? If employees aren't actively looking for internal opportunities, the likelihood is that they'll miss them. Colleen believes the answer could lie in AI software that can easily match jobs to employees who fit the criteria, but this tech is still not readily available. There also needs to be a change in tone from leadership, establishing frameworks that allow TA permission to source talent internally. By not doing this, you run the risk of employees being lured away by external offers. It's about being proactive.
3. Prioritizing employee development. Internal mobility isn't just about finding new titles, it also concerns an employee's development. When team members express interest in training, for example, managers need to be able to facilitate both the learning and orchestrate real world practice. It's the only way skills can truly be developed. But this requires a level of awareness and coaching. Colleen reminds us that in order to truly grow, there needs to be an element of stretch in order to flourish.
Check out SocialTalent's dedicated Internal Mobility training to see how we can help your organization level-up its approach to talent mobility.
Our guest's final piece of advice:
"One translation of the Chinese symbol for change is the juxtaposition of threat and opportunity."
Colleen urges leaders in organizations going through transformation to help their teams to navigate this change and to focus on opportunity.
Highlights:
[2.01] Introduction
[6.46] What is internal mobility and why is it important?
[10.32] Data, processes, and agreement on skill definitions
[13.41] What are the gaps in internal mobility platforms?
[15.10] Internal vs. external hiring
[17.29] What is a talent silo?
[22.04] Talent hoarding
[23.41] Colleen's career mobility
[27.32] The role of the manager
[33.24] Career coaching
[42.47] Final piece of advice
Transcript:
Johnny Campbell:
It's mid-January 2023, the longest month. And you know what you need to get through January? You need a really great conversation about a really fantastic topic. It's going to give you a bit of motivation to get through the next two weeks as we go live today on January 18th. It is episode 127 of the Shortlist. My name is Johnny Campbell, I'm your host for today and I also the CEO and co-founder of SocialTalent. And we are going to be talking all things internal mobility. And particularly breaking down talent silos to scale internal mobility. Before I introduce our guest, I want to just give some logic as to why the topic. Internal mobility consistently ranks as a top, our number one indicator of what a great workplace looks like.
It's a win-win for talent development and retention. You get to move people on through the organization, you keep people because you keep giving them different roles. But it's also still a big challenge for many organizations, particularly those with very large workforces. How can you create a culture of internal mobility when it's difficult to even know the true extent of the talent you have today? Our guest on the short list this week is Colleen Rush, the global head of talent acquisition at Merck Group.
Colleen is going to be sharing her experience of working in large organizations, about collaboration across various disciplines, building internal mobility at scale and how in particular learning and development can unlock new possibilities for talent and the company alike. Colleen, you're very welcome to the show. I was wondering if you would do a wonderful favor of just introducing yourself, tell our audience a little bit about you and your career. How you've navigated the different roles and experiences you've used, you've had is fascinating. And then where you're joining us from today because the voice and the accent might not particularly suggest where you truly are and maybe a little bit Merck as well for those who might not be familiar with your current employer.
Colleen Rush:
Sure, happy to do so Johnny and I'm really thrilled to be able to have this conversation with you today. So my career over more years than I care to admit has taken me to GE where I started in GE Capital, not in HR. I made the co career detour into HR fairly early on and in my HR career I was focused mainly on learning and development at GE with a little bit of talent management and OD mixed in. I made a job change to Siemens in the US where my primary focus was in fact talent management with a little bit of learning and development and OD mixed in. After a while at Siemens I ended up seeking a new challenge and volunteered to go on the carve out list to be part of a joint venture between Nokia and Siemens. And that was a great experience and there I was actually the head of HR for North America for the joint venture, which was eventually bought out by Nokia.
And partway through that I made a move to Germany and that was to take a role as a global HR business partner at Nokia Siemens Networks. I did find my way later back to Siemens at their global headquarters in Munich was part of a team that set up the talent acquisition center of excellence and worked to build a global organization there. And also led talent acquisition for Siemens, a role very, very similar to the one that I now have in Merck. So I am sitting in Darmstadt, Germany, which is where Merck is based, but I am an American, grew up in the Boston, Massachusetts area. And have been living and working in Germany continuously since the middle of 2009. I want to talk just a little bit about Merck because there is a bit of confusion about the company's, plural Merck. There are two that have rights to use the name in different parts of the world.
The Merck that I'm working for, which is Merck KGaA, Darmstadt, Germany, to be confused with the American pharmaceutical company who has the rights to use the name Merck in the US and Canada and we have it everywhere else. In the US and Canada you will see us doing business as MilliporeSigma for our life sciences business. EMD Serono for our electronics business and EMD Healthcare for our healthcare business. We are a vibrant science and technology company. You will recognize us by our vibrant M and our very vibrant color palette in our brand. So it's got quite a few colors and very, very distinct. Merck actually traces its origins back to 1668. So it is a very old company, has reinvented itself many times and we currently have the end of '21 just under 63,000 employees. We operate in well over 60 countries and last year the talent acquisition ecosystem filled over 13,000 positions. So pretty good.
Johnny Campbell:
That's an impressive background. And when I look at this considering the topic, Colleen, I argue that you are a poster child for mobility, sometimes internal, sometimes external. But you have tried your hand at many a role, developed in all of the different possible areas in HR, in different businesses. In different parts of the world, in global roles, local roles, you really have pushed yourself. And I'm really keen, maybe we'll get to it later on to understand how much of that was just down to you. And much of that was down to the structures and cultures of the organizations you were in. So we might park that one and come back to it and maybe I could, if I can ask you to you firstly maybe can I give us your view on exactly what are these internal mobility? Because folks in the HR world, we know this phrase, but the average person on the street will go, "What's this?" And then sometimes mobility gets mixed up with movements in different countries. So what do you see as internal mobility, and why is it important?
Colleen Rush:
Yeah, for me, internal mobility relates to the career development or the series of roles that an internal employee takes. And of course a large company like Merck has a lot to offer because there are a lot of roles, a lot of diversity, but it also does come with its challenges. The scale can be a bit overwhelming to be honest. So internal mobility is the degree to which a company supports and or facilitates its own employees to pursue their career interests through job changes inside the company.
Johnny Campbell:
And why is that so important? Surely everyone does it, it's fine, people can move jobs internally in companies. What's the problem? Why even bother devoting 40 minutes of a conversation today to it?
Colleen Rush:
Yeah, it is definitely possible, but it is also not necessarily easy and there are a variety of obstacles for employees. One of the first challenges is the possibilities can be very confusing and even overwhelming during the craziest time of recruiting. Last year Merck had 4,500 openings at one point in time. And we are three different business units. The titling practices are not necessarily consistent, it's not clear whether skills that I have gained in one job would be transferable into a different industry. Many times they are, but it's just a bit overwhelming and many employees are not actively browsing the job postings. And while we encourage employees to set up job alerts, many of them don't, so when a suitable opening is posted, they never know about it, unfortunately.
That those are challenges that are distinct to very large organizations. The irony is the company struggles as well because it is very difficult to get full transparency to exactly who is working for you. The sad truth is companies like ours are often relying on LinkedIn to understand what skills the employees we have. And the challenge the company has is even though the talent management organization has a platform for employees to put their experience and to document their skills, it's actually typically not very user-friendly. And if it's not used or they don't know that it's being used, they don't bother to fill out the profile. And that's the biggest obstacle. There is software I think in all companies our size, but getting employees to populate those profiles with the data is actually the biggest obstacle.
Johnny Campbell:
So I want to break it into maybe at a high level the two of the challenges that exist here. One is just the data, the information, the systems, the processes, maybe the second being more the cultural aspects of it. But I had a conversation just before Christmas with a team, we're going to kind of half day session in Sweden. And we talked about just the challenge of what is a skill and having a common language to identify. You mentioned the challenge of role titling for example, which arguably is just the tip of the iceberg. When somebody says, I want somebody who is good at data science in an organization of 60, 70, 80,000 people. I imagine there's 101 definitions of what that really means. And it's one thing building a database that houses the skills which may be internal or to your point, could be just using LinkedIn. But having agreement over what one thing means in equivalent ways to another. How do you even tackle that and how important is it to tackle that kind of an issue?
Colleen Rush:
I think it is a foundational element because I think part of the solution actually is technology, particularly for large companies like ours. And some of the AI capabilities that are emerging should really help. But what I see in the market is a bit of a fragmentation along the silos. There are organizations that are designing specifically for the needs of the learning and development team. There are separate vendors that are focused on internal job markets and the talent management domain.
And then yet others that are creating platforms that meet the needs of the talent acquisition professionals, which is around sourcing candidates and matching candidates in job. None of these are using a consistent skill ontology. There is no standard. They have all had a different starting point. And so while I believe these technologies will converge and will provide a good piece of the solution, we are not there yet. And one of the things that we are talking about is buying a skill ontology and just insisting it is used consistently across the platforms. Because still today the platforms that the talent colleagues in learning and development and in talent management and talent acquisition tend to be specialized.
Johnny Campbell:
When you do a Google search of internal mobility solutions or just internal mobility. A lot of the results, I'd argue most of the results tend to be focused on something you mentioned earlier on. Which is the marketplace and marketplace software for hosting the advertisements, for these opportunities for internal talent to be able to search, just like an external job board. And oftentimes people think that's where it starts and that's where it ends. What's your experience on the strengths and positives of those kind of platforms, but also where do they stop, and what is the gap that still remains?
Colleen Rush:
Yeah, I think the challenge, the software platform just like job posting platform advertises short-term assignments, whether they're done on a sabbatical from your regular job or in addition, they're potentially part of the solution. But the problem is if employees are not actively looking and searching, just as I mentioned before for positions, they will miss them. And I think longer term the solution will be is when the AI software begins presenting both gigs, short-term assignments and even job changes to internal employees. And I do not believe we're very far away from that. There are vendors that can do that. Does it work as well as it needs to be? I think we need still to train the software a little bit.
Johnny Campbell:
When you think about the external world for a second. So let's say we talk about external mobility, hiring talent from other companies into Merck or into Siemens or Nokia or any business you've worked in. And I don't like putting you on the spot for exact numbers, what you're good on. How much of the talent you hire, let's say in Merck, those more than 10,000 hires you made last year. How much of them came from people actively searching and finding the right opportunity on a website, career site and applying, which is what we're asking internal candidates to do. So how successful is that method when you look at external hiring in your view, based on what percentage of the hires typically get made from that activity?
Colleen Rush:
Yeah, I actually have quite a wide range of experiences. I reflect back at Merck, we do need to work a good bit harder including investing many more resources and sourcing active candidates because our brand recognition is not as strong as say a Siemens. At Siemens, for positions where there was adequate talent supply, active applications were probably the biggest source. I would say we have a mix. At Merck we also have, I would describe an at a global level, a pretty healthy level of internal mobility. I think there is a general belief that it needs to be higher and the driving force behind working to make it easier for employees to realize career aspirations is actually retention. Because we believe that what's happening in many cases is our employees are being approached with an attractive next position that they haven't looked for in Merck and may or may not have found in Merck. But they weren't looking, but the talent competitor found them first.
Johnny Campbell:
So this is the, I guess the challenge of some of the softwares and processes rely on the talent to take the action, whereas in the external world we recognize not all talent will do that. And to really get a full view of the talent we're going to have to rely on multitude of methods to try and attract them in, push them towards us, all these different things. Tell me though, we've talked before about silos and particularly talent silos. What is a talent silo, and how does it impact people looking to make career moves within the company?
Colleen Rush:
Yeah, so we're going to start to get into the cultural piece as well. But for me the classic talent silos are learning and development, talent management and talent acquisition. The first two are focused primarily on the internal population. And when I think of development, I really think the 70, 20, 10, which is 70% on the job, 20% from others, mentors, coaches feedback and 10% structured learning solutions. The L&D team is focused on the structured learning solutions and a bit on the 20% coaching and mentoring. And then they try to influence the 70%. The talent management team is focused more on talent reviews, high potential identification, succession planning, performance management. They too are focused more on the internal employee. Whereas talent acquisition typically has its primary focus on the external market. Of course, it's a happy occurrence when an internal employee applies and is successful because that's usually a faster and easier fill for a recruiter.
But there are some cultural obstacles to actively sourcing passive talent inside of large organizations that I think we have to actively solve for. In terms of tone from the top, in terms of a very lightweight policy framework that get gives the recruiter's permission or talent advisors permission to source internal candidates. When are you able to approach that? Of course our talent competitors don't observe any framework. The person could be in your company for 60 days, not even past their probation period and lured away by a bigger job, a bigger job title, better compensation. So this is a struggle for internal companies and of course large companies like ours have people who are committed talent developers, but also people who are trying to keep their most talented high performers in their team.
Johnny Campbell:
I'll mention it towards the end again, but we're running a live webinar event next week on Thursday 26th looking at CHRO, CPO priorities for 2023. One of the panelists when I was doing a briefing with her, talked to me about how in her organization internal mobility is going to be the big, big focus this year. And she highlighted to me a structural challenge obviously I think is what you're alluding to there, she said, "We bonus managers based on retaining their team." And she said, "And we just realized that goes completely contrary to the idea of talent mobility across the organization." And she said, "One of the first things I got to do…" Because I was asking her about, do you have a talent marketplace? Have you looked at mapping the skills, she said, "Well I can do all that stuff, but if people are incentivized and bonused on did they retain their team, I'm in trouble.
Because I got to look at how do we create a bonus incentive, a KPI that is based on how you creating talent or distributing talent around the organization, a different type of KPI." And it seems that when you dig into it, there are a multitude of these structural challenges that you alluded to. Whether it be limitations on how long you have to be in the organization before you could apply for an internal job. Whether your boss has to be informed when you apply for a role, if she gets to know about that, if she can veto you. What the terms are for you to then take an internal role, the notice periods, there's so many rules that are built up. And they don't always live in one department. I get a sense that you need to really involve lots of teams if you're going to solve this because to your point, it isn't any one team's problem. A multitude of teams can influence it, affect it. How does one go about doing this across an organization?
Colleen Rush:
Well I think it starts with a commitment and a tone from the top and ideally from the leadership, not just from the head of HR supporting this. And something that recognizes the contribution to the organization of those talent producers and makes it a little bit more difficult to hide your talent. And in addition is, I don't think it's just about the compensation, the KPIs I think help. But the other obstacle or the other reason many of the folks that hoard their talent is that if I give up somebody who knows how to do the job and is performing well and I have to replace them with somebody who doesn't know the job, that is a lot of extra work for me. And maybe even puts my deliverables at risk. And how do we balance that despite the fact that there are some people that think that way. There are just as many others who really celebrate when somebody that has been in their team gets that big promotion. But it's a cultural aspect and is what do we reward and what do we provide adverse consequences for.
Johnny Campbell:
At the start of the conversation I said I come back to a Colleen, I asked you unfairly because I didn't give you the opportunity to answer but I'll do that now if you don't mind. How much of your mobility, your success, you're tasting different roles, careers, companies, cultural environments was down to you and your attitude and your role in mobility? And how much do you think has been down to the organizations you worked with?
Colleen Rush:
I would definitely say I have both experiences. I'm not going to name companies, but I have worked for companies that had a really strong talent culture where the leadership understood that this was part of their job as a leader in the company and that the talent was the company's asset and even had, and sometimes its individual bosses, a boss come to me and say, "You know what? You're doing a great job. I love having you and my team, but it's time for you to do something else for your own good." So I can give credit to those good manager coaches. There also have been cases where I personally decided to ruffle feathers, make a change because I knew it was what was right for me. Obviously leaving an organization doesn't often sit well with your direct manager and I have made the decision that it is what's important to me, the right move for me.
And even during organizational changes, actually the way I found my way into HR a long time ago in my early twenties was because the organization had changed the strategy and that had taken a big chunk of the job that I was doing, the part that I liked most and moved it to another location. What I was left with was the part of the job that frankly didn't interest me and just said, "Okay, this is the change, it doesn't align with my personal professional aspirations." So I actually initiated a project doing something that did interest me, which I didn't do for the purpose of getting a job offer. But it's what created an opportunity for me to make an internal move in this case and move to a learning and development role. Actually doing technical instructional design, what was then called computer based training long time ago.
And I also think that you and I were talking about a mutual acquaintance, the former head of talent acquisition at Siemens. I think every day you build your resume in the quality of the work you do. Your resume or your CV is not the piece of paper, it is the reputation you build. And I have to say that many of the job changes came unexpected where I get a phone call, maybe internal poaching, sometimes internal, not always internal, sometimes external. Where I have worked with somebody in the past who has said, "I'm tackling a new challenge, and would you be interested in joining me on this journey?" And Johnny me well enough that I'm motivated by new interesting work with big juicy challenges.
Johnny Campbell:
And it's funny because you talk about the role of the manager, I'm a firm believer that the manager's role is oversized in this and you can have great processes, great systems in the business. But to your point, a bad manager can really negatively affect that, and a great manager can positively affect it. I want to just reference, and I didn't mention to you in advance, so sorry to throw it on you. But Russ Laraway, who used to be the chief people officer of Qualtrics. And worked in Twitter and Google before that, wrote a book last two years ago I think called, When They Win, You Win: Being a Great Manager Is Simpler Than You Think. And he's been involved in the radical candor movement as well and was involved in writing some of those books in the early days as well. And his thesis is that, and he references the IDP, the individual development plan process.
And he kind of poo-poos it by saying, "It's just not enough." He said, "Great managers should be really invested in their team's career desires and need to go deep into…" And he advocates a process for several stages of meetings where you really get to know what drives the person, what they want to do in the career. And he states that it is one of the top priorities of each manager to try and help their team fulfill those career opportunities and not just from an internal point of view. And that attitude is one of the attributes that makes a really great leader, one of the four attributes he advocates. How would you respond to that kind of an approach?
Colleen Rush:
I love it. I try to practice it personally, but I do understand the demands on people in a leadership position and it's a big commitment and it has to come from your convictions. And I think it sounds terrific, but I think if I'm honest, transforming many, many leaders, I think it's a tough sell.
Johnny Campbell:
Well let me give you an example of maybe where there has been a lot of ground made, whether you agree with the process or not, and I'm still not sure either is different. But you look at Netflix and Reed Hastings. So the Netflix culture as recently told, not just by Reed but Erin Meyer in her book, No Rules, Rules that she wrote with Reed as a kind of companion or if you'd like a balance, checks and balance to his opinion or version of the world. He talks about the Netflix culture and he talks about their pay approach to pay comp. And they try to pay high market rate and they have a culture where they encourage employees to talk to external recruiters. Like managers are told, "You need to go tell your employees to go talk to external recruiters, go find out what the other roles are, go find out what they're paying."
One is to make sure that Netflix is paying good high market rate because that's the best benchmarking is to see well what could they get. And it's a culture where, and again this is where the top-down approach to really say, "We want you to ask your employees to go out to market, talk to recruiters, you need recruiters in your network to understand what's being paid. So we can keep on our toes." And it's a high bar, but a pressurized bar, that pressure then on those managers is, "Okay, I really need to make sure everyone is out there looking at what's available, looking at what's being paid. I'm confident that my boss or the top boss has my back if they're a high performer." It's a very high bar and it's a unique case and I'm not sure I agree with it. But to me, it was a good example of how you have a practice that is very much driven by the top, like overemphasized from the top down. And only because it's done that way, does it actually apparently work?
Colleen Rush:
Yeah, what I like about what you're saying is that it encourages the employee to educate themselves on their market value. And I actually think that is important for internal mobility. As I look at the reaction sometimes that employees have when they are not the chosen candidate for a position, I'm sometimes struck by the naivete. And I actually think part of talent acquisition's contribution here is to support our talent management colleagues in providing better career coaching. Particularly in those moments that matter, which is when you've applied for position and not gotten it. So I do think having a good understanding of the market is good for the employees, sets realistic expectations, but I also think it builds confidence. And that they can have a plan B, should there be a transformation in the organization that does not align with their values or their interests. Not every company has the financial strength to pay top market. If every company took that approach, then the costs would be unreasonable. I can understand the advantage for Netflix, I do think it will be difficult to match.
Johnny Campbell:
So I totally agree with that. I think maybe one company can have that approach and maybe it's in a particular industry where the margins, et cetera, which may be the case. But I love in the principle of it, and you mentioned it there beautifully, that career coaching idea. And I think this is what is lacking because you can have all the processes to advertise. You can have a great awareness of the careers, you can have email alerts, AI saying, "Hey Colleen, these six job idea for you because we've matched the ontology of your skills to these different roles, et cetera."
But there's still a gap where that person is not going to get that job if don't, one, have some of the fundamental skills or let's expand that, know how to fill the skills gaps that they may have. They may be close but not quite there and there could be gaps they could fill, be preemptive. But then there's also just the, what do they want out of their career, what are they suitable for? And how do I build a network? Because if you go to an external recruiter for advice, they'll go, "Hey Colleen, you should give these courses and I'll be able to recommend you for these roles. And you need to build your LinkedIn network and you need to reach out to folks in your network to make sure they're aware of what you're doing."
All these things will be given to you as an external career coach to go for an external move. But there seems to be a lack of internal focus on this, which is what does the employee need to do to make herself more visible, more suitable. And then how do you teach them to get the job? Because at the end of the day, the manager that you're going to meet could fill this role from an external candidate. In most organizations, they do tend to go with the external candidate over the internal. So what works, there's loads of different teams that will play a role. But what are some of the fundamentals you think that are important to building the, call it the softer skills, the culture around this?
Colleen Rush:
Yeah, I think the culture is an awareness among employees and managers about the different elements that need to be in place in the development path. Because you mentioned, for example, go take a course, maybe get a certification. But think about the hiring manager who's interviewing candidates and the evidence that they've got the skill is that they completed a course, actually the hiring manager is looking for evidence that they completed the course and then had some real world practice. And so, one, concrete practice that I think is important.
And this now crosses over into the learning and development, is when an employee expresses interest in participating in a training program, at that moment, the employee and the manager need to brainstorm, how can we orchestrate real world practice? Either simultaneous to or shortly after so that you have the chance to actually develop the skill because the course usually won't do it. And I think this is coaching and awareness that we can share with our employees really greater insight, and how do you bridge those gaps? I think they are not that well understood by many employees. And I think the other element is this element of stretch, which I must say GE was really good at, this notion that you need to put people in a position that they, in a position means assignment or it could be a gig, it could be actually a job where they don't have a hundred percent.
There is the necessity to learn. And that is an environment where most people do learn. And I have observed that many large organizations are more conservative about the kind of stretch assignments they will put an employee in compared to small scrappier organizations that don't have as much choice. And so I think that combination of whenever there is an investment in training, say you've got an employee who wants to be Scrum certified. And you have to find a project that is suitable, maybe not the most challenging project to get them to experience in the real world what it is to be a Scrum master.
Johnny Campbell:
I love that. I think going back to the technology, that's where perhaps there's a real role to play for a marketplace, not necessarily for your next job, although that's important, but for a 20% role, a project, a three-month assignment. And we talked about our common friend Gonzalo, who's now in Google. And in Google they call these bungees, six to nine month assignments where you go out and you bungee back into the role or department. But it's very deliberate. In Amazon, they have a group that manage what they call the ships, apprenticeships, returnships, mentorships, all the different ships that exist to create those opportunities. And I think it can be done on scale, but to your point, it has to be quite deliberate. I do love that idea saying, let's not just see as a learning opportunity to bridge the gap in skills from an education or informational point of view.
Let's look at it about how can we combine this, but perhaps one of those mentoring opportunities ships, which just thinking about it also can go a long way to solving the networking challenge. Because if you help a project team in an area you've no experience with, whilst you're doing formal education that's supported internally. You're also going to get to know the team, get to know the head of department and other departments. So that when six months down the line, a new role comes up and you've got your certificate, you've had a three-month part-time assignment on the project, they also know you. So I think it can go a long way to connecting those dots you mentioned.
Colleen Rush:
This is a page out of the talent management playbook that I think we in talent acquisition can support and participate in. And that is creating those forums for visibility. We go to external job fairs, why not do a lot more internal job fairs where it is about creating visibility to the opportunities that are in the organization. And then in the reverse to the employees or to the managers about what talent is out there that could be theirs.
Johnny Campbell:
We had Jan Ackerman on the show about two years ago who were sharing in Oracle, well he's the global head TA in Oracle and sharing how he, with a bunch of colleagues in various different HR organizations in Oracle. Because it wasn't obviously just TA that created this process. They launched their first one just before the pandemic actually in Brazil where they had an internal career fair, had it in the head office in São Paulo. They invited all the different teams to come meet other teams and see what opportunities they had. They even had things like a LinkedIn profile clinic where they'd do up your LinkedIn profile.
And you could go to interview training classes on how to ace an interview as a candidate. All these different things you'd expect at an external career fair, except it was just for internal employees. And they've since scaled it globally. And I agree with you, that kind of initiative, that kind of thinking, again culturally says we're absolutely upfront ability. But then tactically focuses on the things people need to actually make and move to gain the skills. To gain insight as to what's going on, to build those networks as well, which is pretty important.
Colleen Rush:
We had a very recent success. There was a relatively small business that was divested from our US operations and 58 employees would be impacted. They were not going with the divestiture. So there was an outplacement firm engaged, but the TA team worked very closely with the firm, met with the individual employees, created a resume book. Each of the impacted employees that did want to look for an internal move had a TA advisor who made sure that if they applied for a position, they got what I call preferential consideration, not treatment. But somebody took the time to really look at it and really think about are these transferrable skills? And we actually, in the US these things, you don't have a lot of time to find people internal positions, but we placed 40% of the people. We were amazed because these were moves often across our three businesses and the three businesses are very technical and very different, and I hire very different profiles, but we were thrilled and so we plan to keep doing that.
Johnny Campbell:
I love that, it shows it's a combination of technology, processes, culture and just people getting stuff done and making it happen to make this work. Colleen, we could chat. I definitely could chat for several more hours on the topic because it is a complex topic. But one so worth diving into getting right in every organization, but we've managed a whole lot of your time and as you say, you're, you're trying to close a lot of roles every year, juggle a lot of projects in Merck, in a very fast growing business as well.
I'm really interested to have you back if you wouldn't mind for another topic another time. But for now, thank you so much for your time. I do want to ask you to perhaps share one more insight with us, and that is, if you wouldn't mind, we ask every guest on the show to share with us one extra piece of advice that they have either garnered from their career, their own experience. Or perhaps it was passed on from somebody else they worked with over the years or met or were inspired by. But one last piece of advice to leave our audience here today on the Shortlist, Colleen.
Colleen Rush:
I thought a little bit about this because your team alerted me that you had asked this and I know that many, many of our organizations are going through transformation. And I think that we as leaders have an obligation to help our teams navigate those changes. And of course the challenging part is that we may also be impacted by the change. So the piece of advice I have, one thing I discovered a while back is the one translation of the Chinese symbol for change is the juxtaposition of threat and opportunity.
And I think as leaders, it's our obligation to make up our mind to focus on the opportunity piece because we need to be focused on the positive for ourselves and our people. And have a mindset that is optimistic, confident and calm. Because if we are nervous, our teams will feel that nervousness. In the end and for me personally, where that ability to put my mind in that space comes from is the fact that I know if at the other side of the change, the situation doesn't meet my values or my professional interests any longer, I am in control of my own career. And can make a move if I decide the place is no longer the right one for me.
Johnny Campbell:
I love that, the attitude is so, so important. The greatest development opportunities and learnings, and I'm sure you'd attest to this from your career as well, come from the most challenging times, from the greatest challenges and struggles. They don't come from easy work. They don't come from an average ordinary day. You need these and you can see a threat as that or you can see it as, "Hey, I'm going to look back in six months and by God I'll have learned something." So let's get into this. And you're right, the attitude is so important. Colleen, your attitude's been amazing. Thank you so much. It's been a pleasure having this conversation with you. As I said, I'd love to have you back in the show again, so we'll hit you for the many topics I know you are so passionate about. And again an update on how things are going in Merck as well and how you're progressing with your own internal mobility efforts. But until then, thank you so much for joining us. I wish you a great day. Take care.
Colleen Rush:
Johnny. The pleasure's been mine. Thank you.
Johnny Campbell:
And thank you for joining us today and listening. Hope you really enjoyed that conversation and garner some great insights from Colleen and her experience in Merck, Siemens, Nokia, and all those businesses over the years in how to do mobility well, to consider the right aspects that drive great internal mobility. And also appreciate how difficult and complex it can be, but it is a noble cause worth pursuing.
The Shortlist is a workplace, thought-leader focused talkshow that broadcasts every Wednesday. You can watch it live on LinkedIn and on YouTube. Or, why not stream as a podcast after?
Find out how the likes of IBM, IKEA and Siemens
drive hiring excellence with SocialTalent
---