Keep up with the latest hiring trends!
/
/

Interviewer training: SocialTalent content release, with John Vlastelica
Interviewer training: SocialTalent content release, with John Vlastelica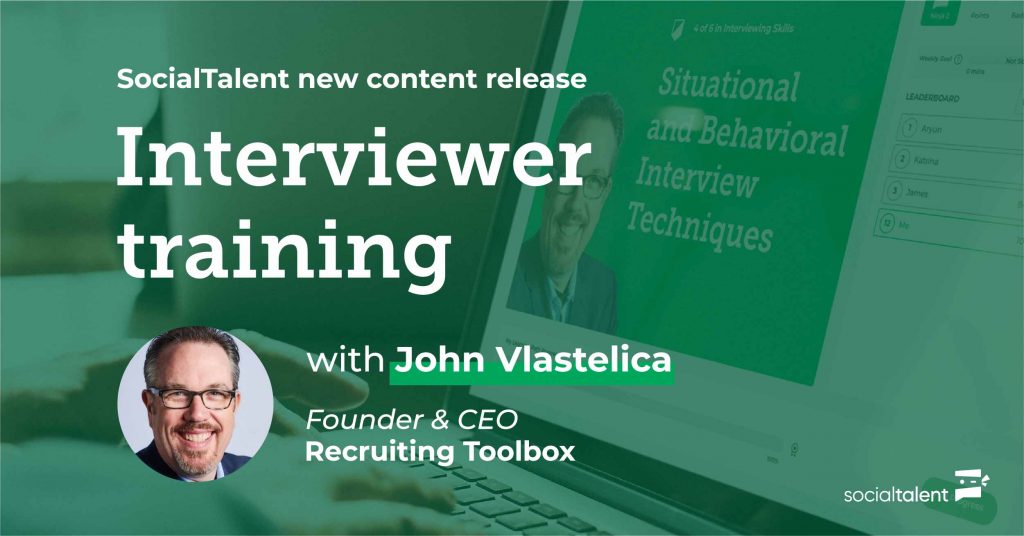 How we hire impacts who we hire, and to get the right 'who' we must be great at the 'how'. As a hiring manager or interviewer, it's vital to have the skills needed to conduct interviews that are tailored for success. And it's especially crucial in this current labor market as top talent itself is also demanding engaged and effective interviewing processes.
We at SocialTalent know the absolute importance of interviewer training. Optimizing this system directly impacts the speed, quality, and diversity of the hires you will make. So we're delighted that this month's content release will see a complete refresh of our interviewer training!
Hiring expert (and platform favorite!) John Vlastelica, has updated and re-filmed his insightful courses, bringing amazing new examples, stories and exercises for interviewers in a post-Covid world. This comprehensive release sees thirteen missions being dropped that cover everything from interviewing essentials, to the creation of well-defined hiring criteria, and the importance of DEI.
Check out a sneak preview of John's freshly updated content:
What interviewing skills will I learn?
Drawing from over 20 years of recruiting experience, John Vlastelica is widely recognized as the world's leading expert on all things interviewing. His engaging content is specifically designed to create tangible results and covers the entire spectrum of the interview. Throughout these updated missions you will learn about:
The foundations of great interviewing

How to evaluate competencies and soft skills

The importance of culture add

Uncovering potential

Creating the perfect hiring criteria

Planning for success

How to avoid bias and champion diversity

Creating a great interviewing process

Ensuring positive candidate experience

How to make a great hiring decision
And so much more! John Vlastelica has created a definitive collection of interviewer training and it's LIVE right now on the SocialTalent e-learning platform! There's even a quick, power refresher mission for those who need last-minute tactic reminders, and content that is solely dedicated to the implementation and roll-out of the training. Every base is covered!
John was also a recent guest on The Shortlist, our weekly talent-focused talkshow. Hear him chat with SocialTalent CEO, Johnny Campbell, about why TA leaders need to start thinking more holistically about their role:
Do you want to find out how SocialTalent can help take your interviewing process to the next level?
Get in-touch with us today
. Or why not sign-up for a
free trial
and check out our world-class content firsthand. 
Find out how the likes of IBM, IKEA and Siemens
drive hiring excellence with SocialTalent
---