Keep up with the latest hiring trends!
/
/

Licensed RPO recruiter and sourcer: SocialTalent content release
Licensed RPO recruiter and sourcer: SocialTalent content release
Every month, SocialTalent refreshes its library of content, adding brand new missions to keep users on the pulse when it comes to all things recruiting and talent management. In this particular drop, we're specifically looking at the roles of RPO recruiters and sourcers.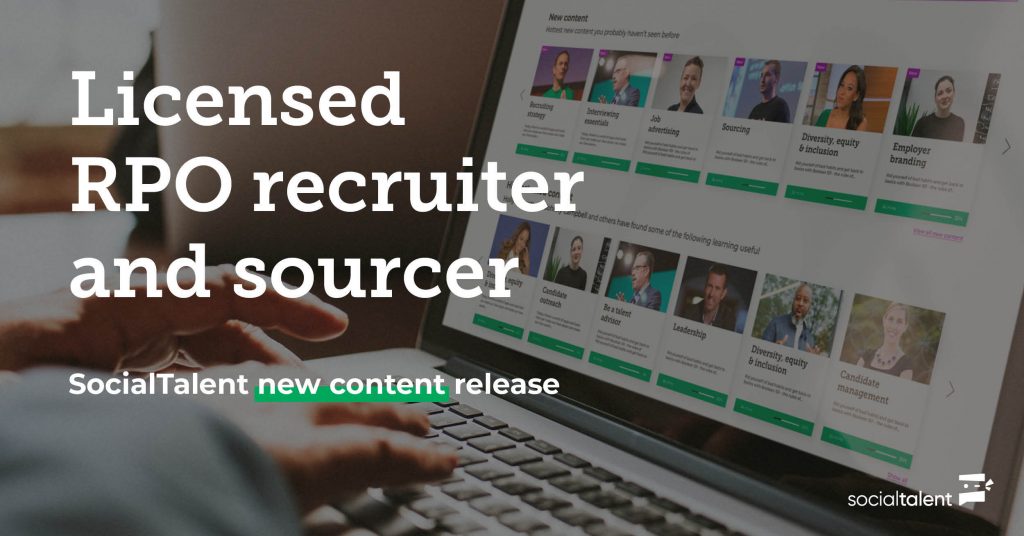 RPO, or Recruitment Process Outsourcing, allows an organization to turn the responsibility of finding, screening and assessing new talent over to a third party provider. Given how tight the labor market is at the moment, it can be quite the task to find the right clients. And this is where RPO can make a difference. But learning how to excel in this industry takes a slightly different approach to regular recruiting or sourcing positions.
Join Irene Villar, our Team Lead of Instructional Design, and SocialTalent's Director of Content, Holly Fawcett, on our e-learning platform for four brand new missions that will cover:
Your role as an RPO recruiter

How RPO assignments are measured

Managing client relationships

Your role as an RPO sourcer
These foundational courses will give new and fledgling RPO recruiters and sourcers the insights and practical skills needed to flourish.
What will I learn?
Holly and Irene will give you all the information you need to set yourself up for success as either a recruiter or sourcer working within an RPO. Learn about how the industry operates today, the structures of an RPO business, and the characteristics that will ensure you make a big impact.
We also dive into the key skills needed to manage your client relationships, moving away from something that is purely transactional, to building a strong partnership that elevates your contribution as a recruiter. And finally, Holly details key metrics an RPO recruiter needs to measure in order to track inputs and be successful. 
Check out a sneak preview of these missions below:
All four of these missions are now LIVE on the SocialTalent platform. Login in and add them to your learning path today!
Looking to improve your
recruiting
and
sourcing
skills? The SocialTalent e-learning platform is here to help. We have an entire catalogue of content that can be tailored for your specific needs.
Get in-touch with us today
.
Find out how the likes of IBM, IKEA and Siemens
drive hiring excellence with SocialTalent
---