Keep up with the latest hiring trends!
/
/

10 LinkedIn Groups Every Recruiter Should Join
10 LinkedIn Groups Every Recruiter Should Join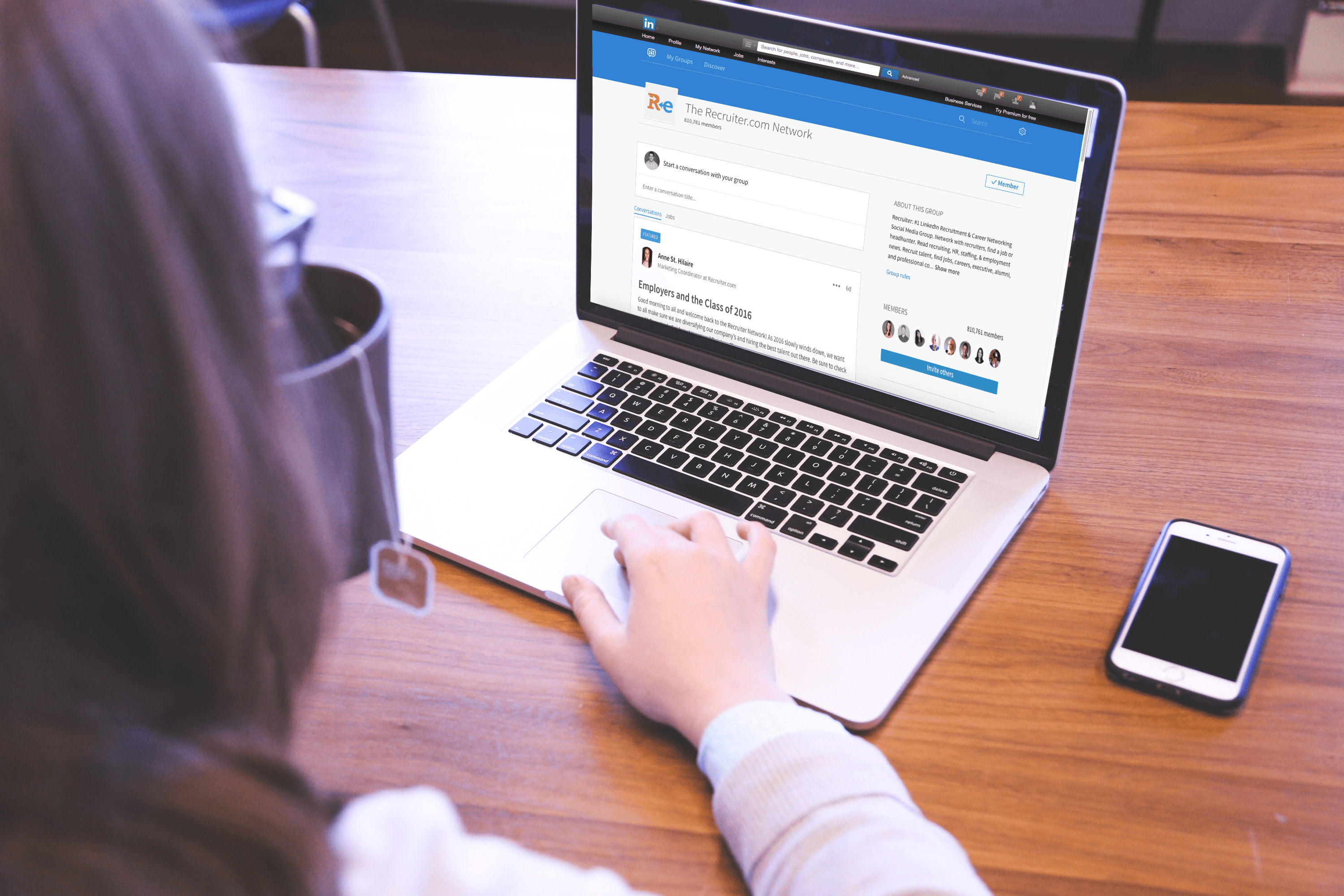 LinkedIn is the most used social network platform by recruiters as it's a goldmine for sourcing hard-to-find talent. However, one of the features not used enough by recruiters are LinkedIn Groups! Not only can LinkedIn Groups provide large pools of talent, they also provide a place for professionals in the same industry (like recruiters!) to share content, have discussions, make meaningful connections and establish themselves as thought leaders.
There are thousands of LinkedIn Groups dedicated to HR and recruitment so we decided to research the best ones and list our top 10. Whether it's for finding candidates or for readily accessible high-quality content covering all things recruitment, you will definitely find value in joining all of these LinkedIn Groups:
Managed by: HR Certification Institute (HRCI) and Human Resources Professionals Association (HRPA)
Number of members: 295,000
Good for: Networking, building contacts, sharing knowledge and learning from each other's experiences
HR Professionals bill themselves as the biggest moderated LinkedIn Group of HR Professionals and has a healthy growth rate of 100+ new members a day. Access to the group is restricted only to HR Professionals, who are spread across different functions, industries and experience levels which makes for rich interaction. Topics discussed include employee engagement, HR ROI and improving corporate culture. There is also a 'Jobs' section where recruiters post HR-specific openings and candidates can also make themselves available for hire.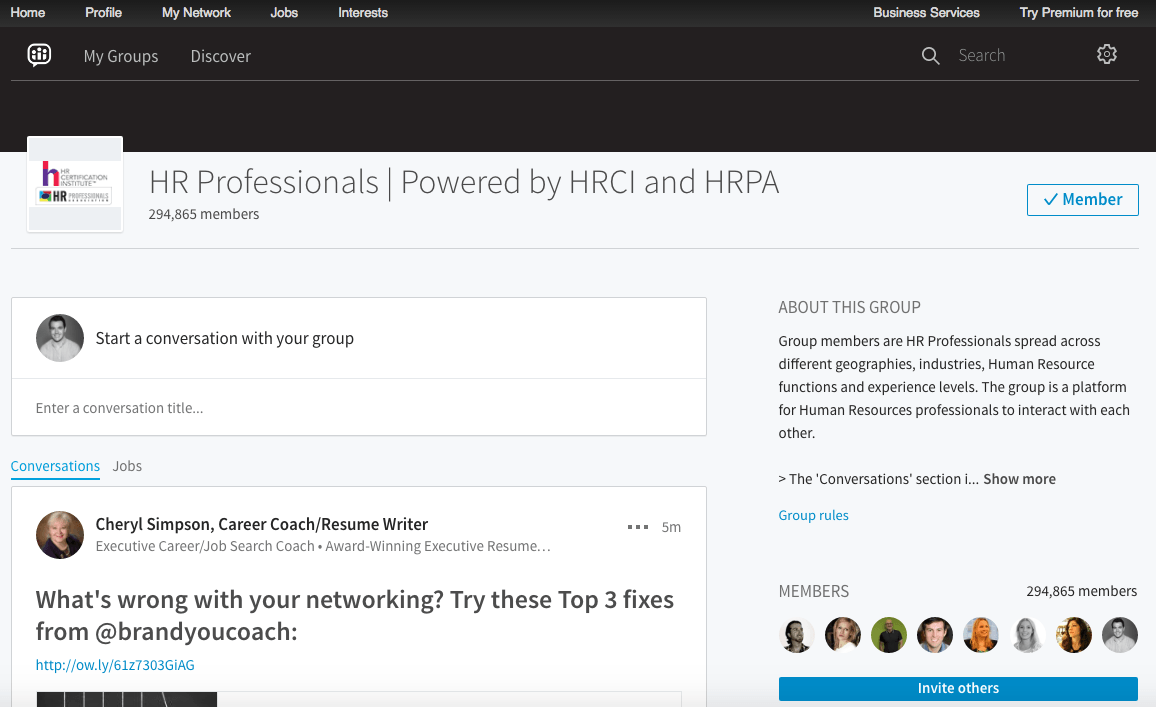 Managed by: Recruit2
Number of members: 195,000
Good for: Expanding your network, sharing ideas, following the latest employment news and sharing leads
Another large group with plenty of discussion, Recruitment Consultants and Staffing Professionals is geared towards corporate staffing professionals, agency recruiters, headhunters/executive searchers, career coaches, talent managers, HR Directors, employer branding experts… you name it! Because the group admins do a good job of regulating content and removing any spam, there is always plenty of discussions around relevant topics like recruiting using video, building your personal brand and applicant tracking systems.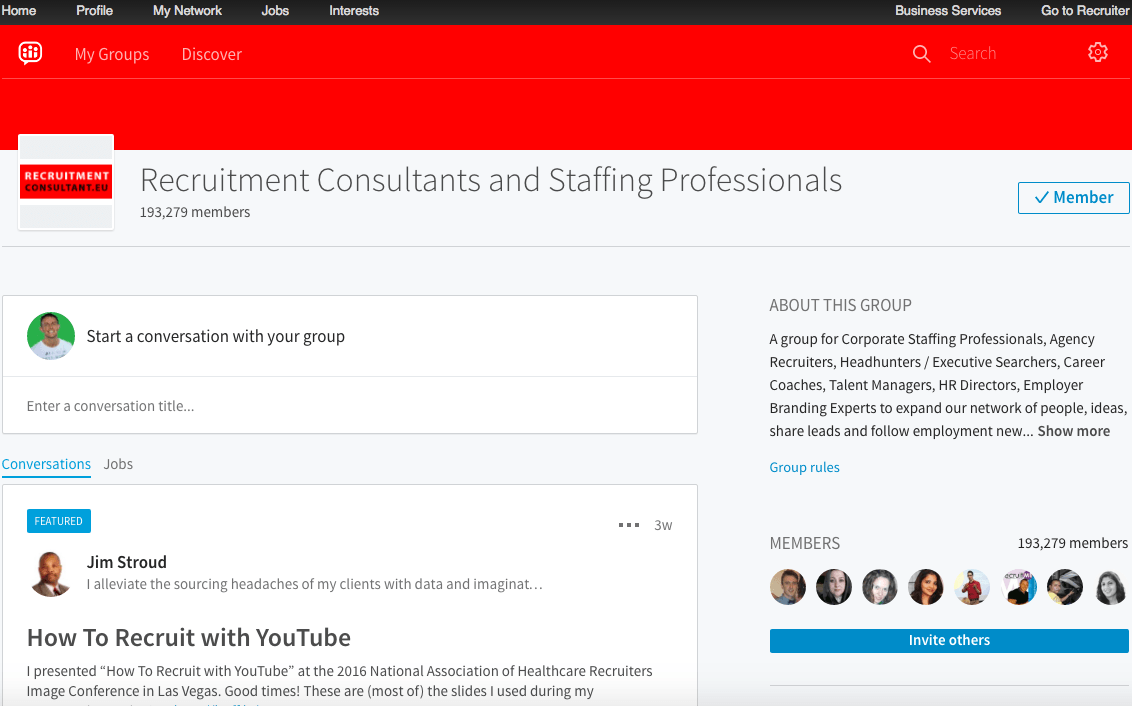 Managed by: eCareer
Number of members: 32,100
Good for: Valuable recruitment-related content; staying on top of the latest recruitment trends and hot topics within the industry
Not as interactive as much as the other LinkedIn Groups on this list but at 32,100 members, Openreq still has a strong following that generates quality content. Openreq's goal is to keep the group as 'pure' as possible – only approving requests to join from recruiters and staffing and HR professionals – to ensure members have a good experience. Join the group if you would like to learn more about career life cycles, employer branding and optimising candidate experience.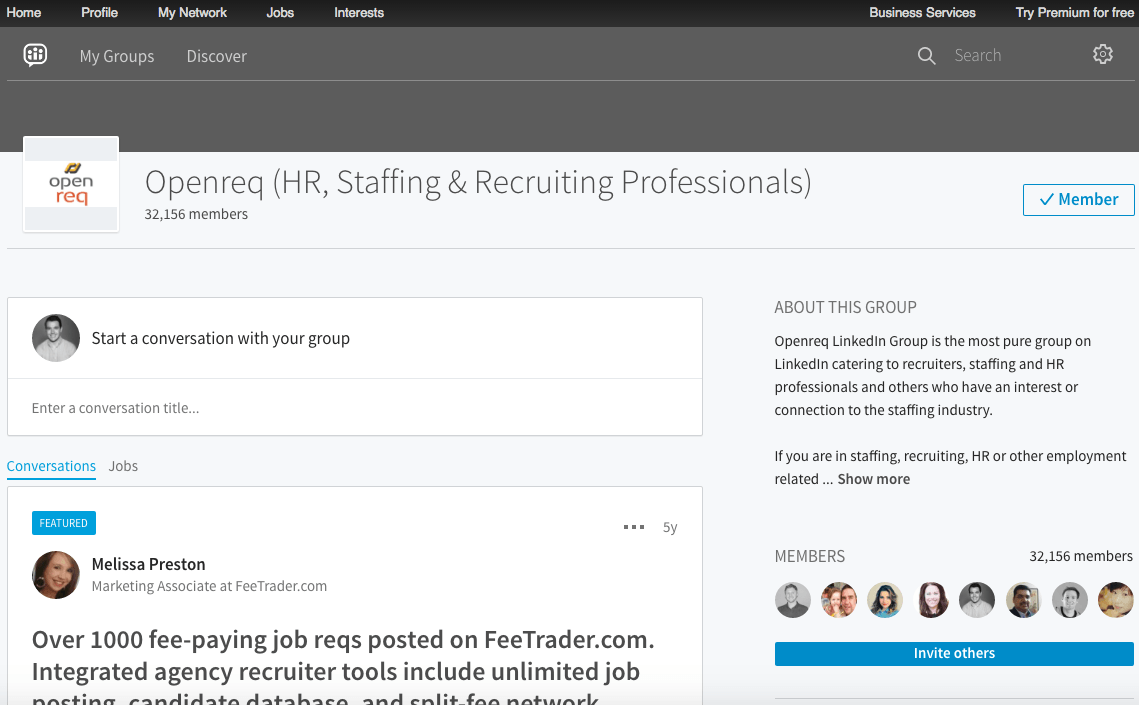 Managed by: UK Recruiter
Number of members: 8,100
Good for: Event updates in the UK and quality discussion in both agency and in-house sectors
A perfect resource for recruitment-related content for practitioners based in the UK. The group is managed by UK Recruiter who are the best information and networking site for the UK recruitment industry. Being a member of this group, you will see the latest announcements on upcoming learning and networking events organised by UK Recruiter such as 'Recruiters Network – Directors Only Events', 'Recruitment Technology & Social Media Conference' and 'UK Recruiter Roundup Event'. Again, emphasis is placed on quality of content posted, with product and service promotion forbidden.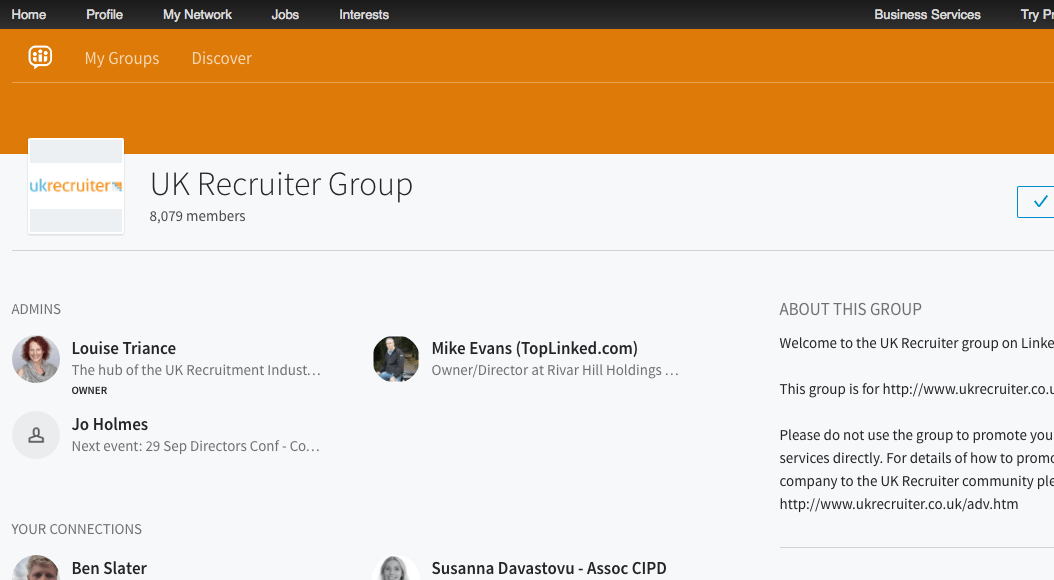 Managed by: Subhashish Paul, Social Media Geo Strategy & Analytics Lead at IBM
Number of members: 525,000
Good for: Finding certain recruitment topics not discussed anywhere else
An absolute monster of a group, The Recruitment Network's goal is to "bring together people dedicated to open networking with innovation, integrity and transparency". Because of the size of the group, spam posts do manage to slip through sometimes but overall, this is a great group to join as it has content on virtually every HR or recruitment-related topic.
You can determine the quality of a LinkedIn Group by scanning through the member list and this group is filled with industry experts like Greg Savage, David Macciocca and our very own Johnny Campbell. It's a group for information more so than anything else, as there is not a lot of interaction among discussions topics.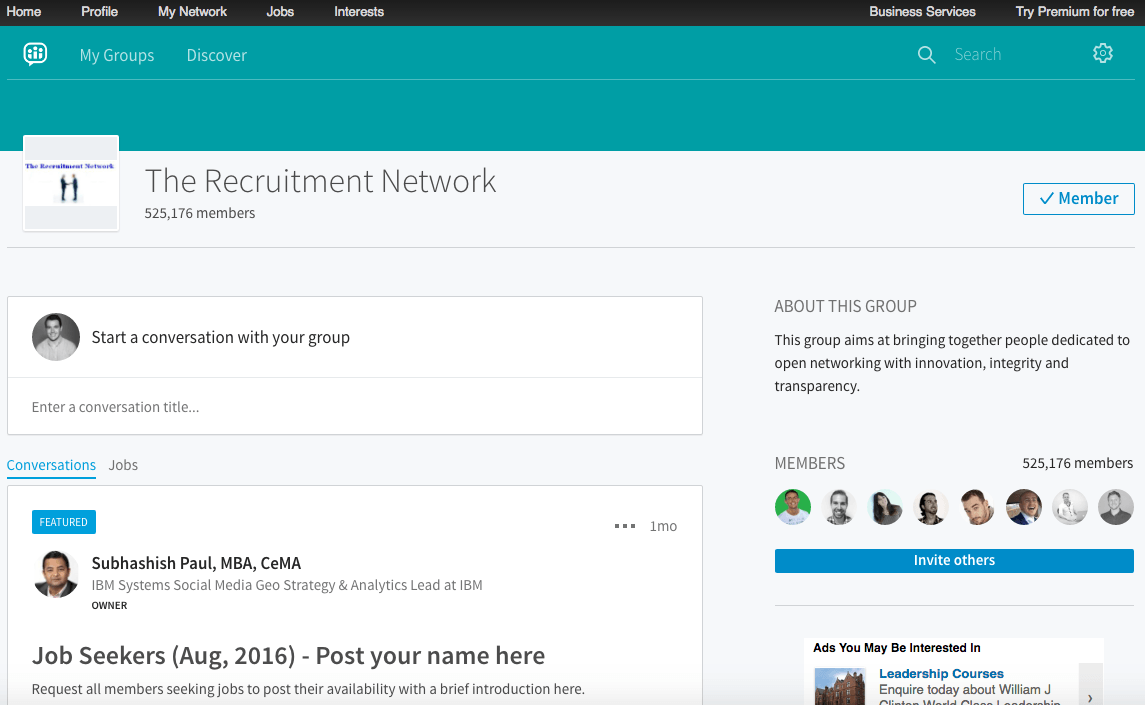 Managed by: Recruiter.com
Number of members: 810,100
Good for: Networking with recruiters, latest HR/recruitment news, best practices, engaging with talent and posting jobs
This LinkedIn Group is one of the top groups for recruiters and unsurprisingly so with a member count of over 800,000, the largest on this list. Similar to The Recruitment Network because of its sheer size and presence of industry experts, The Recruiter.com Network boasts discussion around a variety of different topics from members around the globe, mainly in North America, Europe and India.
Although it's a useful avenue to promote open positions, you will be competing with plenty of other folks to get seen. As well as that, if your focus is to read and engage with professional content only, you will have to really dig for it as there are plenty of job seekers posting.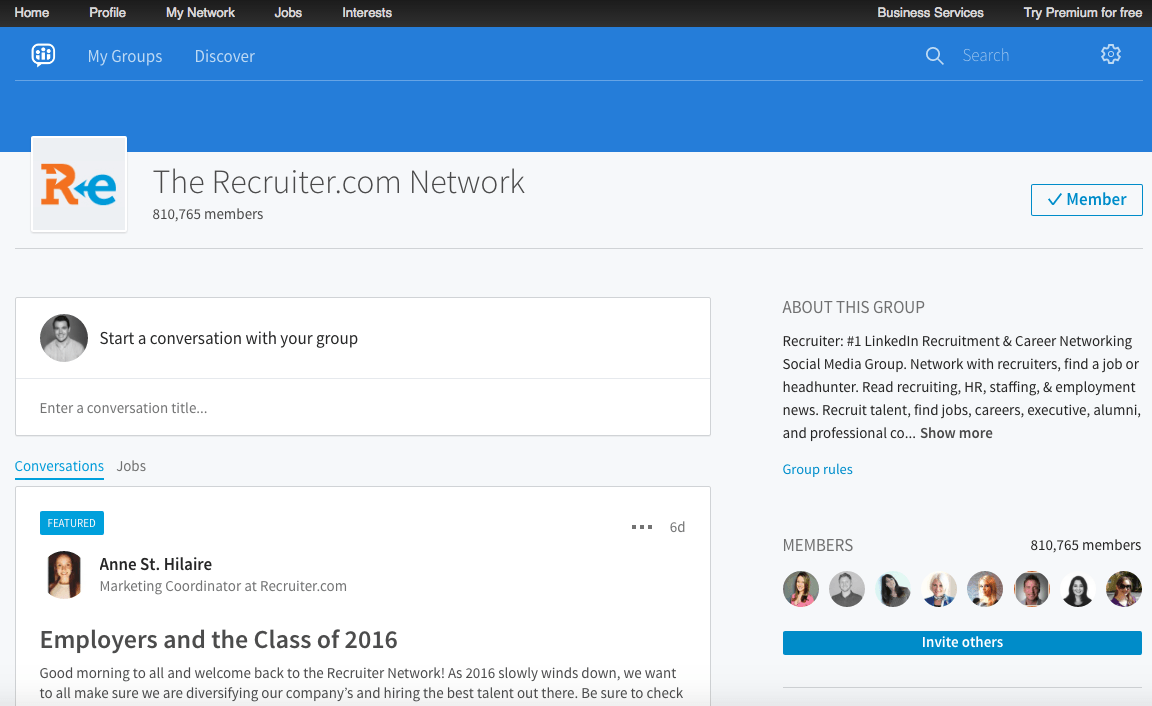 Managed by: Metzano
Number of members: 976,800
Good for: Readily accessing quality content, networking, discussion of hot topics
Linked:HR is the largest Human Resources group on LinkedIn, geared towards HR professionals who are involved in anything from compensation and benefits, talent management, diversity, employment law and employee relations. This is a great group where common concerns and problems related to HR are discussed. There is very much a exclusive feel to this group as very few people are allowed to post new discussions.
Looking closely at the rules, Linked:HR state that the group is not for job seekers, which means this recruitment group isn't totally dominated by job postings and job seekers as is the case with some other groups. If you are not a member of this group already, the admins strive to review member requesters daily but sometimes, it may take up to three days to review.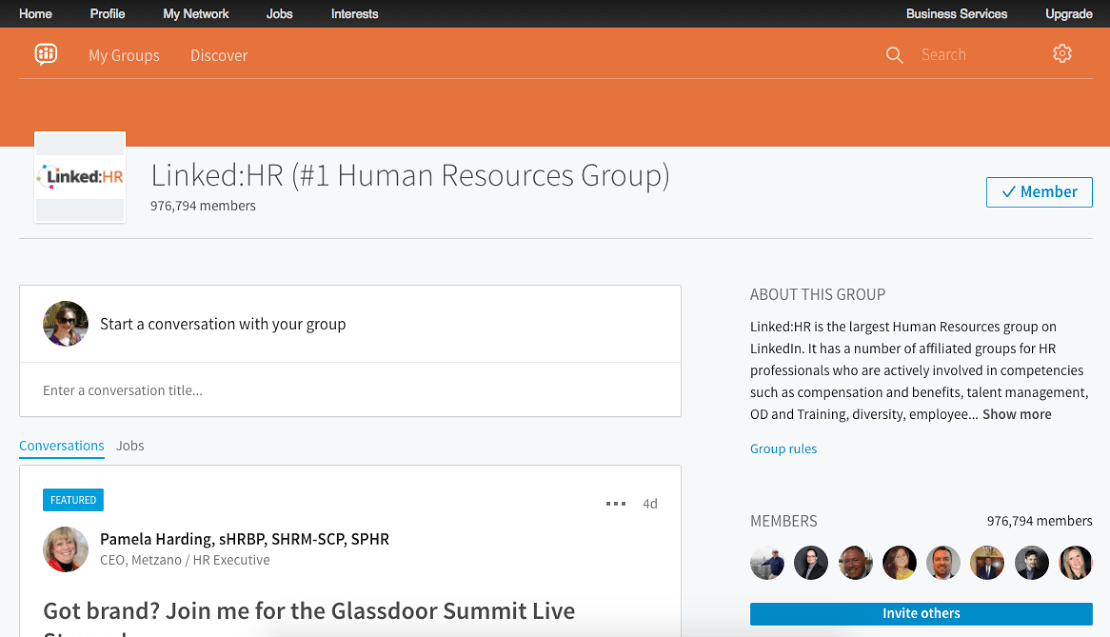 Managed by: Mohsin Mohd, Regional Sales Manager at Future Learning
Number of members: 232,300 
Good for: Getting access to tips and tricks from other IT-specific recruiters
If you are a tech recruiter, you will know that IT roles are notoriously difficult to fill. Whether it's being unable to find the quality candidates or competing with other tech recruiters, you will definitely have your work cut out! This is where IT Recruiters come in, a group that caters to all technical/IT recruiters and aims at bringing them together to discuss the latest happenings, share experiences and learnings and assist each other to find jobs in IT, Software and Hardware Domains.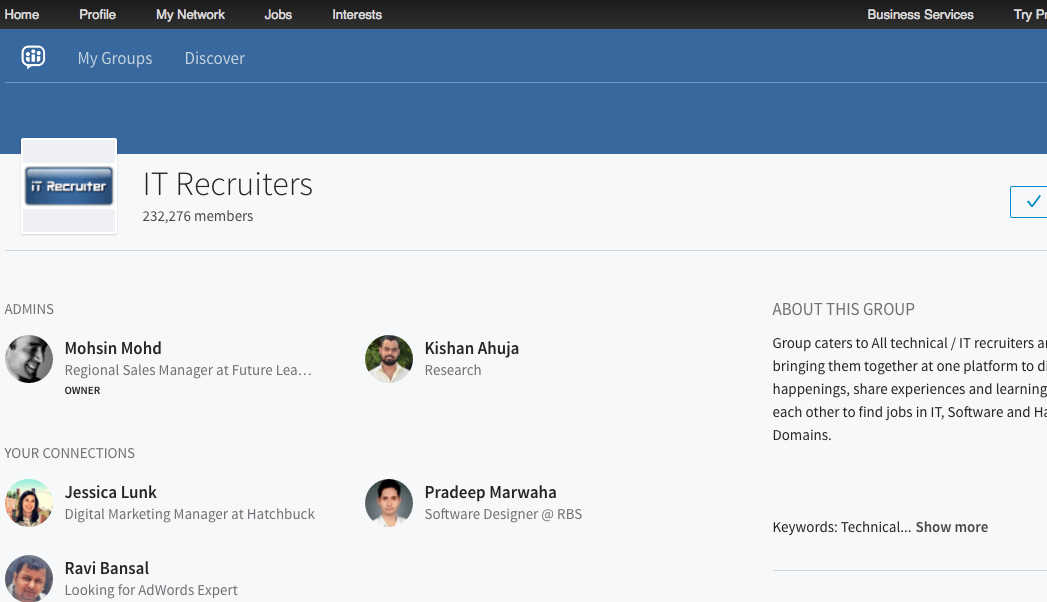 Managed by: Link Humans
Number of members: 43,600
Good for: Quality content on more generalised recruitment topics
The Undercover Recruiter definitely deserves an A for bluntness in their About Us section and rules:
About Us – Probably the Best Recruitment & Career Blog in the World
Group Rules – We have a zero-tolerance policy for spam and other silly things.
We love it. Again, this group covers a vast range of useful and relevant topics with plenty of the content linking back to blogs. Topics discussed include talent management, the best interview questions to ask and designing and developing high-impact resumes.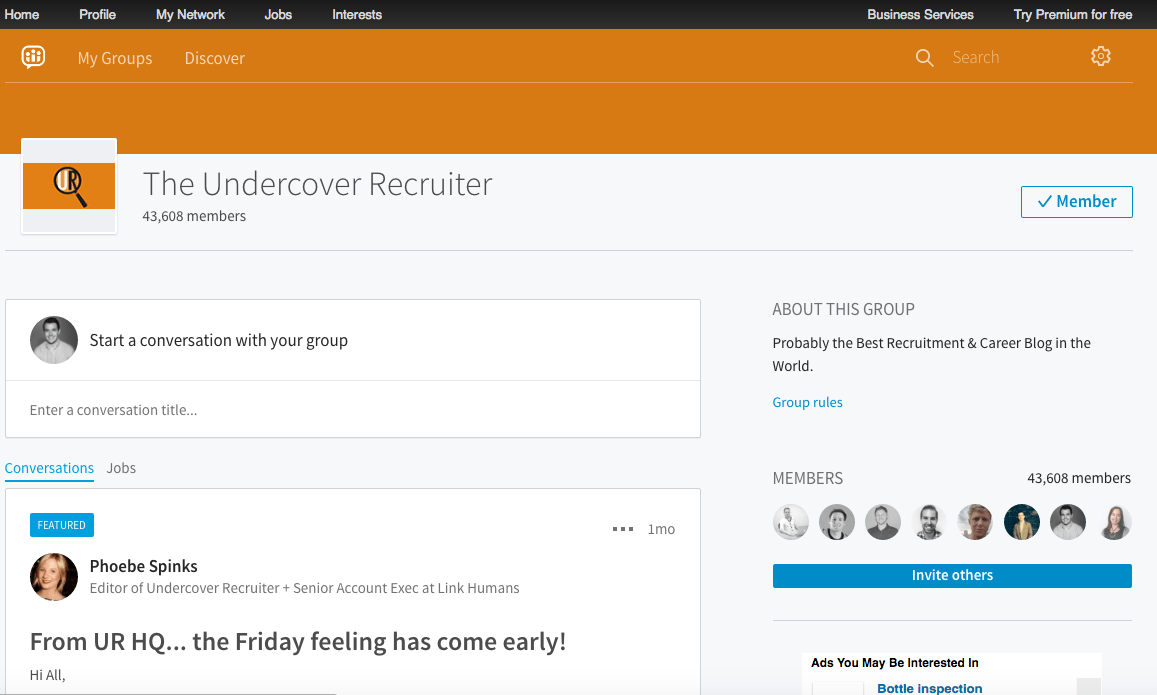 Managed by: Onrec
Number of members: 10,700
Good for: Discovering new best practices for using emerging online technologies
Onrec Online Recruitment Network is committed to providing highly valuable content in the form of best practices for online recruiting and expert insight into talent management technologies around the world. Some event listings and recruitment funnies also appear throughout. Not just for HR directors, personnel managers and recruiters, the group is also used for job postings.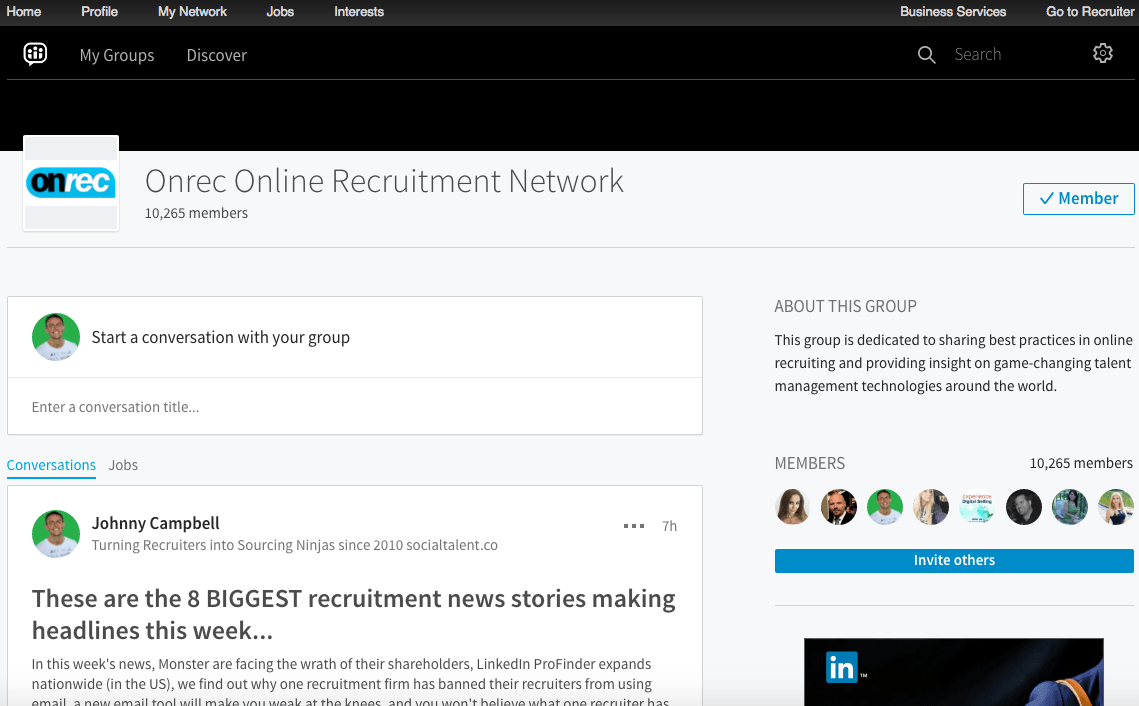 All these are great groups for recruiters to learn from and will help you become the most popular recruiter on LinkedIn! BUT if you want to further your learning make sure you check out our recruitment training and create your own recruiter academy today!
Find out how the likes of IBM, IKEA and Siemens
drive hiring excellence with SocialTalent
---