Keep up with the latest hiring trends!
/
/

26 Utterly Fascinating Vintage Job Ads (circa 1880-1915)
26 Utterly Fascinating Vintage Job Ads (circa 1880-1915)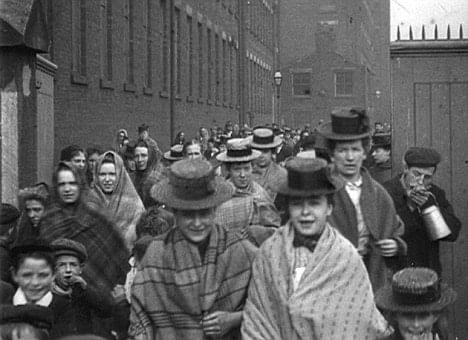 According to Ken Sundheim, the birth of the modern recruiting industry, didn't take place until the 1940's as a result of WWII, when employment agencies began to advertise for workers who were not obligated to military service, in an effort to fill the void in the workplace left by those who were called to duty. The end of the war led to an influx of workers returning from the army, which meant headhunting companies became popular as a response to the growing workforce. The rest, as they say, is history.
But we'd like to take you back to a time when there were no recruiters, sourcers, headhunters or HR professionals. When the only people responsible for making hires were direct business owners and Masters of vast estates in the countryside. At that time, instead of the advanced ATS and job boards we use today, almost 100% of job advertisements circulating were placed in prominent national and local newspapers in a bid to catch the attention of the lower classes looking for employment.
Employers weren't afraid who they offended and were as specific as possible in a bid to ensure only "the right sort" applied for a position in their household or establishment.
Let's take a look at the kind of job ads our ancestors were producing back in the day:
1. Strictly over 18s

"WANTED, strong KITCHEN GIRL able to bake, wash, milk and feed calves; age not under 18."
2. If you know the verses it's a bonus!

"WANTED, in a first-class collegiate school, in the north a GOVERNESS, to teach music, singing and theory of music. She must be a thorough musician, able to play the choruses of the great masters and conduct the choral singing. She must also be a proficient in the theory of music (Logier's system; the text-book used), and a good, firm, but kind disciplinarian."
3. "No Irish need apply" ????

"WANTED, a respectable, steady, young woman, about 24 years of age, as a SERVANT OF ALL WORK. She must be a good plain cook, and have a twelve month's character from her last situation. No Irish need apply. Part of the washing done at home."
4. "Must be sober"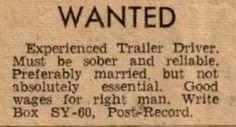 "WANTED. Experienced Trailer Driver. Must be sober and reliable. Preferably married but nit absolutely essential. Good wages for right man."
5. I'm disturbed by just how many ads felt the need to state that applicants needed to be sober in those days!

"Wanted: a sober steady Woman, who can Cook, and who will occasionally make herself useful about the House. No one need apply whose character will not bear strict enquiry."
6. Because apparently only men could draw back then…
7. We've got four sitting rooms. Beat that next door Jones's!

"WANTED. IN a Gentleman's Family, a short distance from Hastings, a good PARLOUR MAID. She must be accustomed to the care of plate, glass and waiting at table. There are four sitting rooms to keep with stoves. A thoroughly respectable, steady young woman, of religious character desired. Apply for name and address, at the office of this paper."
8. If you're a male packing some junk in your trunk, best not apply for this one!

"WANTED, a Young Man, light weight, as Groom. He must also be able to train young horses and ride to hounds. Apply to Mr. Ronson, Abbeyleix."
9. I wonder if Mary Berry's interested?

"IN a Gentleman's Family, two miles from Hastings, a good COOK, who understand baking and a dairy. She must be a respectable, trustworthy woman, with a very good personal character. About 30 years of age. A Dissenter preferred. For name and address, apply at the Office of the paper."
10. Uglies need not apply to this one!

"BUNCRANA, Co. Donegal – Waitress Required for small hotel; must be intelligent, energetic, have pleasant disposition and good appearance; good prospects for suitable person; non-national considered."
11. Don't butter? Don't bother?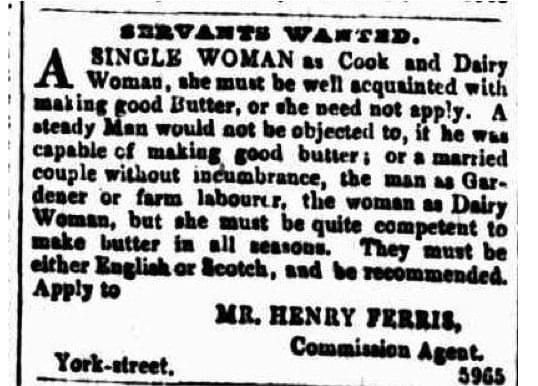 "A SINGLE WOMAN as Cook and Dairy Woman, she must be well acquainted with making good Butter, or she need not apply. A steady Man would not be objected to, if he was capable of making good butter or a married couple without incumbrance, the man as Gardener or farm labourer, the woman as Dairy Woman, but she must be quite competent to make butter in all seasons. They must be either English or Scotch, and be recommended."
12. How very specific!

"WANTED – TWO GERMAN GIRLS: ONE TO COOK, wash and iron and one for chambermaid and waitress; private family. Call 10 o'clock, 242 West 130th st."
13. You don't have long to apply ladies!

"WANTED – IN PRIVATE FAMILY, SHORT DISTANCE in the country, a neat, tidy, young Protestant girl for light chamber work and waiting at table. Apply with reference at 48 Pine at, room 10, between 10 and 11 o'clock AM on Thursday."
14. "Searching of the female tramps"… what a vivid mental picture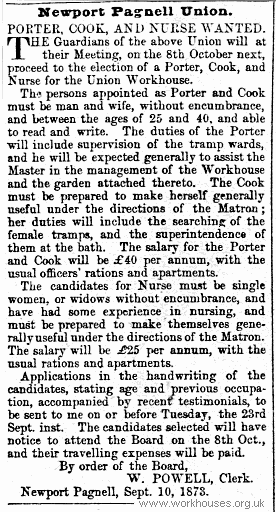 "PORTER, COOK, AND NURSE WANTED. The Guardians of the above Union will at their Meeting, on the 8th October next, proceed to the election of a Porter, Cook and Nurse for the Union Workhouse.
The persons appointed as Porter and Cook must be man and wife, without encumbrance, between the ages of 25 and 40, and able to read and write. The duties of the Porter will include supervision of the tramp wards, and he will be expected generally to assist the Master in the management of the Workhouse and the garden attached thereto. The Cook must be prepared to make herself generally useful under the directions of the Matron; her duties will include the searching of the female tramps, and the superintendence of them at the bath. The salary for the Porter and Cook will be £40 per annum, with the usual rations and apartments.
The candidates for Nurse must be single women, or widows without encumbrance, and have had some experience in nursing, and must be prepared to make themselves generally useful under the the directions of the Matron. The salary will be £25 per annum, with the usual rations and apartments.
Applications in the handwriting of the candidates, stating age and previous occupation, accompanied by recent testimonials, to be sent to me on or before Tuesday, the 23rd Sept. inst. The candidates selected will have notice to attend the Board on the 8th Oct., and their travelling expenses will be paid."
15. Do you get the feeling someone took advantage of those "paid travel expenses"?

"NURSE WANTED. THE Guardians will be at their meeting on the 27th November next, proceed to the election of a Nurse to the Infirmary and Workhouse, subject to the approval of the Local Government Board. The person appointed must be unmarried, or a wife without family, be able to read and write, be well acquainted with midwifery, and fully competent to take charge of the sick in the Infirmary. Salary £25 per annum, with rations, washing, and furnished apartments in the Workhouse.
Applications, stating age, accompanied by recent testimonials, marked "Application for Nurse" to be sent to me on or before Friday the 19th November next. Selected candidates will have notice to attend, and their travelling expenses (second-class return railway fare) will be paid."
16. Wow, what a great opportunity! Where do I sign?!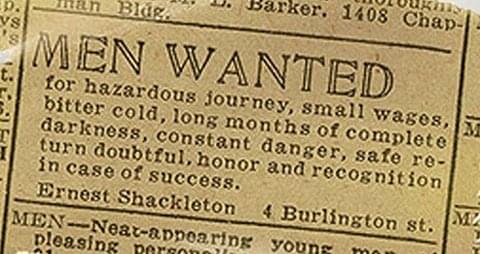 "MEN WANTED for hazardous journey, small wages, bitter cold, long months of complete darkness, constant danger, safe return doubtful, honour and recognition in case of success."
17. Because waiting on the floor or in the hall is unacceptable.

"CHAMBERMAID AND WAITER WANTED – A girl to wait on the table and do chamber work is wanted at No. 63 East 17th-st. She must be a Protestant and with good recommendations."
18. That last line though

"CLEAN, ACTIVE GIRL WANTED – To do the housework of a private family; must be a first-rate washer and ironer, a good plain cook and kind and obliging to children. No Irish need apply."
19. Any Scottish females out there looking for a cheap summer holiday?

NURSE WANTED – To take charge of three children. A Protestant woman (Scotch preferred), who is fully competent in all respects. Must have unexceptionable references, and willing to spend the Summer in the country."
They don't make candidate like this anymore!:
20. Your wish is my command!

"FOOTMAN. A YOUNG MAN wishes for a Situation as Footman. Has lived for upwards for four years in his last situation: is a Protestant; will be found willing and obliging, and can be highly recommended. Any commands addressed to "C.F" LEINSTER EXPRESS OFFICE, Maryborough, will be attended to."
21. She has "long and excellent discharges"…eww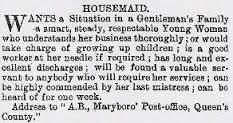 "HOUSEMAID. WANTS a Situation in a Gentlemen's Family. A smart, steady, respectable Young Woman who understands her business thoroughly; or would take charge of growing up children; is a good worker at her needle if required; has a long and excellent discharges; will be found a valuable servant to anybody who will require her services; can be highly commended by her last mistress; can be heard of for one week."
22. Anyone get the feeling she was basically bred for this role…

"GOVERNESS – A clergyman is desirous of RECOMMENDING A YOUNG LADY, the orphan of a naval officer, to the situation of GOVERNESS in a family where she will have the charge of young children. She has been expressly educated for the purpose."
23. We just want her out of the house!

"THE parents of a YOUNG LADY are desirous of obtaining for her a SITUATION as DAILY or RESIDENT GOVERNESS in a respectable family where the children are under 12 years of age. She is capable of instructing in English writing, arithmetic, music and the rudiments of French. As Junior Teacher in a school would not be object to."
24. "just returned from Paris"
"A LADY, aged 26, accustomed to tuition, just returned from paris after a residence of six years, wishes to meet with an ENGAGEMENT as DAILY GOVERNESS. She instructs in English and French in all their branches. Italian, drawing and music. Satisfactory references can be offered."
25. Money is no object

"USEFUL COMPANION – A lady in her 24th year, anxiously desires a SITUATION as above. She is musical, a good reader, domesticated and industrious and can be well recommended. She would be most suitable for an elderly lady. Salary a secondary object. London preferred."
26. Is there anything this lady can't do?!

"AS GOVERNESS or COMPANION – A lady of high responsibility, aged 24, of many years experience in tuition, has recently quitted a clergyman's family from whom she can produce satisfactory testimonials, wishes to meet with a RE-ENGAGEMENT as above. She will be found competent to impart a solid English education, with French (speaking that language fluently), drawing, painting, dancing, signing, rudiments of harp and can finish pupils on piano forte, and plain and ornamental needlework. Salary moderate."
Find out how the likes of IBM, IKEA and Siemens
drive hiring excellence with SocialTalent
---