Keep up with the latest hiring trends!
/
/

3 Quick-Fire Ways To Get Recruitment Insights On LinkedIn
3 Quick-Fire Ways To Get Recruitment Insights On LinkedIn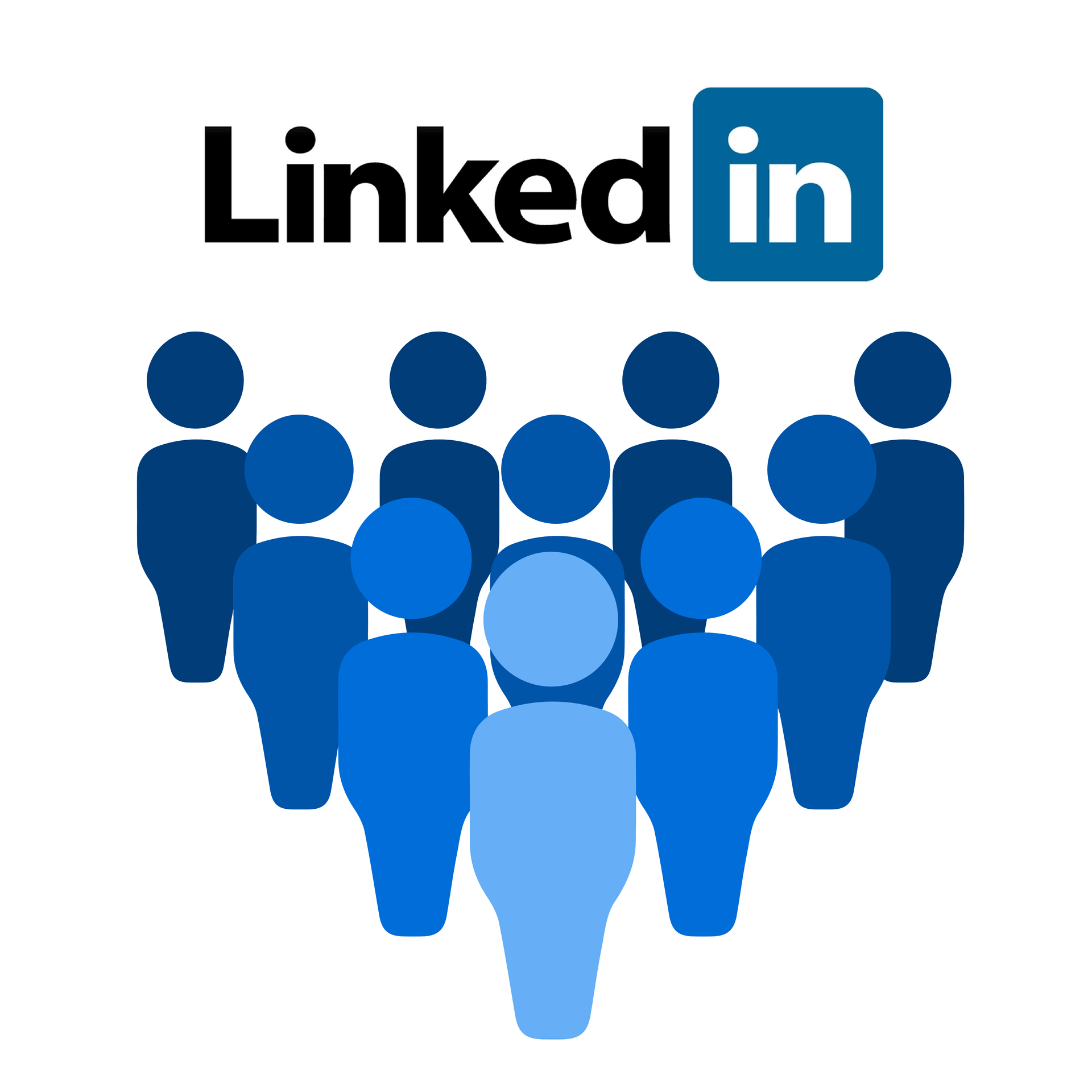 There are a number of well-documented industry trends that talent acquisition managers and recruiters still need to address if they are to successfully find, attract and ultimately recruit skilled talent. The growing mismatch between skills that companies need and the available talent, the fast-changing expectations of candidates and the huge advances in mobile and social technologies are just some of the major trends affecting the recruitment industry today, making talent acquisition a function that is highly complex and dynamic.
Despite these trends, most companies are not responding. According to
a study
by Bersin by Deloitte, 35% of companies are practicing reactive recruiting tactics. Hiring processes are not that well-defined, there is minimal hiring standards and there is no strategic focus on candidate experience. The survey also presents the ideal talent acquisition function (Level 4) whereby recruitment teams forecast external forces and remain agile. One way of doing this is to research the largest professional network in the world. Today, LinkedIn has over 400 million users, meaning it has become a massive data hub that recruitment teams can mine every day. Here are 3 simple, quick and easy ways to research market and candidate data on LinkedIn and find patterns in the data.
1. What Companies and Locations Employ Professionals with Your Desired Skills? 
This is a really important thing to understand. Yes you could find people anywhere and you can go and source candidates anywhere but wouldn't it make more sense to identify where is the talent that you are looking for? Where am I going to find the majority of these people? Who employs the most people with the particular skill set or job title I'm searching for? With this information, you have a higher chance of identifying and attracting desired candidates for your open positions.
As an example, let's just say you are looking for a candidate with a pre-sales background on LinkedIn. Create your Boolean search string and take the steps below to find some data-driven insights. If you are unfamiliar with Boolean, have a look at our Beginner's Guide to Boolean Search Operators which explains it in full detail.
Log into your LinkedIn account and access the 'Advanced' Search
Paste your Boolean Search string into the 'Keywords' field
Run your search and look for the patterns on the left-hand side (ignore the individuals in the search results for now)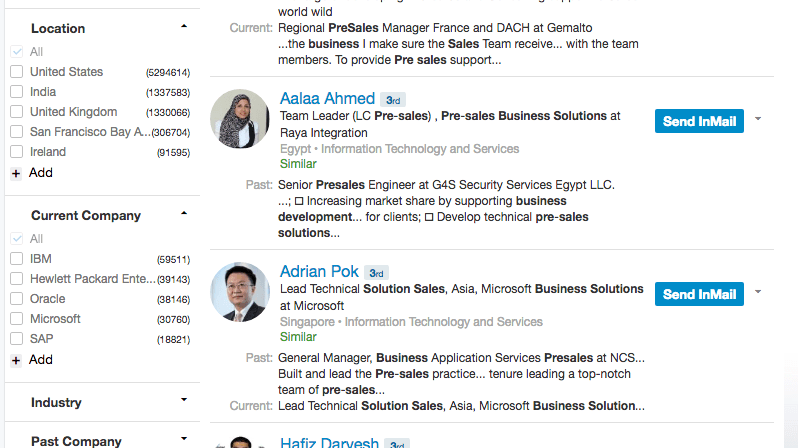 As you scroll down, you can see the grouped data – the top locations for this skill set and the top employers of these skills. These are global results but you can search more locally by adjusting the location filter. If you wanted to focus on potential candidates in Ireland only for example, you can select it and see which top companies have employees that possess pre-sales skills.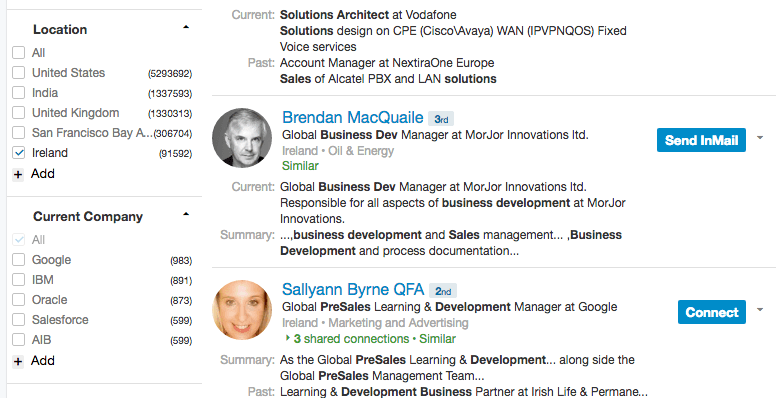 You can see how this affects the search results under 'Current Company' with Google, Salesforce and AIB now being displayed. Through these functions, you can get really localised data and knowledge and arrive at insights that can help you better target your ideal candidates.
2. Where Do We Hire Top Talent From?
This is a great question you may or may not have asked in the past. Where does the organisation I'm hiring for hire their talent from the most? You may have anecdotal evidence but you should research this and get better insights and focus on each individual skill set you have hired for – asking the question 'Where have we hired from in the past to fill such roles?' To do this, take the following steps:
Access LinkedIn 'Advance' Search
Paste your Boolean Search string into the 'Title' field and select 'Current' from the drop down menu
Go to the right-hand side and add the name of your company you're hiring for in the 'Current Company' field. For this example, let's use Deloitte
Run your search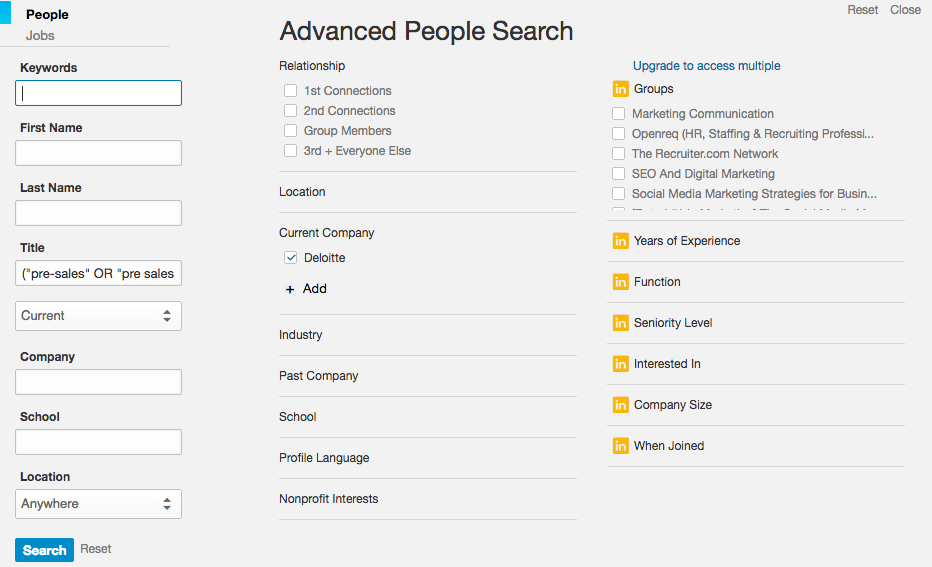 The search results will display internal staff members with the skills you are looking for but you ignore these results and instead focus on the faceted search filters on the left-hand side again. This time, scroll all the way down and open the 'Past Company' filter. By opening this filter, you can immediately see all the external companies your current employees used to work for. Ignore your own company as this represents all of the internal moves in your organisation. By identifying the top companies your employees used to work for, you immediately get great insights into what has worked in the past and again, it helps you better understand where to target in the future.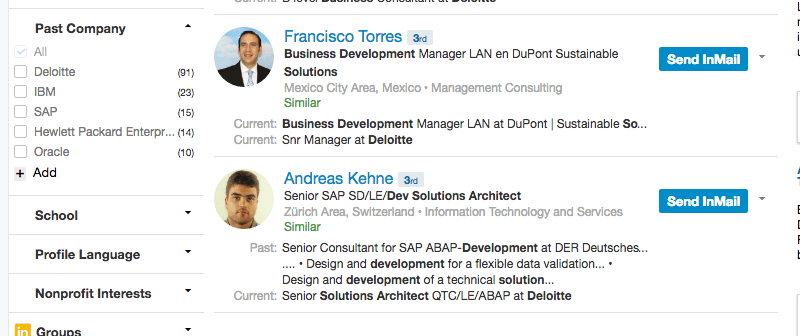 3. Where Do We Lose Our Top Talent to?
Using the same techniques as previously, you can determine the top employers of your past employees very easily. To do this, do the following:
Access LinkedIn 'Advanced' Search
Paste your Boolean Search string into the 'Title' field and select 'Current' from the drop down menu
Go to the right-hand side and add the name of your company you're hiring for, this time in the 'Past Company' field. Let's use Deloitte again for this example
Run your search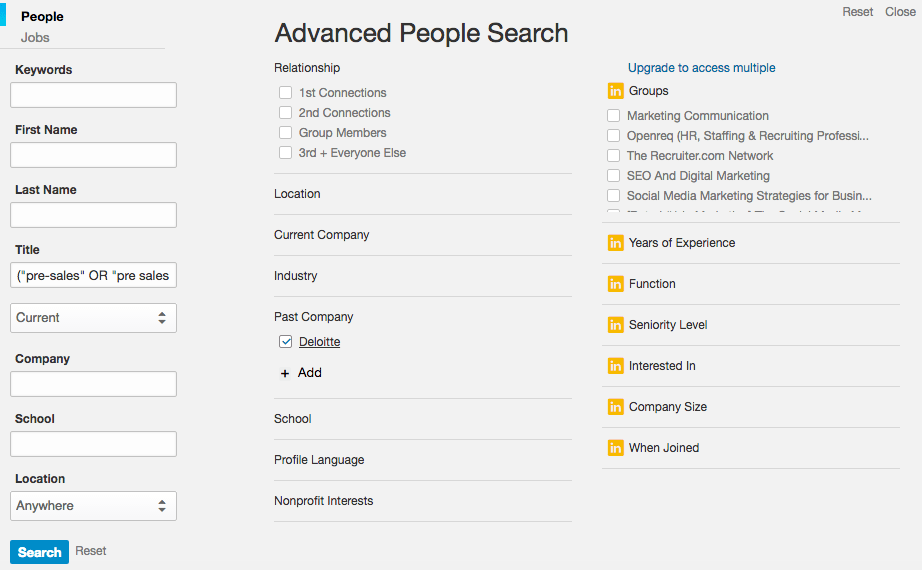 This time, you're scrolling all the way down to the 'Current Company' filter and you are able to see the companies past employees are working for now. This is a really simple way of understanding where you are losing your top talent to and these insights can help you make decisions about why you are losing talent to those organisations and what these companies have that you do not. This can lead to more refined and relevant employee value proposition (EVP).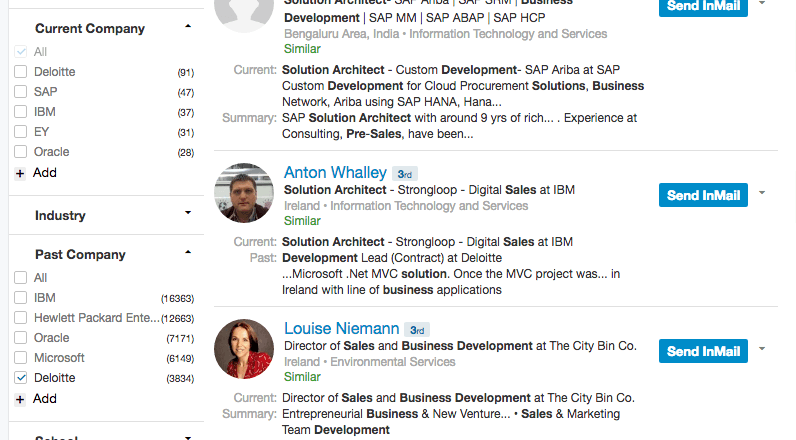 Recruiters today need to be able to use data to make better decisions and improve their processes. These are 3 simple, quick-fire ways to get data-driven insights but this is just the starting point! There are plenty of other networks that you can derive insights from (Indeed for example) so it's important to go beyond LinkedIn and explore further. The more insights you have, the more proactive you can be. In other words, better insights for better hiring!
Not connected with us on social? Stay in touch and keep up-to-date with all the latest recruitment news, research highlights and our wide range of useful resources.
Find out how the likes of IBM, IKEA and Siemens
drive hiring excellence with SocialTalent
---