Keep up with the latest hiring trends!
/
/

8 Fantastic Recruitment Blogs You Should Be Reading
8 Fantastic Recruitment Blogs You Should Be Reading
What's not to love about blogs? They're more active than websites, they're faster to post to than websites, they have newer fresher content than websites, they're a hub of reader participation and interaction, and they provide some excellent insights and opinions into the topic of their choosing. Today, we're discussing recruitment blogs and specifically the ones you should be reading in order to glean the best, most up-to-date sourcing insights and news the industry has to offer. This is our list of 8 Fantastic Recruitment Blogs You Should be Reading: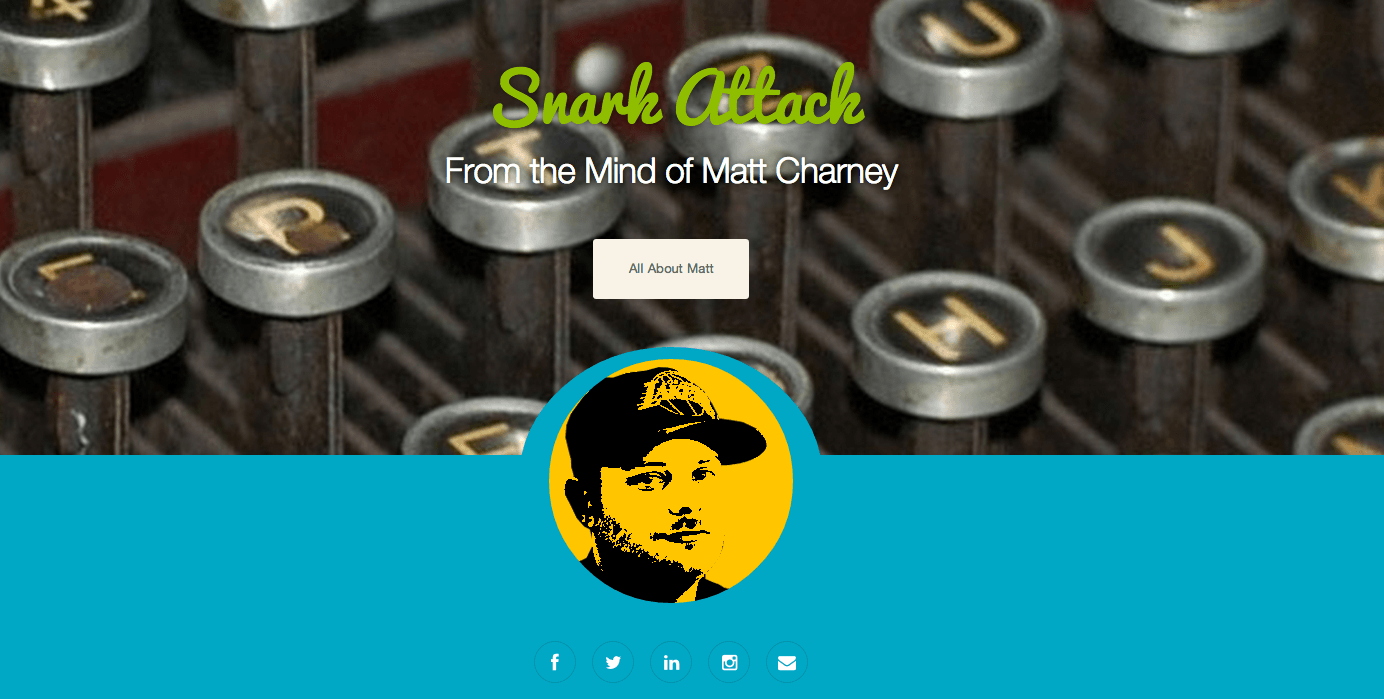 Matt Charney (@MattCharney) is a veteran of the HR the recruiting industry. He's sourced talent for some of the world's biggest companies including The Walt Disney Company and Warner Bros, and he's lent his marketing leadership skills to the likes of Monster and Cornerstone OnDemand. Oh, and did we mention he's also considered one of the best in the business at creating compelling content across both mediums?
Matt has experience in everything from digital to content & channel marketing, from corporate communication to brand identity creation & positioning, and from marketing strategy to talent sourcing. Suffice to say, Matt knows his stuff!
He's currently the Managing Editor of the largest social network and content sharing site dedicated to recruiting and staffing, RecruitingBlogs.com (also featured on our list), but we're here today to recommend Matt's personal blog, "Snark Attack" at MattCharney.com.
On a regular basis Matt posts well observed, well researched articles about the world of recruitment, social media, and the industry's most topical subjects, all with a distinct 'snarky' flavour only someone who really knows what they're talking about can have.
What to expect:
Brutally honest recruiting and social media advice from a veteran of the recruitment industry.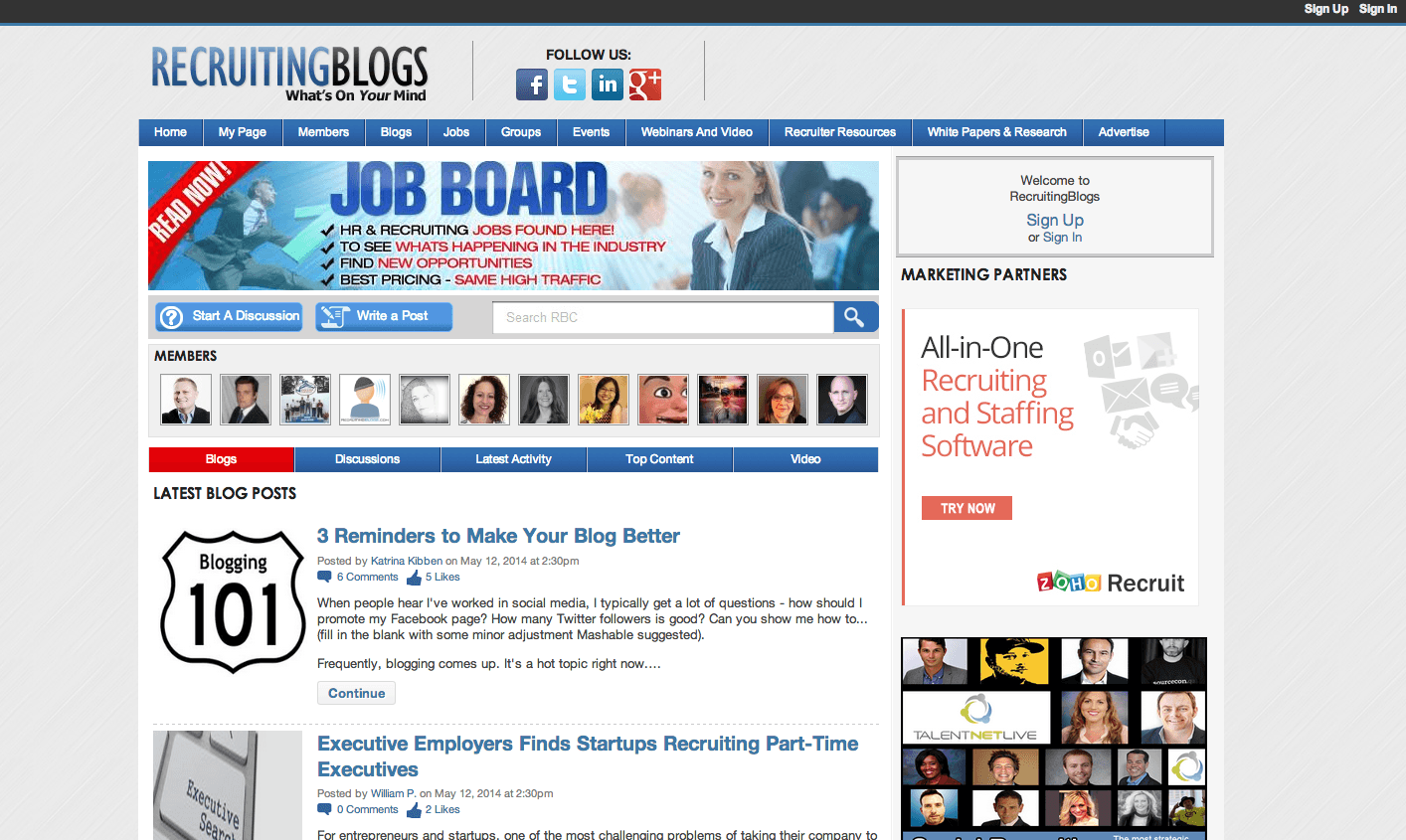 Talk about an information source! Recruiting Blogs has it all – topical blog posts, industry discussions, webinar & video content, event information, a dedicated recruiting and HR job board, and a selection of whitepapers. There really is something for everyone here.
Founded in 2007, RecruitingBlogs.com hosts 36,000 members everyday, who come together to discuss, share, interact and collaborate with one another on recruiting and HR's latest developments, products, services and techniques. Anyone can submit a blog post and share their knowledge with the community, which makes for very diverse reading and a wide range of viewpoints and opinions on a plethora of relevant recruitment topics.
What to expect:
An active hub of recruitment and HR discussion.
Sirona Says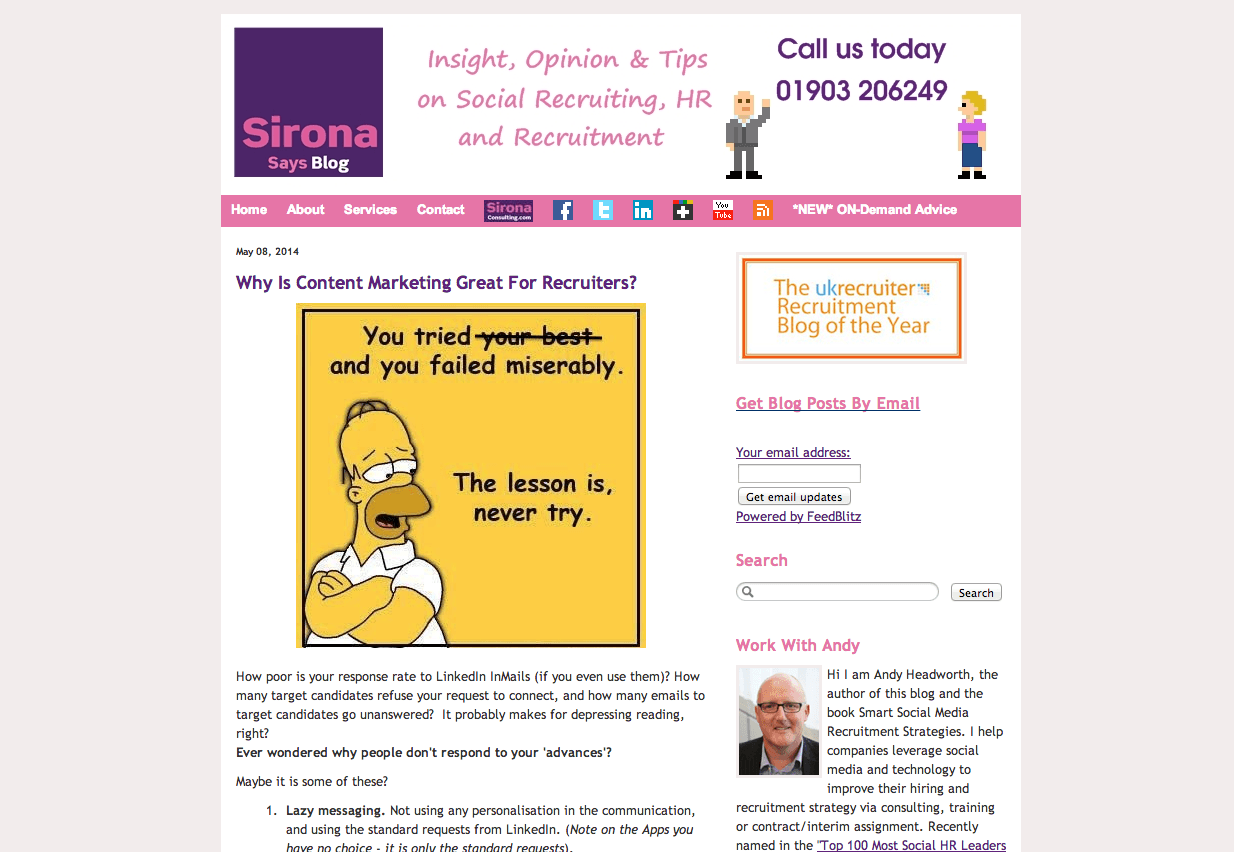 Sirona Says is the UK Recruiter Recruitment Blog of the Year and why wouldn't it be?! It's author Andy Headworth (@AndyHeadworth) has over 20 years experience working in the recruitment industry as well as almost 7 years hands on social media experience, all of which he draws on to give his readers the best advise. Oh, and Andy was recently appointed an official LinkedIn EMEA Talent Solutions Partner as well!
Sirona Says attracts approx. 2,000 visitors every month and over 1,000 people already subscribe to the blog in order to get the latest posts first. Posts that contain practical advice for recruiters, industry insights, better social media usage and instruction, and conference synopsis.
What to expect:
Practical, hands on advice for recruiters from a recruiter with over 20 years experience in the industry.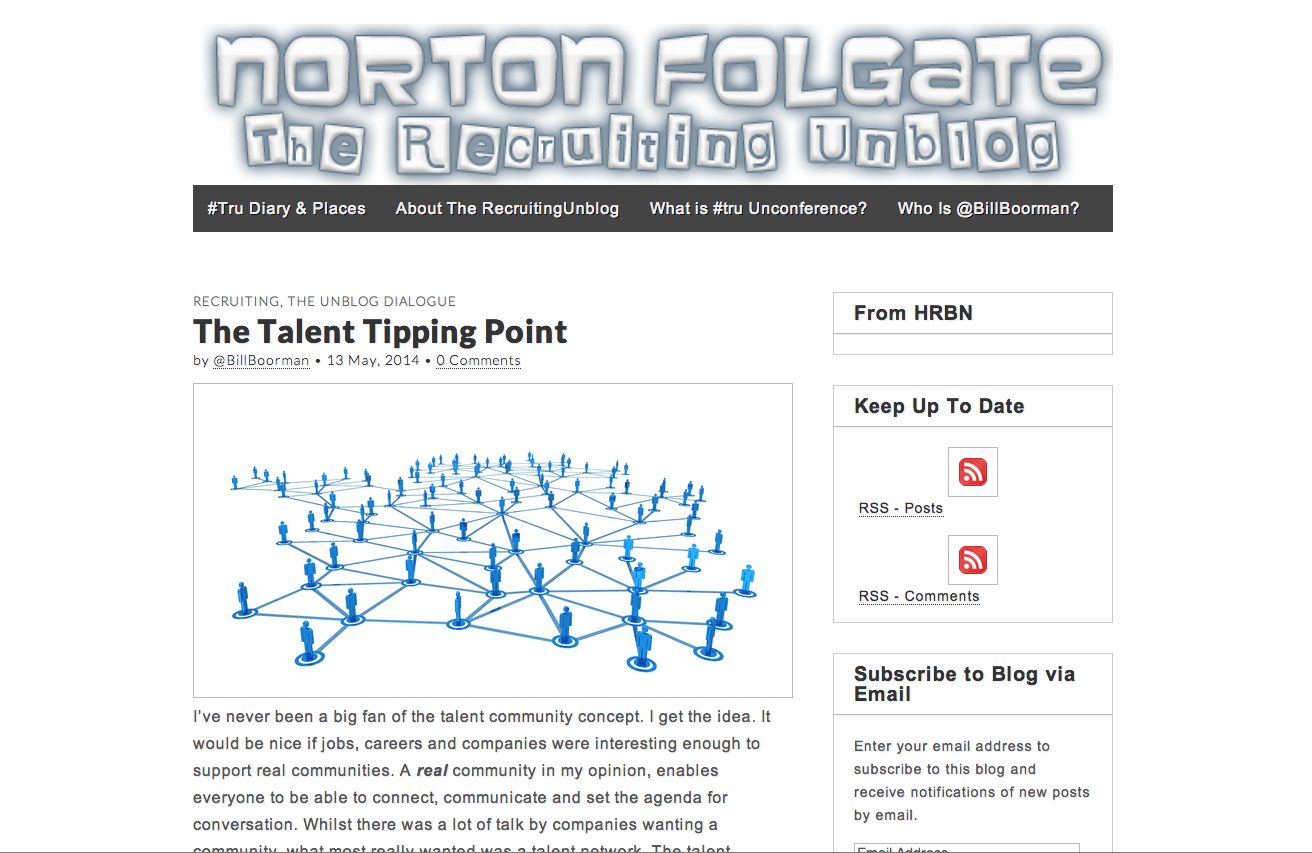 What started as a 3 month project to promote the first ever #trulondon, became a permanent online entity for Bill Boorman (@BillBoorman) and the space in which he'd post all about the things he's currently thinking and feeling about recruiting, technology, HR and social media.
Bill Boorman is the man in the hat and founder of the #tru Recruiting Unconference. He's worked in the recruiting space for the last 30 years and is best known for his norm challenging ideas based on the philosophy "It's about skills and what people can do, not what bits of paper they have. it is not about job titles. Go look for people, not for CVs".
What to expect:
Norm challenging ideas and a left of centre approach to recruiting issues and challenges.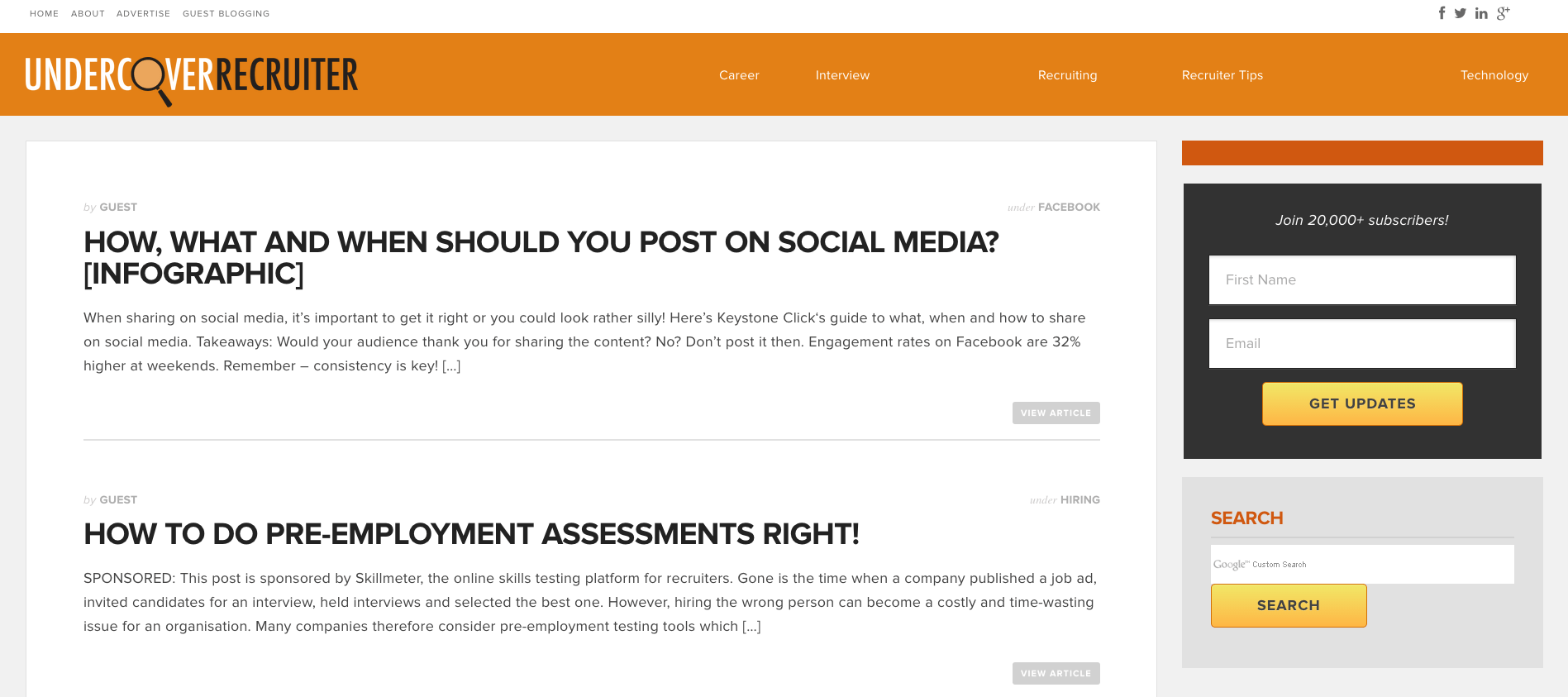 The Undercover Recruiter is the number one recruitment and career blog in the UK and Europe and aims to please both recruiting and HR professionals as well as job seekers. As a result, the content this excellent blog delivers is diverse, thought provoking and offers each different type of reader the other's perspective. Industry trends, CV tips, interview techniques (on both sides of the desk), workplace best practice, and advice on the modern job search are just some of the topics handled on a daily basis with some fascinating insights offered by a variety of different voices in the industry.
What to expect:
The latest recruiting and employer hiring advice, career management tips, social media and tech usage guidance and updates, and infographics.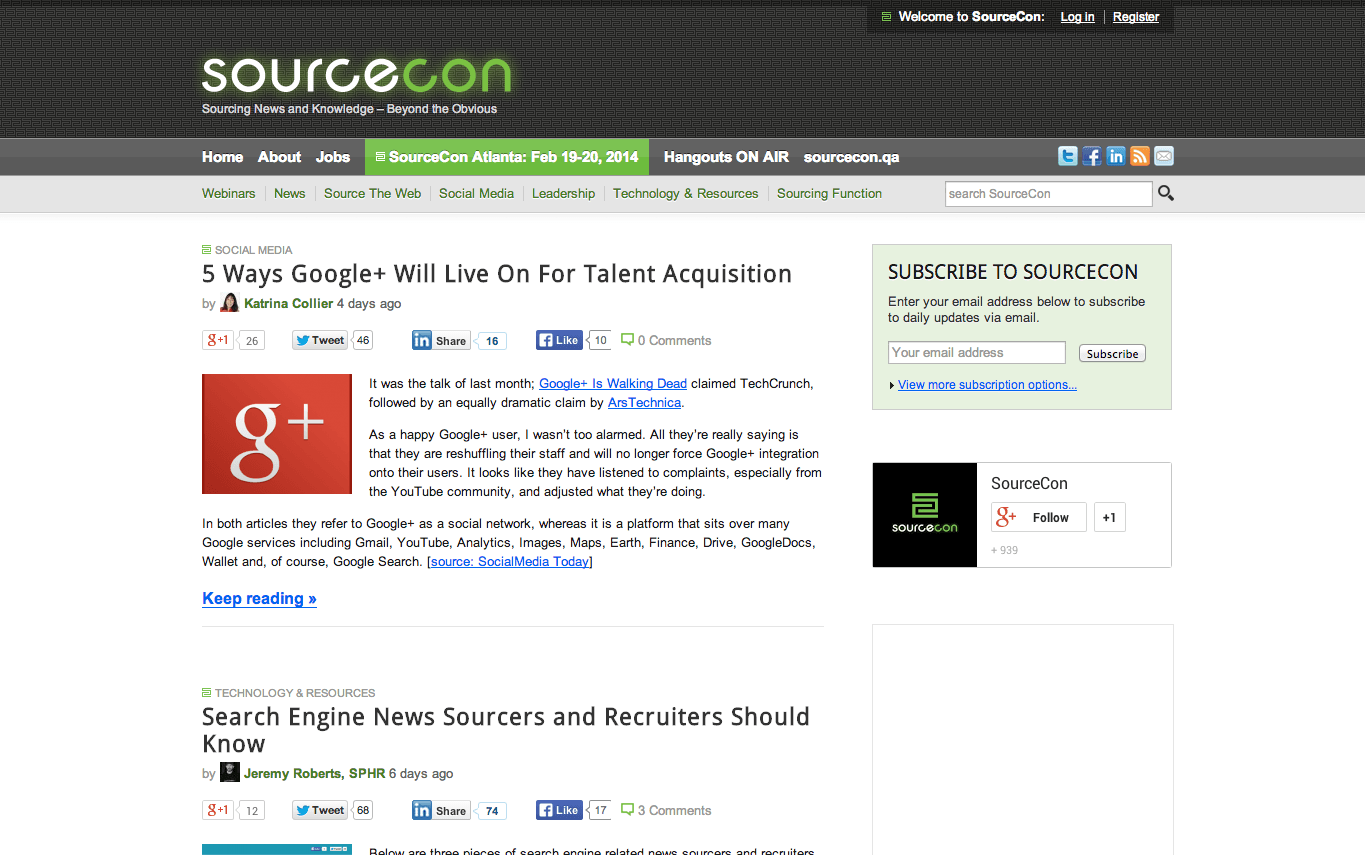 Originally begun as an idea to develop an educational conference dedicated to internet and telephone researchers and sourcers, SourceCon quickly became an online hub for recruitment information, knowledge and news. The site nows acts as a vehicle for recruiters and sourcers to share tools, ideas and ways to better themselves as researchers. "Inform, encourage, and empower", that's the SourceCon goal.
SourceCon is "by sourcers, for sourcers" and as such delivers site search tips and tricks, recruitment industry opinion pieces, industry news, survey results, practical advice on trending topics (e.g. gamification)and their use in recruitment, and technology reviews.
What to expect:
Advice, tips, news and opinion pieces by sourcers, for sourcers.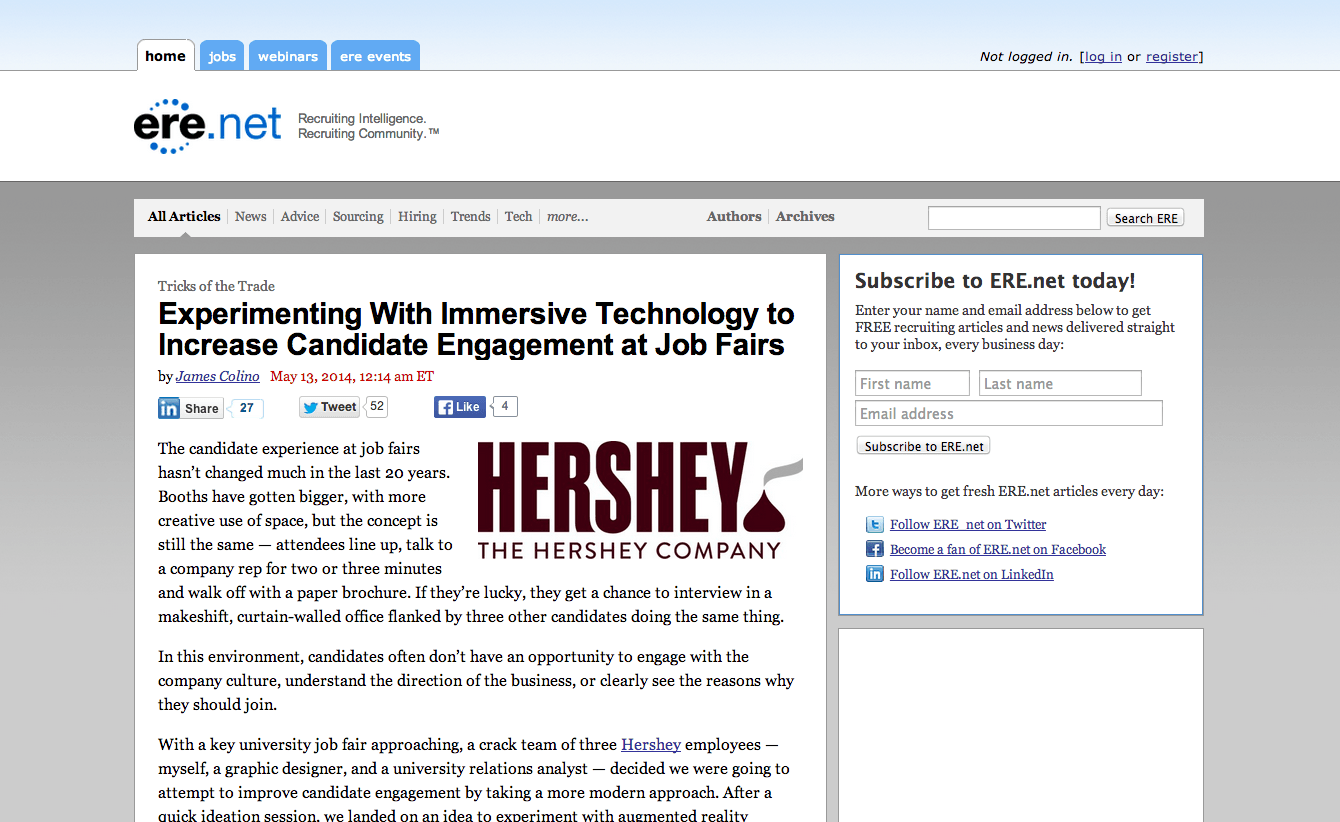 ERE was created in 1998 as an online gathering place for recruiters to network, share best practices and above all else, learn from each other. Today the site is best known for it's extremely prompt delivery of need-to-know information specifically aimed at corporate recruiting professionals.
ERE is not only a good site for corporate recruiting opinion pieces, it is THE place for corporate opinion pieces. If a survey has been released to do with any aspect of the industry, ERE will be there first to tell you how it's going to affect you, your job and your hires, and how you can deal with it in the best way. Trust us, many of ERE's insights are invaluable. Ignore this blog at your career's peril.
What to expect:
Prompt delivery of need-to-know information and opinion pieces specifically aimed at corporate recruiting professionals.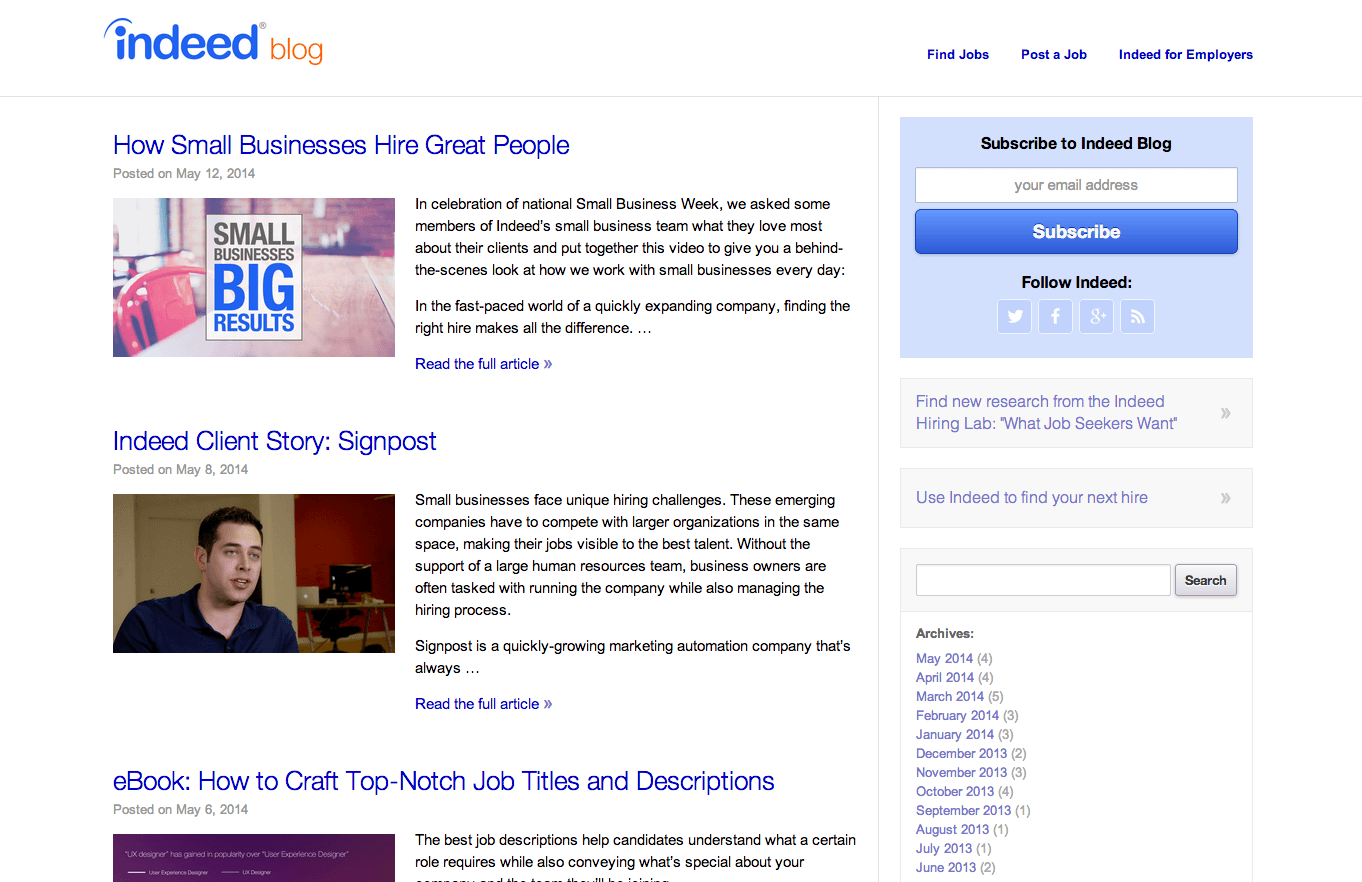 Indeed are currently the number one job site in the world and receive over 140 million unique visitors per month. As a result, they have access to some of the best big data surrounding job seekers and recruiters, and use it to create some cracking blog posts!
Indeed is available in more than 50 countries and 'speaks' in 28 different languages which means that a vast amount of data accumulates on their site on a daily basis. The type of data the site builds up, allows them to accurately report and write content on topics such as 'How to Craft Top-Notch Job Titles and Descriptions', 'The Top 10 Cities & Occupations for Recent Graduates', 'What Job Seekers Want: An Economists's Look at the Most Desirable Occupations', and 'Succeeding in Search with Job Content that Attracts the Right Candidates' – insights you just wouldn't get from any other source. Be sure to check it out!
What to expect:
Invaluable insights derived from some of the best big data around.
Find out how the likes of IBM, IKEA and Siemens
drive hiring excellence with SocialTalent
---