Keep up with the latest hiring trends!
/
/

How to: Add Multimedia to Your LinkedIn Profile
How to: Add Multimedia to Your LinkedIn Profile
Looking to add that extra little something to your LinkedIn profile? Then why not add some videos, presentation slides or text documents to compliment your already perfectly polished written career summaries?
The LinkedIn professional gallery allows you to add multimedia to your LinkedIn profile. As you can see from Johnny's profile below, you can start adding multimedia to the Summary section of your profile, but you can also include these links, with preview images, in the Experience and Education sections of your profile.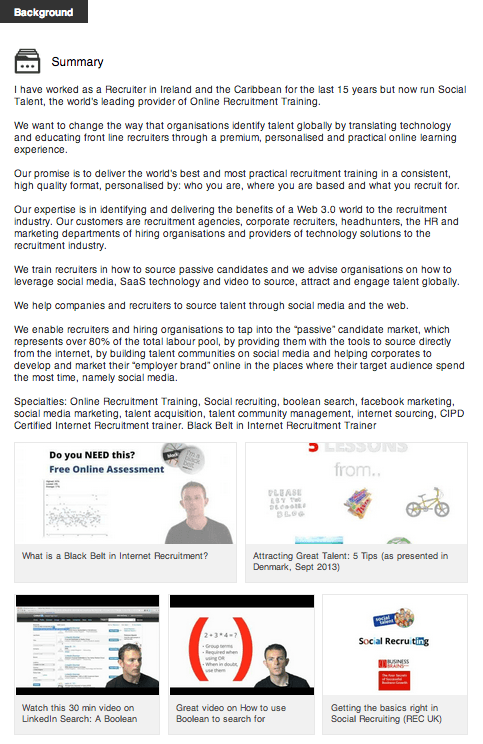 You can add any web link to your LinkedIn profile, that includes videos (Youtube, Vimeo etc.), SlideShare presentations, and any online documents that are linkable from a public URL (public documents on Google Drive, Box.net, Dropbox etc.). For example, as a Recruiter, you can use your multimedia additions to include current job specs, blog articles and employer branding videos on your profile. Job seekers can use theirs for CVs, blog articles, portfolios etc. Regardless of what you choose to upload, multimedia brings your profile to life.
See the Slideshare presentation below for some ideas:

How to add multimedia to your LinkedIn profile:
Click 'Profile' from the top menu navigation bar in LinkedIn and select 'Edit Profile' from the drop down menu.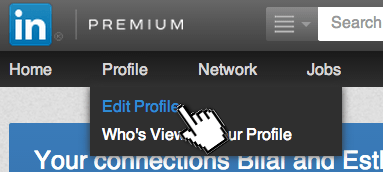 Now that your profile is in edit mode, you'll see lots of little blue pencils and boxes around each section of your profile. To add multimedia to a section, click the little square icon with a plus. Choose 'Add link' to add a publicly available URL.

Once you've selected 'Add link', a dialogue box prompting you to add your chosen URL will appear. Paste in the URL you wish to use. Once the URL is pasted, a preview image for your link will appear along with two text boxes, one for the multimedia's title, the other for its description. Be sure to amend the title and the description to make it more enticing to click on for viewers of your profile, namely potential candidates if you're a Recruiter. Add calls to action to the title like "Check out this", "Click here to", "Follow this link" or for job specs "We're hiring!".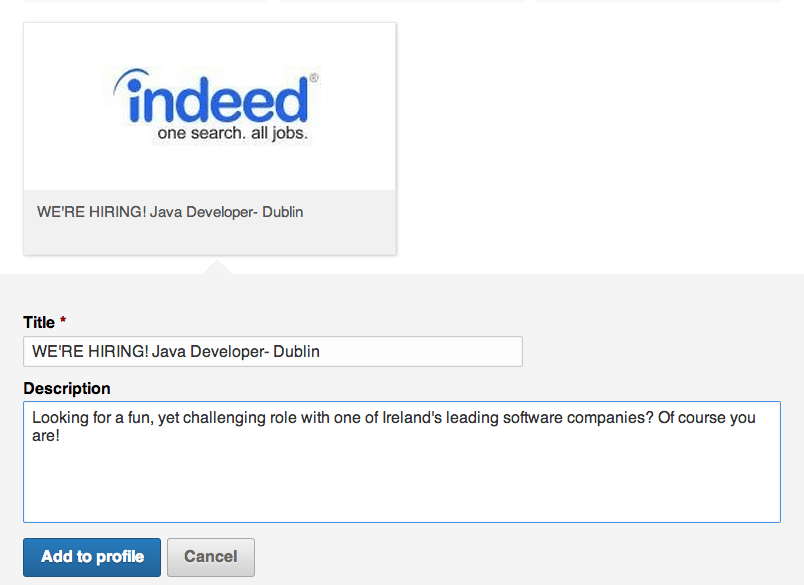 And that's all there is to it! Now you have a more visually appealing LinkedIn profile, ready for potential candidate's to scrutinise and admire.
P.S. Bear in mind, that only three lines of multimedia are viewable on your profile at once. If your multimedia content exceeds three lines, a little button encouraging the reader to reveal the hidden content will appear on your profile. So be sure to correctly maintain the multimedia that is displayed on your page and keep it to a three line maximum.
If you'd like to learn more about improving your LinkedIn profile download our 'How to: Create an All-Star LinkedIn Profile' whitepaper. If you want to learn more about sourcing on LinkedIn and how you can become a Sourcing Ninja, visit our website or email one of our lovely Sales people at [email protected].
Find out how the likes of IBM, IKEA and Siemens
drive hiring excellence with SocialTalent
---