Keep up with the latest hiring trends!
/
/

Your Dream Candidates are Falling through the Cracks (Infographic)
Your Dream Candidates are Falling through the Cracks (Infographic)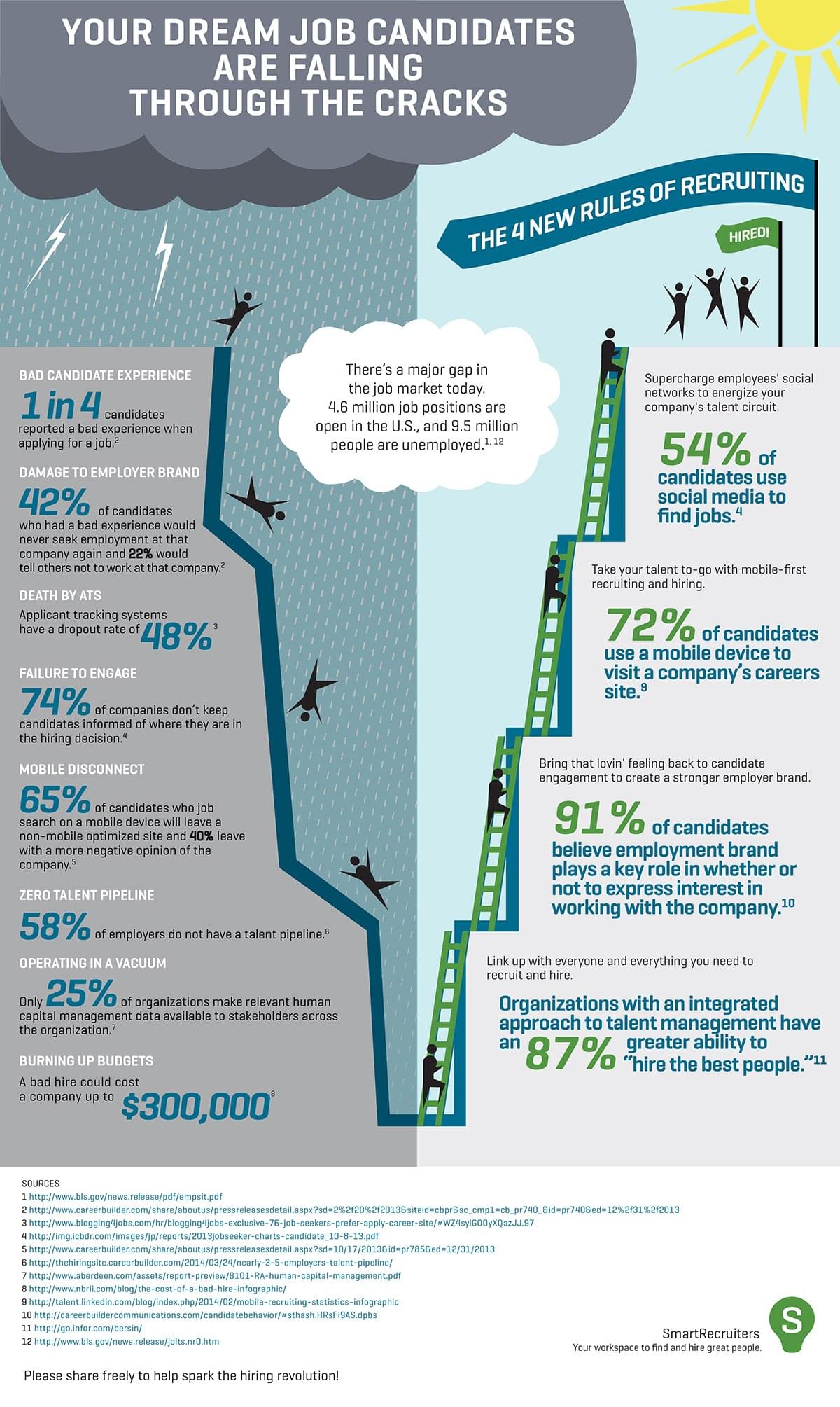 Top Takeaways:
1 in 4 job seekers have had a bad candidate experience and 42% of them will never apply for work at that company again.
Complicated Applicant Tracking Systems have a dropout rate of 48%.
74% of employers don't keep candidates informed of where they are in the hiring decision.
72% of candidates use a mobile device to visit a company's careers site. 65% of them will leave a non-mobile optimised site and 40% leave with a negative attitude of the company.
58% of employers don't have a talent pipeline.
91% of candidates believe employer branding plays a key role in whether or not they express interest in working with a company.
An integrated approach to talent management breeds an 87% greater ability to hire the best people.
What does this mean for you?
There are 3 key cracks that candidates fall through in the recruitment process and this is how you can help seal them:
1. Mobile Disconnect
If your organisation does not currently have a mobile enabled careers site you could be missing out on 50% of potential candidates. In some cases, the lack of a mobile option actually negatively impacts the candidate's opinion of the employer's brand.
Similarly, if you do have a mobile enabled careers site, but fail to allow job seekers apply via mobile (or the application process is too complicated), you could also be loosing up to 50% of the applications you would have received if your mobile site had this option. It is now essential for your company to have a fully functioning, mobile optimised careers site, complete with the option to one-click apply or a mobile-friendly application process. Your mobile careers site must also be compatible with both iOS and Android operating systems.
2. Recruitment Black Hole
Candidates do not look kindly on being left in the dark when it comes to the hiring process. Therefore, feedback is an essential element of a great candidate experience.
Honesty, transparency and clarity are what many recruiters feel candidate's who are not hired, deserve to hear from the recruiter who has chosen not to proceed with them as a candidate. If a candidate took the time to apply for the job in the first place, you should take the time to put together a proper response for why they didn't get the job. Feedback builds better candidate's for the future and will make the candidate respect your decision, because as Stacy Zapar Donovan said Today's no candidate is tomorrow's yes candidate (or source of referral) so never burn a bridge.
If you are unsure of what makes a truly great candidate experience, watch Johnny explain the 10 Principles of a Great Candidate Experience now:
3. A Complicated ATS
These systems may help employers and recruiters stay organised, but they also hurt the candidate experience and can even scare away good applicants. In fact, one of the biggest complaints ERE.net get from college students and grads is that they need to fill out long applicant tracking system forms when applying for jobs and that becomes a bigger issue for students, when they're applying to 10-plus different employers with each organisation using a different system. 
The average time job seekers expect when filling out an online application form is 40 minutes in 2014. Any longer than that, and candidates will drop out. For some excellent tips on how to avoid your ATS putting really great candidates off, we suggest reading some of the following articles:
For recruiters:
For job seekers:
Applicant Tracking Systems 101 for Job Seekers: Understanding the ATS Technology that Dominates Online Job Search – QuintCareers.com
Preparing Job Seeker Resumes for Applicant Tracking Systems: Checklist and Critical Do's and Dont's – QuintCareers.com
Find out how the likes of IBM, IKEA and Siemens
drive hiring excellence with SocialTalent
---