Keep up with the latest hiring trends!
/
/

This LinkedIn Feature Will Make Every Recruiter More Strategic
This LinkedIn Feature Will Make Every Recruiter More Strategic

Welcome to SocialTalent's Live & Learn Series!
Each week we gift you with a little bit of info that will help smoothen your recruitment process and expand your knowledge of your industry.
With this Live & Learn series we promise we kept it:
Short
Simple
Ready to use!
Sound good to you? Let's begin!
Optimise Search With LinkedIn Recruiter Insights
LinkedIn has made some pretty big strides this year and is firmly cementing itself as a non-negotiable resource for recruiters. Johnny Campbell has seen LinkedIn evolve through the ages and he's pretty excited about this particular feature: LinkedIn Recruiter Search Insights
Key Takeaways
This feature of LinkedIn Recruiter can add a new layer of strategy to your hiring process and workforce planning. Before diving in and playing with this new feature remember…
1. Use this tool when searching for specific role requirements for your organisation- have a real requisition in mind!
2. Couple LinkedIn Search Insights with your Universal Search Method to bolster your searches with real-time market data when presenting to hiring managers
3. Use LinkedIn Recruiter Insight to highlight talent availability by; location, education, company, talent flows, experience and tenure 
SocialTalent has created the best recruitment training for our Recruiter Academy. Packed with insights from Recruitment experts to develop your skills as a recruiter, whether you work for an agency or have a role as a corporate recruiter as part of a team or flying solo- we have the training for you!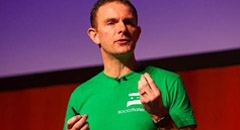 SocialTalent Recruiter Academy
A full library of videos that can help your team transform their hiring process
Find out how the likes of IBM, IKEA and Siemens
drive hiring excellence with SocialTalent
---