Keep up with the latest hiring trends!
/
/

Microsoft Opens The Office Doors to LinkedIn
Microsoft Opens The Office Doors to LinkedIn

Microsoft Integrating LinkedIn into Office suite
When Microsoft acquired LinkedIn for $26 billion two years ago the industry was a flurry of guesses as to how the tech giant would put the professional social network to use.
Last year they combined LinkedIn with Microsoft word to create Resume Assistant and this year they've gone a step further in aligning the best of what the two companies have to offer. Microsoft will be integrating LinkedIn into their collection of Office Apps. 
According to a report on The Verge:
Outlook will be updated to include information about contacts for calendar appointments and document sharing. Outlook users will soon be able to coauthor documents with LinkedIn contacts in Word, Excel, and PowerPoint, making it a little easier to share documents with friends or coworkers on LinkedIn.

For companies that are dedicated users of Microsoft this could give them a huge boost in terms of collaboration and productivity. We look forward to hearing a few use cases once it's all up and running
Vodafone takes education into its own hands
Vodafone has pledged to drive growth and innovation across the UK. The Vodafone Digital Degree is a partnership between Vodafone and the University of Birmingham and focusses on the development of digital Talent in the UK. The programme combines a Bachelor of Science degree in computer science with a technology apprenticeship at Vodafone.
"Digital sectors like artificial intelligence, cloud services and the Internet of Things represent exciting opportunities for the UK economy.

"The education and mentoring programmes we have created will help us to make the most of these opportunities. University students, digital entrepreneurs and Vodafone employees working in our retail stores and contact centres will be able to develop new skills and prepare for a digital future."
Adam Parsons, HR Director at Vodafone UK

This isn't the first time we've seen a company "grow its own talent". Johnny Campbell spent some time with Cognizant to talk about how they were creating their own pipeline and investing in their workforce to ensure they have the right people with the right skill set for the future.
---
If all this news of emerging ideas and changes in the recruitment industry had got you curious about your own future then look no further! The SocialTalent Recruiter Academy has all the video training recruiters need to stay ahead of the competition!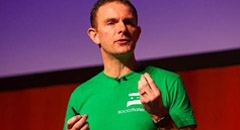 SocialTalent Recruiter Academy
A full library of videos that can help your team transform their hiring process
Find out how the likes of IBM, IKEA and Siemens
drive hiring excellence with SocialTalent
---